Months before the curtain rises, the best performances in live entertainment begin with an artistic director who makes a thousand creative decisions–all of them just to thrill an audience.
By Anita Rafael
When Stratton Magazine was given a peek behind the curtains at what it takes to schedule big, Broadway stars for plays and to line up world-class musicians for concerts, we were amazed at the logistics, the planning, the creativity, and the joy–yes, joy!–that these professionals bring to their craft. It was fun hanging out for a bit with the folks at Manchester Music Festival, the Taconic Music Summer Festival, Weston Playhouse Theatre, and the Dorset Theatre Festival, and we've made up our minds that this summer we will squeeze in as many plays, musicals, recitals, and concerts as we can in between the hiking, picnicking, swimming, and all our favorite summer pastimes. With more than 30 different live performances within a few of miles of home, this is going to be our best-ever "Summer for the Arts."
Manchester Music Festival
"Just as it was when it began 43 years ago, the Manchester Music Festival is a marriage of people with a passion for music and a passion for Vermont," says Peggie Telscher, a Stratton resident, chair of the artistic committee of the Manchester Music Festival, and vice president of the board of directors. She, along with the board members and various committee co-chairs have spent an entire year building the event, which continues to be seven weeks of world-class classical music from the beginning of July into mid-August.
This summer is going to be particularly special for the Festival because of the debut of its new artistic director, Adam Neiman. "We were so fortunate," Telscher says, "that the stars were in alignment and we were able to invite Adam to come onboard."
Neiman says, "I have a great love for the people here and for what this festival does for the community." He hit the ground running last fall to plan a program that is slated to be six weeks of instrumental performances, followed by a vocal event a week later called A Night at the Opera. With a glance at the calendar, Telscher testifies to Neiman's organizational talents by saying, "By early spring, most of the heavy lifting for planning the festival had been done. Since most of the artists of this caliber have their bookings set two years in advance, we needed all the contracts in place early. The pieces to be performed have been selected by Adam and the entire program was ready to announce by March. Adam has his operational spreadsheets all filled in, too. He already knows who needs housing, who is driving to Vermont, who needs to be picked up at the airport, who needs a practice piano. He lives in Chicago, but he'll be here by the end of June, and then the Guest Artists and Young Artists start arriving right after that."
Photo: Tim Peters
As seasoned festival-goers already know, the Manchester Music Festival operates on two levels: public performances by world-class musicians as Guest Artists, and an educational component for a select group called Young Artists. This year 132 applicants vied for a mere 16 openings in the Young Artists program, and the applicants were composed of top-tier conservatory students from 20 countries. Because the competitive intensity of the Manchester program is rising at a fever's pace in the music festival circuit, MMF received three times as many applicants as the year before.
Before the Young Artists come to Manchester, Neiman will have chosen the music they will perform, taking into account requests by them for specific works. In the past, the Festival has had only one masterclass per summer, but this summer, Neiman has organized two masterclasses every week–morning and afternoon on Saturdays. Watching a masterclass is a true and unfiltered look at how the Festival works behind the scenes.
Telscher hopes that this season audiences will fully tune into the recitals, lectures, and masterclasses, as well as the Young Artists' concerts. Most of the celebrity guests stay in Manchester for one to two weeks, perform, and coach the Young Artists. These musicians must love the Manchester Music Festival and they must love Vermont because so many have performed at this festival before and are eager to return.
"There will be a number of debuts, too," says Neiman. One of his "big gets" for this year is the inclusion of two performers who will share the stage at the orchestral concerto on August 3. One is Maestro Ignat Solzhenitsyn, the world-famous conductor. Neiman says, "He was so kind and amenable about joining us here, and even though he had ties to southern Vermont, he has never before performed at the Manchester Music Festival. It was an unbelievable boon to put him into our program. The other is pianist Alexander Kobrin, gold medalist of the Van Cliburn Competition. To have the two of them on the same stage at the same time is more than I could have hoped for this season." For the opera night on August 17, Telscher and Neiman are excited to have invited Miloš Repický. Another superstar, as Neiman calls him, he is a Slovakian pianist and vocal coach from New York's Metropolitan Opera.
"I want people to realize," says Neiman, "that just because this festival takes place in a beautiful village in the mountains rather than a big city environment, it does not make our program any less sophisticated. Vermont has an illustrious history of great musical culture and this festival, over the last 43 years, has been a big part of that. My greatest task as artistic director here is to keep it in that circle of top world festivals." Neiman has put himself into the schedule, too. Look for him at the piano on the Festival's opening night and again throughout the summer.
Dorset Theatre Festival
"You can kill a good play by bringing it to New York too soon. It would be dead in the water if it gets a bad review and then no one else will want to stage it," says Dina Janis, artistic director of the Dorset Theatre Festival. Now in its 40th season, Dorset Theatre Festival most certainly does not kill plays–quite to the contrary, it has earned an enviable reputation for staging plays that have gone on to be produced again and again in theaters nationwide. Some have landed on Broadway and at Lincoln Center, or been performed at major theaters in Los Angeles and Chicago. At Dorset in the summer, Janis says, they are staging plays that are fully formed and extremely well cast. She says, "Here, a play can find itself. It's a safe, supportive environment for new work." The published scripts credit Dorset Theatre Festival for the Premier, and any future productions also note that fact in their programs.
In addition to premiering new plays, the Dorset season also includes regional premiers, that is, plays that were a sensation in Boston or New York City and are coming to this area for the first time. Occasionally, the schedule includes "one of the classics," such as this year's production of American Buffalo. Janis's biggest challenge for the festival's 40th anniversary year is to put together a good commercially viable, star-powered season. "We wanted outstanding casts and productions that would celebrate all that we have accomplished up to now," she says.
Artistic Director Dina Janis (right) and Managing Director Molly Hennighausen (left). Photo: Kate Pace
"The interesting thing about this kind of theatre," she says, "is that we are doing four or more Main Stage productions during a few short weeks during June, July and August." The actors for each play are in rehearsal with the director for two weeks prior to opening night. Then, on the Sunday of the third week of rehearsal, everything moves from the rehearsal rooms into the theater, and this begins what is known as their "tech week." The first time the actors get to rehearse on the actual stage, and when the costumes are tried on, the walls of the set are moved in, and the lights are hung, is just within those few days before the audience shows up. "It is one of the shortest technical phases known to mankind, and it all has to come together fast," she says. "What's happening backstage and offsite is a lot of highly skilled professional artists and theatre production people are working at the top of their game around the clock. The production manager has to make sure that everyone is scheduled so as to not get in each other's way. Some of the creative people, such as the scenic artist, who, say, might have to make a 'brick wall' that's not really made of brick, will come in and work all night. The lighting crew may be working throughout the next night because they need the darkness on the stage to focus the lights."
Each play has different directors, different designers for sets, lighting, and sound, so the creative ball for this season began rolling as far back as August of last year. "Those separate teams and I have been having meetings and working together in New York City, or by email and Skype, all winter long," says Janis. By mid-May, each of the productions has been conceived and designed, and in late May all the elements begin to shift toward Dorset–playwrights, actors, technicians, artists, interns, materials, props, and costumes. Once everyone is all on site together, Janis is the one who must make sure that the play "is brought to life in the present moment for the audience."
"There is something unique that a theater like this can offer serious artists. You take someone like Tim Daly, who has a starring role in the hit television series Madam Secretary," she says. "He works all the time, but he also loves being able to work artistically on projects that allow him to experiment or explore new characters." Daly, Dorset Theatre fans will remember, won rave reviews in Red three years ago at the Festival. This season, he is returning with his sister Tyne Daly for the world-premiere production of Downstairs, a play about a brother and sister written especially for them by renowned playwright Theresa Rebeck. Performing on stage for the first time together, they will do 16 performances between June 22 and July 8. "We are in a beautiful place, the talented people we bring here can unplug and that's part of what attracts award-winning stars like the Dalys, Treat Williams, Stephen Adly Guirgis, and John Procaccino to come," she says, "but the production schedule for these few short weeks is crazy. Everyone has to stay focused." "We've become a destination theater," says Janis. The proof that what's been happening at the Festival over the past four decades as something out of the ordinary is evident in the generous funding they receive from the National Endowment for the Arts, the Schubert Foundation, the Rodgers Family Foundation, and others.
"Our goal," Janis says, "is to create theatre that matters and to surprise people with thought-provoking theatre that allows them to expect the unexpected."
Debut Season
Taconic Music Summer Festival
At the end of last summer, husband and wife Ari Rudiakov and Joana Genova started a new music organization in Manchester "from whole cloth," as Rudiakov puts it. "To manage and run Taconic Music Summer Festival, my wife and I are working with a dedicated staff of volunteers, and no paid staff, to launch not only a debut summer season of chamber music concerts, but music and educational programs year-round in the community and beyond." The Taconic Music Summer Festival is scheduled for June 25 through July 17 with four Sunday afternoon concerts, two Next-Gen student performances on Saturday afternoons, and a benefit concert in early September. Rudiakov is a violist and conductor, Genova is a violinist, and they share the duties of artistic director for Taconic Music. Genova says, "When our neighbors in Manchester heard that Ari and I were developing a new music festival, some of them stopped me on the sidewalk and asked how they could help. One of our longtime patrons volunteered to provide housing for some of the students who are enrolled with the Festival this summer."
Photo: Hubert Schriebl
One of the more interesting features of the Taconic Music Summer Festival, a nonprofit organization, is its open dress rehearsals, which is truly an unvarnished look at what happens "backstage" before a formal concert. Genova says, "We are inviting people to come to our rehearsals on Saturday mornings so that they can see how hard everyone works to make a classical music program come together. You can see the interruptions, the discussions, even sometimes the arguments about how to interpret the music or play together. The rehearsals can run long, but anyone can come in for only part of the time. It's also a good way to introduce children to classical music. It could be more appealing for them to see how musicians create a performance, and it is all informal, more casual."
Since open dress rehearsals are "by donation," stopping by the Riley Center for the Arts at Burr and Burton Academy in Manchester can be a last-minute decision, and Rudiakov and Genova expect that this will attract individuals who may not be overly passionate about chamber music, but who have a certain curiosity to see what it is all about Rudiakov adds, "It is always exciting to see the creative process that takes place at rehearsals and later attending the final concert. Because it's a live performance, it never happens the same way twice." That may surprise audiences who see both the work-in-progress during a rehearsal and, later, the final concert.
The Taconic Music Summer Festival has an intensive chamber music study program, in which artists coming to Manchester to perform in concerts also are the teaching faculty. Rudiakov and Genova have handpicked nine music students to participate in the debut season, and they come from across the U.S. and as far away as China. The masterclasses for the career-minded students, held at Birchbrook House in Manchester, are also open to the public, offering another inside look at the connection between professional musicians and those they teach.
"We are making everything that we do accessible to people and families who may not be able to spend hundreds of dollars on full program passes," says Rudiakov. "Our performance venues are small and intimate, and audiences will see at once that what we present is an uncommonly personal approach to enjoying classical music."
Weston Playhouse Theatre Company
"The meet-and-greet days when casts and creative teams arrive for each of our seven productions are always exciting, and we're ready for them," says Lesley Koenig, managing director of the Weston Playhouse Theatre Company. "Long before the season opens, sets for the first productions are 90 percent built, costume designs have been finalized, and the budget for each production component has been set for six months. Everyone is poised to move forward." Koenig has been with the Weston company three years. With a 37-year career as an opera director, which began at New York's Metropolitan Opera at age 23, she likes to tell the story of how she came to this company as interim staff. Within a week and a half, she asked to be added to the national job search, ending up with a full-time position in charge of the oldest professional theater in Vermont, and one of the oldest in the nation.
The buzz backstage at Weston, according to Koenig, starts in early summer, when crew and interns show up and get their shops up and running. "We build most everything from scratch here," Koenig says. But beyond rehearsals, costume fittings, and wrangling stage props, by "executive decree," she insists that everyone in the company have fun. "This is a serious business, but really, it's a romp." Interns at Weston, who are paid a stipend and provided housing, sign on to work side-by-side with the top actors, well-known directors, and the best of the New York and regional designers. That alone is certainly enough to attract applicants from all over the country, but "weeping with laughter," as Koenig puts it, is one of the primary job requirements. "If we are not all having fun, what's the point?" she asks. "We are in the entertainment business."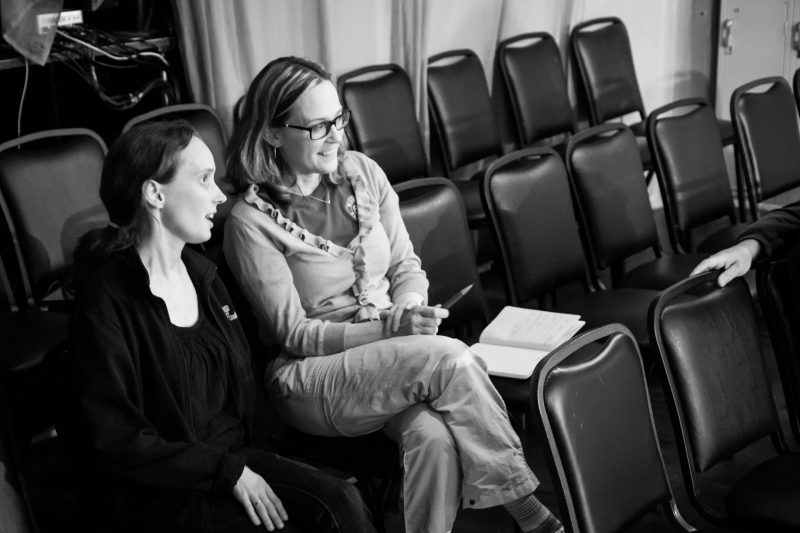 Koenig's favorite moments often occur when the whole company is together, but not necessarily performing. "When we strike a set after a last performance and set up the next production, that's called a change-over. Everybody stays up all night, and we often film it. You might see someone from the box office working alongside the lighting designer's crew to hang lights. Those nights are as big a blast as putting on the show."
It is easy to overlook the fact that not all the critical business of theatre happens in the design studios and behind the curtains. So much of running an ambitious, but transitory theatre company one summer at a time ends up being about apparently mundane and practical matters. "Once the season starts, we go from a company of 6 to one of 130 practically overnight," Koenig says. "Imagine all of them converging on a small town like Weston. Where are they all going to live? Housing for the company is plotted months in advance, color-coded on an enormous spreadsheet, a four-foot-long scroll with one column for each day of the theatre season. And that's just one little piece of the puzzle, a perfect example of how much we do to get ready before anyone shows up."
"Our first production, opening June 27 on the Main Stage, is Once, a love story set in Ireland and based on the Oscar-winning film," says Koenig. "It's especially interesting since every actor in this play must also be a musician. They are their own orchestra. Luckily, finding such multitalented performers isn't as difficult as I thought it would be." Once is sure to be a season-opening smash for Weston. In 2012, it won eight Tony Awards, including Best Musical and Best Song. The director is Michael Berresse, who joined the company as associate artistic director in earlier this year. His acting credits include many Broadway and off-Broadway shows, and he is a director and choreographer.
Steve Stettler, producing artistic director for the company, takes a long view on the way things work in the theatre, as only he can, having been a producer at Weston since 1988. "We've been doing this for a long time, and it appears to run like a well-oiled machine," he says. "But, in many ways, creating every stage production from scratch is like being on an eternal blind date. We know what we are capable of doing, but we never know how it will turn out until we've done it."
Farm-to-Theater Update!
What happens next at the Weston Playhouse Theatre Company will be the most exciting event in a long time for theatre lovers across Southern Vermont. The ongoing project to develop a year-round complement to the historic Weston Playhouse in a new Center for the Arts at Weston's Walker Farm is in its final phase this summer. Audiences of up to 140 people will attend performances in a contemporary studio theater, specifically designed for multiple uses and flexible staging techniques. Be there the day the doors open on September 23 by keeping in touch with Weston Playhouse Theatre Company. Sign up for their free e-newsletter at www.westonplayhouse.org.
Arts and Culture by the Numbers
7 in 10 (70%) American adults attended an arts event in the past year, such as going to the theater or a museum or taking in a musical performance.
Regardless of whether they attend or not, when asked about museums, theaters, and concert halls, 82% of Americans say these institutions are important to business and the economy, and an overwhelming majority (87%) agrees they are important to the quality of life in their communities.
27% of the population (more than 1 in 4 Americans) made a donation to an arts, culture, or public broadcasting organization within the past year.
source: AmericansForTheArts.org, 2016