Bed quilts, old and new, then and now.
By Anita Rafael
Photography by Timothy Peters
"Lightning Strikes" pieced with half-square triangles by Phoebe Waldmann; quilted by Andrew Sas of Waterwheel House Quilts in Londonderry
Take two layers of fabric, either whole cloth or patchwork, layer filling between the two, and stitch it all together, plain or fancy. Technically speaking, you have just made a quilt. But why stop there? Why not cut and sew the fabric into floral or geometric patterns first? Why not think of pretty ways to appliqué some shapes or to piece colorful calicoes together in clever designs? Why not make a work of art out of the covers that keep you warm at night?
Quilters, it turns out, set no limits for themselves on creativity, and what most people would consider a tiresome task, to join hundreds of pieces of cloth using hundreds of thousands of stitches, quilt makers consider a gratifying and pleasant pastime. Whether you are looking at a bedcovering that is a century old or more, such as some of the prized quilts at the shop of Marie Miller in Dorset, or if you are bowled over by the explosion of colors, patterns, and exciting designs of the newly stitched quilts on display at Waterwheel House Quilts in Londonderry, you are in the presence of the handiwork of a person with passion for the process. ("Quilting," loosely defined as any kind of padded fabric, has been known for about 5,000 years, give or take a half-millennium, compared to say, knitting, which is not as ancient.)
From the collection of Marie Miller Antique Quilts in Dorset; "Stars" pattern, circa 1930s
"Condition, condition, condition," says Marie Miller. "In an antique quilt, condition is where the value is." Miller collects and sells quilts that are primarily from before the 1930s. Those dating from the early 19th century and before are exceedingly rare, both here and abroad, and it is generally agreed that quilt making as a craft, or genteel hobby, or, in some cases, as an income-producing venture peaked in the second half of the 1800s. Ladies entered their best "Sunday" quilts in contests for the prestige of the blue ribbon prize, while the genre of ladies' magazines regularly featured "new" patterns to inspire quilters; both events coincided with the spread of textile factories across America—the industrial revolution, if you will. By this time, the nostalgic, log cabin–era notion that beautiful, artistic quilts were born entirely of frugality was put to bed; the most eye-catching and intricate quilts were made using purchased yardage of whole cloth, rather than whatever homespun happened to be in a woman's scrap basket, snippets left over from sewing clothing for herself and her family, or the rags and remnants of dresses, shirts, and pants no longer fit to wear.
A dealer since 1983, Miller says, "Quilts have held the public's interest, and the finer examples, such as the ones I collect, continue to hold their worth. The appliqué quilts from the 1860 time period are the most desirable and the hardest to find in pristine condition." She thinks that there will always be a certain group of buyers who can appreciate the handmade aspect of any item that is so carefully crafted, and who see the romance in having old quilts in their homes. Her collection, exclusively vintage American quilts, fills two rooms at her shop; some hang on the walls gallery-fashion, some are folded and stacked high, some are draped over chairs, and one is displayed on a beautifully made bed.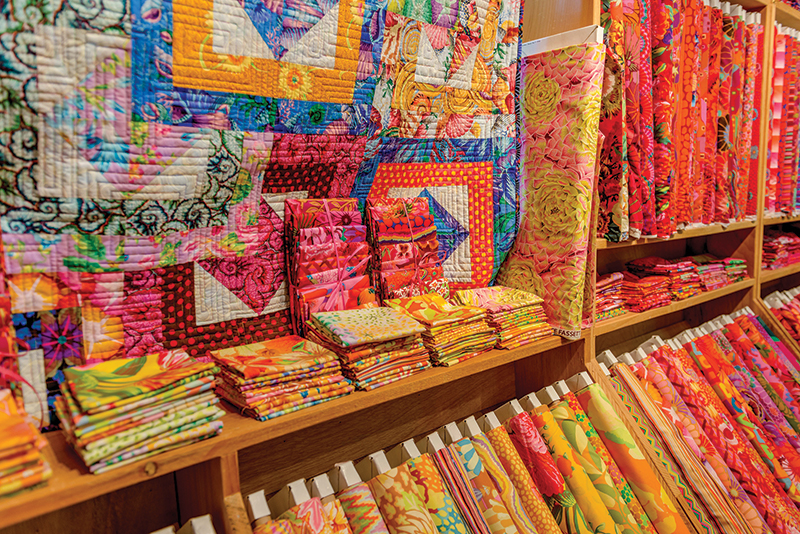 Many of the fabrics at Waterwheel House Quilts in Londonderry are from the Kaffe Fassett Collective
"I've been doing this so long," Miller says, "that it seems these antique quilts find me now. I hear from people from all over the country who have quilts to sell, and my first question is always 'What condition is it in?' And, I also consider the maker's artistic interpretation." It's easy to see what she means by artistic interpretation as she compares two traditional Nine Patch quilts side by side. They are the same pattern, nine simple square patches to a block, but, because each quilter had a different sense of design, as well as their personal preferences for colors and prints, the two are nothing alike. An interesting fact to know about early quilts made with tan or beige patches actually has to do with the color green. "There's a color from the 19th century we call 'fugitive green,'" she says, unfolding an appliqué quilt that is red and tan. "What was originally green in the maker's hands has changed over time, very evenly. The fabric is still strong. It's just that the dye has faded." It is lovely as is, but that quilt would have looked splendid when the design was still bright green and Turkey red (a color that was used extensively to dye cotton in the 18th and 19th centuries; it was produced using rubia roots).
Miller wants people to use the quilts that they take home. "Our quilts are meant to be used," she says. "They've been cleaned, professionally mended when necessary, and they are in excellent condition. People should not be afraid to display them or put them on their beds. I don't want people to buy an antique quilt and then leave it in the closet. I hope they will enjoy it every day."
But, when it comes to bedspreads, there's an obvious question to be asked—can you use an antique quilt on today's larger beds? Beds in bygone days were nowhere near so ample. Miller says, "You can make it work for you in many instances by rotating the quilt. A quilt that is 80 inches in length may have been made to run head to toe on the bed, but if it is placed across the width of a queen mattress, it gives enough of a drop on each side."
From the collection of Marie Miller Antique Quilts in Dorset; "Bear Paw" pattern, circa 1880s
Shelley Sas was an avid quilter long before she opened Waterwheel House Quilt Shop in Londonderry 10 years ago. Her sewing rises to the level of museum-worthy contemporary art—her choices of colors, patterns, and methods of piecing come from a mindset that puts quilting on par with fine art. Instead of tubes of paint, there are yards and yards of colorful cloth. Instead of a paintbrush, there is a needle and thread. Just as America's quilt-making forebears did before her, Sas ever so patiently sews many of her complex blocks by hand, taking stitches that are so tiny and neat that they are all but invisible; other blocks she machine-pieces with tight quarter-inch seams that must be sewn with military precision if the corners and points are to align just right. (While it adds character when old houses begin to lean at crooked angles, all quilt makers know that patchwork pieces and appliqué designs must not!) When it comes to the quilting itself, that is, the pattern of decorative stitching that holds the top, batting, and backing together, Sas sometimes relies on a computer program to do the quilting by machine on a large frame, but there is no way for any software to decide which type of stitching looks best with a specific pattern of blocks or appliqué. That's entirely up to her artistic sensibilities and tastes.
"I am into these new bright floral and bold geometric fabrics. In fact, the shop does not carry any reproductions of heirloom fabrics, so the material I choose for my quilts and wall hangings are prints by some of today's best-known textile designers," she says. Sas names names: Kaffe Fassett for one. (Kaffe rhymes with "safe.") Now in his 80s, and living in England, Fassett's influence on decorative arts cannot be overstated, and it is because of the optic-nerve-shattering way in which he uses color in everything he does that quilters of what is called the Modern Art Quilt Movement see him as a guru to the craft. Fassett has made quilts, too, but many people know him from his line of yarns and knitting patterns, or from his exquisitely complicated needlework kits. A devotee, Sas says her shop has the largest assortment of fabric from the Kaffe Fassett Collective in Vermont, adding that, "his textile designs are collectible. There are people who don't sew anything, and they just collect Kaffe's fabrics. They cannot bring themselves to cut it, so they just keep it in stacks and look at it."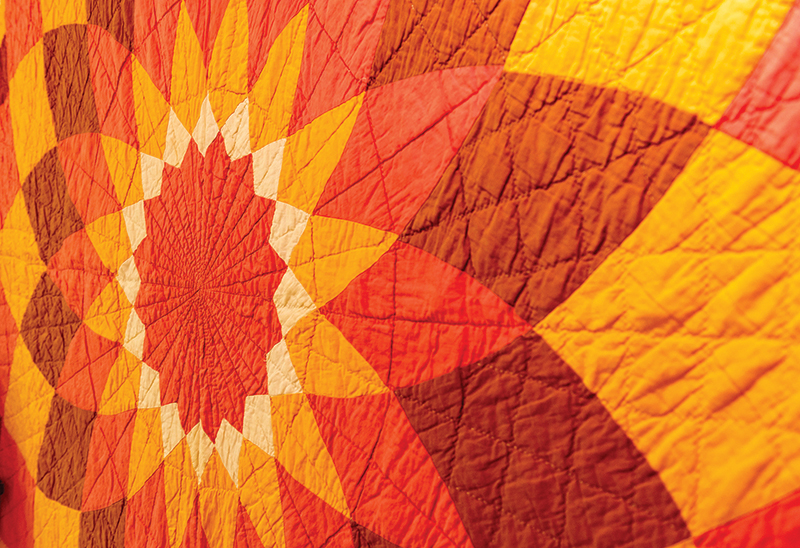 From the collection of Marie Miller Antique Quilts in Dorset; "Dahlia" applique, circa 1930
"In quilting today, we are seeing some design elements that were not common before the 1980s," she explains. "We see more negative space, or a design can be more abstract. Some contemporary quilters use only solid colors instead of decorative prints." Studying the workmanship and designs of the fabulous quilts and beautiful wall hangings Sas creates, it is hard not to wonder about what their place in history will be years from now. Browsing through the heirloom quilts in Miller's collection, many people reminisce, for example, over the fabrics printed during the Civil War–era, or those produced in the early 20th century. Others recite from memory the quaint names of the blocks and appliqués: Drunkard's Path, Flying Geese, Courthouse Square, Jacob's Ladder, Grandmother's Garden. But without those same historical references, what, if any, venerated place will the work of today's contemporary quilters hold as time passes? "A finely made quilt is always going to be a work of art," says Sas, "regardless of the year in which it was sewn. People in the future will take in that aspect of what today's quilters are creating."
This past summer, one of Sas's quilts was awarded a ribbon at the highly regarded Vermont Quilt Show in Shelburne, a seasonal highlight since 1977 that draws thousands of visitors. Titled Glorious, it consisted of 300 hexagons, hand stitched in a technique called English paper piecing. It is good that Sas signs her projects, and, having earned acclaim, she has loyal patrons who collect her quilts.
Section from "Mad Dog" pieced by Shelley Sas with novelty prints from the Kaffe Fassett Collective; quilted by Andrew Sas of Waterwheel House Quilts in Londonderry
"There will always be a next generation of quilters coming up, certainly," Sas says. However, it may not be until later in their lives that they will have the time to develop their individual styles and push the craft forward again. "What is interesting to me," she adds, "is that quilters of a certain age are evolving. In the shop, we see women typically 50 to 75 years old who previously would only sew with heritage colors in traditional designs, or who previously said 'I want to sew a colonial-style quilt that will go with my couch!' Those quilters are stepping out of that box now because they are envisioning the kinds of quilts they, too, can make using today's textiles. These fabrics lure them in a whole new direction."
"One of the most important things we do as quilters is inspire other people. Maybe they used to be quilt makers and gave it up, or they never sewed before and are just so excited about the kinds of functional quilts and art quilts that they see in my shop or in a quilt show, that suddenly they are motivated to make one, too," Sas says. Her words call for a mild consumer warning. All quilters and quilt collectors, including Marie Miller and Shelley Sas, have said the exact same five words about their passion for quilts: "I just caught the bug." Who knew scraps of cloth could be that viral.
From the collection of Marie Miller Antique Quilts in Dorset; "Rose Wreath" appliqué, circa 1860s
A little vocabulary lesson, if you're not a quilter—piecing means taking small bits of cloth and sewing them together to make a design or pattern. One way of making a quilt large enough to cover a bed is to piece individual blocks, say 8 or 12 inches square, and then sew those together in rows. Not all quilts are made up of blocks. A crazy quilt has no predetermined design or pattern, so scraps of different shapes, sizes, and colors are sewn together randomly. Some quilts are appliqué—this means that the pieces that make up the design or pattern are sewn on top of a contrasting base layer, either as blocks or as a whole cloth.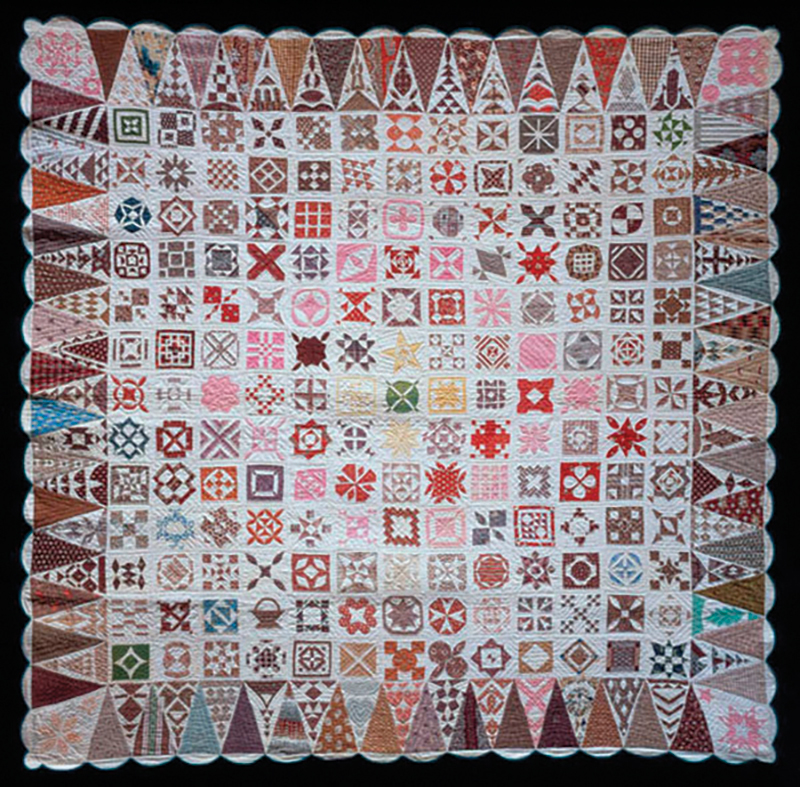 A Material Masterpiece

Jane Stickle quilt: On view
at Bennington Museum
Sep. 1–Oct. 8
Perennially, quilters and collectors
from far and near fly, drive,
bike, and hike to Bennington
Museum whenever the famous
Sampler Quilt by Jane Stickle is
on view. Now 155 years old and
fragile, it is only displayed for a
brief time each year. Mrs. Stickle
stitched 169 blocks, measuring
4 to 5 inches square. Many are
intricately pieced—the bits of cloth
range from less than a 1/4 inch to 2
inches on a side, and some of the
blocks have 35 to 40 pieces. Here's
what is even more remarkable: She
used 5,602 pieces of cloth, but
she did not use any of the printed
fabrics in more than one block.
Source: Bennington Museum
Save the Date!
25th Annual Bennington Quiltfest
New quilts, demonstrations, raffle,
marketplace, consignment shop, and
café serving breakfast and lunch.
Sep. 15 and 16; Sat. 9am–5pm,
Sun. 9am–4pm
Admission $7; children 12 and under free
Mount Anthony Union Middle School
747 East Road, Bennington
All the Details
Waterwheel House Quilt Shop
6795 Route 100, Londonderry
802-824-5700 or
waterwheelhouse.com
Marie Miller Antique Quilts
1489 Route 30, Dorset
802-867-5969 or
antiquequilts.com
Bennington Museum
75 Main Street, Bennington
802-447-1571 or
benningtonmuseum.org