A QUARRY OF CREATIVITY IN DORSET
By Anita Rafael
Photography Courtesy of Marble House Project
Two hundred years ago, millions of tons of marble were quarried at the old Manley-Lefevre property on Dorset West Road, and now, the quarry and mansion have been turned into an absolute goldmine of creativity and inspiration. The artist-in-residence program known as the Marble House Project is in full swing this summer and good things are happening every week. Beginning its third season this year with 60 gifted artists, photographers, sculptors, dancers, musicians, composers, writers, poets, and others, the artists live and work there in three-week rotations, eight at a time.
FINDING THE RIGHT PLACE
It all started in 2012 when Danielle Epstein and Dina Shapiro, artists from New York City, paid over $1.4 million for the property, and then began an 18- month indoor and outdoor restoration that cost another $400,000. For many years, Epstein had been exploring various ways and means to create an arts advocacy program, and all it took was the right building in the right place to come along. Luckily for historic Dorset, this was it!
Epstein had undertaken large-scale preservation projects before and says, "I knew what I was getting into. The minute I walked into this mansion, I knew that this was the property I had been looking for." Likewise, the 22-room residence, listed on the National Register of Historic Places, needed just what Epstein had to offer — a gentle restoration that preserved every molecule of its historic character and a new purpose as an artists' retreat and as a cultural venue for the town.
ART-Seed is a free Tuesday-evening program offered weekly to the public by the artists-in-residence at Marble House Project. The gathering, which takes place in a restored barn behind the mansion, is the resident-artists' way of giving something good back to the community. An ART-Seed event might be a lecture, a reading, an artist reflecting on his or her life and work, a musical recital, or a dance performance. Every week there's something different, something interesting.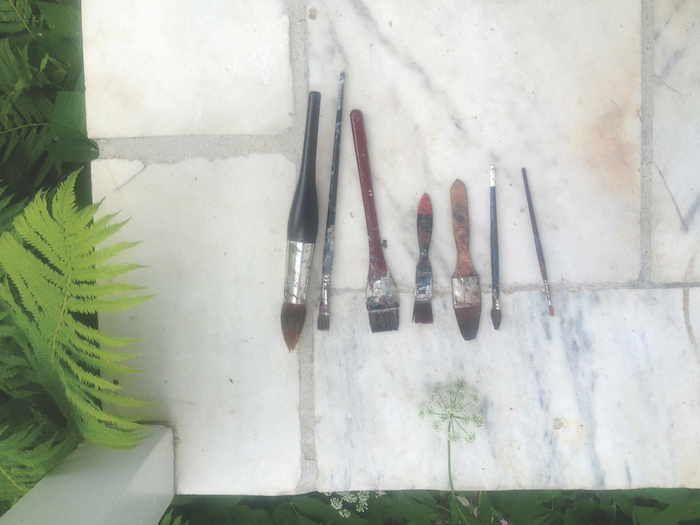 The best thing about Tuesday evenings though is being able to enjoy a stroll around the grounds and through the formal gardens, as well as taking a close up look at the exterior of the mansion. (The mansion and studios are for the exclusive use of the residents, and are only open for visitors on special tour days.) It's been quite exciting to watch the ongoing revitalization of the formal gardens, which is what makes the property such a roadside attraction all summer long. The elaborate Italianate plan was done in 1914 by an eminent landscape architect named Charles Downing Lay. "We have the original blueprints," says Epstein, "so we are recreating the plantings according to Lay's vision."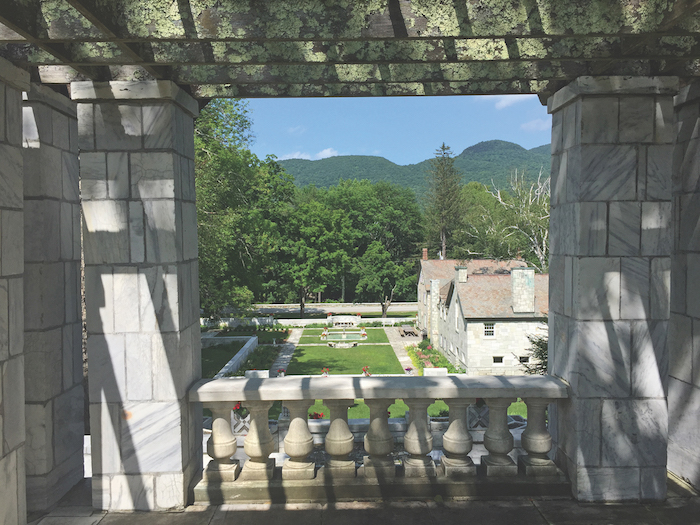 Whenever fundraising galas for Marble House Project take place in the garden, it is a particular delight for guests to slowly sashay up the long marble staircase to the spot on the hillside where the cascading fountain bubbles up and begins its long downward splash, running sometimes above ground and sometimes below.
Now fully restored, the fountain is again magnificent. Water spills into canals, spurts from lion-head spigots, overflows from basins, and finally at the bottom, it fills shallow marble pools that capture the reflection of the north façade. It all shimmers, tossing flecks of light onto the edifice, the garden walls, the walkways, and the teahouse, all made of marble.
On the interior, Epstein did remarkable rehab work. For example, on the ground floor, a space that once was a 26′ by 40′ indoor swimming pool has been repurposed into a bright studio with a sprung dance floor. It's still lined on all four sides with the most beautiful marble Vermont has to offer.
Marble House Project is a nonprofit organization run by a nonprofit foundation with a current annual operating budget of over $300,000. "The artists who come here do not pay for the residency program, or lodging, or meals," says Epstein. "The community support we are getting to fund this and our public events is growing because people around us are responding so enthusiastically to both the preservation work we have done but more importantly to our cultural events."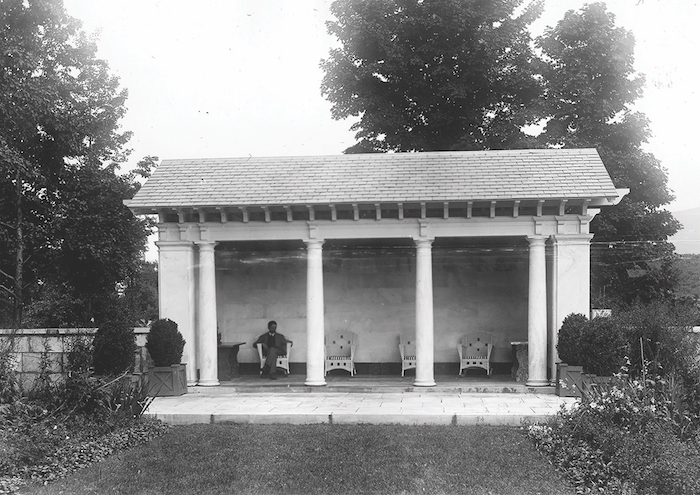 Dorset, a town long known for having abundant pride of place, and a wildly popular theater as one of its main attractions, has another place to be proud of, thanks to Marble House Project. You cannot help but notice at once that the 38-acre property, including the long-abandoned quarry on the hillside has a distinct theatrical feel to it, like a stage set for some English country drama, something Conan Doyle, or perhaps, Jane Austen. It's easy to imagine how the artists-in-residence find great inspiration there. We know we did.
ART SEED
Apr. 25-Oct. 24, 2017
Marble House Project, Dorset
Resident artists from Marble House Project share and perform their work every Tuesday, including musicians, dancers, writers and artists.
DETAILS!
marblehouseproject.org has all the scoop about open house dates, house and garden tours, ART-Seed, open studios, the workshops, applications for artists' residencies and facility rentals. Your best bet: Sign up for their free e-news so you won't miss a thing.
1161 Dorset West Road, Dorset VT
MARBLE WEST INN
It's one of the pretty old Gothic- revival style houses along the historic Dorset West Road, and guests of the Marble West Inn are treated to an eclectic mix of rural Vermont and sophisticated taste. Built about 1840, the Inn was just renovated in 2014 by new owners Danielle Epstein and Dina Shapiro of New York, who are also the pair behind the restoration of the big marble mansion just up the road, home to Marble House Project.
One guest told us, "It's comfortable, and it's metro hip in a way. Lots of white, and art photography on some of the walls." There may even be something a little zen going on there. Take the "Birch" for example: on the inside, a white bedroom with crisp white duvets and perfectly polished birch furniture; on the outside, a view of white paper birch trees. Makes perfect sense. There are eight bedrooms with private baths, large parlors, a library, and in the dining room, seats for 16 people. Some evenings the innkeeper hosts wine and cheese tastings, events open to everyone.
There is a three-bedroom carriage house apartment, too for longer stays. Just a word, if you spy the chef who's supposed to be making your breakfast outside the window at dawn, she's probably headed to the garden to gather fresh herbs and vegetables to flavor your omelet. You can wander out there to assist, or just sit in a rocker on the porch with a cup of coffee and enjoy the view of the mountains off to the east.
Check availability online or make reservations by email: [email protected]
1847 Dorset West Road, Dorset, VT
(802) 867-0400
marblewestinn.com
---