Bringing a Lifelong Passion for Music to the Manchester Music Festival
By Marsha Norman
Photography By Hubert Schriebl
The views from Peggie Telscher's music room high atop Stratton Mountain are nothing short of stunning. At one end of the room stands Peggie's magnificent nine-foot Steinway concert gra
nd piano. Gazing out the glass wall on the other side of the room, you can see the entire Stratton golf course and lake far, far below, with Magic Mountain beyond and Mt. Ascutney in Windsor beyond that. You feel as though you're on top of the world. It just goes on forever.

The room is a kind of culmination for Peggie of an abiding passion for music that began as a young girl and continues today. She holds degrees in Performance and Music Education from Northwestern, she still performs herself…opera, and is a dedicated and vigorous promoter of music in the area. As a board member of the Manchester Music Festival and the Opera Theater of Weston, she spends her days strategically planning to get first rate musical talent to the area. This room, in fact, is one result of her desire to bring great music to the mountains. She had no idea she would be so successful. With its 30-foot ceilings, the room has perfect acoustics for performing and recording. "That was a bit of luck," Peggie says, "You can't always predict how the acoustics of a room will turn out. I'd hoped that we might hold performances in this room, but never imagined that world-class musicians would think this place was cool and want to perform and record here."
But they do. And Peggie dreams of even more educational outreach that would vastly expand the concept of the Manchester Music Festival's Young Artists program and create a summer music event to rival the likes of the Marlboro Music Festival held every summer in Marlboro, Vermont and larger music festivals around the country. "This is a great time for music in this area," she says. "We really do attract first rate talent to come and perform here."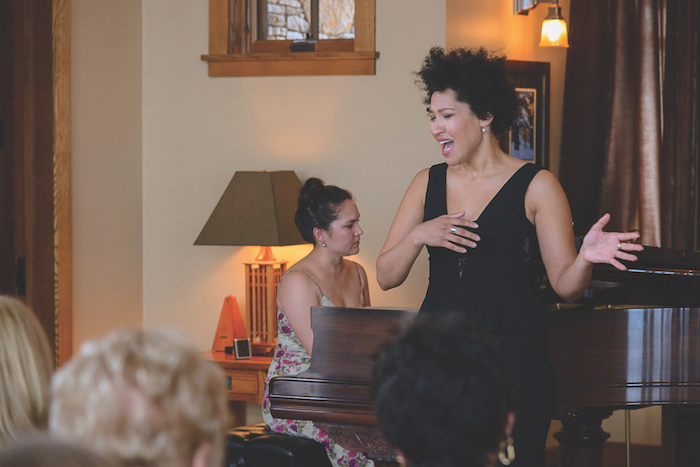 STRATTON: So tell us a bit about what happens musically here in this room.
TELSCHER: We hold concerts and even recording sessions with really fine performers. People who play or sing at Carnegie Hall and have performed at similar venues around the world. The whole thing has completely exceeded my expectations. It's exciting that great musicians like Vassily Primakov, Caren Levine and Julia Bullock want to come here. They love it here. It's R&R for them to be able to get out of the city. We have even managed to host master classes with some of them.
STRATTON: What, exactly, is a master class?
TELSCHER: As the name implies, it's a class with a master performer as teacher. You come in as a student with a piece you've prepared in a vocal class, that would be an operatic aria or some other classical song, and you sing for the teacher, and he or she coaches you. The teacher fixes things, right then and there, on the spot…and usually in front of an audience. It's a little bit like being naked on stage. Believe me, I've had nightmares about that.
STRATTON: Can anyone come to these performances or master classes?
TELSCHER: Yes. There is a charge, because the concerts are a benefit for the Manchester Music Festival or the Opera Theatre of Weston. People can call the MMF office, though, and ask to be put on the mailing list for house concerts. Students and teachers can at- tend master classes free of charge, and there is a greatly reduced student rate for the concerts. We usually have about 90 people. They almost always sell out.
STRATTON: And your plans for the future?
TELSCHER: I have very high hopes for music here with all the first rate talent the Manchester Music Festival has been able to attract to the area. They come, they perform, they teach. The Young Artists' Program is particularly wonderful and concerts are held throughout the year. But what's really exciting is that we hope to expand our educational outreach and put what we're beginning to call the "Manchester Center for Music" on the map. It can be not only a summer music festival of the highest order, but increasingly a partner with area schools for music education. If you can introduce young children to fine music, as audiences and performers, you may ignite a lifelong passion for performing arts.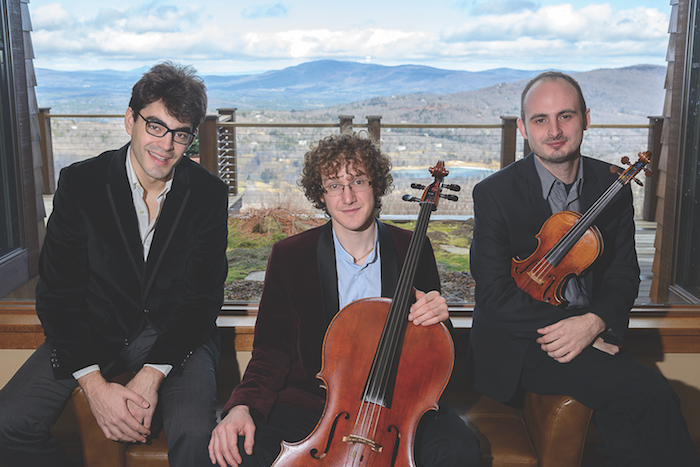 ---