Rita Dee first saw a horse when she was three years old, at a county fair in Pennsylvania.
"I was awestruck," she says. "I was overwhelmed. It was a flashy white horse being led by a young woman, and I said, 'Daddy! I want a horse!' I never doubted that I would have a horse someday. And I never gave up that love."
When she was 12, Dee's parents finally succumbed to the nine-year drumbeat of their child begging for a horse of her own. They bought her an American Quarter Horse, just over 15 hands high, and she started training at Dutch Manor Stable near her childhood home in Charlton, a small village in Saratoga County, New York.
She started out riding Western, but switched within a year to English, so she could jump. Soon she was competing in the hunter/jumper classes at the local and regional level. Meanwhile, she was pursuing honors-level art classes at Notre Dame-Bishop Gibbons, a private Catholic middle-high school in Schenectady.
She was talented—"a special student," recalls longtime teacher Paul O'Brien. And she had met the boy she would eventually marry: her classmate, a self-described "classic suburban kid" named Tom Dee.
She probably didn't know it at the time, but the three deep currents that flow through her life—horses, art and family—were starting to come together.
Graceful Horses Made of Driftwood
Rita Dee comes out of her barn on a blustery morning in mid-March in a ripped down parka, boots and jeans—battered work wear for feeding, grooming, mucking-out, riding and otherwise tending to the family's nine horses. She and Tom, who's now in his fifth year as the CEO of Southwestern Vermont Health Care, live on a pretty piece of property in the rural hills west of Bennington.
It's easy to tell when you've found their home—it's the one with the eight-foot-tall horse sculpture grazing by the side of the road.
In the New England art world and in national equine circles, Dee, 59, has made a name for herself by creating graceful, powerful horses made of driftwood that she gathers in the woods and along the banks of the Hudson River.
Her pieces—some made of stained wood, others intricately painted—are sought-after by private collectors and sell for prices ranging from $5,000 to $30,000. Though some of the sculptures are smaller, her trademark works are often larger than the animals she recreates, measuring as much as 8–10 feet high, 12–14 feet long and 4–5 feet wide.
"Growing up, the only thing I ever painted or drew was horses," Dee says. "Later, as a college student at Saint Rose in Albany, I majored in art education. Then I worked as an art teacher, but I didn't have a portfolio of my own work." So at age 35—married, with two young children and a third on the way—she enrolled as a non-matriculating student at Bard College in Dutchess County, New York, where Tom was working as a hospital administrator.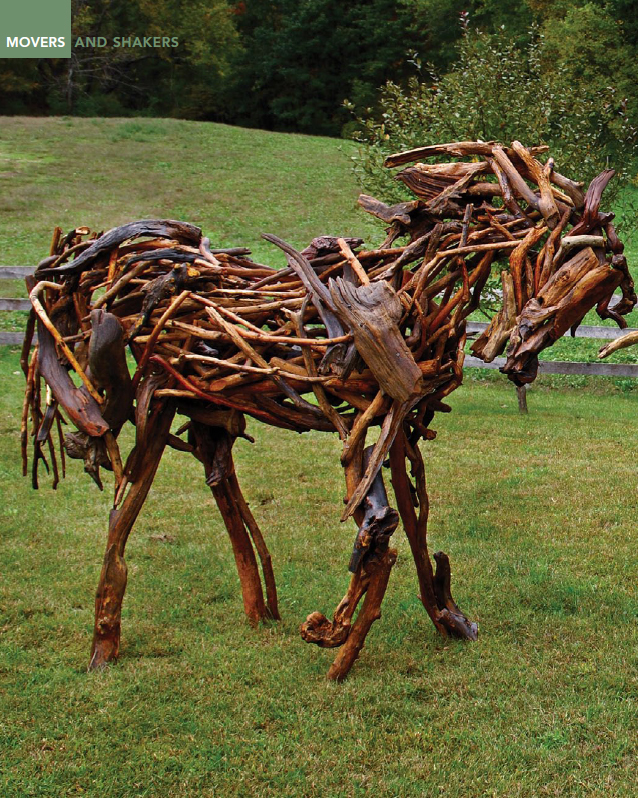 "I started taking classes, and one thing led to another, and I wound up staying at Bard for seven years as a non-matriculating student," she says. She was working with oils to paint abstract horses, but the linseed and varnish made her seriously ill. Her instructor suggested she switch to a more natural, less toxic medium. That was when she noticed the driftwood that littered the banks of the Hudson River near their Red Hook home.
"There was something about that wood," she says. "It had the flow of a horse's muscle and body, and I loved the way the water had worked with it. And there was so much of it lying around! So I started collecting wood, and…"
Before long, she had built a life-sized sculpture of a horse from driftwood, held together with wood screws. She offered it for sale at a Red Hook coffeehouse, and soon it sold for $3,500. So she built another. And another. And she realized she no longer needed a master's degree from Bard. She was an artist, and she was selling her work.
Raising a Family
Meanwhile, at home, she and Tom were raising a family. They have five children now, ranging in age from 28 to 16, and all five of the kids were taught to ride. "I think it's important that all children learn how to swim, ride a bike, play a musical instrument and ride a horse," says Rita, half-joking but mostly serious. "Horses ground kids and give them a purpose, especially during the teen years when kids sometimes lose track of what's important. Horses teach you to care for something and to be responsible for something other than yourself. So all of my kids, whether riding was their main thing or not, had to work in the barn. It's also a key part of our family identity: We're a horse family. It gives us a strong sense of who we are."
Wood Collection Days
In particular, Rita passed along her passion to Tara, her youngest daughter. Tara is now 22 and riding full-time, competing on the hunter/ jumper circuit throughout the Northeast and in Florida. She'll be riding in July at the annual Vermont Summer Festival in East Dorset, and her goal is to jump in the Grand Prix—the most competitive level of every show on the circuit.
"Growing up, I took my mom's art for granted," Tara says. "All of my friends would say, 'It's so cool that your mom does sculpture!' But as I matured and really got into horses, I realized what beautiful animals they are, and how my mom captures their feeling and their movement."
" Collecting the wood is a huge part of the process—and not an easy part!" —Tom Dee
Tara has many memories of being out in the woods, after school and on weekends, collecting driftwood with her family. "Every spare moment, she would drag us out," she says, laughing.
"Collecting the wood is a huge part of the process— and not an easy part, to tell you the truth," says Tom. "It ended up being a family affair. We'd go out on a Saturday or Sunday and spend hours, traveling far and wide to find these little caches of wood. In fact, I'm taking a day off from work next week for a wood collection day."
When the Dees moved to Bennington so Tom could assume leadership of the Southwestern Vermont hospital system, moving the wood was the biggest challenge. Tom says it took more than a year of weekend round-trips to shift Rita's extensive driftwood inventory from Red Hook to Vermont. "We loaded up the horse trailer with wood and drove it ourselves; that's not something you hire a moving company to do," he says. "I can't even tell you how many four-hour roundtrip circuits we made—probably 25."
At this point, Dee is nicely settled into the Vermont homestead, where she and Tom live with Tara (when she's not competing), their youngest son (Vitaly, a sophomore at Mount Anthony Union High School), eight of their nine horses (one is boarded and being trained by Harry Diel at Reindance Farm in Hoosick Falls) and their pets (three cats, two guinea pigs, and one dog). Their three other children are grown and living away from home. Dee has a small studio on the property that's open by appointment, but she mostly builds her sculptures in a spacious room off the garage.
The process starts with the wood, which Dee allows to dry after collecting it. Then she soaks it in a high quality exterior transparent stain and lets it dry again. Each sculpture is determined by the shape and curved lines of the wood—a shape that suggests a particular muscle, or the angle of the horse's head, or the movement of its tail.
Studying Movement
"I spend a lot of time watching horses, studying their movements, which I love to do," says Dee. "And when I build a sculpture, I start with the legs and the center of the horse's body. Then I build out from there, until I get to the head, neck and tail." The pieces are held together with powder-coated exterior wood screws, and Dee estimates that each horse comprises up to 550 pieces of wood, including 50 small pieces in the tail. Once assembled, she inserts a steel frame into the piece, which adds stability and offers a way for the sculpture to be anchored to the ground.
"I force myself to keep going until I get each sculpture right," she says. "I'm looking for wood that mimics movement, and sometimes I put the wrong pieces on, but I work with that. Each piece takes months and it often becomes a love-hate relationship, to be perfectly honest."
Dee's finished sculptures portray a wide range—horses impatiently pawing the ground, bowing their heads to graze, galloping or jumping (including one piece with a silk-clad jockey astride). Although most of her sculptures are made of natural stained wood, she tries to create one painted piece per year, like the patriotic, red-white-and-blue "Wounded Warrior" horse she fashioned as a fundraiser for the All Glory Project (www.allgloryproject.com).
Though most of her pieces sell to private collectors, some can be seen in public places near Southern Vermont, including the Saratoga National Golf Club and the St. Ledger's Woods housing development on Route 9 in Malta. Dee sells her work independently and also through the Sorelle Gallery (sorellegallery.com) at Stuyvesant Plaza in Albany. (Sorelle also has a space in New Canaan, Connecticut.) Dee delivers the sculptures herself—wrapping them in plastic and then suspending them with heavy-duty straps and springs from a steel frame on a flatbed trailer. She and Tom have driven the trailer as far as California and Houston, where a massive three-horse sculpture adorns the lawn at the corporate headquarters of Deloitte, the world's largest consulting firm. This spring, she'll deliver a moose—she does occasionally build other animals—to the indoor atrium at Dartmouth- Hitchcock Medical Center in New Hampshire.
Dee's finished sculptures portray a wide range—horses impatiently pawing the ground, bowing their heads to graze, galloping or jumping.
"When we transport these things, we'll have 30, 40 people circling the trailer every time we stop for gas," Tom says. "People drive alongside us, taking pictures and giving us the thumbs-up. And because the sculptures are suspended by springs, the animals move with the motion of the trailer. It looks like they're galloping as we drive down the highway."
"Her sculptures move people," he adds. "She knows how horses work, how they think, how they react—and she is able to capture that. Horses are her first love, and she brings that love to life in her art."
"To me, a horse transcends itself," says Rita. "They reach people in a way that other animals don't. If you feel weak or vulnerable, they transmit beauty and strength…Horses make us stronger."
To learn more about Rita Dee, go to www.ritadee.net, call 845.594.7767 or e-mail [email protected]. Her studio at 467 Houran Road in Bennington is open only by appointment. ◊
Kathleen James is a Manchester writer and a frequent contributor to Stratton Magazine.
---