By Luke Stafford
Photography By Hubert Schriebl
Seriously? People do this for fun? To relax?
After two more minutes of my trembling, tenuous positioning, our teacher instructed us to "return to a Down Dog." That's yoga-talk for the Downward Facing Dog pose, a position that would have you place your hands and feet flat on the floor and bend 90 degrees at the waist to form a perfect right triangle with your mat. My Down Dog looked more like a trapezoid.
"Let's come out of the Down Dog and go into Chaturanga," my teacher instructed. Chaturanga sounded like a South American celebratory dance to me, so I again snuck a peek at the teacher's pet on the purple mat in front of me. She was doing a pushup. A Chaturanga is basically a pushup, and nothing like a festive Rio de Janeiro beach dance.
As we repeated the Down Dog/Chaturanga/Sun Salutation/Warrior Pose choreography again and again, sweat dripping steadily by now, I found myself wondering why so many people are into this yoga thing. It's basically stretching and exercising, I deduced. What's the big deal? And how on earth could they center a four-day festival around it?
That's right. There is a four-day-long festival dedicated to yoga. It's called Wanderlust, and the formula calls for plopping a bunch of yoga-heads on Stratton Mountain, supplying them with endless yoga classes and presentations all day, feeding them excellent food in the evening and entertaining them with great live music at night. It all happens June 21–24, 2012.
If you're picturing (like I was, at first) a couple of yoga instructors in a rolling field, surrounded by a few hundred festival goers while a handful of musicians strum acoustic guitars, you're WAY off. Thousands of people show up to take classes and hear lectures from dozens and dozens of world-renowned instructors. Not one, but two big stages are set up for national musical acts. There's a vendor village, several bigtop tents erected for yoga classes and a cinema.
The list of musical acts slated to perform is impressive. Ani Difranco headlines the main stage Friday night, while Ziggy Marley (eldest son of Bob) headlines on Saturday. Bonobo, a British DJ with a smooth, sway-dance style, will host late night sets on both nights. Beats Antique, Quixotic, The Barr Brothers and MC Yogi round out the lineup.
"You should walk away feeling super lit up and happy," MC Yogi says about his show, slated for the main stage at 8:15 p.m. on Saturday. "It's the same type of feeling you get in a yoga class, but it's on a dance floor." Yogi, who has played Wanderlust festivals at Lake Tahoe the past three years but never set foot in Vermont, combines his talent in hip hop/reggae music with his love of yoga to form energetic onstage performances. Don't be surprised if you hear him ask, "Y'all ready to shake your asana?!" over the mic.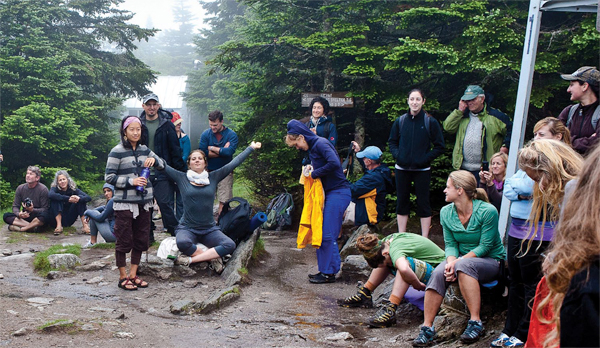 But the main attraction at Wanderlust is, of course, yoga. There are literally hundreds of classes to choose from over the course of the festival. Are you a mom? Take the chairlift to mid-mountain for the "Yoga for Mammas and Those Who Teach Them" class on Friday afternoon. What's it like to do yoga on a tightrope? Join the YogaSlackers for "Intro to Slackline Yoga," a foray into a new style of yoga practiced on one-inch wide webbing stretched between two trees. There's even a class called "Drink the Poison, Not the Koolaid," a teachersonly class that asks participants to tap their anger and turn it into "sacred, compassionate power."
It doesn't stop at yoga. Get your hula hoop on at the "Wholehearted Hooping Basics" class on Sunday morning. Led by Shakti Sunfire, this class teaches "the basics of hula hooping in the safety of community, slowly adding trick and technique." Find your inner aerialist at "Get High with Friends," a workshop designed to make seemingly difficult and flashy acrobatics accessible and safe. On Thursday afternoon, you can stop by Founders Pavillion for a session dedicated entirely to handstands. Guided mediation hikes, paddleboarding, street dance workshops, even a good old fashioned round of golf … they're all on the Wanderlust docket.
Any yoga practitioner will tell you that yoga is not simply about physical exercise. It's about mindful living, too. To accommodate, Wanderlust's founders, Sean Hoess and Jeff Krasno, have integrated The Speakeasy lecture series into the festival. "The speakers are carefully selected because they are engaging, thought provoking and insightful," explained Krasno. Lectures by Joel Salatin, an organic farmer featured in Michael Pollen's Omnivore's Dilemma, Eli Pariser, founder of MoveOn.org, Majora Carter, a pioneer in urban greening and food, and Elena Brower, a nationally recognized yoga teacher, are all on the schedule.
All that hula hooping and handstanding is going to burn calories. Luckily, food is everywhere. In addition to the variety of vendors serving munchies all day long, there are two nights of Farm to Table dinners that round up fresh ingredients from farms near the mountain. Organic produce, grass-fed beef, vegan options and gluten-free dishes will all be on the menu. To incorporate adult libations, "Winderlust" lets you sample local, organic wines throughout the festival.
Got kids? Bring them along. Wanderlust "is the perfect family vacation," if you ask Hoess. Wanderkind, the on-site day care program offered every day of the festival, "is an affordable way for kids ages four to 10 to have a safe and cool Wanderlust experience of their own, with … the opportunity to participate in yoga, hula hooping and arts and crafts." Kids age 11 to 16 can participate in the full Wanderlust program with a parent. Bonus: kids tickets are half off.
The Wanderlust Festival was first held in California in 2009. It has grown every year since, and this year the festival stops in California, Colorado, British Columbia and Vermont. Last year's stop at Stratton was the first East Coast Wanderlust.
"It rained the entire time," said Sally Larkin, a yoga instructor at the Stratton Sports Center who attended the 2011 festival. "But it was amazing, everyone remained completely positive and happy the whole weekend."
"It was almost mystical with all the rain and mist on the mountain," said Kristi MacDonald, a yoga teacher from nearby Winhall, and a Wanderlust Ambassador at last year's festival. "If anything, it brought people closer together," agreed Hoess. "People don't attend Wanderlust for the weather; people come to Wanderlust for fun, health and a sense of participating in a larger movement, one defined around mindful living."
MacDonald invited "a whole posse" of her yoga students to experience last year's festival. They ate local food, ogled a cabaret in the base lodge, strolled through the street festival setup in Stratton Village and danced to live music every night. "It was a full-on festival festival … in all respects," MacDonald told me. The highlight of her weekend was scoring front-row mats in a sea of 500 students in world famous yoga teacher Seane Corn's class, accompanied by Michael Franti's live music.
Meanwhile, back in my yoga class at Stratton Sports Center, we were getting to the fun stuff. Our teacher, Polly Schmid, had us all doing headstands, and I couldn't help but smile. I probably hadn't done a headstand in over a decade—it had a way of making me feel like a kid at a summer picnic again. Schmid then asked us to lie on our backs and curl our knees into our bodies. "Tell you knees you love them," she said. Tell my knees I love them? Wow. That is possibly the last thing I would ever hear at my workaday office job.
We spent the last ten minutes of class in a completely relaxed state, lying on our backs. Schmid spoke kindly, advising us to "let your heart melt" and "slow down your mind." I closed my eyes. I felt great. I was beginning to "get" this whole yoga thing. Later I would ask Schmid, "What is it about yoga that is making it so popular these days?" She explained that it is wonderful for providing temporary refuge from life's stresses. But as we talked, I learned that it can do much more. "I was really hyper. I wanted to be a millionaire," she explained, referring to her overdrive lifestyle in her early 20s. Then, partly through her sister's nudging, she tried meditation and started regularly practicing yoga. "It was transformative," she said. Fast forward a few decades and Schmid is now living on a horse farm in Jamaica, Vermont, with her husband and two children. She lives a calm lifestyle as a horse trainer and yoga instructor.
"Yoga turned my life around, for sure," MC Yogi told me. Yogi spent his adolescence and teenage years tangling with the law as a graffiti artist in the Bay Area. When he landed at a reform school for at-risk youth, he knew a change was in order. "A lot of my friends were ending up in jail or joining the military. I thought, 'I've gotta do something here.'" His father turned him on to the power of meditation and yoga. He was immediately hooked, having finally discovered a healthy way to channel his buzzing, creative mind. He studied yoga under an instructor who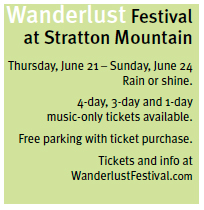 once advised the Grateful Dead and eventually met and fell in love with another yoga instructor-intraining. They married and nowadays, when Yogi is not touring or recording, the husband-and-wife team run a yoga studio called Yoga Toe just outside of San Francisco.
After class, I caught up with the teacher's pet with the purple mat. Her name is Rachel, I learned, and she is the mother of five children. Her youngest, a baby girl, was born just six weeks earlier. "Yoga is a way to find peace in my day," she explained. As a new dad with a toddler at home, I could easily understand that sentiment. "I love feeling flexible. It settles my mind and… I think it helps me to be a better mom."
I asked Rachel if she'd be attending Wanderlust in June. "Oh definitely. I'll come up with my girlfriends," she smiled. "And your kids, too?" I asked. She continued smiling, saying nothing. And everything. ◊
Luke Stafford is a free lance writer and recent yoga convert.
---