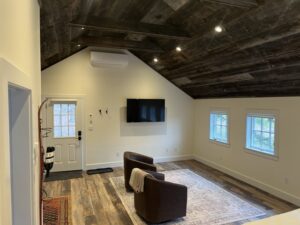 Modern Construction, Inc. – Michael A Pugliese
Modern Construction, Inc. has been in business since 2015 and has been involved in the high end modern field of todays construction. Based in southern Vermont Modern Construction specializes in modern rustic building styles with a perfect blend of new and old, contemporary and rustic with breathtaking finishes.
Modern Construction, Inc.strives to provide clients with the most satisfying finished projects available today. Being in the building trades almost 20 years Michael Pugliese has been in Southern Vermont for most of his life deriving building styles from the newest styles and trends as well as bringing back many long forgotten building styles. Designers, architects and clients have paved the way to the vision of Michael and Modern Construction. Always striving to solve any problem with a unique approach and the newest building styles and materials.
Working with the best and most talented workers, vendors, suppliers and sub contractors in the area we keep a positive and motivated project. With lifelong relationships with most sub contractors, services and vendors Modern Construction simply outperforms and meets the highest homeowners requests and expectations.
Modern Construction Inc. is also affiliated with Sandgate Outdoors offers fully guided outdoor adventures of a lifetime. All inclusive or set to your specific desires or requests Sandgate Outdoors has an adventure or trip for you. From a simple hike to something more extreme! Fly Fishing, Hunting, Bowfishing, Trail Hikes, Skeet Shooting and more make sure to check out our links to Sandgate Outdoors today.
Serving Manchester, Dorset, Arlington, Sandgate and the entire southern Vermont area Modern Construction LLC specializes in mixing new and old building styles and techniques to produce masterful works of art on projects big and small.
We would love to hear from you for more ideas and support on your project.
Satisfaction Guaranteed.
Contact us today.
A sample list of some of our general contracting services is below, if you don't see yours please contact us to see how we can help you with your projects.
General contractor services
New Home Construction
New Additions
Basement remodel
Bathroom remodel
Kitchen remodel
Home remodel/renovation
Garage – Outbuilding build/remodel
Website:
https://modernconstructionvt.com/