Craft Beer Southern Vermont Style
By Dave Green
Photography By Sheila Sullivan
Our expectations were high. My partner Sheila and I had set a goal to hit six breweries in Southern Vermont spread out over 210 miles in one day. We mapped out a loop starting in Manchester, heading southeast to Brattleboro, then north to Windsor, west to Bridgewater Corner, into Rutland, and finally back to Manchester; it was an ambitious itinerary to say the least. The day was beautiful: sunny and crisp, with no signs of rain in the forecast—perfect conditions for exploring some of the craft breweries that represent the Southern Vermont craft beer scene.
The craft beer community of Vermont, if you are not familiar, is fairly renowned. In the U.S., Vermont ranks first in the number of breweries per capita, number one in the quantity of beer produced per capita, and number three in economic impact of beer per capita. Craft beer is also second only to maple syrup in terms of the overall economic impact for Vermonters. As anyone who follows the craft beer industry can tell you, Vermont has long been an epicenter for the craft beer movement—going on three decades now. Starting with the opening of the Catamount Brewery and Vermont Pub & Brewery back in the 1980s, the tale of Vermont's beer world has deep roots in those two brewing centers. In the northern part of the state, Vermont Pub & Brewery became the focal point for the future of what has become a tourist destination for beer enthusiasts in the 2000s and 2010s. Meanwhile here in the southern part of the state, Catamount Brewery inspired a wave of new microbrewers that put Vermont on the beer map back in the 1990s. Today, beer has become synonymous with Vermont's artisan roots, and brewers are producing high-quality products that are attracting beer tourists from all over the country and the world.
So with that in mind, Sheila and I set out on our sunny Sunday to explore the Southern Vermont beer scene firsthand.
Brattleboro
Our first stop was in Brattleboro, at one of the more recent breweries to join the Vermont scene: Hermit Thrush Brewery. It is the newest brewery in this mid-size town of roughly 12,000 residents. Hermit Thrush opened its downtown tasting room in 2014 with a lineup of Belgian-inspired, wood-aged sour beers, much to the quiet delight of all beer enthusiasts who appreciate sour ales. The tap house manager, Victoria, explained that the name for the brewery comes from the state bird of Vermont, the hermit thrush. As a lover of birds, I was happy to find out that the founder was also a bird lover. And in fact the flavors found in the beers at Hermit Thrush are as complex as the vocals of the namesake bird; the beers you'll find here are not anything your parents would drink. Ranging from mildly tart to full sour, the experimental beers being produced at Hermit Thrush are part of the reason that Vermont has gained such notoriety among beer drinkers. Sourcing local ingredients is the focus of everything they produce, and sometimes that includes foraging and handpicking ingredients by the brewers themselves. Brewmaster Christopher Gagne and co-owner Avery Schwenk also scour the market for high-quality barrels for aging each of their beers before they are released to the public. The tasting room, located on High Street, is breezy and eclectic; the décor features rustic wood reclaimed from an old Vermont barn and a touch of modern style. You can fill growlers at the tasting room or find cans of Hermit Thrush at better beer stores statewide.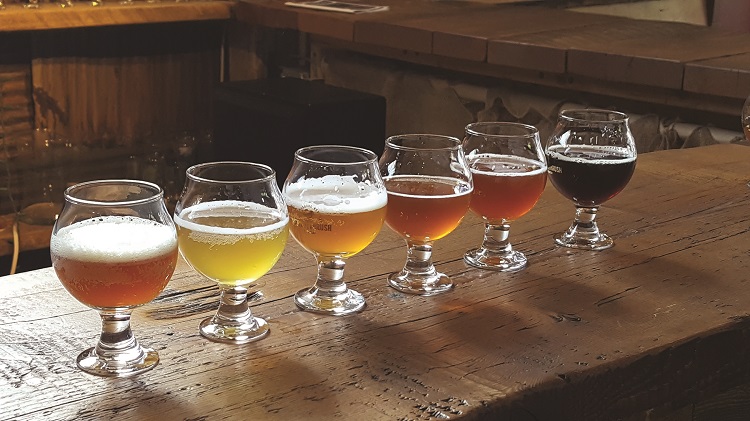 Hermit Thrush Brewery Tasting Flight
Our next stop, just down the road from Hermit Thrush toward the Connecticut River, was the decidedly more classic brewpub, the Whetstone Station Restaurant and Brewery. If you head here expecting a classic American brewpub, then expect to be wowed. Perched snugly on the bank of the Connecticut River, serving up a contemporary dining menu, a tap list that sources beers from some of the most acclaimed breweries throughout New England, and a robust offering of beers from their own brewers, the Whetstone Station is a place for anyone looking to unwind. We ended up having lunch at Whetstone, and it was warm enough to sit on the deck overlooking the river. Neither the food nor the sampler tray of beer disappointed. Be sure to try the onion rings; they cook up some of the finest I have had in my life.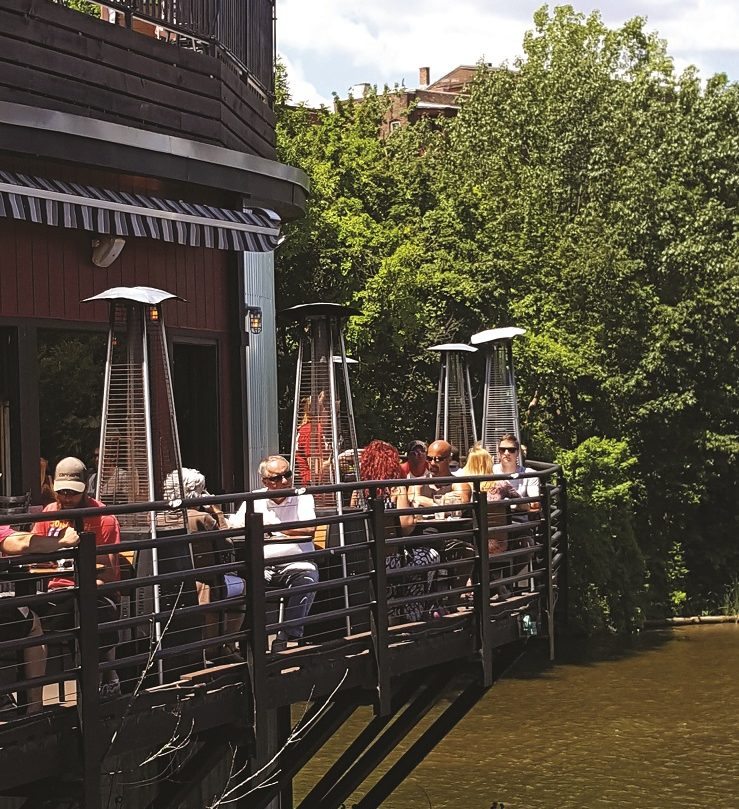 Whetstone Station Restaurant and Brewery
Our final destination in "Bratt" was "the" original beer destination of Brattleboro: McNeill's Pub & Brewery. Located on Elliot Street, just a short walk from both Hermit Thrush and Whetstone Station, McNeill's offers a variety of beers, live music, and a true pub atmosphere that might harken you back to an episode of the TV show Cheers. Opened in 1990 not long after brewpubs became legal in the state of Vermont, McNeill's is well known for producing traditional-style beers that are true to their roots. If you stop in for a pint, some food, and to enjoy some of the pub games that are found throughout the barroom, you are going to get a feel for classic Brattleboro, and you're not going to be disappointed.
Windsor
We then headed north to Windsor to visit Harpoon Brewery. Originally built as an upgraded facility for Catamount Brewing Co., Harpoon's Windsor location is about an hour north of Brattleboro just off I-91. The brewery was built in 1996, and still more than 20 years later it's a must-see destination for any beer lover. The brewery offers great beer, a well-groomed café menu, an eye-catching taproom, and most notably for Sheila and me on the afternoon of our visit, a huge array of lawn games for people of all ages.
Harpoon Brewery in Windsor, Vermont
The Windsor facility holds the distinction of being an integral part of Vermont's original craft beer history. As mentioned, Catamount Brewing Co. was among the pioneers in the current craft beer evolution, being one of the first microbreweries to open on the East Coast around the same time as Samuel Adams (now The Boston Beer Co.) of Massachusetts and D.L. Geary's of Maine. Unfortunately the craft beer business changed in the late 1990s, forcing Catamount Brewing to sell their stake in the industry. But luckily Boston-based Harpoon Brewery was looking to expand their production at that time and expansion in downtown Boston was proving difficult. Windsor, Vermont turned out to be the perfect spot for them. Today, roughly one-third of their total production is brewed in the Windsor facility while the other two-thirds is still produced in their Boston facility. For anyone nostalgic for a taste of the old Catamount beers, Harpoon Brewery still rotates the original recipes into the mix in the Windsor facility on a fairly regular schedule.
Harpoon Brewery is currently listed as #18 on the Brewers Association list of small and independent craft breweries. Among Harpoon's lineup, Harpoon IPA is their flagship and number-one-selling beer, making up nearly 50 percent of their production. Clean and crisp, this classic IPA features a nice balance between malts and floral hop flavor and aromas, and in fact the brewery is about to celebrate this beer's 25th anniversary. While the IPA dominates Harpoon's fermenter space, there are many other popular, less well-known, and experimental brews that rotate through the Windsor brewery, such as their UFO series (Un-Filtered Offering) and their 100 Barrel series. When we visited on this particular day, we found 20 different Harpoon beers on tap along with their house-made root beer (which my kids love). Our tour guide, Craig, explained that every month one of their brewers gets to brew an experimental beer of their own creation on a very small-scale pilot brewery (less than 10 gallons)—the size analogous to what a person would brew if brewing at home. If a particular beer gets praise from fellow Harpoon employees, then that recipe gets scaled up on their 7-barrel (less than 220 gallon) pilot system at the Boston facility. If that beer then wins high praise from their customers at the taproom, then they scale it up to be brewed on the large-scale facility, where it is then bottled, kegged, or canned. A recent example of a recipe that has taken this road is Harpoon's Hoppy Adventure, a double IPA with moderate bitterness but a potent citrus and tropical fruit aromas, with just a hint of malt sweetness to back up those hoppy flavors. If you visit Harpoon, be prepared to stay for a while; Harpoon is conveniently located in an industrial complex that shares space with the renowned glass producer Simon Pearce, as well as SILO Distillery. Beer, spirits, fine crafts, outdoor fun; there is something for everyone found tucked away in this corner of the shadow of Mount Ascutney.
Bridgewater Corners
We then hit the road, traveling northwest on Route 12 into scenic Woodstock, then followed the Ottauquechee River west into Bridgewater Corners, where we pulled into the fifth brewery visit of the day: Long Trail Brewing Co. Opened in 1989, in the wake of Catamount's regional success, Long Trail Brewing was the second microbrewery to open its doors in Vermont in the modern era. Unlike Catamount whose focus was on British-style ales, Long Trail focused on German-inspired beers such as their iconic, and still best-selling, Long Trail Ale. While Long Trail has stuck with the theme of producing German-inspired beers, that doesn't mean they don't break from that mold on a regular basis. Currently listed as #24 on the Brewers Association list of small and independent craft breweries, Long Trail Brewing Co. also is owner of the Middlebury-based Otter Creek Brewing Co. and The Shed brand of beers. While all three brands have their own focus, has loyal fans and that top brewers produce each with a strong focus on quality control.
Hops and Tent at Long Trail Brewing Co.
Perched on the bank of the Ottauquechee River, Long Trail Brewing Co. was built with a focus on the river. Just as the lawn games are a great feature at Harpoon Brewery, the Ottauquechee provides a unique experience while visiting Long Trail. Leave your glassware behind and take a short walk down to stick your feet in the river. There are plenty of riverside seats to relax with a beer on a nice day or if the weather turns foul, hang out under the awning on the deck to keep the river in sight. During colder months, join the crowd under the outside tent. There is ample outdoor seating here to accommodate patrons looking to relax near the river in almost any weather. Fields surround Long Trail Brewing Co., and upon our visit we discovered that the brewery has been using the meadow for a biweekly live music series. We lucked out on this particular day and sat riverside with a full sampler of modern IPAs, a superbly crafted barrelaged Triple Bag only available at the brewery, and a full-bodied stout called Unearthed that beautifully combined roasted coffee, chocolate, and licorice flavors. It is truly amazing to see just what these talented breweries are doing with the core ingredients found in beer.
At this point in the day we had plans to continue on to Brandon to visit Foley Brothers Brewing Co., which is a winery/brewery with their highly sought-after IPAs and then on to the Hop 'N Moose brewpub in Rutland, but better judgment and waning sunshine told us that it was time to call it quits.
Bennington
Located just off Route 279 for those traveling through the southwest corner of the state, Bennington has a craft beer scene that should not be overlooked. We did not include Bennington on our itinerary for our first big outing simply because we regularly visit the two breweries that reside within the town, but we did visit a week later. The first, Madison Brewing Co. brewpub, is located on Main Street just a stone's throw from the four corners in the downtown area, and the second is Northshire Brewery, which has a tasting room at its brewery on the west side of town. Madison's focus is on British-style ales, but don't be surprised to find some Belgian-inspired beers and more contemporary takes on traditional styles. When we visited the following weekend after our first beer tour, all 10 beers available on tap were impressive for their fun mix of a contemporary brewing approach of traditional styles. The offerings from the kitchen are equally impressive, once again taking traditional pub food and re-making it into a more modern and tasty experience.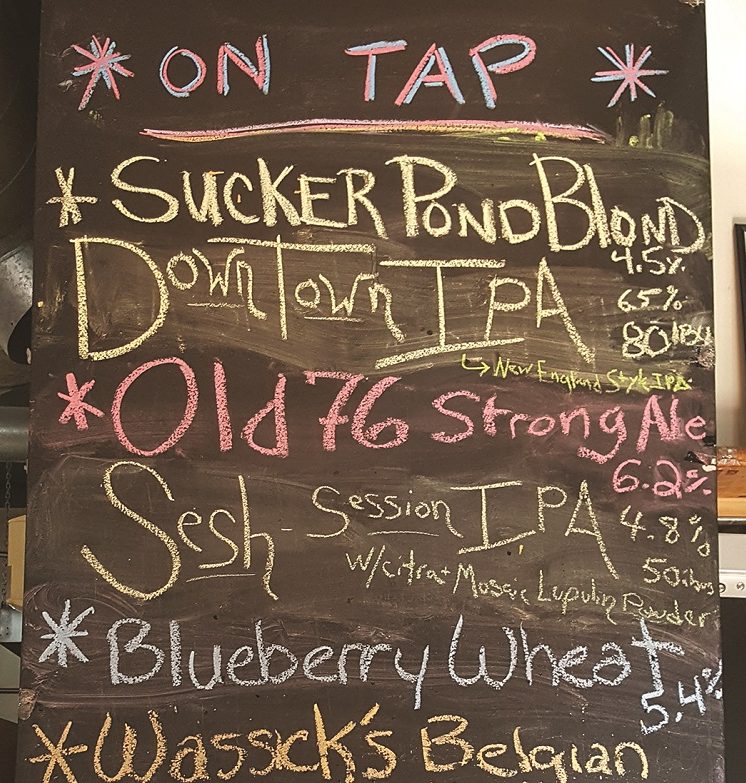 Chalkboard at Madison Brewing Co. in Bennington
Northshire Brewery's head brewer and owner Chris Mayne has a specific focus for his brewery, producing traditional old-world-style beers, and he has an affinity for cask-conditioned beers. Cask conditioning means that the beers are naturally carbonated in the keg and then served by natural pressure and gravity or a hand pump instead of being pushed out by tanks of carbon dioxide. Anyone familiar with the beer scene in the United Kingdom will also probably be familiar with cask-conditioned beers, which are served on beer engines or straight through a spigot. Cask-conditioned beers have such a loyal following in the UK that there is even an organized grassroots movement called the Campaign for Real Ale (CAMRA) whose focus is promoting cask-conditioned ales. Generally served at cellar temperatures (52–55 °F), which are well above most American beers, cask-conditioned beers have a character that cannot be mirrored in bottle or cans. Follow Northshire Brewery's Facebook page to locate one of their beers on cask. Otherwise you can find several of their offerings in cans or bottles at local beer stores or served on tap at many local bars and restaurants.
Northshire Brewery Offers Cask-Conditioned Brews
Other Regional Notables
For those who love sour beers, finding a bottle from Weston's Backacre Beermakers is a thrill. Cleanly brewed, Belgian-inspired Sour Golden Ale from Backacre is one of the finest examples of this style that beer enthusiasts can find in the world. They release their beers in limited batches that sell out quickly in local beer stores. Call ahead to beer stores to find out about availability if you are planning on trying to find a bottle.
J'ville Craft Brewery is a small brewery attached to Honora Winery in Jacksonville, which is just a short drive from Mt. Snow and Wilmington. For those groups with a split number of wine and beer lovers, J'ville serves a rotating list of small-batch beers that span a wide range of styles. Head brewer Janice Stuart is sure to keep beer fans happy with her offerings.
Find Your Own Tour
Now that you have a road map for the craft beers being brewed here in Southern Vermont, it's time to make an itinerary of your own. If you just try to hit one at a time or try to hit multiple breweries at one time, there are a lot of adventures beckoning. As the number-one craft beer state in this great nation, it's tough for a brewery to produce subpar beer and expect to get a fan base. My tour reinforced that notion, as just about everything I tasted over my two weeks seemed to find a sweet spot. With such a wide array of beers available through the region, there is sure to be something for everyone.