By Betsy Parks
Photography By Hubert Schriebl
Today's biggest food trend is alive and well in the Northshire
"Eat Local." This catchall phrase might conjure up the image of casually browsing a farmer's market, or an "Eat more Kale" bumper sticker, or the names of farms listed on a fine dining menu. Dig a little deeper into the scene, however, and you will find that the Northshire has positioned itself to be on the cutting edge of today's biggest food trend: farm to table.
If you love food, whether that means going out to eat or cooking at home (or both), the concept of farm to table is a fairly new description of a movement that's been building for a long time. Simply translated, farm to table means that the food on the table in front of you, whether in a restaurant or in your home, came from a specific local farm or producer. There is a long history of sourcing sustainable local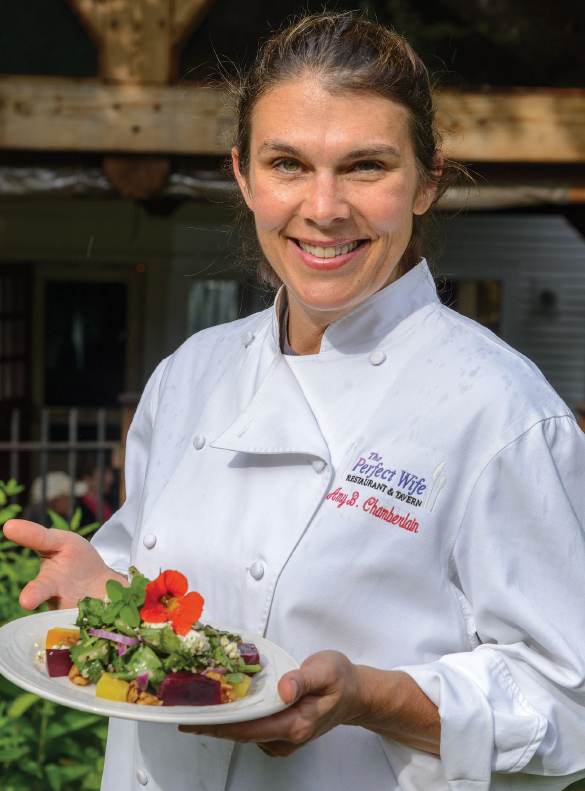 ingredients in the American food renaissance that started in the 1970s. In 1971, Frankie Lappé released Diet for a Small Planet. Then came Carlo Petrini's "slow food" movement, which galvanized chefs and cooks around the globe to preserve regional cuisine and encourage local farming. In the 80s, chefs like Alice Waters at Chez Pannise in Berkeley, California made names for themselves using locally-raised produce and meats on their menus. In the 90s, Eric Schlosser's Fast Food Nation inspired a new generation of food lovers to turn to ethically raised meats and other foodstuffs. And in the 2000s, Michael Pollan's Omnivore's Dilemma brought food politics to the masses. Equal parts politics and ethics, support for local economies and purveyors, and a simple desire to eat great tasting food, today farm to table defines how the modern well-educated "foodie" eats.
"Just think about how much more energy a plant has that has been picked just one day ago has versus a plant that has been in a box on a truck for 10 days."

–Amy Chamberlain
Home Grown
In the years since "slow food" emerged, the roots of eating local have grown and matured. Today small farms and local food producers, including those in the Northshire, have honed their expertise and marketing skills to create a solid base for an alternative food economy. As a result, you can find farm to table happening everywhere in our region. It's the Boyden Farms burger on the tavern menu at the Perfect Wife. It's the West Pawlet pork belly floating in a bowl of fresh raimen at The Pink Boot Farm Store in Manchester. It's eggs and chicken bought on the honor system at Someday Farm's roadside stand in Dorset. It's the fresh-picked vegetables on the plate at The Reluctant Panther and SoLo Farm & Table. It's sprouting in Arlington's Pickering's Greenhouse. It's rising in the bread oven at Earth Sky Time Community Farm out on Route 7A. It's in the stalls at the weekly farmers markets in Manchester, Londonderry, Jamaica, Dorset and Bennington sprinkled throughout the week.
And the true bounty of the local harvest may yet to be fully realized.
The success of the farm to table food culture in the Manchester and Mountains region owes a lot to a couple of factors: Farmers, producers and chefs willing to put in the time to participate in outreach programs to educate consumers; and their determination to advocate for local products despite the lure of cheaper mass-market ingredients.
Sustainable Outreach
This past March, the Manchester Community Library hosted a day-long series of seminars on farm to table food, titled "From the Ground Up: Farm, Food, Table," featuring guest speakers such as Scout Proft, a local organic farming pioneer in the Northshire and one of the founders of Dorset's Someday Farm; Bonnie and Oliver Levis of Earth, Sky, Time Farm, Amy Chamberlain of The Perfect Wife Restaurant; Hadley Stock from Pink Boot Farm and a special presentation from Amanda Merrow and Katie Baldwin of Amber Waves Farm in Amagansett, New York.
Proft presented first, discussing the local food economy and her vision for the Northshire becoming truly sustainable. The lights came up, and the crowd clapped and rose from their seats for a five-minute break. U2's "Beautiful Day" plays over the PA system and people clutching coffee cups started congregating around a swath of tables in the back of the room filled with brochures and magazines aimed at the sustainable food crowd—NOFA, Vermont Organic, Farm & Food Guide. The room was filled to capacity, and I had to drag my own chair into the room to make some space for myself in the back, where I found Amy Chamberlain waiting for her turn to speak.
"I like to really make it known that I am using local products whenever I can," Amy says to me as we wait for the next speaker to present. "Just think about how much more energy a plant has that has been picked just one day ago has versus a plant that has been in a box on a truck for 10 days. And the love that a local farmer or food producer puts into his product… Well, that's just evident when we put the food in our mouths." Amy opened her successful restaurant on Route 11&30 in Manchester in 1996. Since then, she has managed to put a recognizable face on the local food scene, working with local producers to add their products to her menus, and trying to take time to educate the public about what's on their plates. A 1990 graduate of the New England Culinary Institute in Montpelier, Vermont, Amy spent time after graduation working in Aspen, Colorado before coming home to Manchester and opening "The Wife." She was an early partner with the Vermont Fresh Network, also founded in 1996 (www.vermontfresh.net), a non-profit body that works to advance relationships among farmers, chefs, and consumers to grow markets and eat more locally grown food, and she touts the benefits of local produce and products whenever she's given a platform.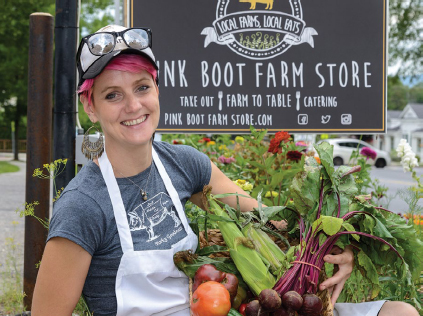 "All summer (and year) long I depend on farmers who show up at my back door with boxes of tomatoes, baskets of foraged mushrooms, and bags of potatoes," Chamberlain says. "I am lucky also to have several farmers that send weekly emails about what they have available for delivery. Aliza Pickering (of Pickering's Greenhouse) and I have even planned together what she would plant for me in the spring. Hildene has just started a garden and they have also asked me what they could plant for me. It's such a blessing to have relationships like this."
As Amy and I chat, I notice a woman three seats ahead of us balancing a quart-size mason jar filled with milk—presumably raw milk. Then Merrow and Baldwin take the floor to discuss the role of community outreach using examples from their farm, a unique non-profit organization that serves as both a community supported agriculture program (CSA) selling vegetables, but also focuses heavily on education. Their farm welcomes hundreds of children from school groups and summer camps throughout the farming season, and in the winter the farmers travel to local classrooms to discuss farming, healthy food, nutrition and cooking.
Other local chefs have also been tirelessly championing the farm to table approach to menu planning for many years.
"To me, farm to table cooking is like a community event," Jon Gatewood, Executive Chef of The Dorset Inn and Barrows House restaurants, says of his farming neighbors. "When the phone starts to ring and I know it's Larry up the road, or someone telling me that morels are coming in. Or it's local tomatoes. That's so cool!"
Jon, an Albuquerque, New Mexico native, came to Vermont in 1999 from Denver, Colorado. Which he says was initially a big culture shock. "In Denver back then, everything was flown in from somewhere," he says. "To go down the street and pick the corn, or go the other way and forage fiddleheads was very appealing to me."
"I embraced my new surroundings," Gatewood says of the transition to Vermont farm to table cooking. "The sights, smells, sounds and tastes were overwhelming. They helped me understand what 'fresh' really means. Fresh is the egg that was laid this morning. Fresh is the tomato harvested that afternoon under the summer sun. Fresh is the fish caught in the early evening under a canopy of flickering lightning bugs."
For a lot of people, farm to table isn't a special occasion—it's getting locally-produced food on the go, and also sourcing ingredients to cook at home.
This sentiment is echoed by Chef Peter Belmonte at The Reluctant Panther in Manchester Village.
"I like working with locally sourced items because it connects the restaurant to the area and adds to the guest experience," says Belmonte. "Having that connection shows that we are serious about our craft and don't take the easy route that so many other restaurants utilize by using all broad-line distributors, where you are never really exactly sure when the product was picked or where it was produced and what kind of love it was given along the way."
Beyond the Restaurant
Farm to table isn't just all about fine dining, however. For a lot of people, farm to table isn't a special occasion— it's getting locally-produced food on the go, and also sourcing ingredients to cook at home. "How many of you ate something local yesterday?" Hadley Stock, Owner of West Pawlet's Pink Boot Farm asks the crowd at "From the Ground Up" (about half the hands go up.) "You can't always make it to the farmer's market," she says, "but now you can find simple locally-sourced meals to take out. I hear from a lot of people who say that they love going to farmer's markets, but they get home and don't know what to do with what they bought. They want to eat local but they don't know how." This is the challenge that local producers face. At an early summer visit to Scout Proft's Someday Farm in Dorset, she and Mara Hearst (who works on the farm as the small fruit and waterfowl manager, and as the vegetable co-manager) pose the question to me: How do they get local food from their farm to your table? Gallup estimates from a 2012 survey that Americans spend an average of $150 to $180 a week on food, yet they still spend only a small percentage of their on-average $150 per week budget on local foods.
The sky is the limit as Vermonters, and the people who visit our region, increase their demand for our food.
"Farm to table is kind of scary to some people," says Stock who sells her home cooked food at her store in Manchester. "People feel like it has to be a big fine dining experience, but it doesn't have to. You can make sandwiches, salads, freezer meals—come pick it up and enjoy it. I know everybody whose ingredients I use. Supporting local agriculture keeps our local economy going."
Fine dining restaurants paved the way; the next stage is finding farm to table practices in places you might not expect. For example, at Stratton Mountain, Jacob Ebel, Resort Executive Chef, has taken on the task of incorporating local products a part of the entire resort food and beverage experience. How do you get an entire ski resort accustomed to mass-produced french fries and factory farm hamburgers to embrace Taylor Farm cheese? Ebel says it's just a matter of getting better tasting local food to the customers and letting the quality speak for itself.
"I implemented the concept of farm to table when I came here in 2014," Ebel says, "and can tell you that there were few sustainability efforts in place at that time. The majority of the food was purchased from bulk nationwide suppliers brought in frozen and from out of the state (or the country). What I've noticed is that people were very accustomed to this, as I feel most people are in a ski resort setting. Our goal was obviously to get away from this as quickly as possible by utilizing fresh local product when and wherever we could."
Locally-sourced food is also springing up in other places—such as daycare and school menus, musical events, weddings and especially storefronts like The Vermont Butcher, Pink Boot Farm Store, Nature's Market and New Morning Natural Foods. The sky is the limit as Vermonters, and the people who visit our region, increase their demand for our food.
"Once you get into this world, it would be really hard to go back to the tasteless, synthetic world of supermarket food," says Peter Sharp, co-owner of The Vermont Butcher Shop, with locations in Londonderry and Manchester Center. Sharp also owns Morgan Hill Farm in Weston, which supplies much of the meat in his butcher shops, as well as distributing to local restaurants and chefs, such as Chef Peter Belmonte at The Reluctant Panther. Sharp says that Vermonters are sitting in the middle of a burgeoning source of truly artisanal food and are thus uniquely able to take advantage of locally-grown products.
"I think we are, food-wise, where Napa Valley was in 1978 in the wine world," says Sharp. "Vermont is a great brand already. It resonates nationally, and certainly regionally. There is no question in my mind with the way the food world is progressing that this is ready to explode. We haven't even begun to scratch the surface yet. Just look at the explosive growth of Whole Foods."
So, name check: Do you know where your food comes from? And how DO you get more local food onto your table? The collection of regional producers grows by the day. Get to the farmer's market, join a CSA (community supported agriculture), support legislation that allows our producers to get their products into more markets, spend your dollars locally so that they can grow their businesses and supply a steady and stable source of products.
"Honestly, it's not terribly or immediately cost effective to use lots of local products," says Amy Chamberlain. "All things local cost a bit more than those that are trucked in from across the country. Go figure. But in the grand scheme of things, buying from a local farmer will benefit all of us here in Southern Vermont. A stronger economy means that more people can go out to eat and drink and shop. If we are proud of what we are serving, we can get the customers to feel really good about what they are eating and help them to understand that they are making a difference in the lives of their farmer, server, cook or cheesemaker. And, the local food that they are eating is actually better for them."
"Health, sustainability and cost effectiveness are just a few of the mutual benefits for farmers and chefs. I don't look at it as a trend and I hope it isn't," says Belmonte. "I believe it's more of a revolution toward doing it right again! I remember huge gardens in people's yards when I was a kid. That had all but vanished due to the ease of going to the grocery store. I believe the farm to table movements throughout the country are definitely starting to take hold. I do see a lot more personal gardens and specialty farmers popping up everywhere.
"I think the trend is definitely going to carry on," says Gatewood. "It takes more work for the producer and the restaurant and the shop owner to work this way—it is more work to get fresh local food to the populace. But I think that for the people doing the work and people doing the buying it's definitely not a flash in the pan. The farm to table movement has serious legs and is not going to disappear."◊
Betsy Parks is a freelance writer and a "foodie" herself who graduated from the Culinary Institute of America.
---