By Ellen Oltman Kellner
Photography by David Barnum
Stylist Sherry Clark
It's your turn to host—don't panic! We're going to share a few tips on preparing the moistest of turkeys and provide recipes for accompanying sides to satisfy a diversity of palates and dietary needs. With a little planning you will create an easy, elegant, and welcoming gathering.
Plan early to minimize stress. Read through your recipes, decide what you want to make, and prepare what you can in advance. For some extra help we lay it out for you in our entertaining section.
Create a bouquet using seasonal produce and what you have at hand—even your cooking ingredients. Arrange apples, lemons, onions, and garlic over curly kale leaves. Create an earthy palette of greens, browns, and whites. Use portabella mushrooms, artichokes, and cucumbers; use asparagus and herbs in small containers to further the interest and fragrance.
Arrange items on the buffet at different heights to create more interest and more room.
Brining the Bird
Think of brining as a pre-holiday spa treatment for your main course.
When discussing turkey preparation there is always a conversation about how to avoid serving a dry turkey and how to accelerate the cooking time.
I always brine my turkey, confident that the meat will be luscious and full of flavor. Brining is simply the process of soaking a fresh turkey in a water bath of salt, honey, garlic, and thyme. Think of it as a pre-holiday spa treatment for your main course.
Following brining, air drying the bird in the fridge before roasting will ensure that ultra-crispy skin that everyone craves.
Honey-Brined High-Heat Turkey
1 cup honey
1 cup kosher salt
8 quarts water
6–8 sprigs fresh thyme
8 garlic cloves
1 15-pound fresh turkey
Combine first five ingredients in a large stockpot. Cook over medium heat, stirring, until salt is dissolved. Cool to room temperature.
Place turkey in an extra-large zipper bag. Pour cooled brine, including herbs, over the turkey and seal completely. Place in refrigerator overnight.
Preheat oven to 500° F, then remove turkey from brine. Rinse thoroughly and pat dry with paper towels. Place on a rack in a heavy roasting pan. Cook in preheated oven for 45 minutes undisturbed, without opening the door. After 45 minutes, add 1 cup of water to the pan. When the turkey looks brown, tent loosely with heavy-duty foil. Roast for a total of 8 minutes per pound, or about an hour and a half for a 15- pound turkey. Insert an instant-read thermometer into the thigh, avoiding the bone. It should register 165° F.
Remove from oven and let sit, loosely covered in foil, for at least 15 minutes before carving.
Cheese & Mushroom Tart
I like to include an elegant, non-meat dish on the buffet. All my friends demand that I make this fragrant, three-cheese tart every year. Prepare it holiday morning or even a day ahead. To save time, I use frozen piecrust and pre-washed, sliced mushrooms to make the tart in about 1 hour. It is as easy as it is delicious.
1 frozen piecrust shell, thawed
2 tablespoons unsalted butter
1 yellow onion, diced
1 clove garlic, minced
1 pound baby bella or white mushrooms, washed,
stemmed, and sliced
2 teaspoons fresh or dried thyme leaves
3 tablespoons dry sherry or white wine
4 ounces sour cream
2 ounces blue cheese
4 ounces mild goat cheese
¼ cup plus 1 tablespoon grated Parmesan cheese
1 egg
Preheat oven to 350° F. Prick all over bottom and sides of piecrust with a fork, and bake for 9 minutes. Remove and set aside.
Melt butter in a large sauté pan. Add onion and cook over medium heat until soft and translucent. Add garlic, mushrooms, and thyme. Cook for 5 minutes, then add sherry. Stir, then cook for 5 to 6 minutes until liquid is evaporated. Remove from heat.
Whisk together sour cream, blue and goat cheese, ¼ cup Parmesan, and egg. Spread on the bottom of prepared piecrust. Top with mushrooms. Sprinkle with remaining Parmesan cheese. Bake for 40 minutes. Serve warm or at room temperature.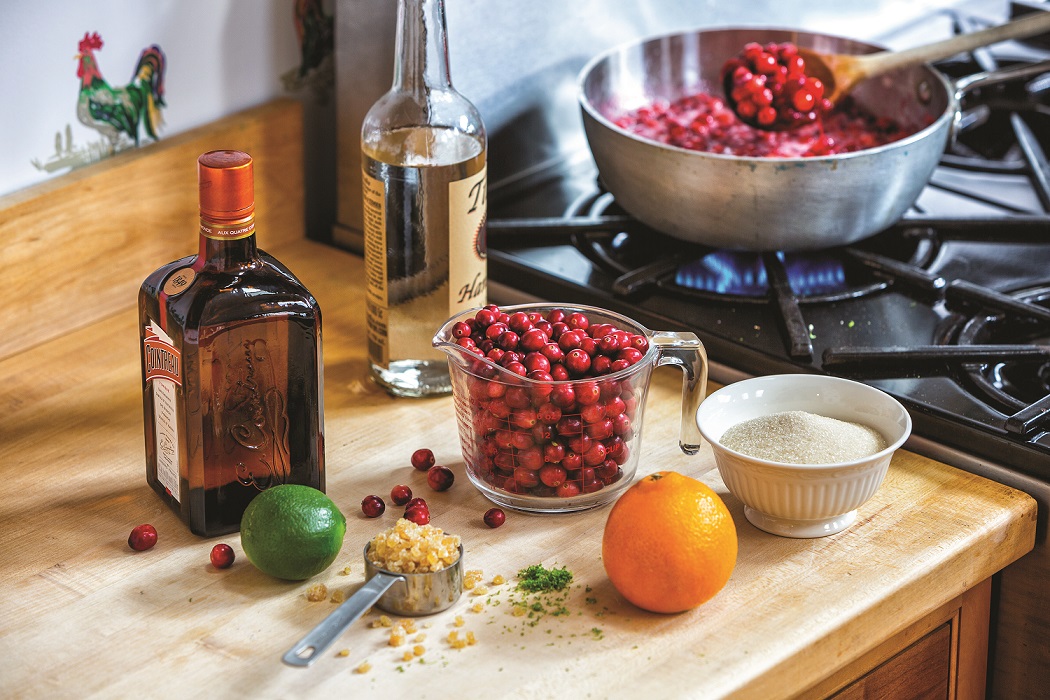 Cosmo Cocktail Cranberry Sauce
Making your own cranberry sauce is ridiculously easy and a world apart from anything you will get from a can. Without fail, people who normally avoid the stuff love my "grown-up" take on this New England classic. This recipe is sweet, tart, easy, and spiked—what could be better? If non-drinkers are joining the party, add the liquor at the beginning to cook out the alcohol. This method can be made a week in advance and refrigerated until serving. Don't throw away leftovers, because they are wonderful with ham and biscuits on New Year's Day.
Sweet, tart, easy, and spiked—what could be better? If non-drinkers are joining the party, add the liquors at the beginning to cook out the alcohol.
1 12-ounce bag fresh or frozen cranberries, washed and picked over
¾ cup sugar
½ cup water
3 tablespoons finely chopped crystallized ginger
zest of one lime, finely grated
½ cup vodka
2 tablespoons orange liqueur
Combine first four ingredients in a medium saucepan. Cook over medium heat, stirring frequently, until the cranberries begin to pop and the sauce is thickened, about 15 minutes. Remove from heat and stir in the liquors. Cool completely and refrigerate until serving.
Can be made a week in advance.
Kale and Apple Caesar Salad
I devoured this beautiful salad at Verdé Restaurant in Stratton Village and immediately thought of it for my holiday buffet. So fresh and pretty in old-fashioned glasses. I love the idea of a small salad terrarium at each plate—and no gravy on the lettuce! The dressing is mayonnaise based, which is easier than making traditional Caesar dressing and eliminates any raw egg issues. So relax and have fun in the kitchen—maybe even enlist some help—knowing that with these tried-and-true tips, your holiday gatherings will be tasty and memorable!
2 garlic cloves, peeled and minced
¼ teaspoon salt
1 tablespoon anchovy paste
2 tablespoons fresh lemon juice
zest of one lemon, finely grated
1 tablespoon red wine vinegar
1½ tablespoons Dijon mustard
½ teaspoon freshly ground black pepper
1 cup mayonnaise
½ cup grated Parmesan cheese
2 bunches kale, stems removed
1 Fuji or honeycrisp apple, thinly cut
into matchsticks
½ cup Panko breadcrumbs, toasted
Whisk together first eight ingredients. Add mayonnaise and cheese and stir to combine.
Stack kale leaves and slice with a sharp knife into thin shreds. Place in a large bowl, and mix in ½ cup prepared dressing. Add apple and toss to coat with dressing. Taste and add more dressing if desired.
Just before serving, sprinkle Panko breadcrumbs over the salad.