1917: Building of Yester House
A Landmark Turns 100
By Anita Rafael
Images Courtesy of Manchester Historical Society and Southern Vermont Arts Center

Around New England, a 100-year-old residence is no big deal–there are thousands of buildings and houses far older. But, there is one century-old home off West Road in Manchester Village that merits a nod of recognition and a bit of a celebration. It is called Yester House and it is on the campus of the Southern Vermont Arts Center.
This May, 2017 marks the 100th anniversary of the groundbreaking at Yester House, a property now listed in the National Register of Historic Places. The Colonial Revival-style house, which cost $65,000 for the land and construction, was commissioned by West Virginia lumber tycoon William M. Ritter and was intended as a summer home for himself, his wife Gertrude A. Divine Ritter, and their two adopted children. In the spring of 1917, the architectural firm of Murphy and Dana, whose offices were on Madison Avenue in New York City, delivered its drawings and plans for Yester House. (Just three miles away is Robert Todd Linclon's Hildene, a 24-room Georgian Revival-style house, completed in 1905 and designed by the Boston architectural firm Shepley, Rutan, and Coolidge.) The contractor was F.C. Fearon, who also listed a Madison Avenue address. Henry Murphy, a Yale grad originally from Connecticut, was known for his residential projects throughout the northeast United States and also worked in China and Japan, including designing a modern capital city for China's C'Chiang Kai-shek. Richard Henry Dana, a Harvard and Columbia grad from Massachusetts who had spent two years at the École des Beaux-arts in Paris, partnered with Murphy for 15 years. To name-drop a little further in connection with Yester House, Dana had two famous grandfathers: on his mother's side, was the poet Henry Wadsworth Longfellow, and his paternal grandfather was Richard Dana Jr., author of the 1840 autobiographical narrative Two Years Before the Mast.
For many years, the acreage had been a hillside farm owned by the Orvis family. So to set the stage, so to speak, for a proper country estate, the Ritters contracted landscape architect Charles N. Lowrie, another Yale grad whose offices were on Park Avenue in New York City. To this day, one of the joys of visiting Yester House is slowly motoring up and down the long, winding approach that Lowrie laid out through the old fields and second-growth woodlands. The distance from the entrance pillars at the street to the front door is almost a mile, climbing 250 feet in elevation, with four brook crossings.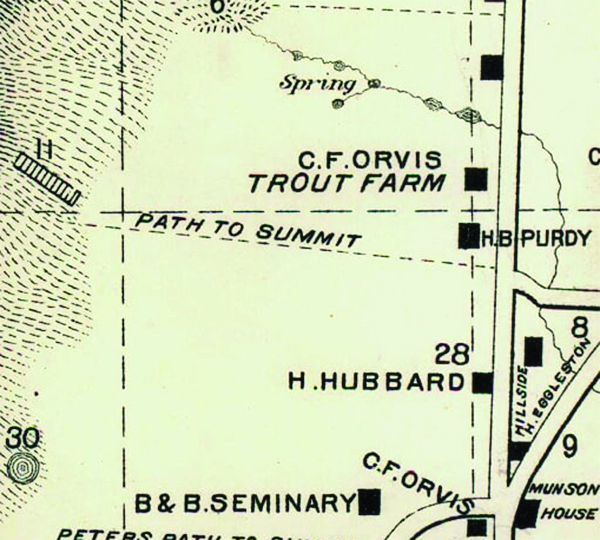 1890: Map produced by the Equinox House for their guests showing the SVAC property
then known as the C.F. Orvis Trout Farm; the ponds near West Road today were hatcheries for
stocking the nearby Battenkill River and Equinox Pond.


Work continued on Yester House throughout the 1917 season. The Ritters came to Manchester Village that summer to check on the progress and, of course, to weave themselves into the resort's social scene. They stayed at the Equinox Hotel on Main Street, which had long been catering to upper-class clients, advertising the luxury of running water from a mountain spring and modern "connecting baths."
The couple spent their first summer at their new 30-room house in 1918, and at the end of the season the following year, Gertrude held an open house as a benefit for the Manchester Historical Society. The public was eager to see the elegant home, furnished and decorated with Gertrude's extensive collection of fine art, antiques, hooked rugs, and glassware.

"Yester" is an archaic word for yesterday, so the name suggests it is a "home of the past"
–and over the years, Gertrude filled it with vintage furniture and fine art.


Gertrude and William Ritter eventually divorced, and she won the summer home (and a great deal more) in the settlement. She later married a man from Manchester named Hugh Webster, whom she also divorced. Three years before her death in 1947 at the age of 75, Gertrude said that she wanted Yester House to become a museum."Yester" is an archaic word for yesterday, so the name suggests it is a "home of the past"–and over the years, Gertrude filled it with vintage furniture and fine art. It probably already had much of the character of a museum, especially the breakfast room. That was called "the Glass Room" and it is where she displayed some of he 6,000 pieces that she had purchased. Her interest in glass varied from early hand-blown pieces to 19th century pressed, or "pattern glass," and she amassed an impressive number of examples by Vermont glassmakers.
In Art and Soul*, a wonderfully illustrated book about the history of the Southern Vermont Arts Center, author Mary Hard Bort dedicated an entire chapter to Yester House. She wrote:
It is easy to picture Yester House as it must have been when [they] spent their summers here. Fine antiques and art treasures filled every room and Mrs. Webster's stunning glass collection sparkled in the sunlight that streamed through the large windows.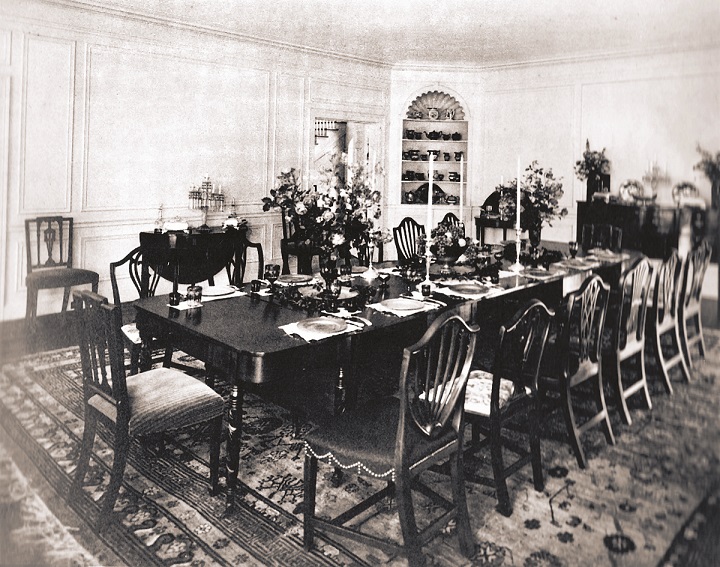 1940s: Webster dining room
We all know how the story unfolds – Gertrude Webster's residence did become a museum, but not in the way she had hoped. She may have envisioned it as a permanent exhibition of her things, the art and artifacts left in place where she had put them; however, that idea "proved impractical." The contents of Yester House were eventually sold at auction in New York City and The New York Times highlighted some of the top winning bids on her early American furniture. It took eight days to sell Gertrude's collections, and the proceeds were donated to a children's hospital in Columbus, Ohio.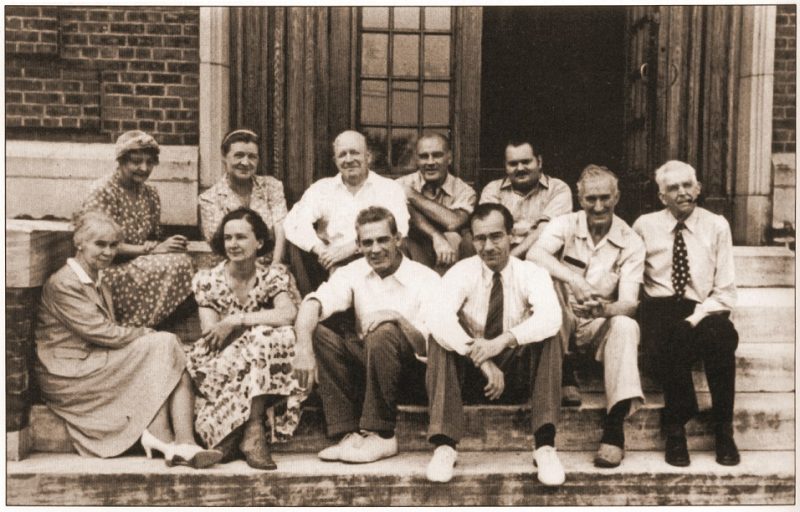 1934: Nucleus of the Southern Vermont Artists, Inc. on the steps of Burr and Burton gymnasium L to R (first row):
Hilda Belcher, Bernadine Custer, Wallace W. Fahnestock, Norman Wright, Horace Brown, and John F. Lillie;
(second row) Harriet G. Miller, Mary S. Powers, Herbert Meyer, Henry Schnakenberg, and Clay Bartlett
Southern Vermont Artists, Inc., as the organization was then known, acquired the site in 1950 for $25,000. Mary Hard Bort again recounts what happened during June and July that year:
An army of local carpenters and painters and electricians created galleries out of the gracious rooms, special gallery lighting was installed, the mile-long driveway was widened and resurfaced and a parking area near the house was created. The exterior of the large house was painted, the brass polished, the terrace trimmed and neatened. A turf platform for the orchestra was created in the natural amphitheater at the rear of the house.
A month later, the Southern Vermont Artists 21st Annual Show opened at Yester House, exhibiting 737 works by 286 artists. It lasted a week, 8,000 people walked through the galleries, and they bought thousands of dollars worth of artwork. Had you been there to watch, you might have had a premonition that Yester House would indeed have a long and prosperous future as a center for the arts.
1960: Prelude weekend July 23, 1960, honoring the forthcoming bicentennial of
Manchester in the Mountains, included a reception whose guests included Vermont Governor Robert Trafford.

Today, the ten galleries at Yester House are among the most extensively used and active exhibition spaces in the region, with six changing exhibitions this year. If you have never been to Yester House to see the paintings or to attend an art event, then just pick a day to go and enjoy the grounds and the house. It is open and free to the public six days a week this summer, and you can have lunch or linger over tea in Gertrude's Glass Room, now a pretty café.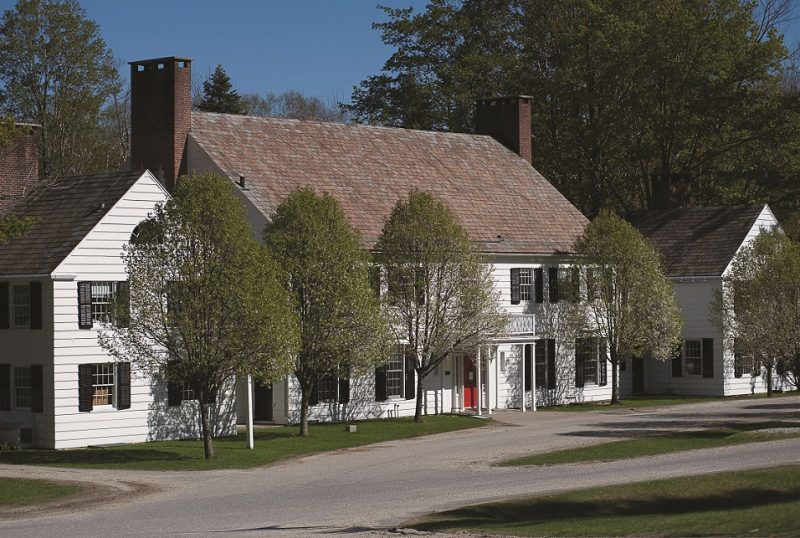 It may be safe to say that Gertrude Divine Webster, were she around to see it, might be taken aback to find her formal dining room, her tasteful sitting rooms, and her beautiful bedrooms emptied of her precious antiques, and instead, filled with diverse selections from SVAC artists in every medium, genre, and style, traditional to modern. Would she wince to see her walls papered floor to ceiling with hundreds of little drawings, paintings, and collages by local students? It is certain, though, that as a patron of the arts, she would be charmed that Yester House continues to function with such vitality as a cultural landmark. The lovely bones of her home are still just as lovely as the day it was built, the scenery you see through the large windows is still peaceful, rural, and forested, and to sashay up and down the broad grand staircase in the main hall with your fingertips lightly brushing the polished handrail is to literally walk in Gertrude's footsteps. One hundred years later, there is something tender about the way her Yester House still loves and supports the arts, and there is something even more touching about the way this longstanding association of artists still love and support her Yester House.
| | |
| --- | --- |
| | |
Go deeper! Did you know that many NRHP documents are in a searchable database? These PDF files often contain unpublished photographs, maps, and drawings, and such is the case with the Yester House paperwork. Worth a peek, the 28-page asset detail is available at www.nps.gov.
Details
The exhibitions and opening receptions at Yester House and the Wilson Galleries are free and open to the public Tuesday through Saturday from 10am to 5pm and Sunday from noon to 5pm. The SVAC gift shop in Wilson Galleries carries merchandise, artwork, and reproduction art prints by member artists and others. Café Sora in Yester House serves lunch Thursday through Saturday from 11:30am to 2:30pm and on Sunday from noon to 2pm. When there is an evening performance on campus, the café serves dinner by reservation only. Free email newsletter signup is on the website at www.svac.org.
SVAC is located off West Road at 930 SVAC Drive, Manchester Village, Vermont.
*Art and Soul: The History of the Southern Vermont Arts Center, by Mary Hard Bort. Publisher is Southern Vermont Arts Center, Manchester Village, Vermont, first edition copyrighted in 2000.142 pages; black-and-white photographs; color illustrations; indexed. ISBN 0-9669382-4-0; paperback. On sale at SVAC for $16.