STORY BY BENJAMIN LERNER
PHOTOGRAPHY SAMANTHA TROMBLEY
COURTESY REBECCA GOODMAN
Rebecca Goodman, owner and founder of Lola Tucker Interiors, renovates and redesigns a charming A-frame cottage in Manchester.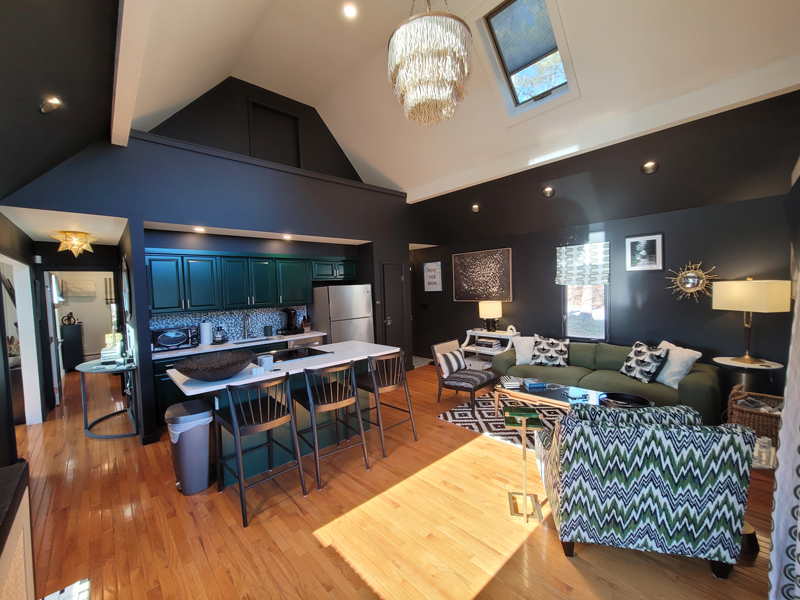 On a quiet back road just north of downtown Manchester, an enchanting 1,200 square-foot, 2.5-bedroom, 1.5-bathroom, A-frame cottage stands on a scenic hillside. Inside of its cedar-lined walls, the décor is tasteful and eclectic. A broad range of stylistic influences seamlessly coalesce throughout its rooms, creating an atmosphere of cultured tranquility. From an objective standpoint, it should come as no surprise that the home's diverse furnishings and vibrantly-contrasting colors combine elements of cosmopolitan style with country-chic sensibilities. The property's owner, Rebecca Goodman, is the founder of Lola Tucker Interiors, a full-service design firm that has overseen multiple projects in New York City, The Hamptons, and Southern Vermont.
Although the home perfectly exemplifies Goodman's talent for design, she sees it as much more than a stunning addition to her design portfolio. The work that went into renovating it and redesigning it serves as a consummate embodiment of her indomitable artistic spirit and personal values. By partnering with Southern Vermont-based independent contractors, Goodman was able to overcome a series of logistical challenges without compromising on her ultimate vision for the renovation and redesign project. As a result of her painstaking efforts and creative persistence, Goodman hasn't just beautified and updated a striking Manchester cottage— she has also strengthened her connection to the Southern Vermont community and built a promising future for herself, her business, and her family in the Green Mountain State.
Dragonfly Cottage: The Dream Takes Flight
When Goodman and her husband, Peter, first came across the picturesque A-frame cottage on Wideawake Road, they were both living and working in New York City full-time. According to Goodman, they had already been searching for the perfect property in Vermont for several years. "One of my colleagues evenly splits her time between Stratton and New York City. We thoroughly enjoyed the time that we spent visiting her in Vermont, and we knew that we really wanted to live here. We put a bid in before we even saw the house in person, and we were lucky to find such an amazing place."
When visiting the house for the first time, Goodman discovered a serendipitous coincidence that reaffirmed her love for the property. It also served as the inspiration for the name she bestowed upon it: Dragonfly Cottage. "My late mother, Laura, played an incredibly important role in my life, and she loved dragonflies. I have a tattoo of a dragonfly that signifies our connection, and I've always been fascinated by their beauty. As soon as I walked through the doors, I saw that the owner had dragonflies all around the house. I knew then and there that we had found the right home."
After purchasing the property in 2021, the Goodmans leased it back to its original owners in a gesture of good faith and friendship. "They were a really big part of the Manchester community," notes Goodman. "They both taught at Burr & Burton Academy, and they wanted to see their grandson graduate. It was an easy decision for us, because we knew how much it meant to them." After the grandson of the home's former owners graduated from high school, the renovation commenced in June 2021. The process began with Goodman tackling some important, basic elements. "When we first purchased the house, there was some asbestos in the ceilings and there were mouse nests everywhere. We originally thought we would only have to touch up the paint and switch out a few things, but it didn't happen that way." Goodman also discovered a faulty electric panel, which led to them gutting the house and essentially starting from scratch. "We still stayed within a reasonable budget," she adds. "We didn't change the footprint of the house, knock down walls, or move windows, but we did replace the sheetrock and the ceiling tiles, and we took down a lot of old wood paneling." The electrical work was handled by Mountain Electrician, a reputable and reliable full-service contractor located in Londonderry, Vermont, who serves the entire Southern Vermont region.
Goodman says that working on her own home presented her with a unique opportunity to push the envelope in terms of her design choices. "When I work with a client, I always go above and beyond to accommodate their preferences—and I'm not too heavy handed with my approach. With Dragonfly Cottage, I had free reign to experiment with my ideas, and I worked with some fantastic contractors who helped me bring those ideas into reality." In the early stages of the project, Goodman found it difficult to effectively search for a Southern Vermont-based contractor. (This was largely due to her frequent work trips between Vermont and New York City.) Fortunately, she made a timely connection with a skilled local tradesman while networking with the owners of an established Manchester home design business. Goodman recalls: "When I was in Manchester, I walked into Downtown Window and Design and introduced myself as a designer who was new to the area. The ladies who work there were incredibly gracious, and I also met the man who ended up becoming my contractor, Nik Trombley. He was there installing wallpaper, and he came out of the back and introduced himself. He and his wife and business partner, Samantha, really rose to the challenge. They're incredibly conscientious and hard-working people."
Goodman also enlisted the services of a talented finish carpenter, Eamonn Guilfoyle, and his trusted associate, Musa. "Musa is a wonderful man who has a truly inspiring story," says Goodman. "As someone who moved from Afghanistan to Vermont during the recent conflict, he does a lot of good for the Afghan community in Bennington." Touched by Musa's story, Goodman organized a philanthropic drive with her friends. They gathered backpacks, clothes, and housing wares, which were donated to Musa. "He brought them back to people who were in need of assistance in his community," shares Goodman. "We were so grateful to be able to help out. It's amazing to be able to build these relationships here, and I feel like I've found a renovation 'dream team' that will do a phenomenal job with all of my future projects up here in Vermont."
City Chic, Vermont Soul
When the renovation process was complete, Goodman began selecting furnishings, fabrics, and paint colors for Dragonfly Cottage. Her overarching aim was to incorporate elements of sophisticated urban design while honoring the rustic beauty of the structure. "I've done a lot of work in Manhattan and the Hamptons," notes Goodman. "I applied the same aesthetic sensibilities to Dragonfly Cottage, and I was able to bring some elegance and edginess to the mountain vibe without venturing into the realm of cabin cliché." Goodman adds that while the spaces at Dragonfly Cottage are all welcoming and warm, she still infused all of the rooms with contemporary style. "I never design anything that could seem like it belongs in a museum."
Goodman also goes out of her way to incorporate sustainable practices into her design projects, and she was able to upcycle many pieces that she sourced for Dragonfly Cottage. "Given the fact that the home is a 1970s A-frame, I purchased a lot of pieces from my vendors that were in line with that funky vibe. I got some amazing 1970s dining chairs with curved, cane backs that were on the verge of being thrown out, and I got them beautifully refinished. We also got a repurposed coffee table, some dressers, and some side tables, and we repainted and refinished them, as well. The pieces are beautiful and well-made, and it's great to be able to help reduce waste by upcycling them."
Walking through the doors of Dragonfly Cottage, visitors will pass over an entryway with black and white hexagonal terrazzo flooring and black walls. Goodman mounted a white and gray snowboard art piece with pine trees on it in the hallway, which nicely blends with the color scheme. "It gives it a chalet-chic touch that isn't gaudy or over-the-top." The hallway leads into a roomy and angular "Great Room," which is decorated in an equally bold and distinctive manner. The Great Room has double-height ceilings and is painted in a deep, smoky black shade called 'Black Panther.' "We also have a large plexiglass equestrian sculpture in the Great Room. It makes a magnificent, eye-catching visual statement."
To balance out the dark and robust color tones in the Great Room, the remainder of the rooms are painted in a pale-grey "Cascade Mountains" shade. "It softens the black and marries it all together," notes Goodman. In the kitchen area, a small dining table stands adjacent to a fireplace. "We ended up painting the kitchen cabinets a dark, rich, forest green, and we did a black, green, and white marble backsplash. You can also see fantastic views of the nearby mountains through the window from there."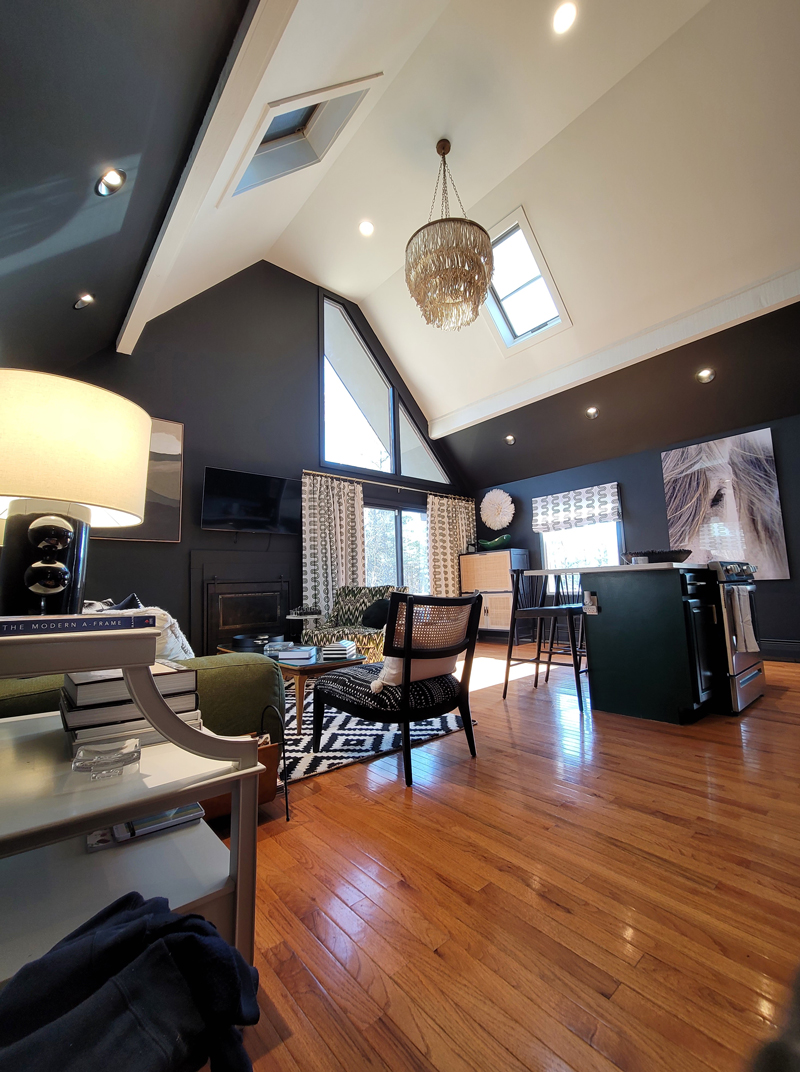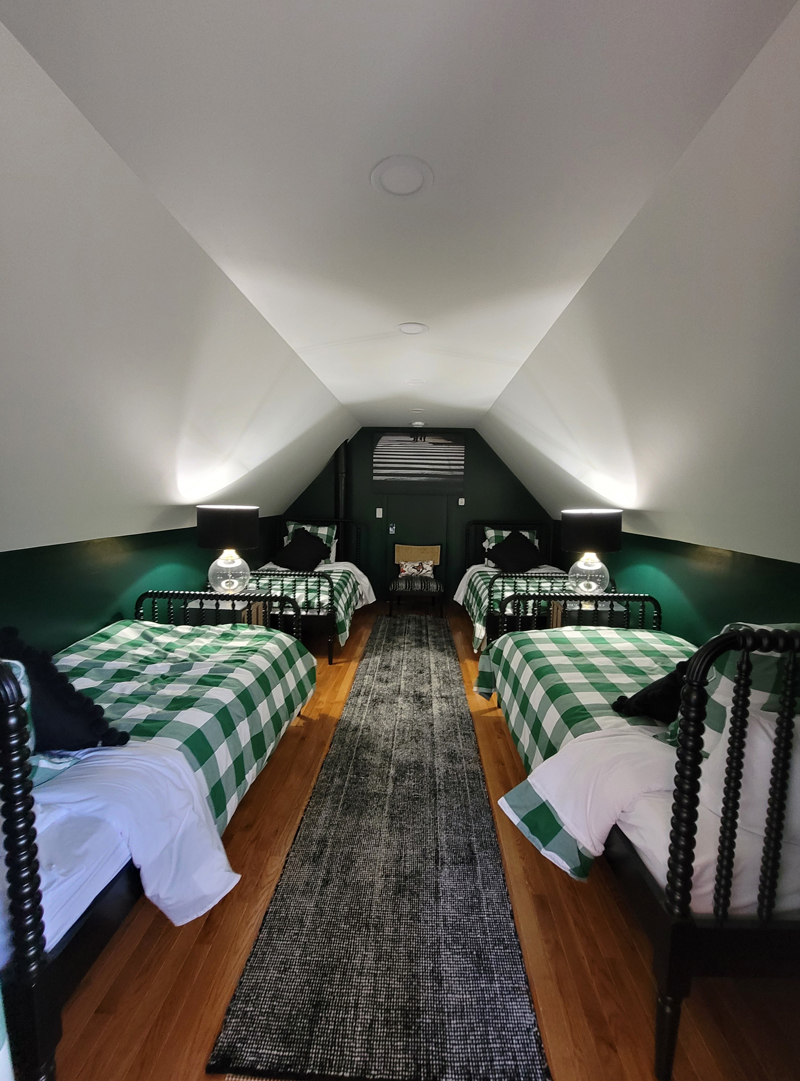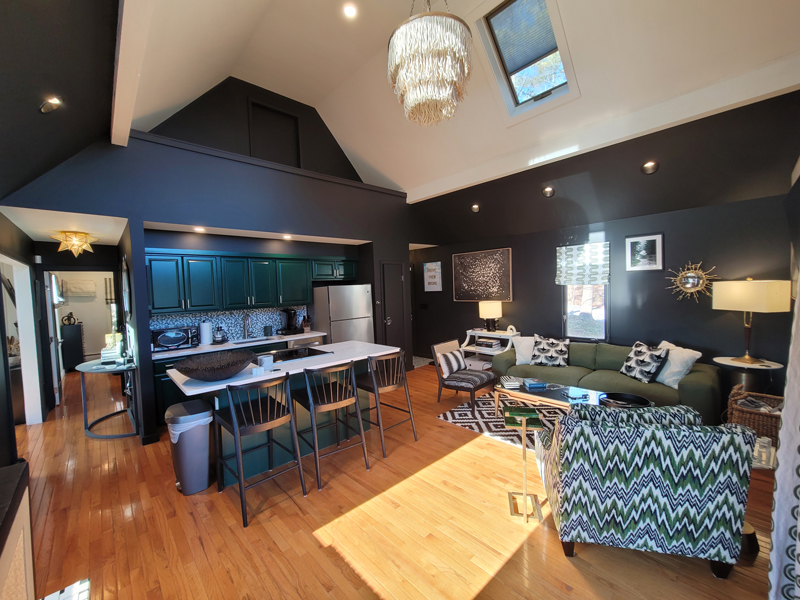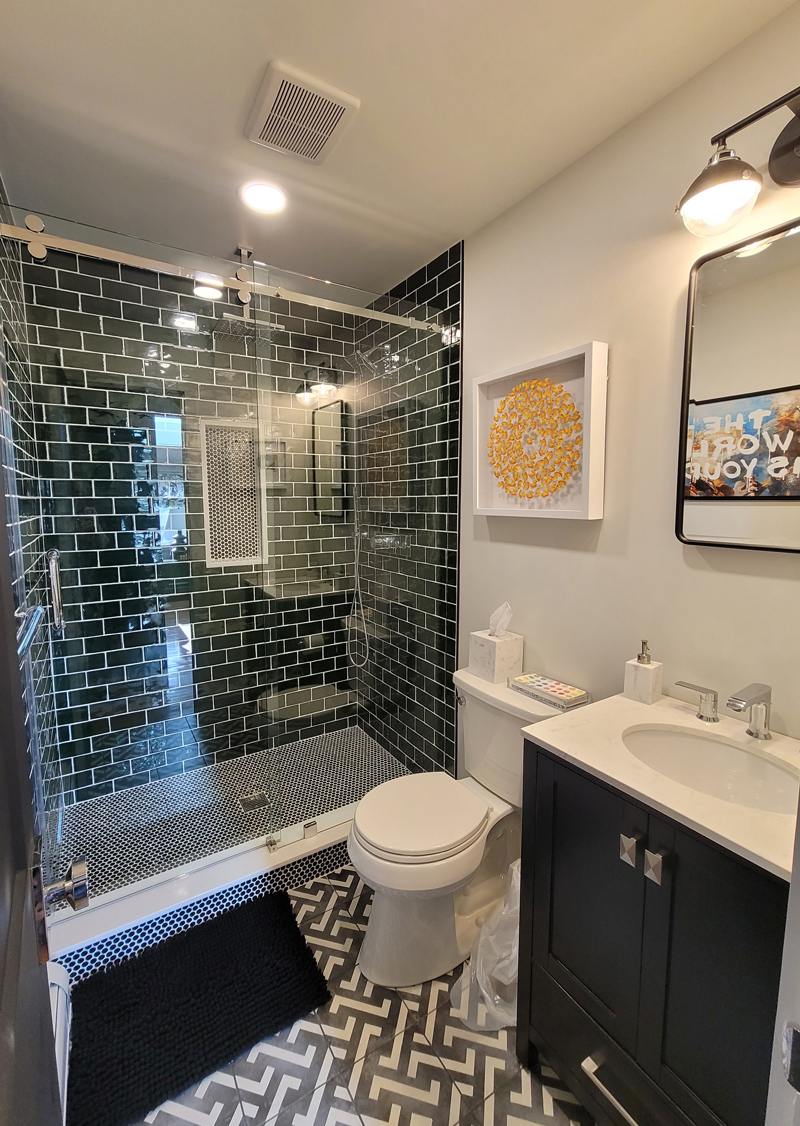 The master bathroom features all-black tile and an emerald-green shower. "We did the bathroom in all porcelain," says Goodman. "Marble is beautiful, but it has to be sealed, and it can stain. You can also have a lot of fun with porcelain! We did a big hexagon tile pattern on the floor, and we did a penny tile pattern in the shower. I'm still waiting on a few pieces of artwork, but it came together very nicely."
A fun and quirky room off of the Great Room is painted in sensational colors that beautifully complement an equally-vibrant work by Oscar Lakeman. The room also boasts a unique modern art sculpture: a boombox made out of markers inside of a plexiglass frame. "It's very funky and offbeat," says Goodman. "It matches very well with the Oscar Lakeman reproduc- tion." Upstairs, a guest room known as the "Bunk Room" holds four comfortable, black metal-framed Jenny Lind beds. "I did green-and-white checked bedding up there with black accents. It's in line with the dominant black, white, and green color scheme throughout the rest of the house, but it also pays tribute to Vermont."
The way that Goodman sees it, the Dragonfly Cottage is a reflection of the design philosophy that she applies to all of her projects at Lola Tucker Interiors. "With every client that we work with, we embrace a mixture of the past, present, and future. We're very forward-thinking, but we also want to honor the history and culture of the spaces that we're designing. Your home shouldn't just reflect where you've been, but also where you're going. I wholeheartedly believe that design is not a formula – it's about a journey. In the end, the finished product should defy and exceed all expectations. Design is meant to be fun and expressive, and you should always feel comfortable, connected, and happy in your environment."
ALL THE DETAILS
LOLATUCKER.COM