Susan Brady combined downlights and pendants to enhance her kitchen island. David Barnum
Four Good Reasons Why You Need a Lighting Designer
By Anita Rafael
"I hired a talented architect, I am working with an experienced builder, my interior decorator is just a phone call away, and I really love choosing fixtures from all these gorgeous lighting catalogs. So why would I need a lighting designer, too?" Do you remember saying those exact same words during your home construction project?
Here is the short and simple truth: Every single detail that the architect, builder, and decorator created in your home will look a thousand times better after a lighting designer makes a plan to illuminate the walls, ceilings, stairs, floors, counters, cabinets, and design elements to their best advantage. Guaranteed. As we discovered in our conversations with two professionals, when it comes to new home construction, residential remodeling, or just rethinking the lighting in existing rooms, there are many benefits to having a lighting designer on the team.
Reason one: they start with you, not the wiring.
"At the beginning of every project, I give the homeowner a survey, a page of questions, and if it's a couple, I ask each person to write their responses separately," says Tim Mathiesen, a lighting designer from Brattleboro. He worked in theatre and concert production for many years before establishing himself in professional lighting design with a business he calls Brilliant!. By designing and installing stage lighting for live performances, he has learned more than most people about how the human eye perceives light and color and how that transforms a setting.
The survey his clients complete asks homeowners for a few basic ideas, such as:
What kind of mood or feeling do you want to create?
Do you have a particular piece of artwork or treasured items that you want to display in the best light?
Can you describe your 'style'—Victorian? Art deco? Modern? Industrial? Traditional?
Do you have sensitivity to some types of light?
A lighting designer is not a salesperson who sells you fixtures, as many people assume. They guide you to the sources for the pendants, sconces, lamps, tracks, strips, and recessed lights that will give you the most effective illumination, while staying within your budget. Mathiesen says that one of the interesting things you can do by working with a lighting designer, even on a simple room makeover, is, for example, to ask that one feature in your home environment gets special attention by targeted illumination. He says, "If there is a limited lighting budget, a client can say to me, 'I have this awesome sculpture that I inherited, and I want to make sure that it gets displayed well.' So in that case, I would specify accent lighting that brings out its color or shape, or lighting that draws attention to the sculpture, and at the same time casts interesting shadows on the walls around it. Good lighting design makes the important things in a room stand out."
Hubbarton Forge mini-pendants light up Stratton's Grizzly's bar.
Jim Westphalen Photography, Courtesy of Hubbarton Forge
Reason two: they don't just give you light; they also give you darkness.
Crazy, isn't it? But it's true—the job of a lighting designer is to create a scheme that illuminates your spaces, but also includes strategically planned shadows.
Susan Brady is the principal of SBLD Studio, a New York firm with a reputation for designing architectural lighting systems for large and complex commercial projects both in the U.S. and internationally. In her Stratton Mountain home, designed by her husband who is an architect, the lighting plan she created for herself is a fraction of the complexity of say, a corporate office building or a luxury hotel, but it is no less impressive. She says, "I like to make a space feel animated, and I do that by using layers of lighting. It's like looking at a painting where the artist has created depth on a flat canvas by using layers of paint and color. That's how I work with light. I think what makes a project good is that the light is always multi-dimensional. You need ambient light, accent lights, and some vertical light as well. Then you can add some sparkle as 'eye-candy,' such as beautiful pendants."
Mathiesen agrees. He says, "Using shadow play, contrasting light and dark is a big part of what I create. It's how you know that a lighting plan has been really well done. It allows you to perceive foreground and background, and to fully appreciate beauty. Without it, everything begins to look even and the same, and that's what you want to avoid."
While turning on the concealed LED fixtures that illuminate the interior of a wall of glass cabinets in her kitchen at the far side of a great room, Brady says, "For example, this lighting makes the wall really pop at night. It's a layer that creates a focal point at the end of the room and gives you something interesting to look at instead of solid cabinet doors." Regarding the concept of layering light, Brady says, "To me, downlighting is the foundation layer for a room, otherwise it's dull without it. I am a big fan of downlights. Many people find them objectionable, maybe it's because they think downlights are too commercial or they are afraid to cut holes in the ceiling, but it's just drywall."
Your senses are linked to your well-being. This is a peculiar comparison to make, but if your home smells bad, it's not going to be enjoyable to you or your guests; likewise, when your home is dark and gloomy, it can affect your mood and happiness in ways that you may not even be fully aware of.
Concealed LED fixtures create an interesting focal point on the back wall of Susan Brady's kitchen. Photo David Barnum
Reason three: they give you total control.
One of the things Mathiesen wants to know about you before he designs your home's lighting plan is this: Are you app friendly? If your cell phone runs your life, then he says you can use it to control the lighting inside, and outside your home, too. Before you can do that though, you need to choose which apps to install, and which kinds of programming and presets to schedule—Mathiesen helps his clients make those decisions faster, and with a lot more confidence. If there is anyone who knows how to make combinations of fixtures go on and off, or brighter and dimmer right on cue, as a former theatre professional, it's him! (He's got the coolest client list, having worked concert stages for Ray Charles, James Taylor, and Carly Simon on Martha's Vineyard, and for performances at the Santa Fe Opera Company, among many other venues.)
"Smart" control of the lighting is one of the things that Brady considers a must-have. In her Stratton home, she has what she calls "scenes" that are pre-programmed. "What's really important is that there are control systems so that you can mix the different kinds of light. I have a preset for the brightest possible lighting everywhere, and another one for when I come downstairs in the morning that is just for the kitchen," she says. "I also programmed a party scene and an evening scene. By having all that predetermined, I don't have to think about how much to raise button number one or lower button number two. It does make life easier."
"I think the most important thing in any residential lighting design is that everything is on a dimmer. Period!" Brady says.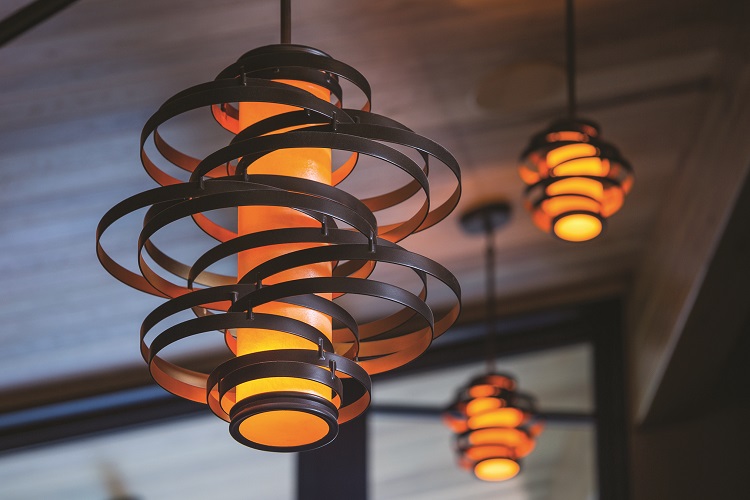 Susan Brady's "eye-candy" pendants illuminate her entranceway. Photo David Barnum
Reason four: they work for you, not the architect or the contractor.
Working with a lighting genius ensures that every switch, dimmer, and timer, plus every outlet, and the hard-wired safety devices, such as smoke and carbon monoxide detectors, will be in the right place the first time—that is, logically situated and easily accessible. (True confession here: in my home, which is an 1840s carriage barn rehab, no one can ever find the light switch for the upstairs loo because it is outside the bathroom door. My excuse is that I was not on site that day in the summer of 2005 when the electricians were there. And, no, there were no lighting plan drawings for them to reference. Oops.)
Brady says, "I think some people do have a hard time coming to terms with the fact that they have to hire a specialist for lighting. The drawings of a lighting plan and the selection of fixtures can be complicated, so it's not easy for most people to visualize how diagrams equal illumination."
Lighting designers work without bias on both sides of the equation: they become a key part of the design-build team, working with the architect and the contractors all through the project on every specification, such as concealed wiring, using the proper drywall, or the placement of controls and switches. And at the same time, they are working totally for you to be sure that the lighting costs will stay within your budget, as well as providing you with all the functionality and beauty you desire from fixtures and lamps. It's a dual role that demands two equally important areas of expertise.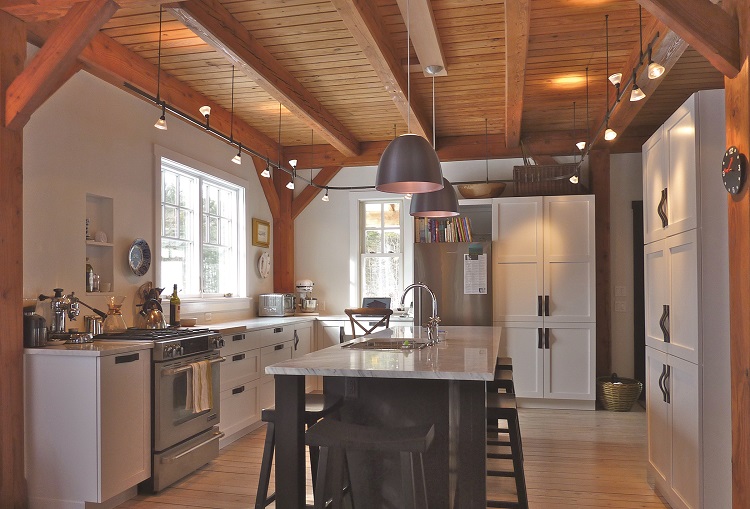 This renovated kitchen utilizes a Tech Lighting dual rail system with adjustable LED heads to provide task lighting to counters and cabinetry and uplights reflecting off the wood ceiling. Artemide pendants hang over the island. Separate dimmer control of each lighting type allows for a variety of settings for use or mood changes. Photo Tim Mathiesen
Just Illuminating!
Create layers of light.
The lighting in a room should be adaptable because spaces might be used for different activities. Mixed sources of light give you options to change the mood or the amount of light as you need it.
Include both direct and indirect light.
In work and study areas you need directed task lighting, whereas ambient light washes and bounces off materials and surfaces around the room.
Play with shadow and asymmetric patterns.
When you create contrast in a space, you become more aware of the interesting features, textures, and decoration.
Hide or shade the light sources.
Glare is the nemesis of good lighting! Check your urge to follow the trend for bare bulbs.
Take total control.
Think about how you'll use dimmers, timers, smartphone apps, and integrated systems.
Always include a "feature."
Add an interesting lighting element that makes everyone smile—a custom fixture, a cherished heirloom, or a showpiece luminaire.
Adapted from Tim Mathiesen's Brilliant!
Brindille Dining Pendant by Hubbarton Forge. Jim Wesphalen Photography, Courtesy of Hubbarton Forge
Trending at Hubbardton Forge
The designers and engineers at Hubbardton Forge in Castleton, Vermont don't just watch what's trending in new lighting, they lead the way in creating custom fixtures that are light-years ahead of what you'll see in stores and catalogs. Depending on the style of home for which you are selecting lighting, there are always different trends across all the décor categories: industrial, modern, traditional, arts and crafts, or contemporary. Hubbardton Forge finds that some trends in lighting are everywhere though, such as using larger pendants for dining rooms, and, of course, more applications of LEDs, including LED bulbs that resemble filaments. Hubbardton Forge also has keyed into a style of kitchen lighting where multiple mini-pendants are used over center islands. Their collections include endless variations of minis.
When it comes to expanding the outdoor living possibilities for a home, such as a covered deck or patio area that features a cooking area, dining table, and lounge furniture, the lighting fixtures that Hubbardton Forge makes have evolved far beyond what used to be ubiquitous (that is, a couple of tin lanterns screwed to one wall). The newest outdoor pendants and sconces are designed to look and function as if they were the type of fixtures you would install in actual dining or living rooms.
Hubbardton Forge hints that when it comes to finishes for home fixtures, clients are less inclined now to choose very shiny metals, but, again, it depends on the overall theme of the home's décor. Their Brindille line has been a favorite since it debuted in 2014—perhaps because the faux bois texture of the hammered metal they use on the floor and table lamps, pendants, and sconces seems to fit Vermonters' taste in particular. But, they also make Brindille fixtures in other finishes, such as vintage platinum or soft gold for a different look. From their newest collections, the Mobius Mini LED pendant is popular, as is the new Zephyr pendant. Zephyr has an alluring play of light and dark that comes from the use of an etched pattern across a ribbon of acrylic that only Hubbardton Forge has, causing the light from the twin LED elements to diffuse evenly from left to right. At the same time, the glow reflects off a twisted loop of heat-textured steel, adding even more interest to the design.
In Stratton Village, you can enjoy sitting in rooms illuminated by Hubbardton Forge custom-crafted fixtures in Grizzly's bar, the Base Lodge, and the Stratton Mountain Club.
All The Details
Tim Mathiesen, Tim Mathiesen's Brilliant! Lighting & Design
814 Akley Road
Brattleboro, VT 05301
www.brilliant-ldi.com
802-258-8308
[email protected]
Private studio; consultations by appointment.
Susan Brady, SBLD Studio Architectural Lighting Design
132 W. 36th Street
New York, NY 10018
www.sbldstudio.com
212-391-4230
[email protected]
Hubbardton Forge
154 Route 30 South
Castleton, VT 05735
www.hubbardtonforge.com
800-826-4766
[email protected]