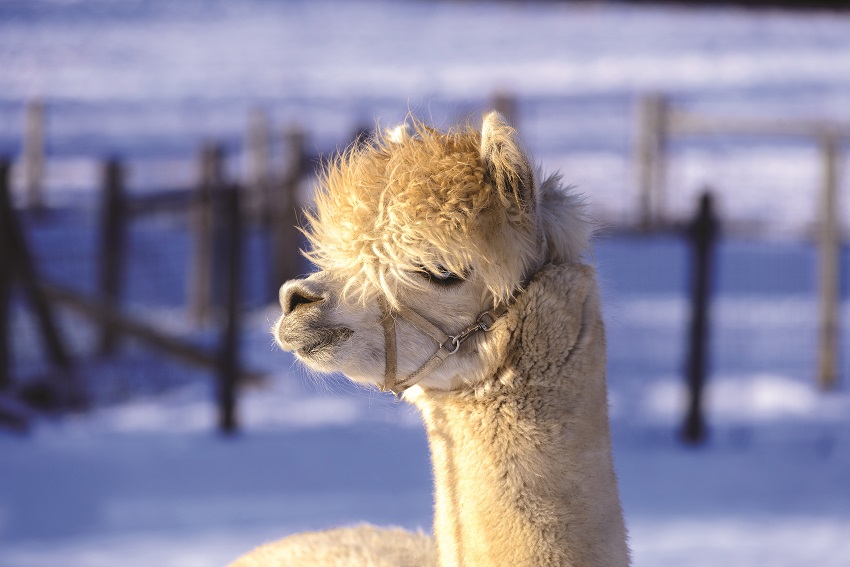 Shopping for warm socks, I befriend a herd of alpacas. Here's the story.
By Anita Rafael
Photography By Hubert Schriebl
Meet the lovely Lola—she is four and a half years old. Lola was born on a pretty farm at the edge of an open valley in Shaftsbury, so close to the state line, that anyone standing in New York could carry on a conversation with her over in Vermont. She is soft and white, stands 5 feet tall, and weighs about 150 pounds. She is calm and friendly, and she greets total strangers nose-to-nose.
I got to know Lola one day last fall while shopping at The Alpaca Shack, a farm store owned by Sandra Gordon. I went there in search of warm, pretty socks for myself, something a little less lumber-jacqueline than I usually wear with my ankle boots. On one display, I noticed huge hanks of yarn, all natural colors from white, rose-gray, and silver-gray to fawn, brown, and pure black. (Being able to spot a skein of yarn from a mile away is a phenomenon common to all avid knitters.) The hanks had various names written on the labels, so I asked, "Are these the names of the men and women who spin this yarn for you?" Sandy pointed out the door toward the fields, and said, "Those are the names of the alpacas."
There are 37 fully registered alpacas on Sandy's 8½-acre property, a former horse farm that she bought in 2002. The alpacas have a big barn, some smaller barns, and multiple connecting and gated pens where they can socialize, each in their respective groups—females and their young; gelded and juvenile males; and breeding males. "They're not my pets," she says emphatically. "They're livestock."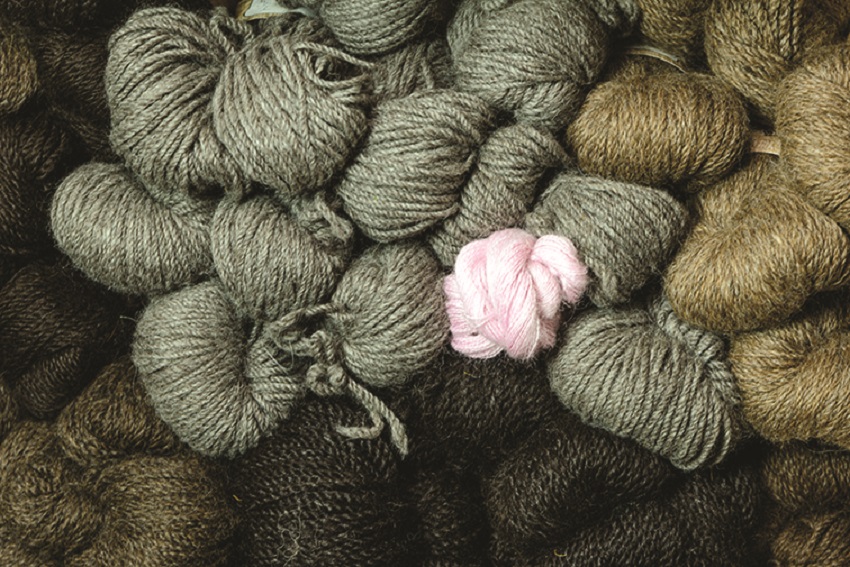 Watching Sandy interact with the herd, that's so not true. She is kidding no one. The alpacas, even the one or two individuals with a bit of a diva cameloid complex, are her best friends, and it's obvious that they feel the same way about her. From birth—and quite a few of the herd like Lola have been bred and born on the farm—she swoops the crias off their tiny toes, carries them around in her arms, cuddles them, kisses them, grooms them, and mothers them as much as, if not more than, their own mothers. (Cria is the word for a not-yet-weaned baby alpaca, llama, vicuña, or guanaco like lamb is the word for a baby sheep.) If you take the farm tour to meet the alpacas up close and personal, which of course you must, you will see what I saw when Sandy walks into the pens: a dedicated farmer plus any number of alpacas having a little love fest.
Now, when I think of a farm store, especially here in Vermont, bottles of milk and wheels of cheese come to mind—the typical dairy products, or maybe jars of honey and jam, or boxes of fruit and vegetables. No one ever imagines a farm store stocked with chic zip-up vests of pure Peruvian alpaca, fashioned by a fellow who once designed for Ralph Lauren. The stylish merchandise in Sandy's store totally changes everything you thought you knew about farm stores. About the alpaca socks I wanted—yes, there were many to choose from in baskets and bins, sorted in sizes from infant to adult, and I also found a variety of sweaters, gloves, mittens, wrist-warmers, throws, shawls, hats, ear warmers, scarves, cowls, slippers, and even an alpaca Holstein cow sitting beside an adorable alpaca monkey. That cow, the monkey—that's another story.
Buying and raising true-blooded alpacas as a breeder is one thing, buying and owning fine alpaca clothing as a consumer is another. Even though I know a bit about plant and animal fibers and which yarns I like best for knitting, when it came to apparel, I did not know what to look for in high-quality alpaca clothing. The one alpaca fact I did know is that it is warmer than wool.
There are alpaca look-alikes on the market, as well as alpaca fibers blended with known, and sometimes unknown, materials. The nicest and most comfortable garments are woven or knitted of baby alpaca yarn, that is, containing individual fibers finer than 20 microns, which has nothing to do with the actual age of the animal. It is the most luxurious by far, so be sure to look carefully at every label. You cannot know how downy it really is until you experience the difference on your own skin. Nothing else in the world feels like baby alpaca, which justifies its premium price.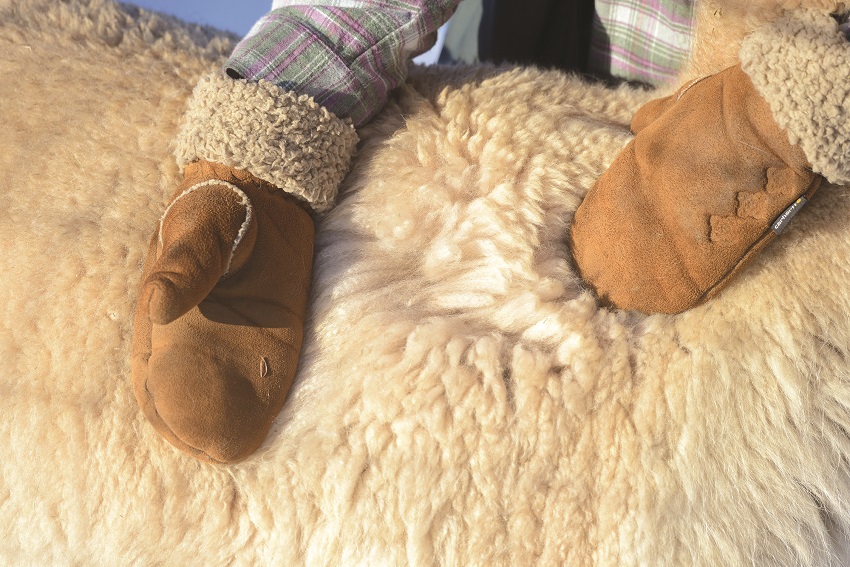 The only way to learn the quality of the various types of alpaca fiber is to first see it while it is still attached to the animal, and then to touch that same type of fiber made into clothing. Hence, another good reason to take Sandy's farm tour: because you can correlate what you see on Lola's back—those 8-inch-long, shiny, crimped fibers—with the elegance of that feather-weight, knitted cardigan you will never take off. In the competitive world of alpaca shows, which Sandy used to enter more often than she has recently, the top prizes go to animals with the most desirable fiber, as well as good bearing and a fine physique. In The Alpaca Shack, the upper beams are festooned with ribbons that Sandy's alpacas have won.
The alpacas at Sandy's farm are at their fluffiest, most gorgeous in early spring, waiting to be sheared (all 37 in one day) around the end of April or early May. The shorn animals will stay cool during summer's sultry afternoons, but beauty-wise, the first days after shearing they look a little—well, underdressed. Too skinny.
The prime fiber, the fleeces from the animals' backs, is labeled with each alpaca's name and bagged separately. Sandy ships close to 50 pounds annually to a mill in Prattsburg, New York that spins the yarn sold at The Alpaca Shack. The seconds and thirds from all the animals, another 40 pounds or so, are sorted by color, and Sandy ships that lot to a mill in Fall River, Massachusetts, where the fiber from many farms all across the United States is pooled and processed into goods that are then wholesaled to retailers. Some of the goods in The Alpaca Shack are made in Peru; some by local knitters and U.S. mills; and some Sandy crafts herself.
And what's Sandy's story? She was a corporate bookkeeper with an after-hours business as a dog groomer in Queens, New York; one day, and less than a year later, she was an alpaca farmer in Vermont, a veteran of alpaca boot camp, as she calls it, and well on her way to making the rest of her life about something much more meaningful than the 9-to-5 grind of office work. The tale she tells of how she got from there to here is part of the farm tour, too, and it's a story that will raise your spirits. "Here are the words I live by," Sandy says. "If you want something bad enough, make it happen." In her case, big-eyed beauties like Lola happened.
Meet The Herd
Sandy Gordon is a big blues and rock fan and there's more than a hint of her love of music in the names she gives her alpacas. The Girls—Crembule, Minky, Peony, Eliana, Eliza, Elsa, Stefanya Ray, Vaughnna, Janine, Simone, Colette, Ayla, Tina Marie, Lola, Tatienne, Sofia, and Anna Mae. The Boys—Taj Mahal, Drake, Snowman, Becket, John Dawson, Edgar, Derek, Gabriel, Shane Anthony II, Elwood, JJ, Zizi, Hayden, Percy, Beckola, Austin, Jean Luc, John Lee, Pernod, and Pips.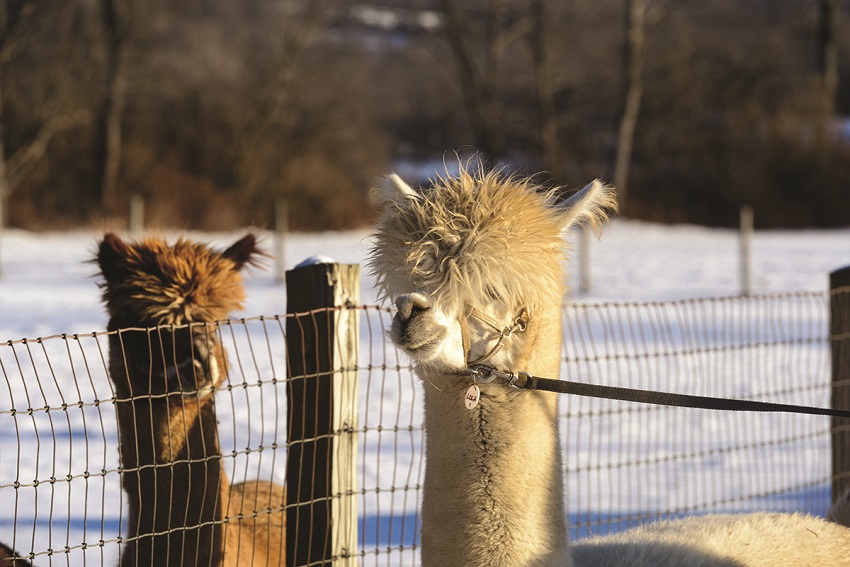 Two Of A Kind
The two breeds of alpaca are Huacaya and Suri. Huacayas, the more common type, account for approximately 90 percent of all alpacas and have fluffy, crimpy fleece that gives the animals an adorable teddy bear-like appearance. Suris have silky, lustrous fleece that drapes in locks. There are 22 official colors in the range from white to beige, fawn, brown, gray, and black. There are more than 3,000 registered alpacas in Vermont.
Source: Alpaca Owners Association (AOA) alpacainfo.com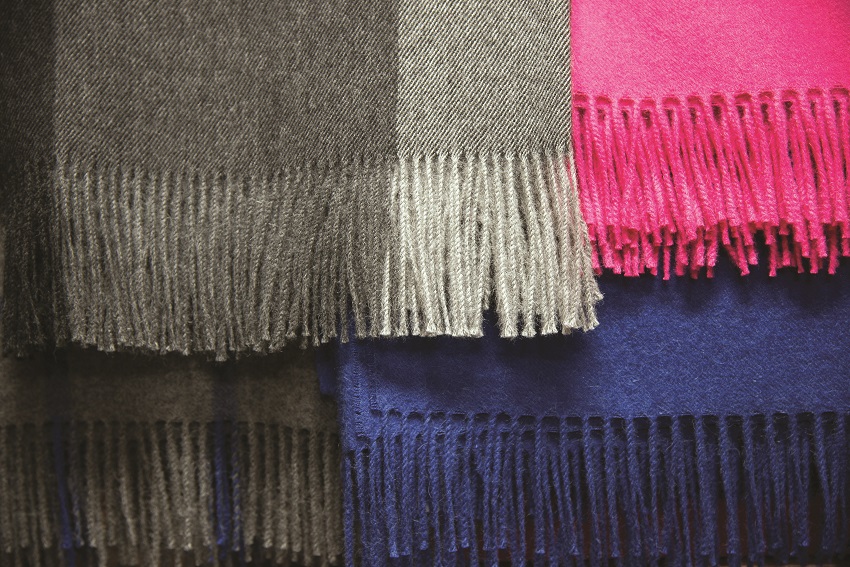 Is That Really An Alpaca Scarf?
Hold the garment or yarn up near a bright light. If you see tiny red, blue, and green sparkles, those are synthetic fibers blended into the yarn. The more sparkles you see, the greater percentage of synthetics that have been added.
Touch the back of your hand to the garment or hank of yarn. Typically, it will feel slightly cooler for a moment or two if it is pure alpaca than a piece that is synthetic or blended.
Most people who hate the "prickle factor" in sheep's wool, find that the smoothness of prime alpaca fiber, especially Suri, does not make them itchy. Also, alpaca, unlike wool, contains no lanolin and is hypoallergenic.
All The Details
The Alpaca Shack Farm and Store
12 South State Line Road
North Bennington, VT 05257
shaftsburyalpacas.com