By Doug Wilhelm
Photos By Tim Peters
The Vermont Community Foundation Brings a New Focus to the Region
Even though it has been helping good things happen all over this state since 1986, the Vermont Community Foundation has never had a full-time representative in the Manchester and the Mountains region—until now.
Guided by a search committee of local residents, this past autumn the foundation brought on a senior philanthropic advisor for Bennington County named Elisabeth Marx (see the accompanying short article) with an impressive resume and a lifelong connection to this part of Vermont. Says Marx, who works from her home office in Manchester, "I love being the person who connects people: those who want to do good philanthropically, and those who are out there toiling on these difficult issues—arts, the economy, the environment—and they have dreams, if they could find the 'venture capital' to make it happen."
But wait. What is a community foundation? And what will it mean that this one, the largest grantmaking charity born and raised in Vermont, is building a bigger presence and a stronger impact here?
In some ways, a community foundation is similar to a venture capital company. People work with a venture capital firm if they have money they're ready to invest, and the firm directs it into promising business startups. The parallel that can be drawn is that a community foundation stewards charitable capital, putting it to work where it is going to have the most impact.
Here's the difference: instead of placing investors' capital into business startups with the goal of making a profit, a community foundation helps donors find and fund nonprofit organizations, in the form of grants, with the goal of doing good for the community in their areas of interest. Almost 700 community foundations are at work in all parts of the United States, serving cities, counties, regions, or states.
"Community foundations are best known for being aggregators of donor-advised funds," says Manchester attorney Peter Kinder, whose home is in East Dorset and who sits on the Community Foundation's Board of Directors. Vermont is small, but its generosity is outsized: The foundation, a statewide organization based in Middlebury, coordinates and provides services to hundreds of donor-advised funds and nonprofit funds.
In 2015, through its funds, the Community Foundation gave out $16.7 million in grants in Vermont and beyond, to nonprofits and community organizations working in health care, education, the arts, youth and family services, economic development, social issues, farming and food systems, land conservation, and more. As part of its efforts in Bennington County, an advisory group of community leaders will work with Elisabeth Marx to develop and manage a regional grant-making fund, built from contributions by local residents both full and part time.
"People who give to the Community Foundation are not giving to the foundation for itself—they're giving for the Community Foundation to turn around and give back to the community," explains Deb Granquist of Weston, a former chair of the foundation's board. For people who'd like to make a difference, she adds, the foundation can provide information about organizations and projects in areas they want to support. "They're almost like a matchmaker, in that sense."
"I've been involved with the Community Foundation for more than 20 years, and I have a donor-advised fund there," says Lyman Orton of Manchester Center, the co-proprietor with his three sons of The Vermont Country Store. "Some people would like to set up funds and have them fairly narrowly defined—they know what they want their fund to support. Some want the foundation to handle the whole thing for them. Others, like me, want to be more engaged, with the foundation there for advice and guidance and helping sort things out. "New people who come in love to
get involved—and we want them to get involved," Orton declares. "That's what it's all about!"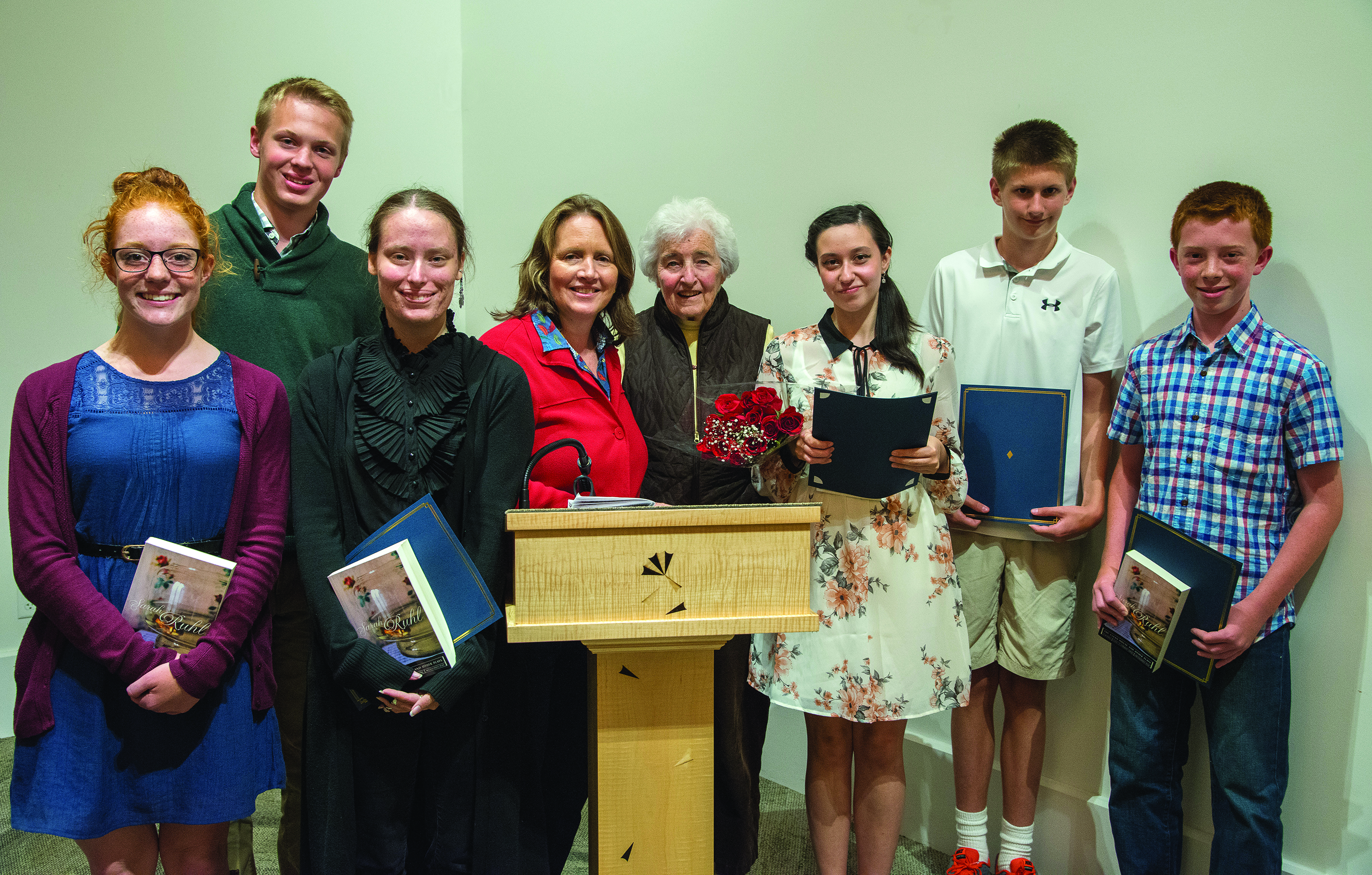 2016 Jean E. Miller Young Playwrights Competition winners with
Artistic Director Dina Janis and Board Member Jean E. Miller
Studies in success
What will success look like, for the Vermont Community Foundation in this region?
Here are a few examples of recent positive impacts:
With a grant from the foundation's Nonprofit Capacity Building Program, the Manchester Community Library has hired a professional consultant to facilitate its strategic planning. Having opened its striking new building in 2014, the library is playing a more and more active role as a community hub and connector, "a driver of economic activity in the community," says Director Betsy Bleakie. More than 50 community groups have used spaces in the new library—and the consultant, Bleakie explains, "is helping us as we move ahead with stronger board expectations and engagement, and a refreshed strategic plan to ensure that the library is positioned to keep pace with our success and be sustainable into the future."
Support last year from the foundation's Small and Inspiring Grant Program played a key role for the Jean E. Miller Young Playwrights Project, an effort by the Dorset Theatre Festival to nurture creativity in regional middle and high schools. Last winter, the festival worked with a theater professor and playwriting students from Bennington College to stage workshops at 14 schools around the county. Students who wanted to develop play scripts each worked online with a mentor, and approximately 60 submitted plays were then judged by professional playwrights. The winning entries were given a dramatic reading by Bennington College students in September. "Many of the projects we've developed have been supported by the Community Foundation," says Dina Janis, the festival's artistic director. This grant enabled the festival to bring its workshops to schools without cost, reaching students from all economic levels.
Over the past three years, three modest Community Foundation grants have enabled Northshire Grows, a fledgling small nonprofit, to stage a series of projects that engaged gardeners, young people, and a wide range of local residents and groups. The projects include promoting and sharing locally grown food, supporting regional farms, and raising funds for hunger relief. "These grants allowed me to do the convening that's necessary to get people excited," explains Liz Ruffa of Manchester, the group's director. "It's not the big ticket—it's the sparks, the bubble-up stuff that get the conversations going, that hopefully will lead to people understanding why it's important to support the local economy and our agricultural traditions."
Since 2012, the Northeast Kingdom Fund, created by the foundation and local partners to serve that region, has distributed 100 grants, totaling more than $234,000, to more than 65 nonprofits, municipalities, and schools. "A committee of local residents carefully reviews all proposals and chooses the grant recipients," according to the foundation's website. "In most cases, grants are awarded to smallscale projects where a modest philanthropic investment makes a big difference." Although the local committee that guides the Bennington County initiative will develop its own standards and priorities, "our goal is to coalesce local giving, similar to the Northeast Kingdom Fund," says Patrick Berry, the Community Foundation's vice president for philanthropy.
Liz Ruffa shares information about VT Harvest of the Month, a program developed with assistance of
Vermont Community Foundations's Farm and Food Initiative, with students at
Hildene-Burr and Burton Academy's Dene Farm.
To work together
What's exciting about the Vermont Community Foundation building a stronger impact in this area—and what should be its biggest priorities?
"One challenge is the economic base. There's a poverty issue that's been denied in the past, but it has ramifications for all of us," observes Martha Heilemann of Manchester, who was recently director of philanthropy at Long Trail School in Dorset. "Also, obviously we're having a severe problem with astronomically increasing use of drugs, which is impacting all across the strata. That's a piece that is being looked at by many organizations; I think it's important for the foundation to be involved in that dialogue, to help coordinate the people and groups that are talking.
"There are a lot of solutions out there," she adds, "but let's try to work together."
Historically in this area, among other issues, the Community Foundation has made grants to support land conservation, the farm-to-plate movement, outdoor recreation and education, and the arts, notes Manchester attorney Rob Woolmington, a former foundation board chair who lives in Bennington. "There's a really strong arts community all over the county, and I hope they'll continue to support that." He also sees a need to fund innovative literacy programs and to battle the drug problem that is statewide. "What the Vermont Community Foundation can do," he says, "is develop and match resources—develop more sources of funding and try to get them in the right place.
"There are certainly resources here," Woolmington adds. "People are interested in giving, and the foundation can help them find the ways to do that."
"Having a representative here who can really speak to people in the county, understand the needs of Southern Vermont, and build coalitions and collaborations—I'm really excited about that," says Betsy Rathbun-Gunn of Sandgate, director of early childhood services at the United Counseling Service of Bennington County.
"This model of a regional advisor is working well in other parts of the state, and so often, Southern Vermont feels like we've been overlooked," observes P.J. Venti of Bennington, who has done development work for regional nonprofits for 25 years and currently works for Williams College. "The Community Foundation is a great resource for small nonprofits. They can provide investment management services and they can administer your endowment and your planned giving, things you may not be able to do on your own."
What about someone who would like to get started in philanthropy? The recent experience of one local couple shows how the Community Foundation can make the process work smoothly.
The couple, both retired, are passionate about supporting the performing arts, health care, and education. "We had been wanting for years to set up a fund that could make grants to organizations—and we thought this might be the time," one of them says. So last year, they worked with the Community Foundation to create a donor-advised fund. Like many donors, they choose to remain anonymous.
"I could have probably figured out how to do it," the donor says, "but they made it extremely easy."
The foundation invests the money placed in its funds, taking care of the bookkeeping, accounting, and tax reporting. It provides donors with information and guidance about issues, community trends, and nonprofits in the state. It points out gaps where philanthropy could make a big difference; it makes sure that nonprofits applying for grants are legitimate 501(c)(3) organizations; and it reports to donors on what their grants have achieved.
"We've already given out four grants this year," the donor says. "It's not only easy to start a fund, it's very easy to make grants.
"They take care of it, and our paperwork was ridiculously minimal," she concludes. "They know what to do. It's what they do!"
Deeply Engaged In The Community
"My children learned to walk here; I have deep roots here," says Elisabeth Marx, the Vermont Community Foundation's new philanthropic advisor for Bennington County. "I'm like a lot of people, whose heart has been here for as long as I can remember."
Throughout Marx's childhood, her parents brought their family to this area several times a year. They now live in Mount Holly, while Marx lives in Manchester with her family—and she has lots of reasons to immerse herself in helping make this region stronger.
"I see a lot of really talented people, exceptional natural beauty, arts organizations, opportunities for outdoor recreation. It really is a vibrant place," she says. "And I think a community foundation is effective when it is deeply engaged in the community, connected to the pulse of what's going on."
Most recently the senior director for strategic collaborations for the United Way of Dane County, Wisconsin, Marx has spent her career working for nonprofits and foundations. As the Community Foundation's representative, she'll need to get to know local philanthropists, potential donors, community leaders, and nonprofits as she works to build a regional fund, along with a diverse network of collaboration and support.
"I think the Community Foundation is positioned to take people who have deep, multigenerational knowledge of this community, as well as those who've come here because they want to be here, and bring them together," she says. "Philanthropy can help support the change that people want to see. One of the beauties of a community foundation is its ability to have a long-term vision. Where do we want to be in 10 years, in 50 years? I believe that all of us can have a role in that."
Giving Where You Care: A Guide to Holiday Generosity
'Tis the season when many of us make an extra effort to support favorite charities and causes. The Vermont Community Foundation offers this advice for charitable giving:
Give where you care. If you're passionate about an issue or an initiative, you're in a good place to judge whether a particular nonprofit deserves your contribution.
Do a bit of research. Visit an organization; volunteer, if you have time. Ask friends and colleagues where they give, and why. Visit sites, such as www.guidestar.org, that collect information about nonprofits and connect donors to them.
Don't look only at administrative costs. If a nonprofit has high administrative costs, look closely at what they're achieving—but know also that organizations can have good reasons for investing in administration.
Give locally, as well as nationally. "Vermont has an incredible network of local organizations that together contribute to a strong social support system for our communities," notes the foundation's website, www.vermontcf.org. "Giving locally also gives you the opportunity to see the work of the organization firsthand."
Don't respond to pressure. "A legitimate organization will understand if you need time to learn more and to consider your decision carefully," the Vermont Community Foundation says. "In almost all cases, your contribution will be every bit as useful tomorrow as it is today."