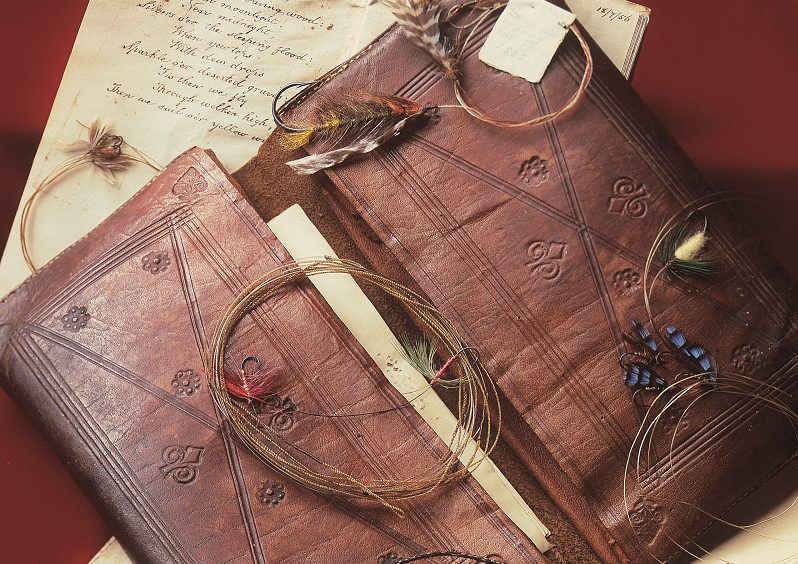 By Gayle Fee
Manchester, Vermont has earned its place as the fly-fishing capital of the East, so it's no surprise that it is also the site of the fly anglers' national shrine: the American Museum of Fly Fishing. Located next door to the Orvis flagship store, the museum's mission is to preserve the rich heritage of fly fishing and to "research, preserve, and interpret the treasures of angling history."
That trove includes more than 22,000 flies, 1,200 reels, 1,400 rods, 700 prints and paintings, and the largest selection of angling books in North America (7,000 volumes).
"We have some of the oldest documented flies going back to 1749," said museum Executive Director Sarah Foster. "We have rods from historic and contemporary rod makers and angling gear owned by Presidents Eisenhower, Carter, and both Bushes."
Nearly all the exhibitions have been donated, including gear from famous fly-fishing aficionados such as Ernest Hemingway, Bing Crosby, Teddy Roosevelt, and Babe Ruth.
The museum was established in the 1960s when outdoors writer Herman Kessler was doing some research for Field & Stream magazine in the attic of the Orvis store. There he stumbled upon fly panels created by Mary Orvis Marbury for her father's company's exhibition at the 1893 Chicago World's Fair.
Dwight Eisenhower. Courtesy of American Museum of Fly Fishing
"He said, 'These should be in a museum,'" Foster related, and Orvis did the rest. In the early days, the collection was housed in the women's department at the store. During the years, the museum acquired what is likely the most significant angling collection in the world and eventually settled in its permanent Main Street, Manchester home.
Some of the fascinating artifacts on display include flies tied by legendary anglers Theodore Gordon, Preston Jennings, George LaBranche, Edward Hewitt, Megan Boyd, Lee Wulff, and Helen Shaw as well as 18th-century flies from Scotland and England with leaders made of Indian grass.
The reel collection documents the evolution from early cast-bronze models to modern lightweight aluminum reels, and rods run the gamut from a wooden pole that belonged to Daniel Webster to today's ultralight graphite rods.
"We are celebrating our 50th anniversary this year," Foster said. "For half a century we have been collecting, preserving, and telling the story of fly-fishing history." In addition to the anniversary celebration, the museum also will mark the completion of two new projects this year: a permanent fly room and a new exhibition on the history of saltwater fly fishing.
"We were lucky enough to receive a facilities grant from the state of Vermont to create a space for our 22,000 flies," Foster said. "This will be a great space for our fly-tying events and a wonderful addition for public access."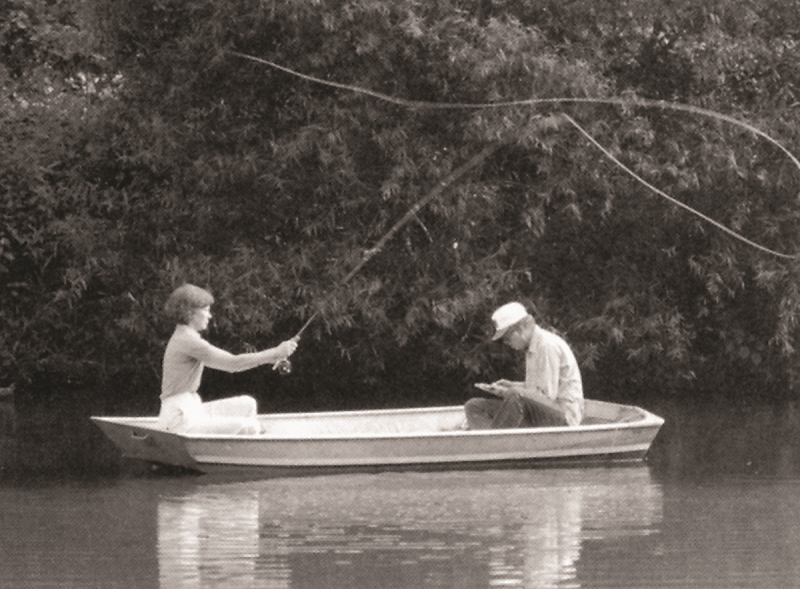 Roslyn and Jimmy Carter. Courtesy of American Museum of Fly Fishing
The saltwater fishing project, in the works for five years, is scheduled to open at the museum on July 1 before it hits the road to the National Sporting Library and Museum in Virginia, the Yale Peabody Museum, and the Florida Keys History and Discover Center.
"A museum should be a wonderful public resource, a venue of reflection, and a place that inspires," Foster said. "AMFF accomplishes all of this and does so by inviting avid anglers, history buffs, art enthusiasts, and inquisitive children to enjoy the exhibitions. Whether you're interested in exploring antique tackle, watching a line-braiding machine from the 1930s, or browsing our unique gift shop, we have something for everyone."
The museum is open from 10am–4pm Tuesday–Sunday from June through October, and 10am–4pm Tuesday–Saturday from November through May. For more information, visit amff.org.