By Ellen Ecker Ogden
Photography By Hubert Schriebl
Nancy Benoit makes Handcrafted, Elegant Shoes for Women
I thought I knew shoes, until I met Nancy Benoit, shoemaker and owner of Sole of Vermont. She hand crafts elegant shoes for women in her Manchester studio, and when you meet her, it's hard not to stare at her feet. "I wish I could say that shoes have always intrigued me, " she says. "But not until just a few years ago did I care about what I wore on my feet."
It took visiting her studio in Manchester, which she designed and built with her architect husband, Alan, to have a revelatory experience around what a shoe really can be beyond simply a utilitarian article of clothing. Stepping inside the small 12' X 16' shoe studio is like entering a city boutique: the walls are graced with fashion illustrations, shelves filled with colorful shoes, some in boxes, others half made, along with hides of leather in all colors and textures.
Full sets of lasts—the forms that create the size and shape of the shoe—line the shelves next to her work table and her industrial strength sewing machine.
Her epiphany to become a shoemaker came in the spring of 2007, when she was visiting her sister in Rhode Island. "I brought a pedicure kit with me so we could have fun painting our toenails," she says, her wide mouth turning into a broad smile, her green eyes twinkling.
When you meet Nancy Benoit, it's hard not to stare at her feet.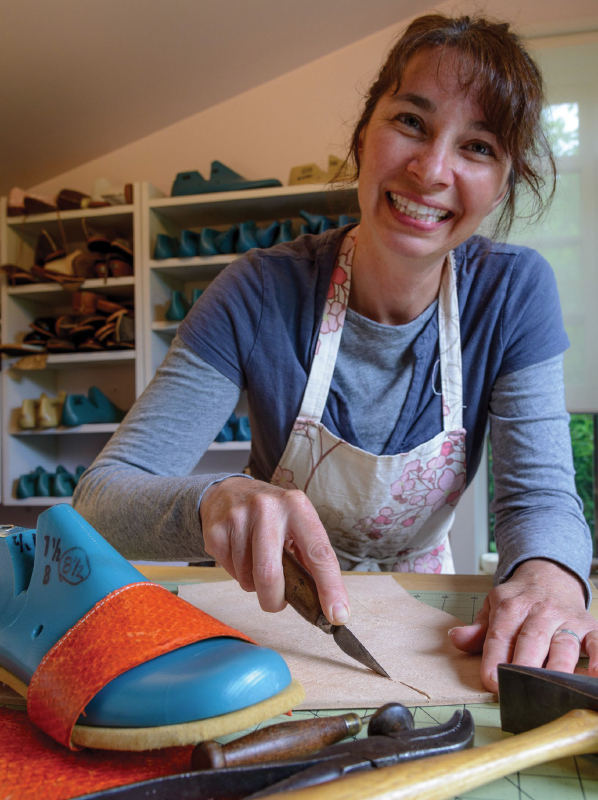 When she opened the kit, it had a piece of foam that you could assemble, one piece folded into another to make a slip-on sandal, to protect your toes while the polish dried. "When I did that motion, and put my foot into the foam sandals, I thought, "That's all it takes to make a shoe?"
Her curiosity got the better of her, and after everyone had gone to bed, she snuck to the computer and googled, "how to make shoes". It turned out to be more complicated than the foam sandals, involving special tools, thick glue and sharp knives, yet this only sparked her interest to learn more. She found a shoemaker in Massachusetts willing to show her the step-by-step process of making a real pair of shoes. "As she was telling me what to do, I found that I almost knew ahead what to do," she relates. "It was totally instinctive." Her first pair were basic open backed mules crafted from hand painted black silk, lined with fur which she wore around the house, only.
Her research continued, and she learned that not only did she share the same birthday as St. Crispin, the patron saint of shoemakers, but also that her Canadian grandfather, William, affectionately known as Pépère, had been a shoemaker. He died in 1948, before she was born, and his tools had been passed down through the family, landing in her brother's basement on Puget Sound in Seattle. Alan and Nancy planned their summer vacation to visit her brother, and came home with two-dozen antique iron tools that were exactly what she needed to get started in her venture.
For seven years she experimented with one-of-a-kinds, using different leathers, a variety of patterns, styles and colors. She took a weeklong class with a shoemaker in Middlebury, Vermont, returning with a solidly made shoe, yet the reinforced toe and heel style did not meet her criteria for comfort. "I kept coming up with lots of wild ideas, but nothing was really working as my own style, something that I could turn into a business," she says. Feeling discouraged that all these years were for naught, she was about to give up when she had another epiphany: simplify her design.
Remarkably, most of the tools used for making shoes have not changed in the past 100 years. Using a different tool for each step of the process, she starts with a piece of leather cut from a pattern, and then tightly wraps it around the last. Using a small hammer and tiny nails, she taps the leather to a leather sole. "This is called 'lasting,'" she explains, using a combination of hammer and plier to pull, stretch and hammer things into place.
It takes up to three days to make one pair of shoes—at least the way Nancy makes them—which is slowly, carefully, with utmost love of the process and perfection in every detail. She'll make one shoe at a time, yet always as a set. Spending a day stitching decorative and functional stitching and grommets for the laces. Once the leather is secured to the footbed, she takes it into the glue room, where a thin layer of bonding glue is applied between the leather and the sole. Left to dry overnight, the next day she will trim off the excess leather and glue on the rubber soling.
Her shoe styles are whimsical and artsy, flat soled and lined with soft suede for pure comfort. They are high priced to reflect the real time that it takes to make each pair by hand, but extremely comfortable and durable enough to wear everyday. "I make shoes that I would want to wear myself, and don't let trends or other's shoe designs influence me." Filtering down all of her ideas into one simple style was the biggest challenge, and this past summer her shoes made a debut at Epoch on Main Street in Manchester, and Robin Lane on Depot Street, where they pair beautifully with Robin's handmade clothing.
It takes up to three days to make one pair of shoes— at least the way Nancy makes them—which is slowly, carefully, with utmost love of the process and perfection in every detail.
Because she also loves to cook, she names each of her styles after a culinary seasoning: You can choose from "Basil", a lime green, pointy, open toe shoe with a green ribbon tie, or "Caraway", a black and white embossed snakeskin leather number, with a closed, rounded toe. "Horseradish" is also popular, a grey camouflage-printed leather, peep-toe lace-up shoe, with grey laces and non-slip soles. Retail prices start at $295.
This past summer, she created a bright orange leather sandal with an ankle ribbon called "Roe", named after fish eggs. "It's actually made from salmon skin leather," she says, gently caressing the soft hide between her fingers. It looks like fish skin, and is cleverly made from fish hide, tanned and cured in Iceland, a by-product of the fishing industry. Slipping it onto her foot to show the graceful lines, and the way the matching orange lace secures around the ankle, I am reminded of the story of Cinderella, and how the magic power of a glittering glass slipper became more than just a shoe.
A fall and winter shoe design is in the planning stages, possibly a low boot, and shoes for men are also simmering as a next step. Each shoe design requires a full set of new lasts, sourcing leather and materials, and requires several months to develop. On her commute from her house, down the boardwalk to her studio she often thinks about her grandfather, and wonders what he would think to see her immersed in the same profession that he pursued. "I often think I wish I had known him, and been by his side when was making shoes," she says. "He might have taught me about all the things that I've done wrong on my own, and might have shown me the paths and shortcuts to do them the right way."◊
Ellen Ecker Ogden is a writer, and author of The Complete Kitchen Garden and co-author of The Vermont Country Store Cookbook. Visit ellenogden.com
---