By Anita Rafael
Photographs by Hubert Schriebl
A very long time ago, in 1944 to be exact, the song "Moonlight in Vermont" was written and published by John Blackburn from Ohio, who wrote the lyrics, and Karl Suessdorf, born in Alaska and later a California resident, who wrote the music. Covers of this waltzy, romantic song have been hit recordings ever since then by none other than Frank Sinatra, Ella Fitzgerald, Billie Holiday, Nat King Cole, Sarah Vaughn, Willie Nelson, and so many other performers that the list is too long to print. It is particularly meaningful to Vermonters because it eventually became the official "State Song." It is a little odd that the lines and verses do not rhyme, and read like haiku, but the song starts like this:
Pennies in a stream / Falling leaves of a sycamore / Moonlight in Vermont
Icy finger waves / Ski trails on a mountain side / Snowlight in Vermont
Snowlight in Vermont! Those words captured the imagination and the hearts of Stratton visitors and homeowners four years ago because that is what the first holiday tree lighting in the resort village for charity came to be called. Snowlight.
There's a story behind that story. From time to time, people wanted to name trails after loved ones or for any number of precious reasons, and there simply were no new trails to name. So, a late November tree-lighting event called Snowlight in Vermont was born as a way to do three things at once. First, it gave people a way to make a public holiday tribute by lighting a tree at Stratton Mountain to honor a special person or thing. Second, it gave people a way to be part of bringing the holiday spirit into the village for the season. Last, it gave people a way to make charitable gifts by lighting "their" tree. In all, tens of thousands of dollars are passed on each year to worthy causes benefitting the residents of the resort area's nearby towns. The Stratton Foundation manages the funds collected by the event. The Snowlight in Vermont experience transforms the entire Stratton community and beyond into a place of love, honor, happiness, lives cherished, and, to neighbors less fortunate, it offers hope.
The trees, 72 as of last year's event, each have a story to tell—some are poignant and moving about love and loss, others are funny and insightful about things that make life worth living. The brief phrases and the names written on the small plaques placed beside each tree are the tip of the proverbial iceberg about what these trees mean. Here are the stories a few of the families shared—and, just for the record, it's true, the trees speak. If you could hear all the stories they tell, it would take a lifetime.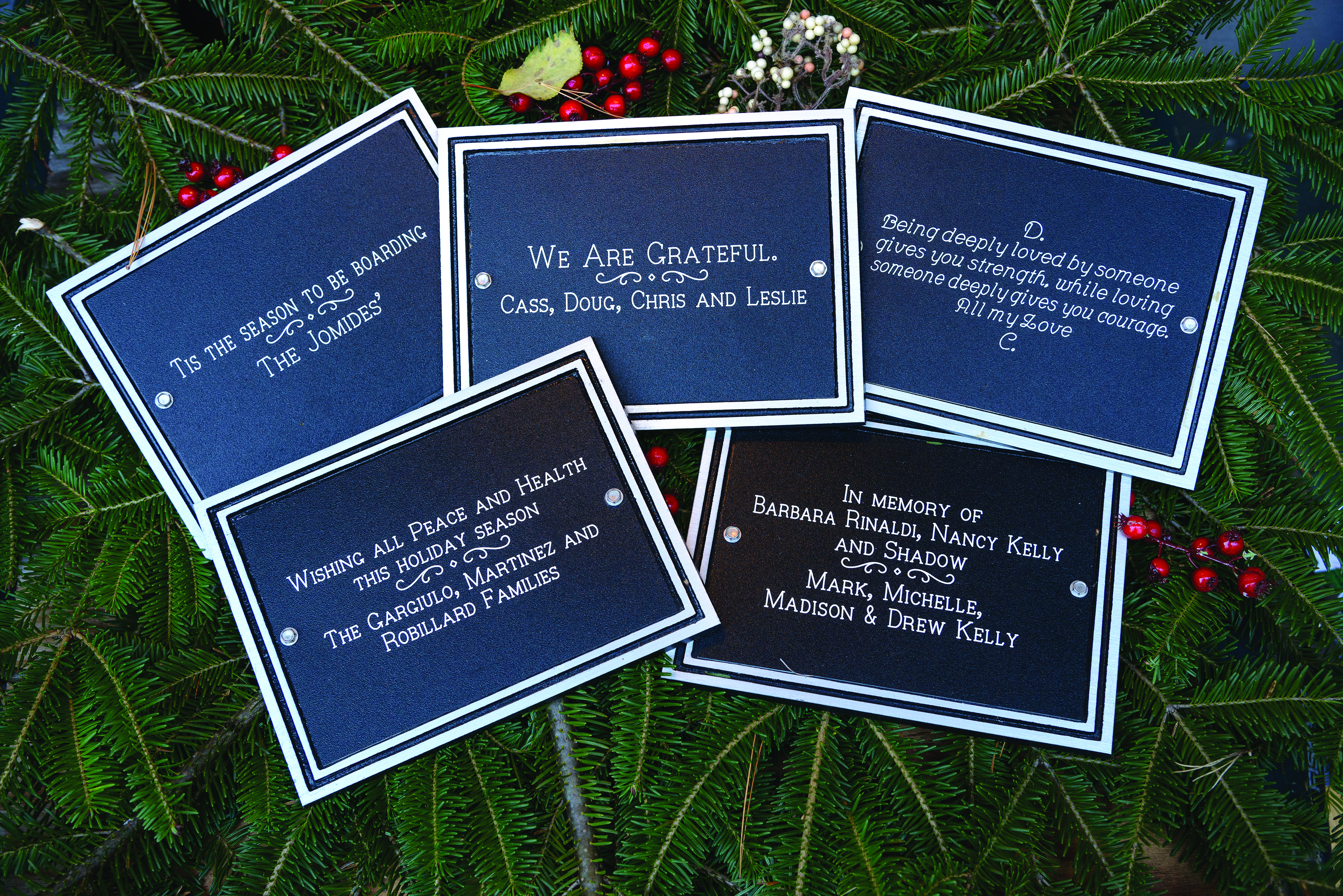 Susan and Bob Sorokolit/Mom and Dad
Parents aren't the people you come from. They're the people you want to be when
you grow up. — Jodi Picoult
Love always,
The Croddicks, The McCooeys and The Stencels
The literary quotation on the plaque for thetree dedicated by this extended family comes from a 2009 novel titled Handle With Care, by the bestselling author Jodi Picoult and it was a sentiment that three sisters, two from New Jersey and one from Maryland, thought best expressed their deep admiration and respect for the way in which their parents raised them. "Mom and Dad" are Susan and Bob Sorokolit, also from New Jersey, and longtime homeowners at Stratton. Twin sisters Beth Stencel and Amy McCooey and their sister, Nicole Croddick, had been puzzling what they could give their parents for a gift, because as Beth says, "They have everything."
She said, "All our lives we have watched how our parents always gave so much back in donations and service work they did in the community where we grew up, and it was something they instilled in us." The role model set by an earlier generation is a legacy being passed on to the Sorokolit's 10 grandchildren, who have all come to love Vermont in every season. "When our families visit our parents' home in Stratton, we are aware that some people in the small towns around us can benefit from our contribution," says Beth, "and we all agree that it's important to make this gift every year."
"My sisters and I decided to dedicate a tree as a surprise for our parents, and although they knew the Snowlight in Vermont was happening, they did not know one of the trees was for them," says Beth. "When we walked around the village together to read all the plaques at the treelighting ceremony that first year, they finally came to the plaque with all our names on it, and of course, they broke down in tears, and we were all crying for all the love we've shared."
Conquer Childhood Cancer
In Memory of Samantha Ann Jelley And Giuliana Velona
Love, Jenn, Mike, Sam and Strat
One simple wish: conquer childhood cancer. If the Apito-Jelley family could ask for just one gift for everyone, not only during the holidays, but for every day of the year, that would be it. Giuliana, Jenn Apito's cousin, and Samantha, Mike Jelley's sister, both lost their lives to cancer, one at age 8, and the other at age 15. "It's hard to talk about what happened to each of them," says Jenn. Guiliana's story was particularly tragic. Diagnosed at age 3, she had a cancer affecting the bones of the skull and spine called chordoma, a type of sarcoma that rarely occurs in small children.
"There was always hope, we held on to hope," says Jenn, "but when my cousin passed away in early November, lighting up a tree for her on Thanksgiving weekend that year was a way to light up the whole winter for us. It was symbolic of hope to our family. The light in the darkness. Being in the village with all the trees lit, it's so beautiful."
The Apito-Jelleys, from Parsippany, New Jersey, have a vacation place in Jamaica. Jenn and Mike, husband and wife, met at Stratton, they ski at Stratton, and they named their son Stratton. He's 7 now, and his sister Samantha, named for her aunt, is 9.
"We know that the contributions raised by the event help many people," Jenn says. "Going to Vermont and seeing a different lifestyle, we understand that it can be tougher to live there in ways that we would never encounter in New Jersey. We're grateful that the donation we make goes to help the people living in Jamaica year-round."
'Tis the season to be boarding,
The Jomides'
"All four of us love snowboarding," says Andrea Jomides, hence the paraphrasing of the lyrics "Tis the season to be jolly" into a variation that captures the thrill of flying down Stratton Mountain on one deck, two bindings, and no poles. The Jomides clan from Old Tappan, New Jersey, is mom Andrea, dad Steven, and the kids: Zac, 19, a second-year college student, and 16-year-old daughter Noa, in high school.
"My husband and I are fairly new at boarding. Zac introduced the family to it," she says, "but he's only a year ahead of us in this sport. We all found our snowboarding legs thanks to some great instructors at Stratton." The four of them usually ride the Polar Bear trail side by side, but, if they split up, they always meet at Mulligan's afterward and tell each other about their runs.
This is the Jomides' second year dedicating a tree, having just celebrated one-year ownership at Obertal. "We found out about the event from an email sent to us when we became new homeowners," says Andrea, "and it was Steven's idea toget involved in Snowlight in Vermont, so we came up with the little slogan about snowboarding just to keep it simple. We feel a real connection to Stratton because the resort creates such a great environment for family activities."
They see themselves spending more time in Vermont because, as Andrea says, they seem to fall into a different kind of rhythm here. "We enjoy the relaxed lifestyle of the weekend getaway, so we find ourselves wanting to become even more involved with what's going on in the communities around us."
In Memory of Barbara Rinaldi,
Nancy Kelly and Shadow
Dedicated by: Mark, Michelle, Madison & Drew Kelly
"We decided to dedicate a tree at Snowlight in Vermont, because we know it's what they would have done," says Mark Kelly. Both Mark and his wife Michelle lost their mothers to cancer; both women were relatively young, and one loss followed the other within a year's time. "Barbara and my mother were both such giving individuals," he says, "so our family makes this gift each year to honor all the good things that they did in their lifetimes."
The Kellys and their children, Madison, 11, and Drew, 9, are from Trumbull, Connecticut, and have been part of Snowlight in Vermont since it began. Homeowners at Stratton Springs, Mark's connections to the area date back to the early 1990s, which is when his family began skiing this mountain. "Stratton has developed into such a mini-Disney World," he says. "It is such an incredible experience to be there, but it's so perfect that it's easy to forget that some people living in the surrounding communities experience hardships that we do not. We don't see the poverty."
Mark and Michelle feel it is important for their children to know how they can help others, something Barbara and Nancy would have taught them. "What blew us away was when we read that some of the money raised by the tree-lighting event goes to children the same age as ours who could not afford basic dental care," says Mark, "and to families who could not afford heating oil."
And last, we had to ask, who is Shadow? A mother, too? "No," says Mark, "he was the family's West Highland Terrier that lived to be nearly 15. The dog loved Stratton so much, and the kids wanted to remember him on the plaque, too."
Careful Planning
Months in advance of Snowlight in Vermont, My Sister's Garden and Gift Shop, a garden center in Rawsonville on Route 30, places a huge order for cut trees. Throughout September and October, people sign up to sponsor their trees, and they write their dedications so that the commemorative plaques can be engraved in time for the grand tree lighting, scheduled this year for Friday, November 25, 2016 at 5:30 pm. The placement of the trees is precisely mapped, and, when the trees arrive in Stratton just before Thanksgiving, Matthew Mosher and his team from Wise Oak, Inc., a landscape design company in Londonderry, work nonstop to set up the trees and string the thousands of lights. Those who dedicate a tree may choose to illuminate their tree with all white, all blue, or a mix of blue and white bulbs, and most seasons, the trees stay lit through February or early March, depending on the weather.
Join Stratton's Snowlight in Vermont
The digitally engraved plaques may be changed from year to year, so that messages can be as personal as the individual donors wish. Many people place their own small decorations on their tree, a photo or a memento. The contribution is $500 and includes the plaque and an invitation to a private reception at 4:30pm on Friday, November 25, 2016. Reservations for trees can be made by calling 802-297-2096 or online at www.strattonfoundation.org.