With fall foliage in full glory, the call of nature can be somewhat irresistible. The Green Mountain State is home to more than 700 miles of hiking trails, and as the green changes to more vibrant hues, hundreds of miles of dirt back roads can provide leaf peepers with a little backcountry peace of mind.
Will there be breathtaking views? Of course. Will you get lost in the stunning display of color? Absolutely.
As the summer heat gives way to crisp days, find yourself in the mountains, or on a quiet winding path, or overlooking valleys, rolling hills and pastures. The possibilities are endless.
Lye Brook Falls
Manchester
This heavily wooded, 2-mile trail welcomes hikers into the 15,680-acre Lye Brook Wilderness. A moderate trek, the trail winds along old railroad logging roads in a steady, gradual slope. Near the southern end of the trail, venture down a spur that will lead you to Lye Brook Falls, a 125-foot high waterfall.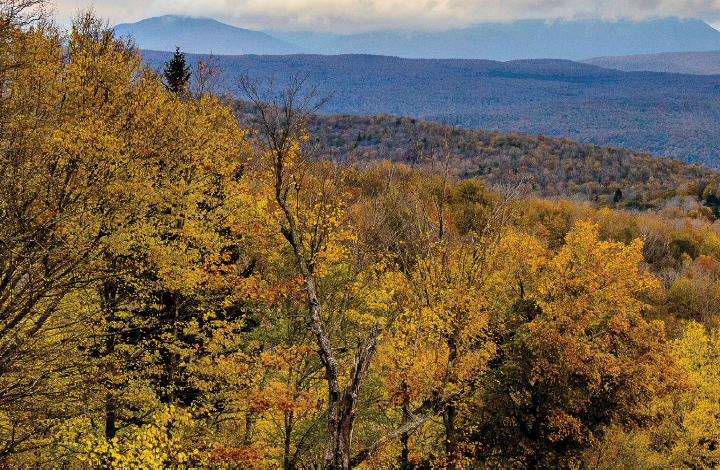 The best part about this hike is that travelers don't have to commit to a full day of walking to witness these breathtaking views. This is one of the few hikes where you can tease the trout, frolic with frogs, and experience one of Southern Vermont's most beautiful natural settings in just three to four hours, round trip.
West River Trail
South Londonderry–Brattleboro
Find yourself nestled between the mountains—now exploding with color—and the West River on the 16mile West River Trail. With a nearly level surface, this hike is perfect for families. Despite being on the outskirts of several of Southern Vermont's busiest towns, five minutes on the trail can make you feel like you're miles away. The trail is still in development, with the hopes of one day connecting all 36 miles from Londonderry to Brattleboro.
Begin your journey in South Londonderry, where the trail takes you along nearly three miles the riverbed, eventually reaching the Winhall campground. Here, you'll find a gap in the trail. Just follow the campground road over the bridge until you rejoin the trail. From there, it continues under a canopy of leaves for another 3.5 miles to Ball Mountain Dam. Another 3.5 miles later, you'll reach Jamaica State Park, and farther south it picks up in Dummerston, winding through quiet landscapes until it reaches Brattleboro.
The Long Trail
The Long Trail is the oldest long-distance hiking trail in America, providing some of the best mountain views. The 273-mile trail is described as being "steep in some places, muddy in others, and rugged in most." Definitely not for the faint of heart, but those up for a challenge this fall can find it in Southern Vermont, where the Appalachian and Long Trail share 103 miles, crossing both Bromley and Stratton Mountain.
Stratton Mountain Trail
At 3,940 feet, Stratton Mountain is the highest point on the Long Trail in Southern Vermont. This 7.6-mile trail travels to Stratton's summit.
Vista openings provide breathtaking views of pristine Somerset Reservoir. From the top of the fire tower, soak in the fall sunshine while taking in the breathtaking views of Vermont, New Hampshire and Massachusetts—all painted in shades of red, orange and yellow by this time. There's also a wonderful two-day overnight loop with shelter for those looking to extend their stay.
Bromley Mountain Trail
Hear the leaves crunch under your feet as you ascend the 3,284 feet to Bromley's peak on the Bromley Mountain Trail. This rocky, 5.4-mile course leads you through the forest, where you're able to experience nature on another level—whether you're gabbing with geese making their way south, or discovering deer around the bend. At the summit, take in views of nearby Stratton Mountain and Mount Equinox.
—Elicia Mailhiot