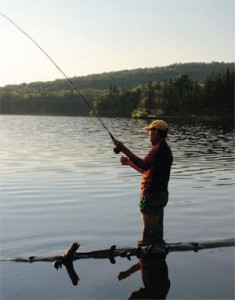 The Battenkill River first crossed my consciousness in 1976 while a new student at Stratton Mountain School. I thought its name oddly redundant as "kill" is an archaic English word for "river", though the Battenkill River certainly possessed a doubly strong magnetism for several of my classmates. Each spring, they traded their ski poles for fishing poles, ahem, fly rods, and frequently disappeared to this local waterway after class. On my weekly forays to Manchester to sip strawberry Fribbles at Friendly's, I noticed many retail establishments incorporated Battenkill into their names. I was vaguely aware that the river rolled past the Orvis store, in which I was more likely to purchase a "fisherman sweater" than anything directly related to fishing.
A decade later, I discovered fly fishing, and the Battenkill flowed more significantly into my world. My first fly reel was an Orvis Battenkill reel, a birthday present when I turned 29. The first time I used it was on Lake Mitchell, a small lake owned by a private trout club in central Vermont. I cast 20 yards of dark brown line toward a rock bulging from the calm surface of the water then watched the black woolly bugger at the end of my tippet sink out of sight. I counted to five then retrieved the line with short, decisive tugs toward the small aluminum rowboat in which I sat. On my fifth pull, the line tugged back. I had hooked a respectable 12-inch rainbow trout on the first cast.
"Well done," said my boat-mate, as I proudly netted the rambunctious trout, "You gotta love this hero fishing."
"Hero fishing?" I replied, "What do you mean?"
"These are stocked fish," he said, "It's pretty easy fishing here. You should try a wild trout stream."
I suddenly felt like a novice skier who had just made her first parallel turn on a groomed slope. If I wanted to be a real angler, I needed to catch "real fish". I glanced at my reel. The name, Battenkill, was suddenly much more than a name, it was a challenge, though another 20 years would pass before I had chance to fish the Battenkill River's legendary waters.
That reel is still on my favorite rod. It has helped me net extremely large trout in some of the most wellknown fly fishing streams in the United States, including the Green River in Utah, the Madison River in Montana, the Yampa River in Colorado and both Ausable Rivers in Michigan and New York. Last spring, I finally had the chance to use it on its namesake river as well as six other rivers in Southern Vermont. It was a challenge I couldn't pass up, the chance to fish seven bodies of water in seven days.
The odyssey started innocently enough. My sweetheart and I decided to spend a week near Stratton with our fly rods, exploring a number of nearby bodies of water. We never anticipated the memorable fishing marathon that unfolded. Mid-May through mid-June, after spring run-off subsides and while water temperatures are still under 60 degrees, is prime time for fly fishing in Southern Vermont. By the end of the week, we had fished seven different bodies of water, which we now call our Lucky Seven:
Day 1: Upper Deerfield River. When the Deerfield River was dammed in 1912 for hydropower, the trout died due to lack of water during the summer. A few years ago, the dams needed to allow year-round flow in order to get relicensed. I heard a portion of the river through the Mount Snow valley had become a trout angler's hot spot with some anglers hooking over 20 fish per day, many over 24 inches. I found the water level surprisingly low for late May and a delight to wade, with the trout eagerly rising for caddis and adams dry flies.
We never anticipated the memorable fishing marathon that unfolded. Mid-May through mid- June, after spring run-off subsides and while water temperatures are still under 60 degrees, is prime time for fly fishing in Southern Vermont.
Day 2: Black River. On day 2, we drove north to the Black River, which boasted a little of everything, long runs, plunge pools, riffles and pocket water. We were mainly interested in the two-mile section of state-designated trophy water near Cavendish. The State of Vermont stocks two-year-old rainbow trout and brown trout there throughout the month of May. They get heavy pressure, but they seemed to like bead-head woolly buggers, which I was much obliged to offer them.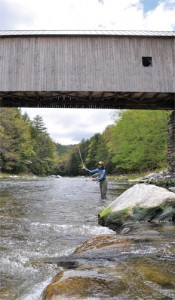 Day 3: Winhall River. On Day 3, we decided to try the Winhall River, though a local angler we met on the Black River claimed the Winhall River had no fish. It flows from deep in the Lye Brook Wilderness near Stratton Mountain and ends at its confluence with the West River. I first became intrigued with the Winhall River when I crossed it while hiking the Long Trail from Stratton Pond to a trailhead in Manchester, but that's not the place to go. We spent a delightful day hooking rainbows and browns further downstream near Rawsonville and immediately planned our next day's outing.
Day 4: Stratton Pond. On Day 4, we wanted a workout, so we decided to hike the 3.8 miles from Kelley Stand Road to Stratton Pond on the Stratton Pond Trail. Luckily we found the pond ice-free. A number of rises greeted us upon our arrival at the water's edge, so we quickly tied on dry flies. We easily caught a half-dozen 6-inch small fry in the first half-hour. With Stratton Pond, it's all timing. Wait for the hatch, and you'll catch fish.
Day 5: Branch Pond. Less ambitious on Day 5, but curious about 35-acre Branch Pond, we headed back to Kelley Stand Road. A short quartermile hike down a well-maintained trail to the pond, we had no luck for the first hour. Then a random hiker passed by and told us we were in the wrong spot. The best fishing was on the opposite side of the pond. He was right. From the large, sometimes slippery boulders, I could cast almost 360-degrees. Before long, a bashful brook trout took my muddler, then darted through some pickerel grass with my line trailing from his lip. I landed not only the fish but also a tangle of weeds. It would be a one-fish day as a rainstorm soon chased us back to the trailhead.
Day 6: Grout Pond. On Day 6, we desired some variety and decided to look for bass instead of trout in Grout Pond. It was a calm warm day, with nary a wave on the glassy water. As I peeled off layers down to my t-shirt, I saw my rod twitch. Moments later, a perky perch came to my net. We never saw a bass, but we caught three more perch. The highlight of the day was pulling an 18-inch chain pickerel from the dark water, a lucky landing indeed as I wasn't using a metal leader.
On day 2, we drove north to the Black River, which boasted a little of everything, long runs, plunge pools, riffles, and pocket water.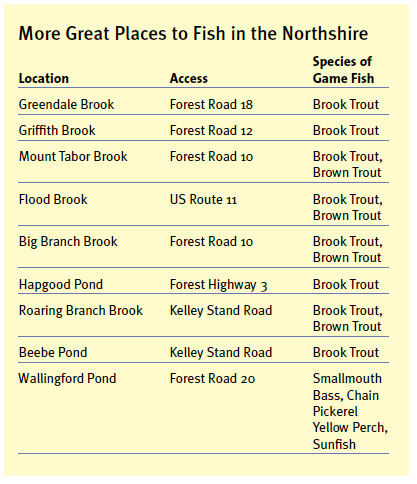 Day 7: Battenkill River. We undoubtedly saved the most challenging for last. The Battenkill is known for its wild, wily brook trout, but I had faith that my Battenkill reel would help me find a fish in the river for which it was named. In his book, The Battenkill: An Intimate Portrait of a Great Trout River (1993, Lyons & Burford), Dorset-based angler John Merwin bolstered the upper Battenkill's reputation as one of the most technically difficult fly fishing streams in America when he wrote, "By the time one of the [Battenkill's] browns reaches age three and is about ten inches long, he or she has quite literally seen it all…" The Battenkill is heavily fished by expert anglers. These educated fish instantly disappear from the vicinity of splashing waders, grinding gravel, a slapping line or a careless shadow. There's also little structure so the trout tend to string out along the shoreline. I learned quickly to keep a vigil on my line, as unseen underwater swirls constantly threatened its natural drift. Even so, I feared the fish had evaporated when I had not felt a strike after several hours. I was about to give up, when I decided to cast one last time toward an overhanging shrub. I felt something nudge the fly and chanced setting the hook. My heart skipped a beat as a small square tail raked the water from below. A few minutes later, a tired 7-inch brook trout hovered by my waders. I had caught trout three times that size only two months earlier in Wyoming, but this little fellow was bigger than life in my fishing log. A wild brook trout in the Battenkill River! I had just conquered the angler's version of a double black diamond ski run. ◊
An Emmy-winning television producer and an outdoor writer/photographer, Lisa Densmore has spent many spring days over the last 20+ years casting a line for trout and other feisty fish throughout the Northeast and the rest of the U.S. www.DensmoreDesigns.com.
---