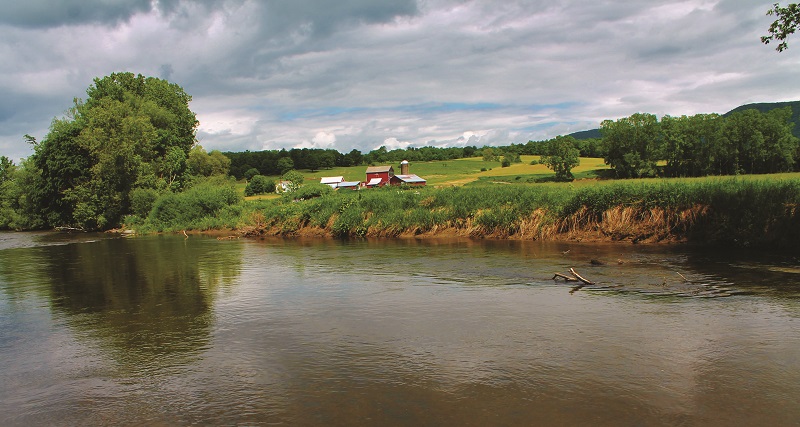 Courtesy Ray Barumen
Why Southern Vermont Is the Angling Capital of the East
By Gayle Fee
Master fly fisherman Reg Baird, author of Living with Trout: A Lifelong Adventure, famously declared, "The man who coined the phrase 'Money can't buy happiness' never bought himself a good fly rod." And since 1856, when Charles F. Orvis opened his namesake company near the banks of the Battenkill, anglers have come from all over the world to find their bliss in the trout streams in and around Manchester, Vermont. The gorgeous natural surroundings, an abundance of trout, and the world famous Battenkill—a fly-fishing mecca for centuries—make the Manchester area the go-to spot for any serious fly-fishing enthusiast seeking the ultimate East Coast angling adventure.
"My first fishing trip to Vermont was the summer of '84 to this beautiful stream with crystal clear water and lined with marble rock," said Sunderland angler Margot Page, a longtime fly-fishing devotee and the author of Little Rivers: Tales of a Woman Angler and The Art of Fly Fishing. "We were surrounded by these incredibly majestic hills and gorgeous agricultural fields with picturesque black-and-white cows. It was just magical. I got hooked on it."
She's not alone. According to the most recent study, the popularity of the sport has exploded with more than 400,000 new anglers whipping the water in 2016 alone.
"After a long winter, to go out on a nice warm day in May and fish is my favorite," said Yoshi Akiyama, deputy director of the American Museum of Fly Fishing in Manchester, who took up the sport as a boy in Tokyo. "Standing in the middle of a beautiful, beautiful environment, it's not just about catching a big fish, but being surrounded by beauty. And once you catch a brook trout, it shines like jewelry; red, blue, purple, pink. It's incredible."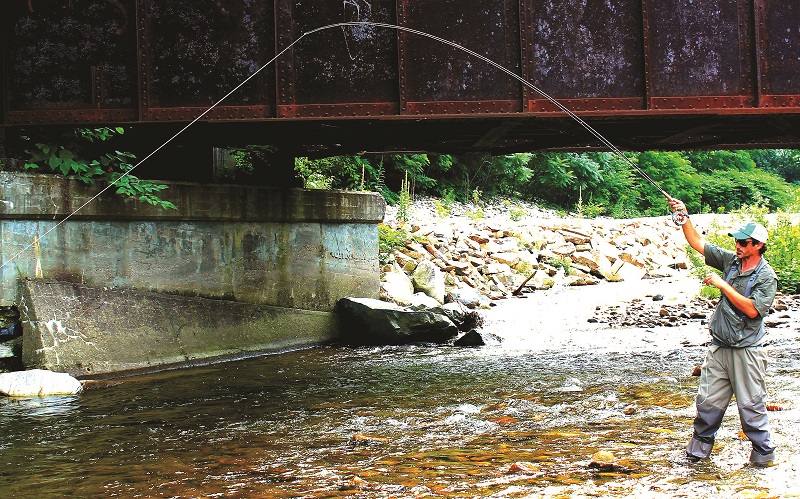 Courtesy Ray Barumen
Dagmar Neubauer, who with her husband, fishing guide Wayne Hric, owns the Reel Shooter sports shop in Manchester Center, says fly fishing "takes regular fishing and kicks it up a notch."
"There's a little more expertise involved, but it's that much more thrilling when you catch a fish," she said. "Quintessential Vermont fishing is hiking to a mountain stream and catching a fish that's never been caught before. When you're using a super lightweight fly rod, you can feel everything and really get the sensation of the hook up and the fight. It can make a 6-inch brookie feel like a 30-pound striper and that's super exciting."
Fly-fishing enthusiasts will tell you that, out on the river, the job, the bills, and all of life's little aggravations, fade away as they scan the water hoping to find a lurking trout.
"It's definitely an escape, an opportunity to disconnect from your phone, your laptop, your job, and just be really present," said avid Manchester angler Chrissy Atkins. "Standing there in the water, shutting your brain off and just being one with nature is pretty cool."
Once thought of as a sport for, as Page put it, "the tweedy 1950s world of aristocratic male anglers," fly fishing has become more egalitarian in recent years with women and younger aficionados making up the biggest share of new devotees. Improvements in gear and equipment specifically designed for women, has helped lure these new anglers, as has a more affordable price tag.
"Someone just starting out can go into Walmart and get an introductory fly-fishing package from around $40 to $75," said Bob Young of Young's Flyfishing, a southern Vermont guide service. "Or you could go to the bigger manufacturers and their rods start at around $200. I tell beginners that it's like your first car, you didn't buy the most expensive one right out of college, you got what you could afford."
Perhaps the best place for new anglers to start is at Orvis. The flagship store on Main Street in Manchester offers a free class for beginners called Fly Fishing 101. And just across the street at the Orvis Fly Fishing School, instructors guide 101 grads and more experienced anglers who are looking to improve their technique, on casting, essential fly-fishing knots, choosing gear and tackle, the science of insects, proper fly selection, and how to read water and currents.
"Fly fishing is both an art and a science," Page said. "I think it's a very complex sport on many, many levels, but you don't have to know it all to enjoy it. The science part is the entomology, fly tying, the bugs and hatches. The art of it is in both the casting, which is a really compelling physical activity to master, and one that has its own poetry, and being able to enjoy an adventure in this beautiful world of ours."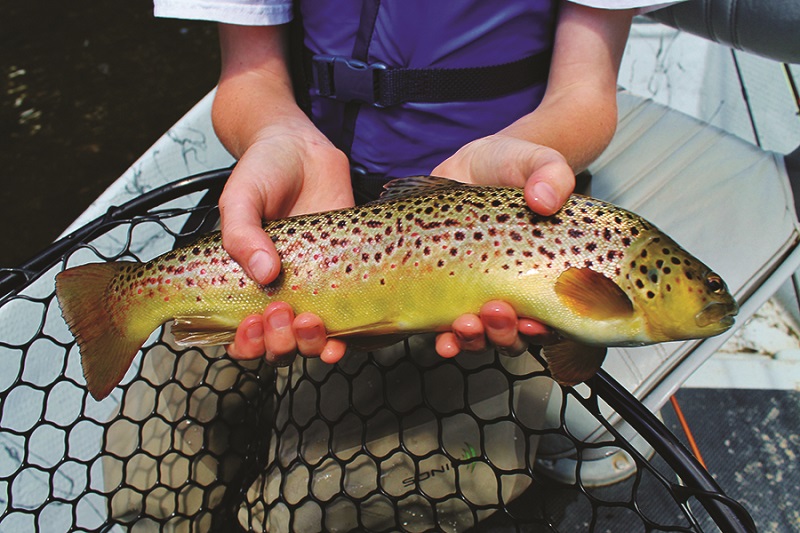 Courtesy Ray Berumen
It takes practice to cast a fly rod and actually get the fly out to the fish, and then to make the artificial bug behave as enticing as possible.
"Just like a golfer goes to the driving range to work on their game, practicing your casting will make your time on the water a lot more enjoyable," fly-fishing instructor Peter Kutzer said.
Watching internet videos, talking to local anglers, chatting up the clerks at the local outdoors shop, and even hiring a guide are more good ways to up your game. You're also likely to learn what flies are working as well as the best places to fish.
"If somebody asks me for advice I don't hold back," Young said. "They'll say, 'I tried this and I tried that and I still can't catch a fish. What do you think?' If I've got five minutes, they'll get it."
So you've got your rod and reel, you've mastered the cast on dry land, and you're ready to hit the river. But what makes fly fishing different from bait-and-tackle is what gives the sport its name: the fly. That's the artificial bug that needs to look real enough to tempt a trout. And not just any fly will do, you've got to "match the hatch."
"Matching the hatch basically means, if you see a fish eating a cheeseburger, throw a fly that looks like a cheeseburger," joked Kutzer. "It's just using a fly that looks like what the fish are eating. You need to look and see what is the most available form of food. See what's flying around. Pick up rocks on the bottom of the river and look at the bugs underneath. Being observant is key."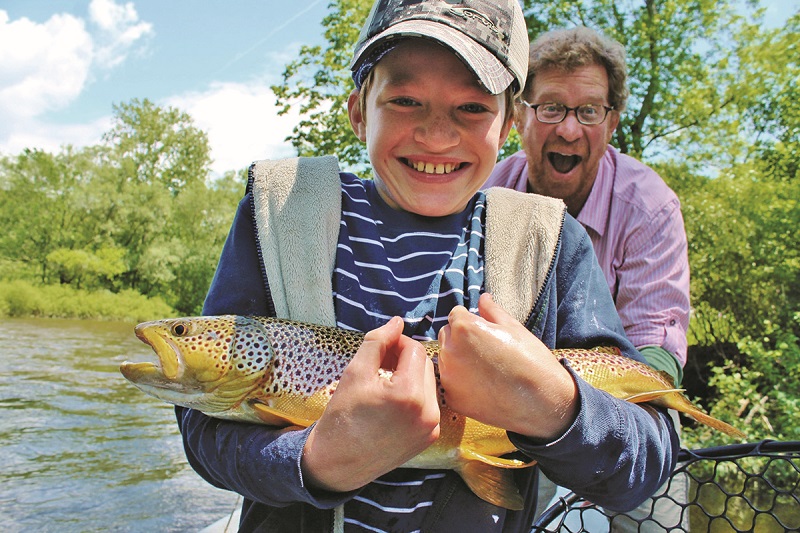 Fly fishing is becoming a family sport and attracting a much younger deomgraphic.
Here Rob Moderelli and his son Charlie show of the trophy-size trout they caught on the Battenkill. Courtesy Ray Berumen
The next step to angling like a pro is knowing how to fish where the fish are. Although most veteran anglers are loathe to divulge their secret hot spots, you almost can't go wrong in any stream in and around Manchester. First off, is the legendary Battenkill. It has lured generations of anglers, but has a reputation of being a bit finicky.
"It's a pretty iconic river and seems to be on everyone's bucket list of places to fish," Atkins said. "It's an awesome beautiful place, with the covered bridge in the background and the beautiful sipping trout, but it's by no means easy. I feel like you have to earn your stripes on the river, pay your dues, and put in your time, but it's so worth it."
The Battenkill is strictly catch-and-release, so veteran anglers surmise that the fish that live there are of the "Fool me once, shame on you; fool me twice, shame on me," school. That is, they've been tricked before by a tasty-looking fly and they won't get hooked again.
"Some days I have been standing in the water all day long only to have a fish come up to the surface 10 or 15 minutes before dusk, just about the time the sun is going down and it's going to be pitch black," said Yoshi Akiyama. "And other days it might be hopping. You never know, but that's the fun part of fishing, playing games with the fish."
When the Battenkill is having an off day, locals know to head to any of its small tributaries that are lesser known and more easy to fish. Other nearby hot-spots include the Mettowee, Walloomsac, Black, West, and Hoosic rivers as well as Otter Creek. There's also great lake fishing at Gale Meadows and Emerald Lake.
"Manchester is unique in that within an hour's drive you can get to six major rivers," Neubauer said. "And then you've got this beautiful town that has something for everybody, restaurants, shopping, hiking, sight-seeing. That's why people come here from all over the world."
A rich history, stunning surroundings, the iconic Battenkill, the very first Orvis store, and the nearby American Museum of Fly Fishing all make Manchester, in the words of anglers' bible Casting Across "a fly fishing place."
"It's a destination fishery," said local fly-fishing guide Ray Berumen. "People come from all over the world because the fishing is always consistent and it's always beautiful."
So it seems that as long as there are trout in the streams here, anglers will keep trying to trick them into nibbling a fly, continuing a treasured pastime that has fascinated fishermen for centuries.
"The biggest mystery in all the years of fly-fishing history is that nobody has yet figured out the brain of the trout," said Yoshi Akiyama. "If you could only crack that code, that would really be something."
In the meantime, Southern Vermont may just be the most perfect place in the East to keep on trying.
Fish Tales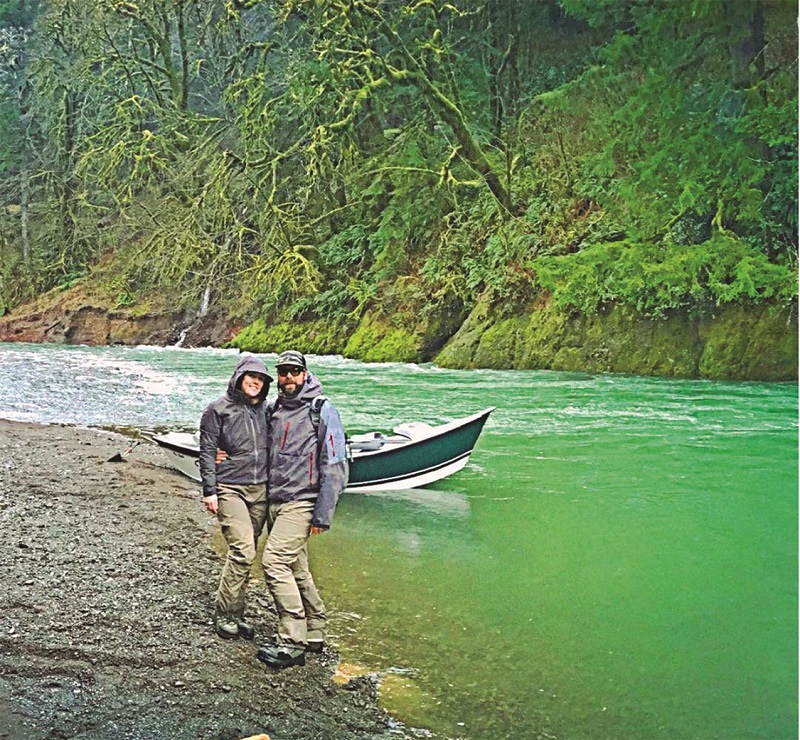 Courtesy Jackie Kutzer
The One That Got Away (And The One That Didn't)
Manchester couple Peter and Jackie Kutzer share a passion for fly fishing, so back when he was getting ready to propose to her, Peter came up with a plan that was a little bit fishy. "It was right in the middle of the Hendrickson Hatch, one of the best times to catch a big fish on the Battenkill," he recalled.
The Hendrickson Hatch is the apex of fly-fishing season, when trout begin to gorge themselves on tasty little mayfly nymphs, and Peter had already staked out an area where the big ones were rising to feed.
"I had a fish all lined up and I took Jackie to this spot hoping she would catch this big fish," he said. "We walked through this pasture, past some cows. It was tucked away and we didn't see a soul. We sneaked up to the spot, and sure enough, the fish started rising.
"I thought, 'Oh man, I got this! She's gonna catch this big fish, everything will be perfect, and then I'm gonna propose.'"
Jackie made a perfect cast, the fly was drifting downstream toward the trout, the fish saw the fly and started coming toward the surface.
"I'm a fishing guide so I like to tell people when to set the hook," Peter said. "The fish came up and right before he closed his mouth I said 'Set!' pretty loudly. Jackie, because she's a great angler, set the hook right when I told her to, but in my anticipation, I said it too soon. She pulled the fly right out of the fish's mouth and he got scared and ran away. I thought the night was ruined."
After the ill-fated fishing trip, Peter took Jackie to their favorite restaurant, The Silver Fork in Manchester, and after dinner, he asked her to marry him.
"I said, 'It was my fault you didn't catch the fish,'" he said. "But I hope it's okay," Jackie apparently thought the effort was more than okay, because she said yes.
"So I guess it worked after all," Peter said. "The fish got away, but I got a keeper."
And they fished happily ever after…
A Real Dreamboat
Fly fisherman Bob Young, who has been angling the rivers of Southern Vermont since he was a boy, inherited his passion from his grandparents Henry and Alretta Young. "I remember back in the '60s walking home from school and my grandfather called me into the house to see this big fish he caught," Young said. "It was in the double sink in the kitchen, flopping over the hump from one side to the other."
As they got older, Henry and Alretta weren't able to wade into the rivers to catch trout; Alretta had arthritis and Henry had emphysema from smoking. So they decided that what they needed was a boat. "They had a burning desire to fish into their golden years," Young said. "But they were not financially able to afford one."
So Alretta, being a thrifty woman who remembered the Great Depression, devised a plan: she would save up enough S&H Green Stamps to get a free boat. Popular in the United States from the 1930s to the 1980s, S&H Green Stamps were distributed at grocery stores, gas stations, department stores, and other retailers. Customers would collect the stamps at check-out counters, paste them into books, and eventually trade them for goods ranging from toasters to, well, boats.
"My grandma had thousands of books of those stamps," Young recalled. "They would shop on Wednesdays when they gave double stamps and fill the car with gas at the stations that gave them out. There were books of them in shoeboxes all over the house."
After squirreling away stamps for years, Alretta finally saved up enough to get a 12-foot aluminum rowboat.
"They brought the stamps to the redemption center and a few weeks later a big box truck pulled up with their new boat," Young recalled. "I can still remember the excitement of that day. They fished from that boat every chance they got."
Henry and Alretta are gone now, but the boat she got with all those stamps lives on. "It's still in the family," Young said. "We could never part with it. I have a lot of great memories of my grandparents and that boat."