By Cherise Madigan
Photographs by Hubert Schriebl
Looking to make a splash in Stratton this summer? In an area perhaps best known for its ski mountains, you may be surprised by just how much Vermont has to offer when it comes to warm weather fun. Here, summers are defined not just by the brilliant glow of the Green Mountains but by the crisp, cool, and clear waters waiting within.
Boasting a bevy of serene lakes, playful ponds, and energizing waterfalls, many find the mountains even more mesmerizing a destination after the snow has melted.
Here you'll find the best swimming, paddling, and boating spots within an hour of Stratton, along with all the information you'll need to decide exactly where to beat the heat.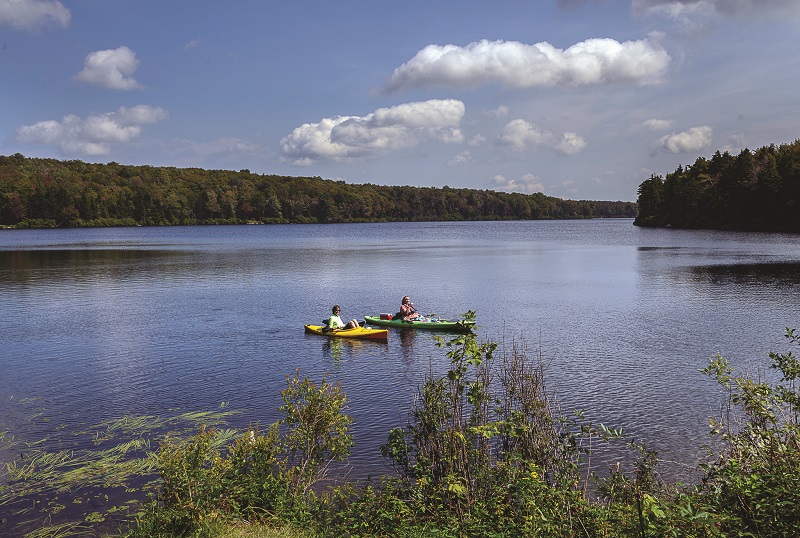 Grout Pond—Stratton
Hikers have found a haven in Stratton's Grout Pond, which lies within 1,600 acres of the Green Mountain National Forest and intersects both the Long Trail and Appalachian trails. Situated near the adjoining Somerset Reservoir, the landscape is relatively flat—perfect for those new to traversing trails. When you're done exploring, enjoy a dip in the serene waters, cast a rod, or paddle along the still surface.
Because it has so much to offer, Grout Pond is often humming with activity on the weekends and during holidays. If you're looking to camp, reserve a spot early, as plenty of thru-hikers pass by the area between May and November. On the busiest of days, however, Grout Pond is a beautiful spot to strike up some interesting conversation with visitors and locals alike.
207 Grout Pond Rd., Stratton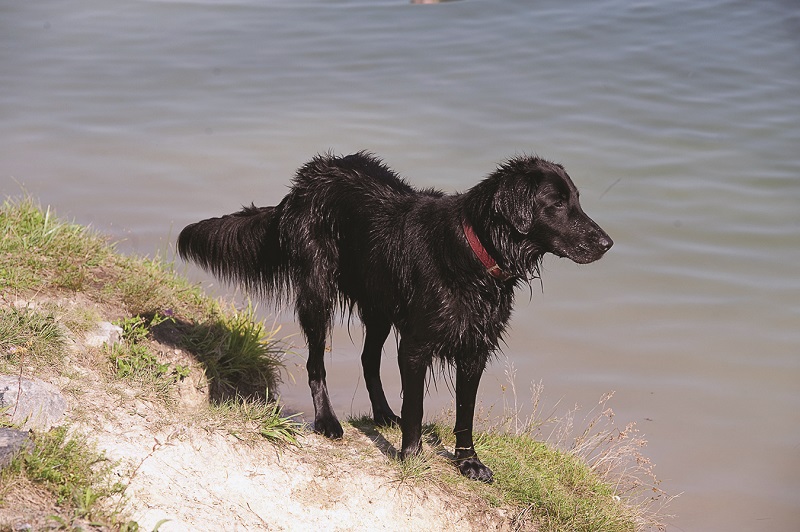 Stratton Snowmaking Pond—Winhall
You won't have to venture far from the mountain to find one of the best hidden gems in the Southern Vermont swimming scene. At the Stratton Snowmaking Pond you'll discover calm waters—perfect for wading, paddling, or playing— contrasted with the stunning mountain views that skiers have come to know and love.
While the pond is pumped during winter months to supplement fresh powder on the slopes, the area is populated by families and even furry companions during summer months. Rocks resting at the edge of the pond are perfect for sunbathing (or jumping off of, if that's more your style), and fishing is also popular. To top it off, a hard-packed loop around the pond is ideal for joggers or children with a little too much energy.
77 Kendall Farm Rd., Winhall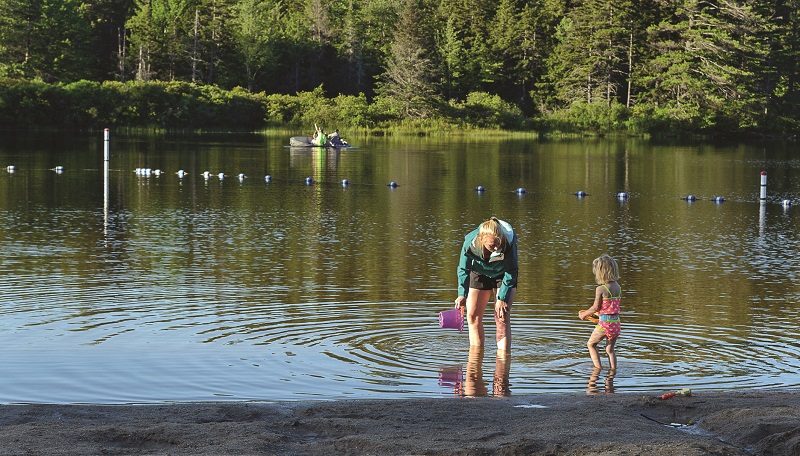 Hapgood Pond—Peru
History and heart come together at Peru's Hapgood Pond, the first parcel of land acquired for what is now the Green Mountain National Forest. Many of the original facilities constructed by the Civilian Conservation Corps in the 1930s still surround the pond, which is a great destination for those who wish to escape into the wilderness.
The wooded landscape that houses the 8-acre pond (reaching a depth of approximately 12 feet) is tranquil by nature and becomes lively during busy summer weekends. A 28-site campground is available for those seeking a true backcountry experience; a nearby one-mile nature trail can be enjoyed as well. Fishing, swimming, and picnicking are all popular ways to spend the day at Hapgood Pond, which also boasts a small beach (although there is no lifeguard keeping watch, so use caution). Non-motorized boats are also permitted, and a launch area is available on the southern end of the pond. A large play-field at the facility is perfect for a round of frisbee or soccer, although counting the wildlife you're likely to spot also makes for a fun game.
1511 Hapgood Pond Rd., Peru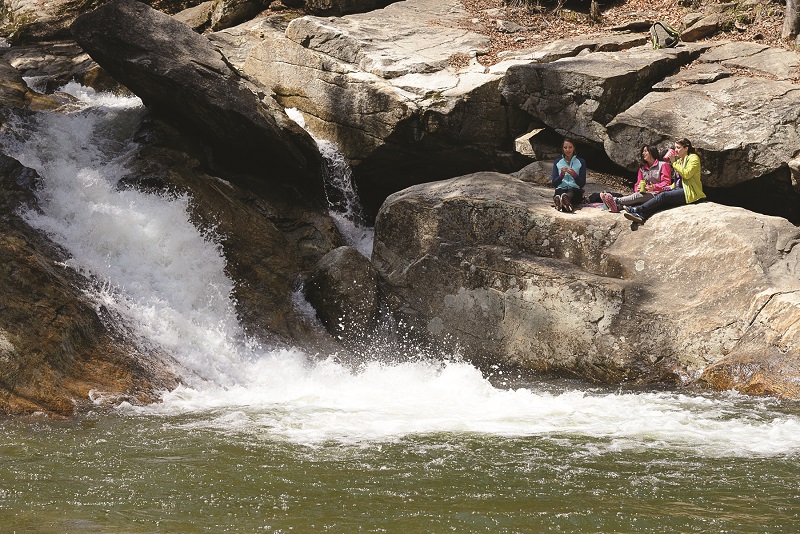 Pikes Falls—Jamaica
Pikes Falls may be one of the most secluded spots you'll find; however, that may come as a surprise considering how popular the swimming hole is among the little ones. On some of the most sweltering days you'll find countless children sliding down the 10-foot rock slide and into the water or splashing in the sunlight. Adults will appreciate the peaceful forest atmosphere, accompanied by the murmuring melodies of the small waterfall nearby.
Although classic Vermont swimming holes are often difficult to access and limited in size, Pikes Falls defies both of those norms. After walking for about a tenth of a mile you'll find the approximately 40-foot-wide pool, reaching as much as 10 feet deep in some spots, surrounded by smooth seats of stone. If you want to make a day of it, spend some time exploring the wilderness around the falls before diving back in.
4701 Pikes Falls Rd., Jamaica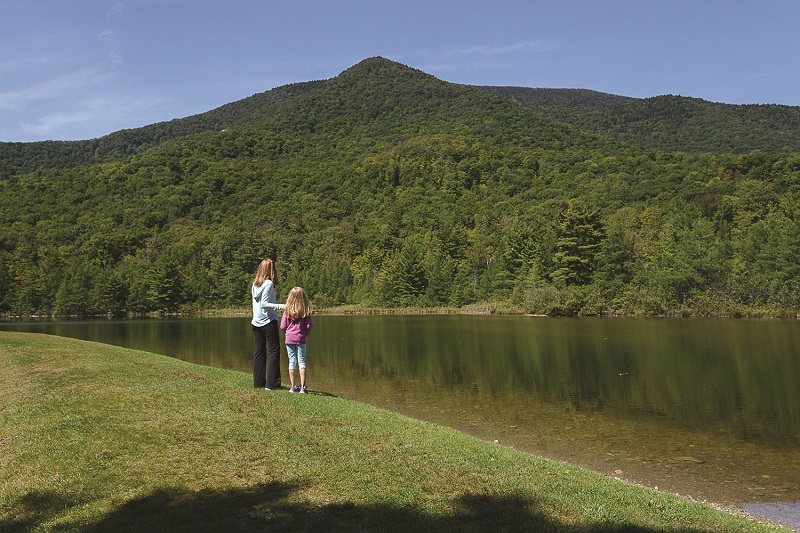 Equinox Pond—Manchester
Although swimming is not permitted in Equinox Pond, it's the views that attract most visitors to the Manchester hotspot. The pond sits directly below the iconic Mount Equinox, with numerous trails linking the two. For families, a jaunt down Flatlander's Pass and around the pond is the perfect way to spend a sunny morning. You can even extend your hike to reach multiple vistas along the ridge, the summit itself, or the nearby Southern Vermont Arts Center (a can't-miss cultural attraction).
Although small in size, the pond has become popular for sunrises, stargazing, and strolling to your heart's content. You'll be hard-pressed to find a view that's this breathtaking—no matter the time of year—yet still accessible to those willing to walk a short way. If you're seeking a romantic evening under the stars, lay a blanket near the pond's edge and soak in the mountain views.
288 West Union St., Manchester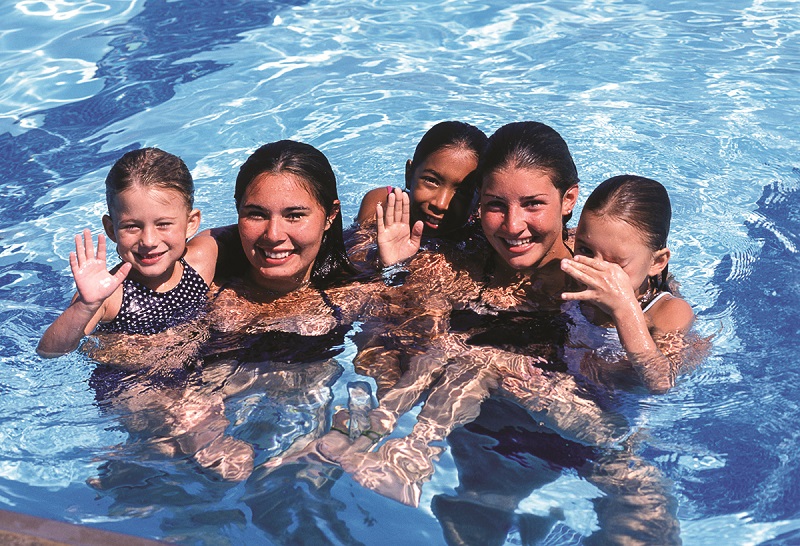 Dana L. Thompson Memorial Park—Manchester
Take a short drive where you'll find a lively and guarded pool at the local recreation park. With an outdoor sound system, ample parking, and public wifi, the park provides the perfect place to cool down without going off the grid. The pool itself boasts six lanes for swimmers, a springy diving board, and a smaller wading pool for children. You may be tempted to dedicate your day solely to the adjacent park, which features three baseball diamonds, multipurpose athletic fields, playgrounds for all ages, a skateboard park, outdoor basketball courts, three tennis courts, a dog park, and a one-mile loop perfect for walking or jogging.
340 Recreation Park Rd., Manchester
Emerald Lake—East Dorset
Fishers will be delighted by the deep green hues of Emerald Lake, which houses a bounty of warm-water species including yellow perch, smallmouth bass, and northern pike. With a small beach and grassy landscape just beyond the water, almost everyone will find something to enjoy at this Dorset destination.
Spend the day at the lake to enjoy the grills and picnic tables available, or snag a snack at the adjoining concession stand (which also offers kayak, paddle boat, and stand-up paddleboard rentals). To extend your stay, book a spot at one of the many campsites hidden in the wooded ridge above the lake, featuring both tent-sites and lean-tos as well as showers, bathrooms, and playgrounds. Children will enjoy the plethora of nature programs available at the park, with staff leading activities such as night hikes, campfire programs, nature-based crafts and games, and amphibian explorations.
35 Emerald Lake Ln., Dorset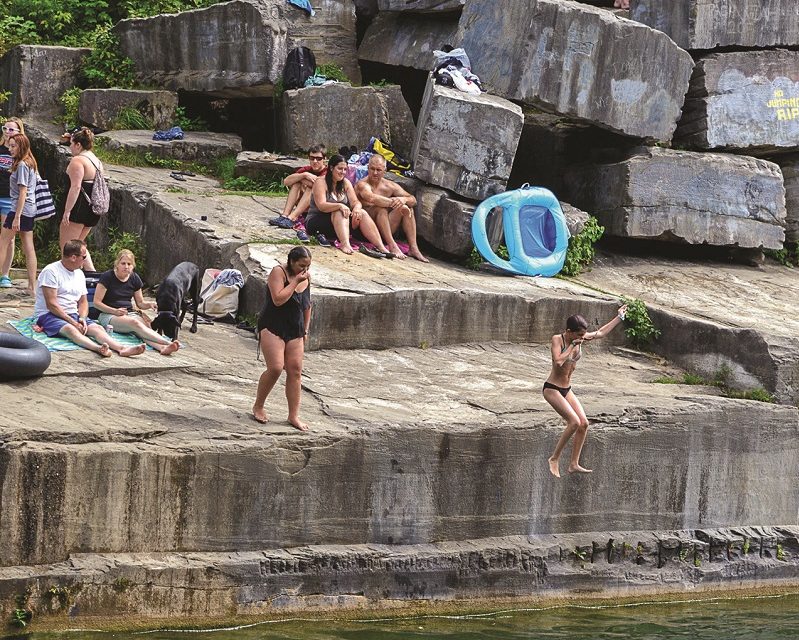 Dorset Quarry—Dorset
Calling all adventure seekers! If you're reveling in all of the unique experiences that the Green Mountains have to offer, don't miss out on a dive into the deep waters of the Dorset Quarry. The swimming area, within the remnants of a formerly operational marble quarry, allows for thrilling dives off the smooth stone—reaching up to approximately 30 feet at some spots.
The faint of heart can enjoy less daunting launches, however, or utilize the ladders that extend into the water. The unique destination does attract crowds, and because the area is privately owned parking can become a challenge on busier days. Be sure to arrive early and ready to swim, and plan a midweek visit if possible. Don't forget your GoPro to capture the daring descent—if you're brave enough to take the leap.
1833 VT Rte. 30, Dorset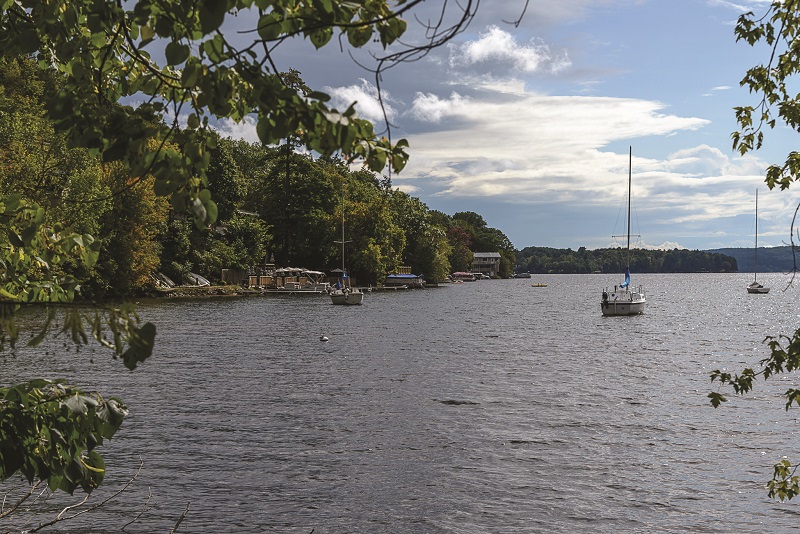 Lake Bomoseen—Castleton
If you're seeking a little bit of everything, look no farther than Bomoseen State Park in nearby Castleton. Boating, swimming, and fishing are all popular activities on Lake Bomoseen—the largest lake that is entirely within Vermont. That expansive surface area offers a rare haven for boaters of all varieties in the southern portion of the state, and the lake has gained a reputation for its beautiful views and peaceful waters. While there's a boat launch available at the park, rentals—including kayaks, canoes, pedal boats, and rowboats—are also available.
Swimmers will still enjoy the lake, however, as well as its sandy beach (with an adjoining snack bar, of course) and welcoming picnic areas throughout the park. Trout, perch, and bass can all be found within its waters for fishing fiends, and self-guided nature walks are available alongside other educational programs. Hikers will enjoy the multiple trails surrounding the lake, including one that leads to the nearby Half Moon Pond State Park.
22 Cedar Mountain Rd., Castleton