BY ANDREW MCKEEVER
PHOTOGRAPHY BY DAVID BARNUM
The subtitle on the J.K. Adams catalogue, "American made. Guaranteed for life," may not tell you all you need to know about the wood and slate kitchenware products made by the 75-year-old company based in Dorset, Vermont, but it sure is close.
Everything they make and sell comes out of the 40,000-plus-square-foot manufacturing facility located adjacent to the in-house retail shop that serves as the point of entry for customers. The shop offers a variety of products, and prominent among them are the wooden kitchen boards and wine racks made a few yards away behind the back walls of the shop.
At one end of the building, pallets of wood panels are delivered in a wide variety of shapes and sizes, all made of North American hardwoods such as maple, walnut, cherry, ash, and others. From there, depending on what those panels will be turned into, they make a circuitous journey around a large, open room to be milled, routed, and otherwise shaped, using state-of-the-art computer-controlled equipment before being hand-finished and inspected. The wood is smoothed, oiled, stained, painted, or branded to emerge as a finished product—an item ready for sale—either in their own shop or to be delivered to one of their customers, often a well-known retailer such as Williams Sonoma, Crate & Barrel, Bed, Bath and Beyond, or Common Goods.
This is also the end-point of a design process that begins in a room on the building's second floor, where a team spends a lot of time thinking about what will satisfy the evolving needs and tastes of consumers. "Coming up with unique, practical, and attractive designs are what set the company apart," says owner Malcolm Cooper Jr.
"Our company lives and dies by new product development. It's the most important part of our whole operation," he says from the design room, where the muted sounds of the drill presses, sanding, and cutting machinery are clearly audible, reminding everyone that eventually each design has to be fabricated and treated by the workers on the manufacturing floor. All products must be cost effective and made efficiently, but also be original, creative, and in keeping with current styles and trends.
And the product has to be good enough to last a long time—as in an owner's lifetime—assuming proper care. Every J.K. Adams product is guaranteed for life.
"We're encouraging our designers to push the envelope and try something new and radical that's maybe a little more complicated. My mantra is 'don't make it too simple,' because then it's a little harder for our competition to copycat," Malcolm adds. Keeping one step ahead of competitors—who often take some of J.K. Adams' designs and then manufacture them overseas for a fraction of the cost—is an ongoing challenge.
"What the team here is responsible for, is developing new products both for the J.K. Adams line of products, as well as a significant amount of custom-designed manufacturing for different retailers," says Bill Eyre, the interim president of the company, pointing to a "breakfast in bed" tray.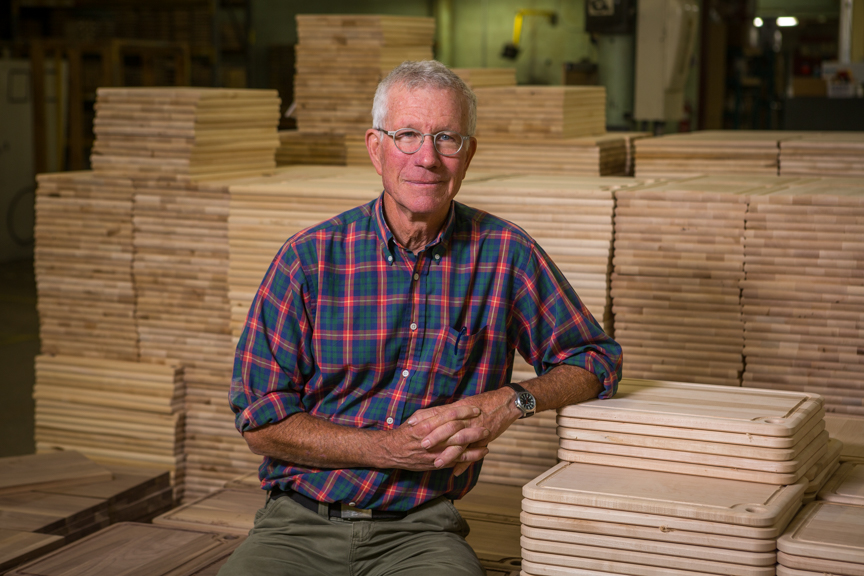 The initial idea came from one of their customers. Benjamin Webb, the senior product designer, then started sketching and developing a few ideas. Together with Charlie Armstrong (the team's "model maker") they built a prototype. "We, fairly quickly, get from concept to drawings to a working prototype for presentation to the client or internal review," Bill says. Time is money. So what are some of the trends in design that are driving the thinking around what might appeal to consumers, from millennials to baby boomers?
The modern kitchen seems to be calling for clean lines, with no bells and whistles, and toward hard set contours, not the softer edges of a while back. At the same time, it helps to have everything in a kitchen blending together into one "holistic aesthetic," says Ben.
The designers are closely watching the evolving tastes among the millennial generation, a large but very different clientele from previous generations. Comfortable with shopping online and not necessarily wired to accumulate a lot of "stuff," the age bracket presents a mix of challenge and opportunity. But like earlier generations before them, they are into food and entertainment, Charlie says. Modern touches elevate a product's functionality and appeal to this audience. One of their carving boards incorporates a slot fitted to hold a cell phone, for example. It also has a knife sharpener built into it.
"You can follow an online recipe or FaceTime with friends while cooking," Charlie says. "It has to fit in everyone's kitchen. We distill ideas down to simplicity while also recognizing environmental sensitivity—that's driving a lot of ideas."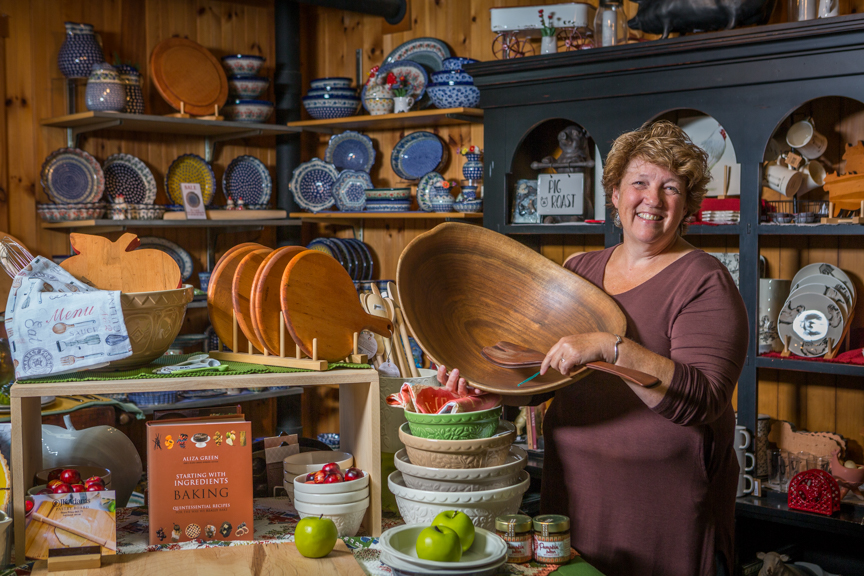 It probably doesn't come as a surprise that environmental sensitivity is baked into J.K. Adams' DNA. Wood is an inherently environmentally friendly substance to work from—essentially renewable. Trees and forests regenerate quickly, if allowed. Sean Osborne, the company's marketing, communications, and design manager noted that "all of our wood product is sustainably grown and harvested within North America. No carbon footprint-unfriendly ocean cargo ships are used in the transport of our material." "People like wood," Malcolm adds. "It's the ultimate ecological product. We cut down trees to make room for more to grow."
The factory also prides itself on being a "zero waste" operation. All the wood scraps go into helping heat the plant. The sawdust is collected via a serpentine network of ducts and sent to a silo behind the plant. It's then distributed to local farmers for animal bedding.
In addition to being American made, the inherent value in their products is that they are guaranteed to last forever and no shortcuts are taken when it comes to making a high-quality product. They can take those products a step beyond that and personalize them—engraving or carving a person's name or a company's logo into a cutting board, for example, to make it a unique, one-of-a-kind gift item. "We have the best-quality personalization in the wood-products industry," Bill says.
The symbol of the company speaks to that ethos. It is an arrow pointing upward, enclosed within a circle—known as the "broad arrow." The symbol of the broad arrow is historically significant. Broad arrows were cut with three axe strokes into the straightest, tallest trees foresters could find—ones that would be ideal for ship masts in the sailing era—and so marked for the exclusive use by the British king or queen for the Royal Navy.
J.K. Adams—short for Josiah Knowles Adams—began its life in 1944 as a wide-ranging wood products company. Malcolm Cooper Sr., the current owner's father, became the company's namesake business partner and eventually bought the entire business in 1959. Being a thrifty
New Englander, he didn't see the point to changing the name of the company—after all, there was a lot of unused stationary with the original name of the firm still lying around and available for use. Why let that go to waste? J.K. Adams it remained.
While their first product was a toy car for children called the "Speedy Racer," they evolved into a firm that built drafting, surveying, and engineering equipment. That business model drove the firm through the 1960s and '70s. Even when a fire destroyed the factory in 1962, the company's largest customer—an engineering products company—helped J.K. Adams rebuild. J.K. Adams shipped their very last order for a surveyor's tripod only last spring, but that chapter in their history is now firmly closed.
"When I started with the company, 80 percent of our business was making drafting and surveying equipment, like T-squares," Malcolm says. But that began to change as the digital era dawned. "One of the old engineers once told me that you'd always need to put a pencil on paper to draft," he says, and hence you would always need a T-square. "They missed the boat on computerized drawing, and now that company's gone."
Stories like that help keep J.K. Adams tightly focused on new product development and the exploration of new markets. The economics of the business can be merciless. The design team, Malcolm and Bill included, typically meet weekly to hash over ideas and to push them forward. They regularly analyze and review what they make—and what they could make.
They opened their retail outlet—their only store—in 2001 to sell and spread the word about their kitchenware, merchandised alongside a full assortment of products for cooking, dining, and entertaining. That replaced their previous approach, which was selling factory seconds outside the building. Customers paid what they thought the leftovers were worth, Malcolm recalled with a chuckle. It's a new world now. The firm sells its goods on its website, but you won't find everything online that you find through a personal visit to the factory store.
Perhaps Malcolm summarizes it best when he shares this: "Cooking and entertaining are social events. People take pride in presentation and love to accessorize their homes, so I still think there's a place for what we make."
ALL THE DETAILS
The Kitchen Store at J.K. Adams
Retail Flagship Store
Open Sun.-Sat.
1430 VT Route 30, Dorset
802-362-4422 or jkadams.com