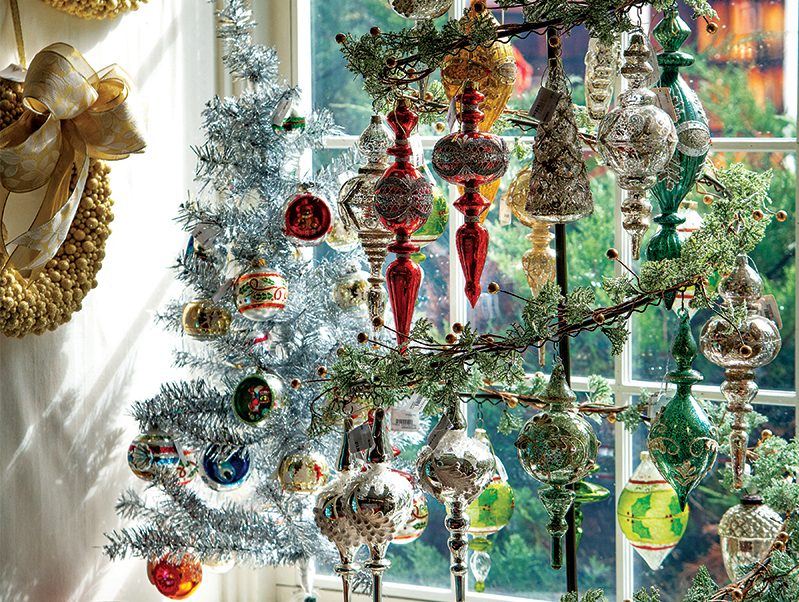 To keep Christmas in your heart all year long…
visit Christmas Days in Sunderland where it's Christmas every single day.
By Anita Rafael
Photography By Hubert Schriebl
"Forty-three Christmas trees," says Linda McKeever, co-owner of Christmas Days, a shop just south of historic Manchester Village. Moments earlier, her co-worker, Ellen Hains, who has been there for 20 years, went around the store, silently counting trees. Ellen handed Linda a small slip of paper covered in tally marks. "We have four rooms," says Linda, "and 43 Christmas trees." Although none is the kind that have been cut from the mountainsides or grown on tree farms, the effect of this artificial forest, with some green trees, some white, some golden, silver, blue, or pink, is not unlike being lost in the woods. It is an indoor wonderland of ornaments, encircled by Santas, angels, nutcrackers, crèches, musical Advent calendars, snow globes, tiny villages, miniature carolers, and giant bows.
Now in its 50th year of operation, the story of Christmas Days is the story of a family business—one generation lured out of New York City to the rural lifestyle of Vermont, another generation migrating back to the excitement and opportunities of New York, only to settle back home again and keep the shop going. "My mother and father started Christmas Days in 1969 by taking over two rooms in a store in town. It was at the Enchanted Doll House," says Linda. "The idea of a business exclusively selling Christmas ornaments and holiday decorations year-round was a novelty at the time, and it took off like a rocket." Her parents, Vi and Bill Day, eventually built the shop that the business now occupies, a 7-minute ride from the Equinox Hotel. At the moment when they were ready to retire, Linda and her husband, Andrew McKeever, felt that they were both ready and willing to leave Manhattan. "I was working in finance on Wall Street," says Linda, "in the twin towers. I loved the city, but I also loved Vermont and the store. I always worked for my parents after school, and later on, whenever I came home to visit. Besides, I love Christmas." When Linda and Andrew took over the business, they enlarged the retail space, adding a wing with a wide fireplace mantel for a more homelike ambiance, and a high, vaulted ceiling to accommodate taller, more spectacular trees.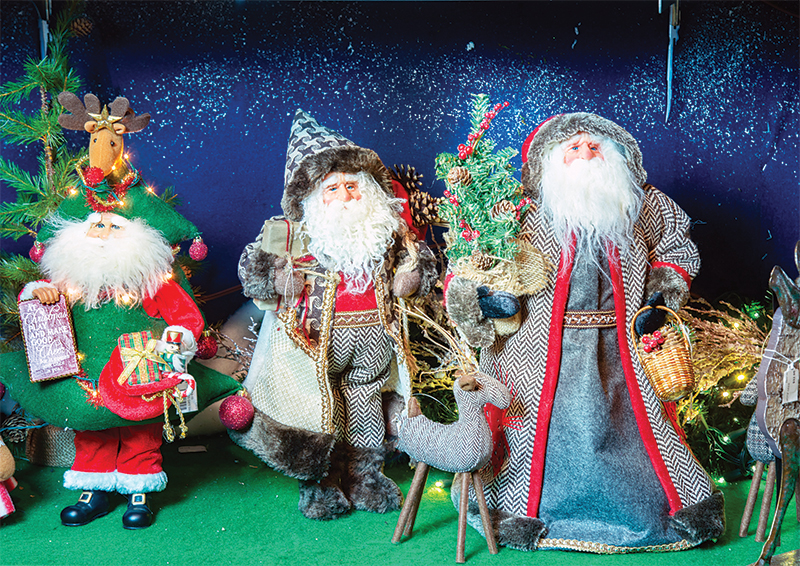 One thing to you notice right away about Linda is that there is never no glitter on her clothes, which gives her a particularly festive look even if it's the middle of summer. There is glitter in her hair, in her car, and "even in my shower," she says. Wall to wall, floor to ceiling, almost everything on display at Christmas Days sparkles, twinkles, shines, glows, lights up, or flickers.
Linda's merchandising year actually begins in January with the first of several buying trips she makes to stock up for the Christmas to come, 11 months later. "I always look for ornaments and decorations from various countries," she says, "things that are handcrafted as well as factory made." The spring and early summer are busy times at Christmas Days because that is when the trees are rearranged, relit, and redecorated with ornaments in the themes that are popular for the current season. She gets the shop ready for the flow of Vermont's June and July travelers, rather than waiting for holiday shopping to begin. Every morning, the workday starts with a visual sweep of each display and every tree to replenish things that were sold the day before. "Customers buy the ornaments right off the trees," she says, "so we redecorate the boughs daily."
You would think that Christmas never changes, but it does. "One year all things Victorian may be popular," she says, "and the next year everyone wants to do a country look or all Santas or all stars." But nothing she brings into the shop ever goes away completely. One entire room is filled with ornaments, layered in boxes and baskets, or hanging on hooks. "Baby's first Christmas, newlywed Christmas, soccer Christmas, kitty Christmas, cow, horse, and pig Christmas, moose, deer, and bear Christmas, tropical Christmas, cookie cutters Christmas, sailing Christmas, fishing Christmas," says Linda, pointing out every conceivable category.
"Some of our customers come here because they want to decorate a tree for every room in their house," she explains, "and those are typically the people who want to do several themed trees, no two alike." She points out some of the possibilities for toppers: an angel on the top of one tree, a shining star on another, and on a third a big, gold bow. Standing at a small table in front of a wall of spools of luxurious ribbons in satins, silks, metallics, and burlap, Linda ties hundreds of bows all year long for her customers.
Both she and her husband realize the pressure that brick-and-mortar shops like theirs feel from global e-commerce, and Andrew has posted his thoughts on that topic in the blog pages on the shop's website. It's their mission, he says, to make their business about the "in person" experience of being in the store, surrounded by the abundance and brilliance of so much beautiful merchandise, while being guided by the people who work there—family members and staff who make shopping a genuine pleasure. "We wait on people one by one," Linda says, as if being waited on is something no one in the future will ever encounter.
Linda is an inspired and talented decorator when it comes to trees (also wreaths, mantelpieces, garland, and swags), and the shop stocks all the extra decorative elements that go into making a "designer tree" worthy of a window on Fifth Avenue. She shares her artistic expertise freely with her shoppers, while tucking in a bit of additional silver garland here, a sprig of sparkling white branches there, or moving the biggest, brightest glass globes to higher branches so they can be appreciated at eye level. Those who the buy ornaments and frills such as the ones she has placed on the trees in the store are sent home with a good deal of individual coaching as to how to best hang or display those things. "However," she says, "not everyone has room for a tree, so many people do a Nativity scene, or they set up a winter village on a tabletop. Whatever people choose to do for the holiday, it's a way of keeping a family tradition, or starting a new one with their children or grandchildren." She does not look at the products in the store as inventory, but instead she sees every item as her customers' future memories—moments that they will cherish Christmas after Christmas.
Linda says that during the past five decades the shop has remained a part of their customers' holiday customs in very personal ways. "Santa visits Christmas Days every year in October, and now the children of the children he first met 25 years ago are sitting on the same Santa's knee, telling him their Christmas wishes. The little ones find a special ornament for that year, and then do it again the next, and the next, until their children do the same," says Linda, who, if asked, will personalize ornaments with names and dates at no extra cost.
"When first-time customers come to the shop, usually by the time they leave, I know all about what they do to celebrate Christmas. They tell me stories about their family traditions and about how their grandparents used to make the holidays memorable during their childhoods, including what they ate for Christmas dinner and what kind of cookies they left for Santa; they tell me everything. Many of our longtime customers know me from when I was small and worked here with my parents, and they never fail to ask about my mother and my two brothers. So, when we say that this is a family business, we don't just mean our own family. Everyone is family."
It's easy to see why Christmas Days is a place full of memories for so many people. Amidst the reproduction 1950s red and silver drops, the hand-blown snowflakes, and the strings of classic bubble lights, there are glass pickles, fine looking saints, colorful wise men, tiny wooden toys, and miniature knitted stockings. But Linda believes that Christmas can be contemporary and entertaining, as well as nostalgic. Over by the tree with the giant tartan-plaid globes, there's another tree decorated with 8-inch-long rubber chicken ornaments, and nearby on the "food tree" there's a rather realistic mac and cheese ornament. "People love those," Linda says.
Meanwhile, if you need to know where to find some good old-fashioned, shiny, silver jingle bells, there are hundreds of them in a huge basket on the counter in the ornament room at Christmas Days. You can reach right in and grab a whole handful. Jingle all the way!
All the Details
Christmas Days
6279 VT Route 7A, Sunderland, VT 05250
802-362-2516 or xmasdays.com
5 miles from Manchester Village.
Hours vary seasonally.
Open 11 months, closed mid-Jan. to mid-Feb.