McWayne's Has Been Bringing the Bling for 70 Years
By Gayle Fee
Photography By David Barnum
If there's a jewelry lover on your holiday shopping list look no further than McWayne Jewelers, a downtown Manchester institution for the past 70 years where you can find everything from a simple, handmade silver bangle to a stunning 7-carat diamond Cleopatra necklace fit for a queen.
"I would say that most people who aren't familiar with the store are amazed at the depth of inventory that we have," said Tim Powden, owner of the Bonnet Street boutique for the past 25 years. "There are beautiful new pieces and lovely antique and estate jewelry too."
With a friendly and knowledgeable staff, the iconic jewelry store also specializes in customer service, offering everything from simple watch repairs to engraving, appraisals, and bead restringing.
"We probably do several dozen watch battery changes every week," Powden said. "Because of that kind of service work we have a very strong and loyal clientele. We know their names and they know ours."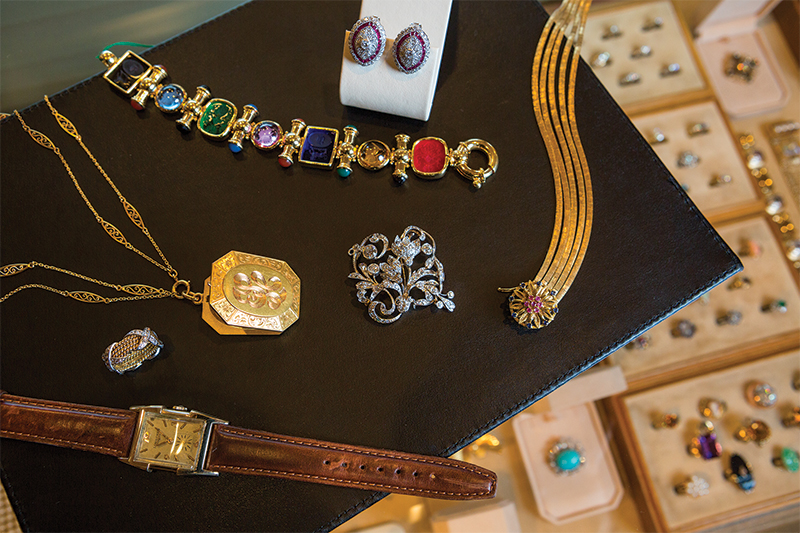 A selection of new and estate pieces at McWayne Jewelers
That tradition of customer service began with McWayne's founder, George McWayne, who opened the doors in 1948 after returning home to Vermont after World War II. The shop quickly developed a reputation as a fair, honest, and friendly spot, and it became a gathering place for Manchester residents during the early years.
"I heard stories that George and his wife Bea used to host parties in the basement," Powden said. "Before they went off to town meeting, friends would gather down there to share a little cheer."
That warmth is still a tradition at McWayne's where Powden and sales associates Carol Squires and Ashley Kibling are always on hand to greet customers and to help even the most nervous shopper navigate the huge selection of baubles, bangles, and beads. Squires, who Powden inherited from the previous owner, has been at McWayne's for 34 years. The relative newbie is Kibling, who arrived 10 years ago asking how to break into the jewelry business.
"Between the three of us we have 85 years of combined jewelry experience," Powden said. "And I wouldn't want to do it any longer if they weren't with me."
On a recent afternoon Powden took us on a tour of the first-floor showroom, pointing out the unique pieces he has sourced from jewelry designers from New England to Beverly Hills. There are classic, contemporary silver bracelets from Zina of Beverly Hills, known for her fashion-forward line of sterling jewelry, and silver earrings by New Hampshire's Deborah Richardson that show off the curved, organic shapes of nature found in her soft, fluid designs.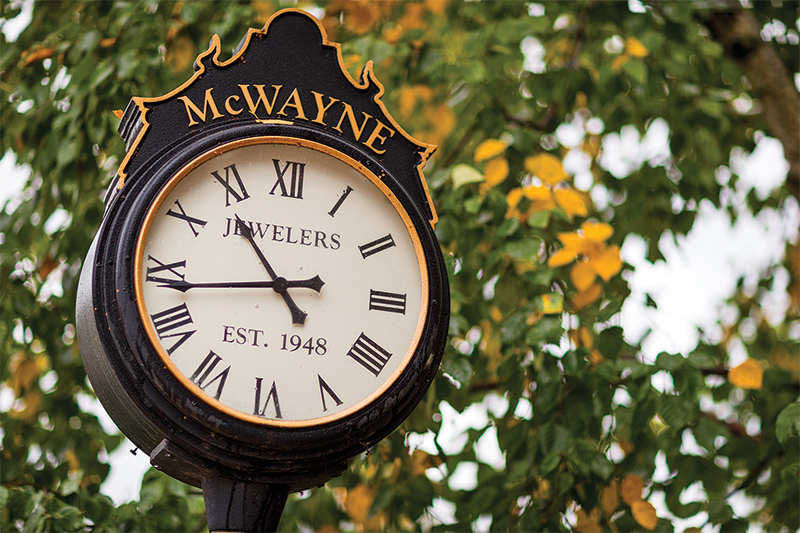 "Over the past several years, the popularity of better-quality silver jewelry has exploded," Powden said. "Silver is the new gold."
McWayne's also carries a line of colorful, beaded pieces by designer Betsy Frost from Ipswich, Massachusetts and hand-forged, precious metal jewelry by Tim Kruskal Designs in Somerville, Massachusetts. One of Powden's favorite designers is Nicole Barr, who creates elegant brooches, necklaces, and cufflinks from French enamel using techniques developed in the 1900s by jewelers such as Faberge, Tiffany, and Lalique. Barr suspends translucent enamel color between threads of gold and silver to create exquisite pieces that resemble stained glass using the French plique-à-jour or "glimpse of the day" technique. Other designs marry semi-precious stones with complementary enamel colors to create unique works of art. "Her pieces are very labor intensive and very beautiful," Powden said.
In addition to its collection of new pieces, McWayne's also specializes in estate jewelry, a trend that has become increasingly popular during the past several years. "With the older jewelry, a lot of the time you are looking at one-of-a-kind pieces," Powden said. "The craftsmanship is beyond belief."
The estate pieces include that Cleopatra necklace made from a whopping 646 diamonds and an Art Deco bracelet featuring 18-karat gold and 583 diamonds. The estate jewelry trend is also reflected in a couple of new pieces that look vintage. There is a pair of dazzling pearl earrings in an antique setting that feature four giant South Sea Island pearls, two of which are detachable, and a rare emerald ring.
McWayne's also does a fair amount of custom work including, of course, specially designed engagement rings. "A lot of brides want vintage pieces with settings featuring platinum filigree," he said. "And many are now opting for colored gems."
But of course, diamonds will never go out of style and Powden says he takes care to make sure the ones he sells are properly sourced.
Carol Squires, Tim Powden and Ashley Kibling at McWayne Jewelers
"In the past 10 to 15 years, there has been a lot of attention paid to so-called 'blood diamonds,'" he said. "The biggest organization of retail jewelers in the United States has been very proactive about putting in place a system to assure that diamonds are coming from non-conflict areas. And all segments of the trade are on board with that."
A seventh-generation jeweler whose ancestors came from Pennsylvania clock country, Powden learned about customer service at an early age, growing up in his parents' store, Powden Jewelry, in White River Junction. "I was the youngest of seven and at one point or another we all worked at the store," he said.
At first, it was just doing chores such as sweeping the sidewalk, but gradually Powden took on more complicated tasks such as engraving and packaging. By the time he was a teen, Powden had gravitated toward sales, bookkeeping, and gemology. After high school he enrolled in The Gemology Institute of America and after earning his certificate as a graduate gemologist, he went back to work at his parents' store until their retirement in 1986. He then landed a spot as a salesman for a jewelry manufacturer selling to shops in New York, Vermont, New Hampshire, and Maine.
"McWayne's was a client of mine," he said. "During one sales call I made an off-the-cuff remark to the owner saying 'Hey, if you ever think of selling this place, let me know.'"
Powden admits he completely forgot about the conversation when, a few years later, he got home from a sales trip and found a message on his answering machine saying, "Tim, I'm ready to sell." Just 30 years old at the time, Powden nonetheless jumped at the chance. "And it's been so much more than I ever thought it could be," he said.
All in all, Powden said his 25 years at McWayne's have been a joy and when he looks out the window of his second-story workspace onto Manchester's Main Street, he knows he made the right decision when he got that call back in 1993.
"I feel very fortunate," he said. "It's a beautiful part of the state to live in and do business in. I love where I am and I love what I do."
Somewhere, George McWayne is smiling.
What Is A Graduate Gemologist?
According to the Gemology Institute of America, a graduate gemologist is one of the most prestigious credentials in the industry. The institute's graduate gemology program gives students comprehensive knowledge of diamonds and colored stones as well as the technical expertise and practical skills to identify and evaluate gemstones by the 4Cs (color, clarity, cut, and carat weight), the International Diamond Grading System, and the Colored Stone Grading System.
"Every gem has its own refractive index," graduate gemologist Tim Powden of McWayne Jewelers explained, "and there are a great number of quality factors for most gem materials. Generally, it's a question of tone, hue, and intensity."
Sapphires, for example, are a variety of the mineral corundum and come in several different colors. The rarest is red, which are rubies. There are also pink, green, and golden sapphires and, of course, the most popular color, blue. "But even the blue ones have a great color range from pale to almost black," Powden said. "The finest is a cornflower blue."
Graduate gemologists also are proficient in using gemological equipment to identify gemstones; they are able to identify gemstone characteristics and recognize when advanced testing is required. Other skills include an understanding of how gems are mined, fashioned, and brought to the marketplace and recognizing how quality, rarity, color, and market factors affect gem value. According to the Gemology Institute, a graduate gemologist "will possess the comprehensive knowledge of diamonds and colored stones needed to succeed anywhere in the jewelry business."