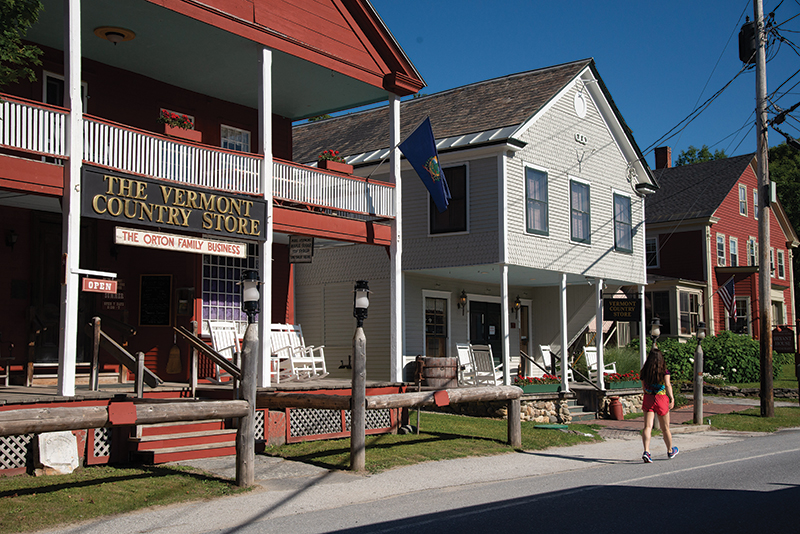 What happens when the proprietor of the iconic Vermont Country Store becomes your personal shopper?
By Anita Rafael
Photographs by Hubert Schriebl
Mr. Lyman Orton, the second-generation owner of the world-famous Vermont Country Store agreed to be my personal shopper. Or more precisely, we went shopping together in the flagship Weston store where we both stocked up on our favorite goods and comestibles. Since it first opened in 1946, volumes have been printed in magazines, newspapers, travel guides, and books about The Vermont Country Store, and every attempt to describe what the store is like—including mine—falls short of the mark by a country mile. It's because the store is big, yet warm and friendly; historic, yet fresh; fun, yet people go there time and again for some serious shopping. Its narrow aisles, wide counters, and odd niches and nooks are stocked head high with Vermont-ish apparel and items for the home that are practical, useful, and sometimes hard to find. Then there's the cheese, the fudge, the candy, alongside counter after counter of delicious things to eat. The store has been called an "emporium of yesteryear," but it thrives very much in the present moment—it is a place where so many of the good things about the past simply refuse to be forgotten. Mr. Orton and I began our country store shopping spree by picking up the store's big, brown canvas totes, one for each of us. These sturdy shopping bags are great because they have wide handles that are long enough to put over your shoulder, leaving your hands free as you browse. Mr. Orton, a genial and affable fellow, suggested we walk from the back of the store, where we met, all the way to the front, and start there. But then, unexpectedly, he walked me straight out the front door, and down the porch steps. We paused there, more or less in the road. (Totally not recommended! But, from there, you can see Weston's picturesque town green.) He told me how this particular building (from 1828), and the others now joined to it, came to be The Vermont Country Store, an ever-expanding enterprise since his parents, Vrest and Mildred Orton, started the business. The site is included in the Weston Village National Register Historic District, listed 33 years ago.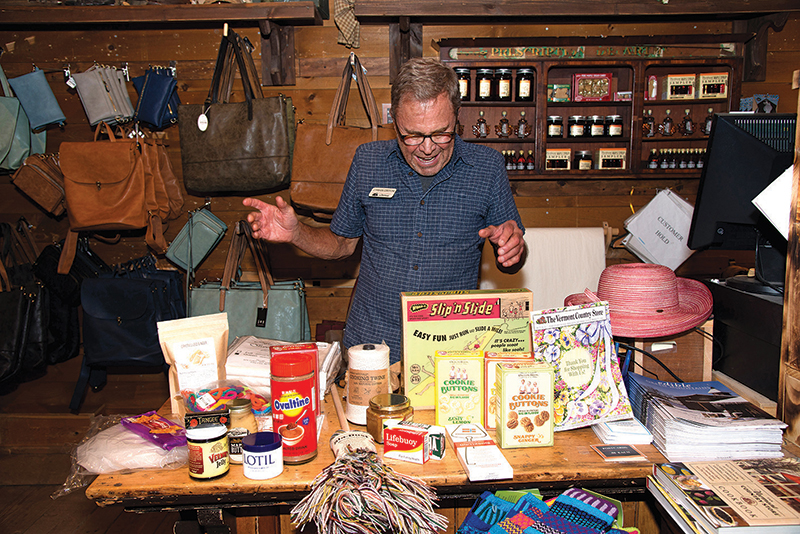 Back inside, we began shopping at the penny candy counter. Mr. Orton put a small brown paper bag of crystallized ginger into my tote, and then a big package of Wilbur Buds into his. "These come in milk chocolate and dark chocolate," he said, "and they go back to the 1930s, before, you know, the kisses." After browsing the licorice counter and all the brands of candy bars and crème candies that we both loved as children, we rounded the corner toward the beverage, syrup, cracker, and cookie counters. Into my bag: a jar of original-recipe Ovaltine and two packages of Garibaldi biscuits; into his bag: three boxes of cookie buttons in Pumpkin Spice, Zesty Lemon, and Snappy Ginger. "Look again at the boxes," he said. "Those are my three sons, when they were little boys." Orton family history is everywhere at The Vermont Country Store. I saw it on the walls in mural-size, black-and-white photographs, displayed in timeline panels alongside the old weighing scale exhibition, as well as in person. At intervals throughout our shopping trip, I met Mr. Orton's cookie-box sons, grown men now; Cabot, Gardner, and Eliot are full on in the family business.
After shopping around the snack counters (while nibbling many of the free samples) and through the cheese and gourmet departments, where both of us added lots of food and excellent stainless steel cheese slicers to our totes, we browsed through domestics. Mr. Orton placed a set of sofa bed sheets into his bag, and showed me how these were made just for those thinner mattresses. Next, we looked at the regular bed sheets and he explained why The Vermont Country Store's brand, with a 250-thread count, is better than any luxury brand's 600-thread count. I said that I didn't need new bedding at the moment, but the next time I wanted "Clothesline Crisp" Egyptian cotton sheets, I'd know where to find them.
Mr. Orton's in-depth knowledge of each of the thousands of products he retails is nothing short of phenomenal. Item by item, aisle by aisle, he told me what different things were good for, why the retail stores, the catalog, and the online store carried those particular products, adding when and where the goods originated, how they are made, and who typically buys them. In the midst of all the old-time goods in this old country store, several times Mr. Orton bowed his head as we shopped to tap notes to himself on his smartphone about certain merchandise, and to upload photos of some of the store's displays to the cloud.
In the housewares section, my tote was filling up fast with items Mr. Orton said I needed. Such as bowl covers, a huge cone of kitchen twine, and a dozen pop-up sponges, the kind that expands when wet. I added two Fels-Naphtha bars and two anti-static, woolly dryer balls. Mr. Orton suggested that I buy a 50-foot clothesline, too, so I could dry my laundry outside. Our conversation digressed into politics for a moment—a discussion about how some neighborhoods have ordinances against clotheslines, and we concurred that putting up a clothesline is plain Vermont common sense. He picked out a wool yarn dust mop for my hardwood floors because, he said, "the natural lanolin in it captures the dust."
As the store began to hum with shoppers around mid-morning, Mr. Orton, who is open and amicable by nature, honoring what is without a doubt an Orton family tradition, chatted with several customers as if they were his long-lost friends. Over by the shelves of Jubilee kitchen wax and the bathtub full of cedar balls, Dennis and Deborah, a couple from the New Jersey shore who swore that they've been longtime Vermont Country Store and catalog shoppers, were star-struck as they shook hands with the proprietor of their all-time favorite country store. Canopied by one of those square-rigged clotheslines on a pole that you stick into the ground, they asked to pose for pictures with Mr. Orton. The husband said, "Oh, man, this is an honor! No one is going to believe this!" Just before the shutter clicked, Mr. Orton straightened the company name tag pinned to his plaid shirt.
Strolling on toward the toys and games department, Mr. Orton and I looked for those small square looms that children use to weave potholders, and I said I also needed an extra supply of the stretchy loops for the loom. We found both, and those went into my bag. At the end of one counter, Mr. Orton tucked a large square box into his shopping bag—it was a backyard waterslide known as the Slip 'n Slide, and he reminisced about his sons slipping and sliding on one of those as youngsters.
The apothecary alcove has always been my favorite part of The Vermont Country Store because of the pure and natural personal care products that modern drugstores often do not sell. Mr. Orton pointed out which ones were the oldest brands, items that his grandfather Gardner Lyman Orton carried in his country store in North Calais, Vermont, in the late 1890s—things such as colloidal soaps, flower waters, liniments, tonics, and the like. He told me so many stories about Tangee lipstick, a 70-year-old brand, that, in the end, I had to put it in my shopping bag. "It looks transparent, but the color changes subtly on your lips," he says. "A lot of fathers in my day would only allow their teen daughters to wear Tangee, and not the bright red stuff." Next, he steered me toward the neatly stacked bars of Lifebuoy, the original deodorant soap, which is just one of many labels his company revived because, he said, "customers kept writing letters to the store asking for things that went off the market." (The Ortons specialize in bringing lost products back, and rescuing others from near-extinction.) We opened a package to sniff the soap's uniquely recognizable scent, and then we both added some Lifebuoy to our shopping bags. By then I had learned that he is never without at least one applicable anecdote for everything in the store: there was this 90-year old fellow, he said, a loyal customer, who was buried with a bar of Lifebuoy on his chest. Mr. Orton said, "His daughter told us that it was a final request."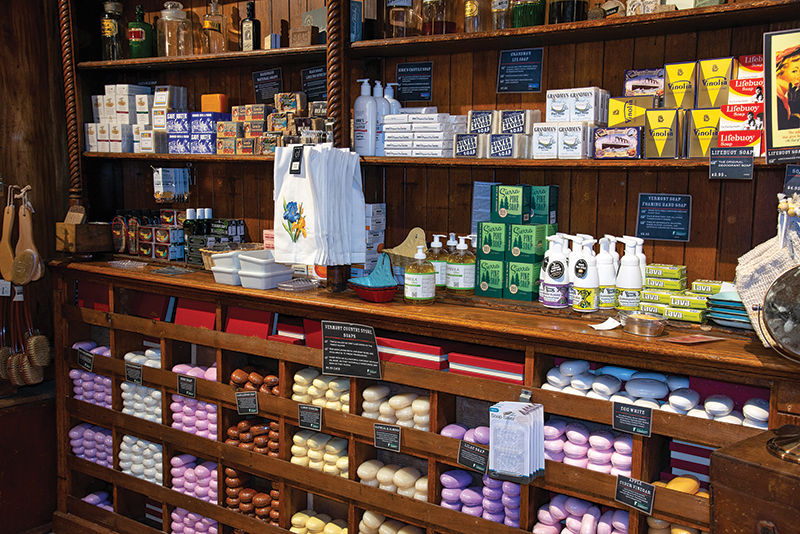 Barely 30 minutes after we started shopping together, my canvas bag was so heavy on my shoulder that I had to set it on the floor each time we moved to another counter. In the center part of the store, we shopped the bookshelves together, the pet accessories corner, the hearth and holiday wall, and the men's clothing racks. Eventually, we reached the back of the store, which is the ladies' clothing section. At the sleepwear racks, Mr. Orton gave me the whole pitch on the internationally famous Lanz of Salzburg "granny" nightgowns, holding the hanger up under his chin as he talked: note, he said, the dainty floral pattern, the touches of eyelet lace, the petite buttons, the brushed flannel material. It was lovely, and then he showed me a matching Lanz nightgown for little girls, which was truly adorable. All at once, I envisioned a long-ago Christmas morning, around the tree, opening the presents, Mama and me, pretty as a picture in these very same matching nightgowns (had we had them!)—proving that the Orton family's persuasive "nostalgia theory" of retailing works on everyone, including me. With proper gentlemanly discretion, this being mixed company, Mr. Orton skirted the ladies' undergarment section, gesturing toward the displays, but without much mentioning the unmentionables.
By the time we circled over to the checkout counter, both of us had filled our shopping bags, and we were carrying many more purchases in our arms. It occurred to me that in The Vermont Country Store, you don't so much finish your shopping, as surrender to the sober realization that, as much as you want it, you simply cannot have it all.
So, what do you do to surpass a shopping spree with Mr. Orton? You have lunch, obviously, at Bryant House, the country store's excellent restaurant, right next door. Refortified after a bowl of hearty New England clam chowder and a handful of Vermont Common Crackers (the Orton brothers' own), I went straight back into the store. Just in case—I mean, even with the estimable Mr. Orton as my very own personal shopper, could it be that I had missed something?
Recommended Reading
The Vermont Country Store Cookbook: Recipes, History, and Lore from the Classic American General Store, by Andrea Diehl and Ellen Ecker Ogden, with the Orton family; Grand Central Life & Style.
All The Details
The Vermont Country Store
802-824-3184
Bryant House Restaurant
802-824-6287
657 Main Street, Weston
The Vermont Country Store
802-463-2224
1292 Rockingham Road, Rockingham