STORY BY BENJAMIN LERNER
PHOTOGRAPHY JIMMY iENNER, JR.
Jesse Loomis, owner and founder of PowderJet, creates beautiful handmade snowboards and holds in-person classes, in which participants can build and design their own boards from scratch.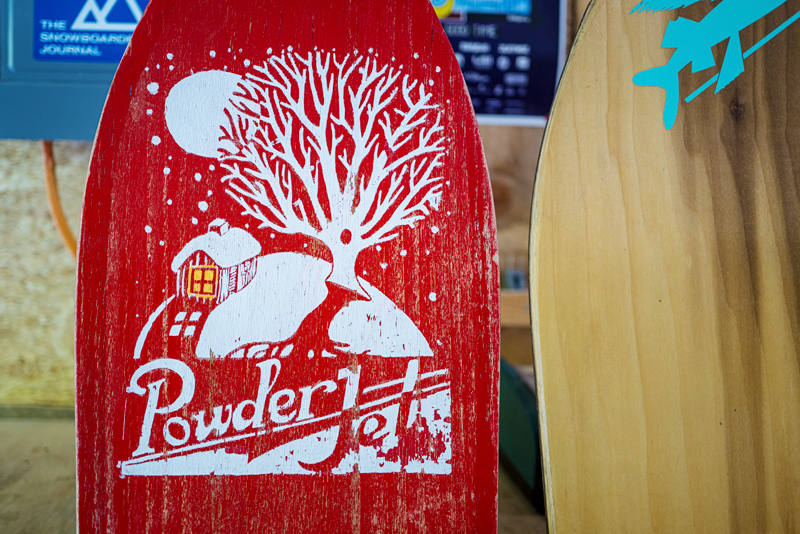 In the middle of a well-stocked workshop in Peru, Vermont, Jesse Loomis is busy doing what he loves best: making gorgeous and distinctive handmade snowboards. He leans down over his workbench, and places a piece of layered, laminated poplar wood on a large sheet of P-Tex plastic. Once the wood is correctly aligned, he firmly presses a utility knife down onto the plastic and traces a clean outline, carving out the bottom layer of a new snowboard with coolheaded exactitude. He takes a step back and pauses to examine his handiwork, poring over its details with the perceptive eye of a seasoned carpenter. It's only one step of many in his multifaceted board-making process, but Loomis finds immense satisfaction in every aspect of his work.
Carving His Own Path
A native Vermonter with longstanding ties to the Vermont snowboarding scene, Loomis built his first handmade snowboard in 2009. At the time, he was living at a house in Rupert with a large hill in the backyard. He cried tears of joy upon completing his first exhilarating run down its snowy banks on his homemade board—and he instantly knew that he had found his life's calling.
In the years that followed, Loomis progressively expanded his operation and established the PowderJet brand. He built a name for himself through extensive social media promotion, and he used the industry connections he had established during his tenure as the associate photo editor of TransWorld Snowboarding to further the reach of his business. In the process of making and selling hundreds of handmade snowboards, he continually refined his designs. Inspired by the creative tenacity of other talented artisan board makers, he tweaked the specific nuances of his boards' shapes to better serve the preferences of his customers. "There are some amazing board makers out there who have phenomenal techniques," says Loomis. "Taro Tamai, the founder of Gentemstick in Japan, makes amazing, beautiful boards. Cory Smith in the Pacific Northwest is incredible, as well. He makes rad, weird, and super-creative art boards, and it's awesome to see his art being used in CAPiTA's collection of Spring Break snowboards."
As PowderJet's clientele base grew, Loomis also spent a significant amount of time working with artisan surfboard makers at the Grain Surfboards workshop in York, Maine. While there, he became intrigued by the board making classes that they offered their customers, and he recognized the opportunity to create a similar business model for his own snowboard company in Southern Vermont. "No one else in the world is offering snowboard building classes," says Loomis. "It's a unique experience, and people have come from as far as Utah and Minnesota to take part in it." Loomis held his first board making class in 2015. Over the past seven years, he has integrated the vital lessons that he has learned as an independent craftsman into the continual development of his curriculum. He goes above and beyond to provide a memorable, hands-on experience for all snowboarders who participate in his classes.
Class Is In Session
Loomis offers several two-day board making classes throughout the winter season at his workshop in Peru, and he will also be running a special two-day workshop in Hinesburg this winter. He is currently in the process of renovating an old barn in nearby Rawsonville, and he tentatively plans to open a permanent PowderJet workshop and storefront there in the near future. Prospective participants can book classes through the PowderJet website, and are encouraged to establish basic parameters of their boards' designs before attending the sessions. Loomis also sells pre-made blank snowboard kits through PowderJet's online store, which are perfect for adventurous craftspeople who want to bring home the fun of snowboard making to their own workshop.
Upon arriving at the PowderJet workshop, class participants are greeted with unfinished snowboard blanks, which are pressed together by Loomis before their arrival. The snowboard blanks are made with four layers of laminated poplar wood, two layers of biaxial fiberglass, and a P-Tex polyethylene base. Loomis also applies stainless steel edges to the side of the boards during the pressing process to improve their traction. After participants are presented with their blanks, they drill holes for the binding inserts and cut the boards into their desired shape with a jigsaw. The jigsaws at PowderJet are outfitted with hardwood blades, which are well-suited to the dense and durable materials used in the boards. "There is a lot of measuring work to get the shape that you want," notes Loomis. "I help people get the lines in the right place and figure out how much they need to cut off of the nose and tail. Some people cut off entire pieces. The boards can be anywhere from 145cm to 180cm depending on the specifics of the participant's vision."
To that end, Loomis has several standardized board molds that participants can refer to when designing their boards. The original "Cleaver" shape (which is modeled after the first board that Loomis built at his old home in Rupert) is flat with a dovetailed "powder tail." According to Loomis, the trademark notch in the tail lets it nicely sink into powdery snow. This design feature allows the nose to rise up while carving through a deep snowbank. "It's a great board for backcountry snowboarding," he shares. "I love to take it out for a ride in the glades at Stratton." The "Sickle" shape features sharp edges on the nose and tail that cut through powdery snow like a knife through butter. Its design is modeled after a board that was originally created by a former PowderJet class participant. Loomis recalls: "Chris Bolen, who lives up in Pawlet, came in and did a class early-on. He came up with a shape that had a pointy nose and tail, and people thought that it looked pretty rad. I co-opted his design with his permission, and it is now one of the two production boards that we sell here at PowderJet through our online shop."
Once the boards are cut into an optimal shape, participants begin the sanding process. They use a belt sander to sand the edges clean and perfect the shape, and they use an orbital sander to sand the top sheet. "It takes a lot of work, but it's very satisfying, tactile, and hands-on," says Loomis. After the sanding process is finished, the first day of the class concludes. When participants return on the second day, they get to apply their artistic skills towards creating a design for the top of the board. "People use acrylic paint, paintbrushes, spray paint cans, and tape. They also use sticker cutters so that they can use die-cut stickers as stencils."
Although Loomis has developed a keen eye over the course of his career as an artisan snowboard maker, he has nevertheless found that it is best to maintain a mostly hands-off approach when guiding the artistic phase of the classes. "I take a step back with the board art, because I often find that many people that come to the classes have a more advanced artistic aptitude than I do. Some people have blown my mind with the complex art and graphics that they come up with on the top sheet of the boards." If participants aren't interested in painting the top of their boards, they can alternatively use a torch to burn a design into the surface. "We also have a metal branding tool that we use to brand the board with the PowderJet logo," adds Loomis. "We do it in between the binding inserts. It's a nice final touch."
When the design phase is complete, the boards are coated with a clean coat of urethane to protect the art. Following the conclusion of the board making class, the boards stay with Loomis for several days. During that time, they are set out so that the top sheets can be cured. When the top sheets have sufficiently cured, Loomis grinds and tunes the bases of the boards and waxes them to make them ready for use. People can choose to have their boards shipped to them, or they can pick them up at the shop to take out for a test run on the nearby Southern Vermont ski slopes.
Loomis says that although PowderJet's snowboard building classes were created with the interests of veteran snowboarders in mind, they offer a fun experience for all participants—regardless of their snowboarding skillset. "People who come to a PowderJet class can expect to hang out with a bunch of snowboard enthusiasts that are beyond excited to make whatever cool board they have in mind. I'm there to help the people who come to my classes make the best version of their ideas, and it's awesome to see their personalities reflected in the boards that they make." Loomis adds that he finds great enjoyment in building both boards and friendships with his class participants. "The relationships that I have formed at the classes have been fantastic. I'm in contact with almost all of the people who have participated in a class, and it's amazing to meet people who are just as passionate about snowboarding as I am. It's the only thing about this project that's more fun than taking the boards out for a ride on a fresh powder day."
ALL THE DETAILS
POWDERJETS.COM