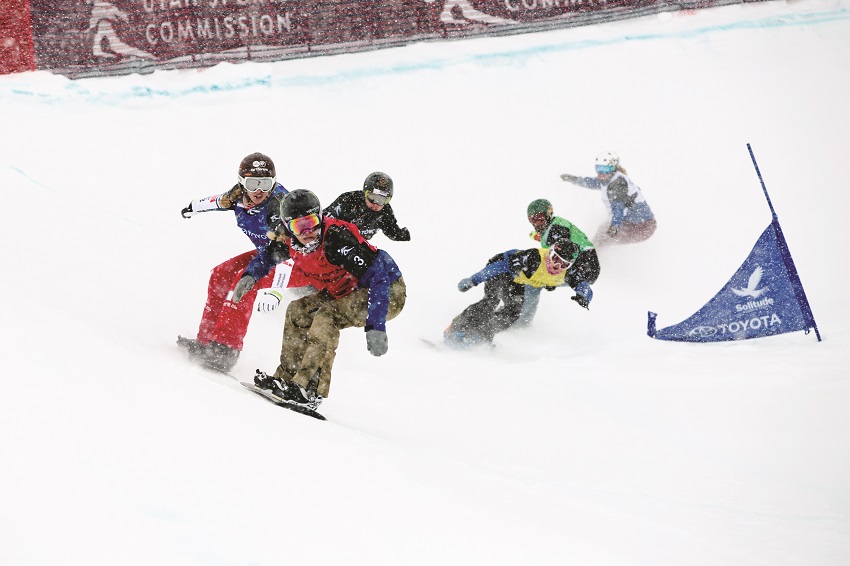 Lindsey Jacobellis moves in front of the pack at the 2017 Toyota U.S. Grand Prix-Snowboardcross at
Solitude Resort, Utah. Courtesy US Snowboarding
By Gayle Fee
When it comes to elite athletes, Greece has Mount Olympos, Vermont has Stratton Mountain School. The ski and snowboard academy located at the base of Stratton Mountain has turned out scores of Olympic athletes during the years, and the tradition will continue at the XXIII Winter Games in PyeongChang in February.
"If you're into skiing or snowboarding, Stratton Mountain School is where you want to be," said 2002 Olympic gold medalist and current SMS snowboard coach Ross Powers. "The staff gives the athletes all the opportunities athletically and academically, and the athletes get to push each other in a fun and friendly way, so there's all the opportunities for success."
Since it began in 1972, Stratton Mountain School has had 66 Olympic placements, and more than 100 SMS athletes have become national team members. Among the most notable are Powers, who led the 2002 American men's half-pipe sweep at the Salt Lake City games; three-time Olympian Lindsey Jacobellis, who won silver in Torino in 2006; and Alex Deibold, who took bronze in snowboard cross in Sochi in 2014. Although not all the U.S. winter teams have named their rosters, at least eight athletes who trained at Stratton Mountain School are expected to make the U.S. Olympic team at the Winter Games in South Korea.
Sophie Caldwell competes at the 2016 FIS World Cup Pursuit in Quebec Tour de Canada
Photo © Reese Brown
"You look at the pictures on the wall of all the alums at the Olympics and it gives you something to strive toward," said Sophie Caldwell, an SMS grad and cross-country skier for the school's Elite T2 Team. "You get a lot of exposure from a young age on how to be a professional athlete and the path you have to take to be the best in the world at something."
Caldwell is a strong contender to make her second Olympic appearance in PyeongChang. Sophie grew up at SMS where her dad, Sverre, was headmaster before becoming director of the cross-country and elite teams. Her grandfather, John Caldwell, is a former Olympian and the author of the The Cross-Country Ski Book, the first American guide to Nordic skiing.
"I grew up doing cross-country skiing with family and friends and when I was a little kid I always felt really lucky when I got to go to work with my dad," Sophie said. "I looked up to the athletes there and at a pretty young age decided that's where I wanted to go."
Sverre Caldwell with a young cross country racer.
Sophie started as a winter termer in 7th grade and her dad was the SMS Nordic team coach, but it wasn't awkward, she said.
"It was totally fine," she laughed. "Everyone asks me that and I think they sort of expect a terrible answer. But my dad coached me, my sister, and my brother and I don't think he treated us any differently than any of the other athletes. In fact, it would have been weird if he was laying favorites. He was very good at being a coach at school and a dad at home."
For Sverre, that wasn't a tough task. "I look at all the kids in my program as my kids," he said. "So having one of my own kids come through really wasn't all that different."
Sophie, who graduated from Dartmouth College in 2012, had a typically rigorous schedule at SMS, which in addition to sending students and alums to the Olympics, has an impressive record of college placements including Brown, Harvard, Cornell, Middlebury, Williams, Colby, Boston College, Bates, and the University of Vermont.
"You'd wake up and do a short training session from 6 to 7:30 a.m., then it was classes from 8 to 3, training again, then homework," Sophie recalled. "You were forced to manage your time well and it really helped prepare you for college and for all aspects of life. When you have so much to do, you are forced to figure it out."
Jessie Diggins at the 2016 FIS World Cup Skiathlon in Canmore
Tour de Canada. Photo © Steven Earl
Sophie's teammate Jessie Diggins came to Stratton Mountain School to join the Elite T2 Team in 2012, a unique program that attracts some of the best Nordic skiers from around the world who train together and give the school's younger skiers the opportunity to work with top-level athletes.
"We have a great training environment at Stratton," Diggins said. "In the summer when the schedule is not as hectic there aren't many distractions aside from training and resting, which is ideal when you're training twice a day, six days a week. There's great pavement with varied terrain for roller skiing, a new gym at the school to lift in, and the trails are right there for fun running."
Diggins, a Minnesota native and a U.S. Ski & Snowboard Team member since 2011, will make her second Olympic run in PyeongChang.
"The Stratton area has a great ski culture and community," she said. "When you have all these great resources and coaches in one place, combined with access to Olympians who are currently training there, knowledge and wisdom gets passed down and keeps inspiring the next generations."
Elite Team veteran Andy Newell, a 2002 SMS grad, is on track to make his fourth Olympic appearance in the Winter Games and credits his Stratton Mountain School training with giving him the physical and mental tools to compete at the highest levels.
"At Stratton you learn so much about ski training like the basic physiology of training theories, why we train a certain way, and what our bodies get out of it," he said. "Most of all you learn how to set goals, compete, and be mentally tough—all things that take patience and help build character."
Newell, who began racing at age 5, met his wife, Erika, when she joined the Elite T2 Team after graduating from Dartmouth. He said the SMS community also helps athletes have a life off the slopes.
Andy Newell puts in training time at Stratton as a part of Team T2. Photo Pat O'Brien
"It's not good for athletes to live in a bubble, which can be an easy trap to fall into as an Olympic athlete always focused on training," the Shaftsbury native said. "That's what we love about SMST2: it allows us to live fulfilling lives in Vermont, to give back to the community that I grew up in, and also to train for the Olympics."
Stratton Mountain School was founded in 1972 by ski dads Warren Hellman and Donald Tarinelli who wanted their children to be able to train and compete as elite alpine skiers without interrupting their high school education.
"They were families from Connecticut who had ski houses at Stratton. They were weekend warriors but their kids were good skiers," said Sverre Caldwell, who started as an SMS coach in 1980. "Their mission, when they started the school, was to provide a really good training academy where kids could get a good education."
As it grew, the school moved from the founding families' ski chalets to an old ski lodge at the bottom of the Stratton Mountain resort before finally settling at its new campus on 10 acres just off the Stratton base.
"It's set up to give kids a chance to pursue excellence," Sverre said. "When you have a bunch of young people working hard and working together, they can improve vastly."
Admission is competitive but Caldwell said when he is evaluating prospective student/athletes, he often picks motivation over accomplishments.
"So many kids going into 9th grade don't have a lot of results yet," he said. "So what I'm really looking for is less results, more passion. It's really important to love the sport and love it so much you are willing to work hard to improve."
It's a winning formula for Caldwell, who has placed 15 Nordic skiers on Olympic teams and will send as many as 6 of his athletes to the 2018 Winter Games.
SMS snowboarders also have had great success on the slopes. Alums Lindsey Jacobellis and Alex Deibold, both podium veterans, are expected to go for the gold in PyeongChang and nine other SMS riders have represented the United States at the Winter Games since snowboarding became an Olympic sport in 1998.
"SMS was one of the few ski and snowboard academies out there, and Stratton Mountain was the first to allow snowboarding, so they really got a jump on the sport," said Powers, the snowboard coach at the school since 2010.
The Londonderry native came to SMS in 1993, the first year the school offered a snowboard program. After his freshman year, Powers, then 15, made the U.S. Ski & Snowboard Team. "You're surrounded by other athletes and you have the coaches pushing you," he said. "It opened up a whole new avenue for me."
Although SMS has had its greatest successes in cross-country and snowboarding in recent years, 22 alpine skiers have competed in the Winter Games since 1976 and one alum, Kristin Luckenbill, was on the 2004 gold medal-winning U.S. Women's Soccer Team in Athens. Current students and recent grads are hoping to add to SMS's Olympic legacy. Alpine skiers Alice Merryweather, the Junior Worlds Downhill champion, and Nick Krause compete on the U.S. Ski & Snowboard Team. And although the program is just five years old, SMS freestyle skiing director Deb Newson expects to send athletes to future Winter Games.
SMS alum Alice Merryweather competes in the Downhill at the
2017 Audi FIS Ski World Cup finals in Aspen, Colorado. © Cody Downard
"Being at a school that has the history of athletes who have gone on to compete at World Cup and Olympic levels makes that seem like a realistic target," she said. "We definitely have some Olympic hopefuls in our group, but not until 2022 or 2026."
But Newson added that minting future Olympians is not the school's No. 1 goal. "The most important thing to us is that the kids are going to the colleges they want and getting the academics that they should. Making the U.S. Ski Team or going on to the Olympics are the sprinkles on top."
Stratton Mountain School's legacy of success both academically and on the slopes is undisputed, but some of the school's most famous alums are a credit to their alma mater in other ways as well. "Lindsey Jacobellis and Ross Powers are the faces of the snowboarding here and they are exactly who you would want to see representing the sport, especially as a parent," said Stratton Mountain president and COO Bill Nupp.
When Jacobellis is home in Vermont she will often pop by the resort's ski school and take a group of kids out riding. "She's the winningest snowboard-cross athlete ever, but when she's home she'll call the school and say, 'Hey I'm around and I'd love to take some runs with the snowboard program,'" Stratton Mountain's Myra Foster said. "She's particularly interested in promoting the sport to young girls and giving help, coaching, and encouragement as they climb the ladder with their own sights set on the Olympics."
Alex Diebold leads the way at the 2017 Toyota U.S.Grand Prix–Snowboardcross
at Solitude Resort, Big Cottonwood Canyon, Utah. Photo Jayson Halee
Powers also works with young snowboarders at Stratton, and it's not uncommon to see the gold medalist adjusting a youngster's bindings or hitting the slopes with a group of first-time riders. "It's not like they lead with their names in lights," Nupp said. "Ross and Lindsey are connected to the community in a very grassroots, authentic way. They love their sport, they love teaching and being with young people, not because they have to, but just because that's who they are."
"Snowboarding had the renegade reputation in the early days," added Foster. "But when you look at Lindsey and you look at Ross they are just the epitome of sportsmanship."
And that may be the most valuable lesson they teach at Stratton Mountain School.