By Gayle Fee
Photography By Hubert Schriebl
Meet Martha Dale, Toure Christie, and Sarah Knelp, three of the many instructors at Stratton Mountain Sports School who share a passion to teach children and adults how to embrace, enjoy, and excel on the mountain.
Instructor Profile
Martha Dale
Martha Dale
Former health-care administrator Martha Dale began her "encore" career at age 58—as a ski instructor at Stratton Mountain Sports School.
"After raising kids skiing at Stratton, Magic, and Bromley and finishing my day job, I knew I needed a second career on the slopes teaching," Dale said. "So, in 2013, I went to Stratton and asked if they'd be willing to take a brand-new newbie, get her trained, and get her involved—and they did and it's been wonderful ever since."
Now 63, Dale is about to begin her sixth season on the slopes guiding skiers from 3 to 70-something as they work toward mastering the mountain.
"I had no idea what to expect when I stepped into this work; it was not exactly what I had been doing at all, which was running hospitals, nursing homes, and health-care facilities," she said. "I definitely wondered if they would let me in, but it's been incredibly reaffirming each year to hear them say, 'Come on back, Martha, we'd love to have you!'"
Dale said she especially enjoys teaching the youngest skiers, because they're so much fun, and women, because they are so dedicated.
"The kindergarteners to third-graders are my favorite little ones," she said. "We play games, have snow picnics, and really make skiing secondary to just having fun outdoors. With women, I love helping them get around the head games, the 'Can I do this?' and just helping them become better skiers."
Dale said her favorite memory from her days on the mountain involved a family of four—mom, dad, and two young boys—who had come to Stratton from Ireland and who had never been skiing before.
"It was a particularly rainy day and there were probably fewer than 100 people on the mountain," she recalled. "The boys were about 5 and 6 years old and they didn't care about the weather, I guess because it rains in Ireland all the time. We spent an hour or two just going up and down the lift in the learning park, getting them comfortable on skis. They were giggling the whole time, and the lift attendant made it so much fun for them. He stayed there in the soaking rain all afternoon helping these kids, so he really won my heart. And the family's magical accents made it especially wonderful."
Although being a ski instructor is all about helping students be more confident and comfortable on the slopes, Dale said she gets as much out of the experience as she gives.
"Having somebody realize how much fun it is to be outside, and helping somebody on a journey to learn something new, to try something new, is something that resonates with me personally," she said. "And I love exercise and being out in nature. Skiing with other ski instructors is also a phenomenal experience; it has helped me improve my skiing tremendously. They say that being a ski instructor is the best ski lesson ever, and I can resoundingly affirm that."
Instructor Profile
Toure Christie
Toure Christie with some of his young charges
Photo courtesy Toure Christie
Former lift attendant Toure Christie's enthusiasm for the sport and rapport with kids were some of the reasons why he believes he was tapped to coach young Shaun White–wannabes at Stratton Mountain.
"I definitely think it was my personality that got me the coaching job," Christie said. "I was good with the kids; I'd go out of my way to talk to them when they were getting on the lift. I'd high-five them, play loud music, and they were all having fun. Everyone liked the energy I brought there."
After just a few months ushering little ones onto the Magic Carpet in the mountain's Learning Area, one of Christie's bosses asked if he'd like to train to be a coach.
"Toure came to work every day with a great attitude, a huge smile, and an eagerness to create a positive experience for our guests," said Devon Cohen, assistant director of Stratton Mountain Sports School. "His enthusiasm is infectious, and children just gravitate toward his energy. He is exactly what we look for when recruiting instructors."
Christie had experience working with children as a counselor at a YMCA camp and as a football and soccer coach. "I had been an athlete all my life. I played football in high school and college, and I applied that experience to refining my snowboarding skills. At first, I was coaching the younger kids, the 3- to 5-year-olds. I enjoyed that, but now I mostly coach the Mountain Riders, the 7- to 12-year-olds, including some kids who are part of the competition team."
Christie, who is 28 and about to begin his fifth season at Stratton, said his favorite part of coaching is watching his students become better athletes, as well as the friendly, family atmosphere on the mountain.
"I've been coaching some of the same kids for the past four years and you get to be like family," he said. He added that he grew especially close to a couple of his young students who, like him, had lost their fathers.
"That bond brought us together," he said. "I could understand when they were down and they could understand it when I was. To have a 5- or 6-year-old put their hand on your back or give you a hug just kind of tells you how much kids feel our energy."
When he's not working at Stratton, Christie follows his other passion—music— working food trucks at festivals across the country, including the Bonnaroo Music and Arts Festival in Tennessee, the Firefly Music Festival in Delaware, and the Electric Forest Festival in Michigan. Not surprisingly, he started out working for one vendor and parlayed it into multiple gigs with numerous others that kept him on the road all summer.
"The grilled cheese truck I worked for only did four festivals a year," he said. "So when I was working for them and had some downtime, and not being an introvert, I'd go talk to other vendors and they said, 'Hey, why don't you come out and help us at the rest?' So I got to see some music and interact with thousands of people and work doesn't seem like work."
Still, Christie said he was eager to get back to Vermont and Stratton. "Sometimes summer feels like I'm just hanging out but coaching makes me feel like I'm giving something of myself back to the community," he said. "And that's what makes it so rewarding."
Instructor Profile
Sarah Knelp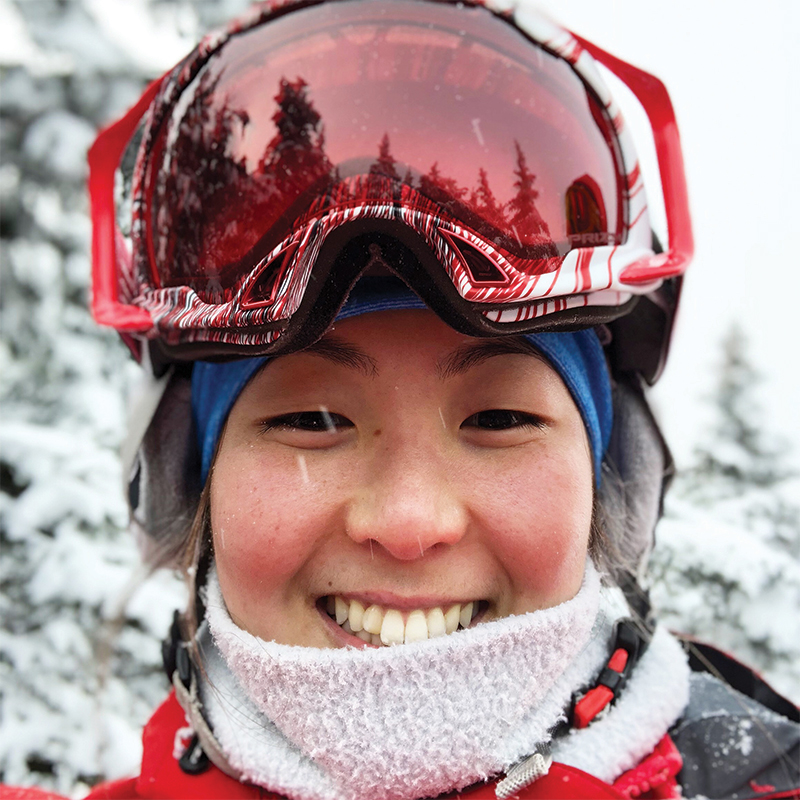 Sarah Knelp
Stratton Mountain School instructor Sarah Knelp considers herself "a Stratton baby, born and bred." She began skiing as a toddler in the Little Cubs program and progressed through every class, finishing up in the TIPS program, which grooms teens to become ski and snowboard instructors.
"I joined TIPS at 14 and I instantly fell in love with it," the 24-year-old speech pathologist said. "I always had a feeling I wanted to work with kids and this was the perfect opportunity to do so."
Knelp, who is about to begin her 10th year as an instructor, works weekends and school vacation weeks with the Synergy program, a seasonal ski class for children 8 to 13.
"I love the pre-teens," she said. "You can have real conversations with them and they'll share things with you like their feelings and their fears, and you can help them work through those problems."
In addition to developing rewarding relationships with her students, Knelp said she also gets a thrill watching them master the physical side of skiing.
"What's nice about being a ski instructor is that you get to see change right away, like instant gratification," she said. "Sometimes just one small tweak or adjustment can be pivotal for a kid, and that's something you don't get to see on a lot of jobs."
Photo courtesy Sarah Knelp
Knelp said one of her favorite experiences as a ski instructor was with a 6-year-old who had never been on skis and who was wearing a weight pack for a spinal displacement.
"He was embarrassed and he didn't want to wear it," she recalled. "And his dad was desperate for him to learn to ski. My boss asked me to see if I could just get him to go down the hill. I thought oh, boy, but I realized in that moment that it wasn't about me and my fears, but about making this kid as comfortable as possible so he could try something new."
Knelp found out her student was a big fan of monster trucks. So, she told him to pretend that his weight pack was a monster truck engine.
"We made the noises and everything. I didn't care how ridiculous we looked; we made the ski hill our own racetrack. He fell in love with the idea and I got him into the skis, skiing down the hill, stopping, and even making a few turns. I had never seen that amount of joy on anyone before, and it was a truly powerful moment for me as well."
Knelp said her experience at Stratton helped foster her love of teaching and led her to a career as a school speech pathologist.
"When I became a ski instructor it was the first time I thought of myself as a teacher," she said. "And now, on the weekends, I have the greatest classroom in the world. And who could not be excited about that?"