By Cherise Madigan
For many football fans, game day has become an almost sacred tradition and finding the perfect spot to enjoy the game can be as high-stakes as the sport itself. The atmosphere, the menu, and especially the television setup all come into play. But when you're watching with a crowd there's a certain sense of camaraderie that you won't find from your couch, which only gets better when there's an abundance of football-friendly food in front of you and a frosty draught in hand. Fortunately, there are plenty of places in and around Stratton perfectly suited for football fanatics. So, throw on your jersey, get ready to root on your favorite team, and find your own game day haven.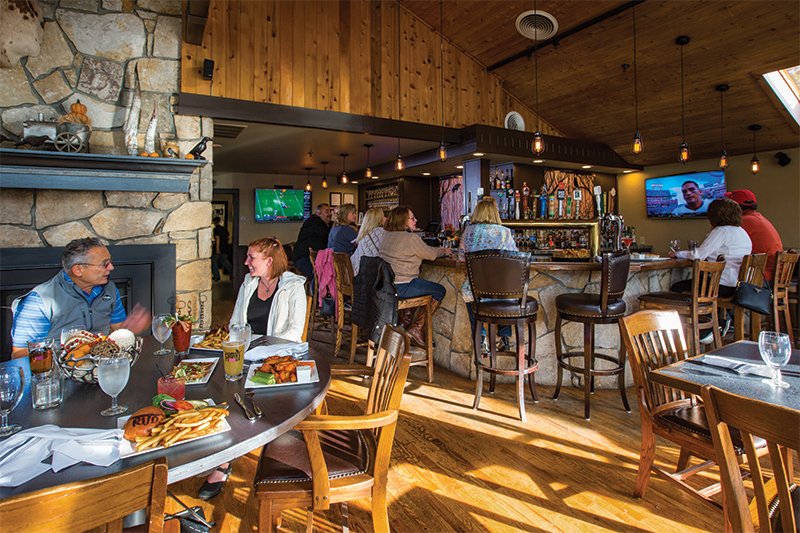 Raven's Den Steakhouse and Taproom
If you're in town for Superbowl Sunday be sure to attend the Raven's Den Steakhouse and Taproom's annual party to watch the game on one of their four HD televisions or drop by any Sunday, Monday, or Thursday to cheer on your team in a classy yet cozy locale. Offering specials most weeknights, you'll find 50¢ wings and $5 Long Trail brews at Raven's Den on both Sunday and Monday nights throughout football season as well as other tasty treats. The fabulous fare found at Raven's Den is bound to warm you from the inside out on a snowy day, although the restaurant's two-story stone fireplace doesn't hurt either.
1844 Depot Street, Manchester
802-768-8779 or
ravensdensteakhouse.com
Bar 802
When there's a sporting event happening, you bet it'll be on at Stratton Mountain Resort's Bar 802. Featuring three large-screen televisions, Bar 802 can't be beat when it comes to pizza, wings, and even surf-and-turf sliders stuffed with lobster and pork. Not a carnivore? Check out the popular avocado and cauliflower dip or falafels and tuna poke bowls. Bar 802's "chilled-out" whiskey-bar vibe will make you feel like you're watching the game from the comfort of your own den, without having to wash the dishes.
Stratton Mountain Resort Village
802-297-1800 or stratton.com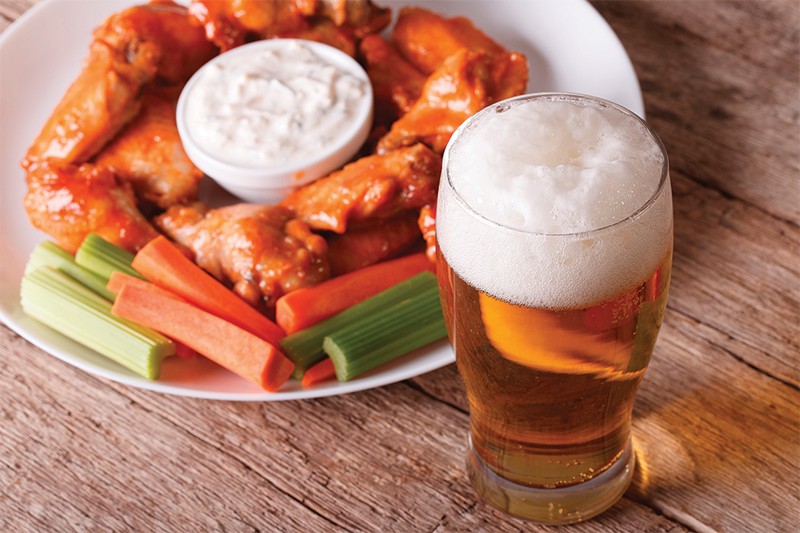 Jake's Restaurant & Tavern
Jake's has gained a reputation for having the best slice of pizza over the mountain since opening in 1989, and for decades local football fans have headed to the tavern in droves for a friendly and familiar atmosphere. The 50-seat tavern (accompanied by a 60-seat dining room in a separate wing) houses four HD flat-screen televisions, and while we recommend ordering from Jake's wide selection of pizzas, the restaurant also offers a full dinner menu alongside a rotating list of creative specials. While you're there, be sure to order a round of what Jake's describes as "the best wings in Southern Vermont," available for 50¢ on football Sunday. When it comes to football fanfare, there's no better place to feel like a local.
5700 Route 100, Londonderry
802-824-6614 or jakescafe.org
Mulligans of Manchester Restaurant and Pub
Mulligans of Manchester touts a menu that'll please everyone, but that's not the only thing that will provide variety at this local football hotspot. The restaurant enjoys a diverse crowd whom you'll find cheering for the New York Giants or the New England Patriots, though traveling fans also often flock to Mulligans for game day. On Sunday afternoons in particular the bustling bar becomes football-central thanks to their eight high-definition televisions, weekly football pool, and access to DirecTV's Sunday Ticket. The friendly atmosphere found at Mulligans makes it a great place to catch a game as a family, but even if you're flying solo you'll quickly feel like a part of the crowd.
3912 Route 7A, Manchester
802-362-3663 or
mulligans-vt.com/manchester
Mulligans of Stratton and the Green Door Pub
Mulligans of Stratton and the adjoining Green Door Pub is the place to go if you're looking for a wealth of football-centric specials and a spirited atmosphere. While Mulligans Stratton itself maintains the more family-friendly vibe found in Manchester, the Green Door Pub typically attracts a younger and more local clientele. Visitors from across the Northeast often unite to cheer on the Giants, Jets, or Patriots, and the night may get loud and lively at the Green Door, which features game day specials such as $10.99 buckets of wings and $4 cans of Lawson's Sip of Sunshine IPA. Like Mulligans of Manchester, both the restaurant and the pub offer DirecTV's Sunday Ticket, with a total of 21 screens (many topping 70 inches). If you're looking for an après ski setting where you can let loose on football Sunday, Mulligans of Stratton and the Green Door Pub is a go-to spot.
Stratton Mountain Resort Village
802-297-9293 or mulligans-vt.com/stratton or green-door-pub.com
Firefly Restaurant
If you're looking for a low-key and local pub that still offers all the accoutrements of a high-energy football hub, Manchester's Firefly Restaurant is the place for you. Populated by an enthusiastic crowd of New York and New England fans most Sunday, Monday, and Thursday evenings, the game day culture at Firefly is tough to beat. You won't miss a moment of the action as Firefly's televisions broadcast a variety of games through DirecTV's Sunday Ticket, and one screen is even designated as "first come, first served" for out-of-town fans. Firefly's mouthwatering burgers and full bar are a good option any night of the week, but you won't want to miss the restaurant's football Sunday specials including $2 PBR drafts, $5 Bloody Marys, and a $7 food menu. At least your stomach—and your wallet—will walk away happy no matter who wins.
575 Depot Street, Manchester Center
802-362-3721 or fireflyvt.com
The Fire Tower Restaurant & Tavern
Catch a game at The Fire Tower Restaurant & Tavern after a day spent on the slopes for an exciting football experience. In addition to conventional football fare such as burgers, wings, and beer, take the opportunity to try something new. Start with innovative dishes including ahi nachos and the famous Fire Tower shrimp. Even more unusual is The Fire Tower's cocktail menu featuring fan-favorite drinks such as Makers Mark Cider Smash, Lychee Cosmo, and Bacon Old-Fashioned. Situated within Stratton Mountain Resort Village, the tavern often becomes a melting pot for both visitors and locals looking to cheer on their favorite teams, and The Fire Tower's urban-rustic décor reflects those contrasting crowds—although it's hard to distinguish tourists from locals once the game begins.
Stratton Mountain Resort Village
802-297-2000 or
firetowerstratton.com