STORY BY BENJAMIN LERNER
PHOTOGRAPHY CRAIG LIGHT
How Lauren Kabis built Vermont Macrame into a thriving, independent craft business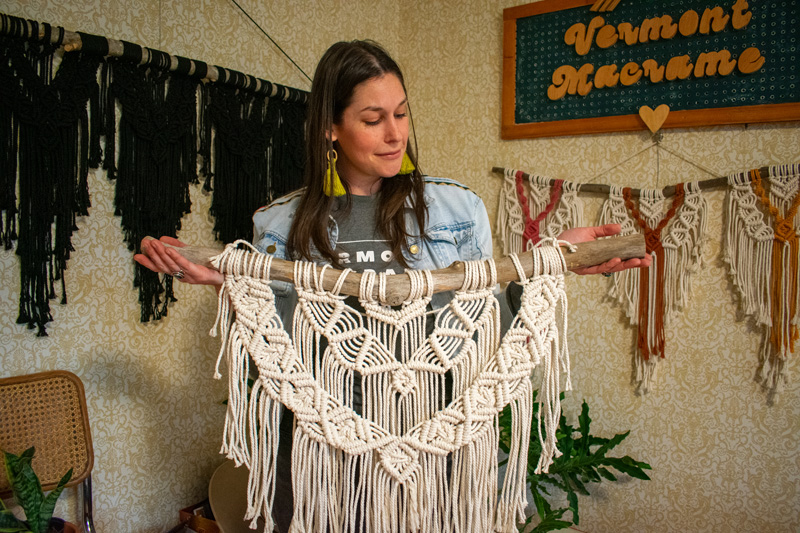 In the foothills of Southern Vermont, Lauren Kabis has emerged as a beacon of contemporary craft entrepreneurship. As the owner and founder of Vermont Macrame, she has built a loyal following in the local community and parts beyond with her beautiful macrame pieces. Kabis' soul and passion are palpably present in all of her macrame creations. Her macrame operation is more than just a business for her—it's an outlet through which she channels her resilience and artistry. Kabis' approach to her macrame craft serves as a consummate embodiment of her beliefs, values, and personal experiences. Tracing the threads of her life story, a journey unfolds with twists and turns that are every bit as intricate as the threadwork in her pieces. Each knot in her creations is meticulously woven and placed, and every decision over the course of her career has been guided by an equally purposeful commitment to creative authenticity.
Family Ties and Early Inspiration
Much of Kabis' creative drive can be traced back to her childhood. Her mother, Linda Kabis, was an inspirational figure that influenced her entrepreneurial and artistic aspirations. Running her own handmade business, Linda designed baby bibs from scratch, tailoring them with individual names and selling them through her website, abiblady.com, which is still operational today. As Kabis recounts her childhood in Rockaway, New Jersey, she fondly remembers watching her mother transform fabric into treasured items. She also recalls her mother expressing her artistic impulse by decorating Christmas trees in inventive ways. "There would always be multiple Christmas trees, and they would each have a specific theme for the ornaments, like dogs or Barbies. It was really cool to see that growing up."
From a young age, Kabis was also involved in the 4-H program, a global network of youth organizations that foster leadership and life skills. In addition, Kabis raised multiple seeing-eye dogs with her sister, Kristin, and her mother, which played a critical role in shaping her perspective. Kabis shares, "It helped me understand the value of purposeful, confident instruction." The years Kabis spent as a 4-H camp counselor teaching arts and crafts helped her to refine her creative instincts. She introduced campers to a myriad of artistic activities, which ranged from bead crafts to paper mache. These years of teaching and learning intertwined, giving her a practical foundation to build upon.
Kabis' collegiate years were a period of uncertainty and exploration. After initially enrolling at Rutgers University, the intense atmosphere of the biology classes there prompted her to pivot to the more open academic terrain of liberal arts. Over the next few years, she immersed herself in art classes. She also studied abroad in Belize, participating in archaeological fieldwork with ancient Mayan pottery. She later chose to switch her concentration to anthropology, and eventually used the knowledge she gained from her studies to build a career in marketing. Kabis worked for large corporate brands, managing special events and participating in guerrilla marketing campaigns in New York City. "I learned a lot through working those events," says Kabis. "Still, at heart, I'm a thrifty, do-it-yourself, mom-and-pop shop lover."
Moving Forward with Macrame
Eventually, Kabis decided to step away from the hectic chaos of New York City. She was drawn towards the Green Mountain State after meeting her boyfriend, Charlie, in 2016. After spending a year traveling back and forth from New York City to Vermont every weekend, she made the decision to move to Vermont. Upon arriving in Southern Vermont, her love for the state was bolstered by memories of family vacations there. She adds, "Southern Vermont's artisan community has always inspired me, and my dad's love of Vermont was fully passed down to me. Being surrounded by artisans, farmers, and local people who choose to go against the grain of what society dictates is truly inspiring." Today, Kabis draws inspiration from Vermont's natural scenery and seasonal beauty, which she channels into her macrame creations. She also loves to go exploring and hiking with her dog, Maple.
After moving to Vermont and living there for several years, Kabis dove headfirst into macrame after a making a simple plant hanger with string in her kitchen. When her friend sent her a macrame kit, Kabis took it as an important sign. She dusted off her mother's entrepreneurial guidebook, The Bliss List, and began studying her craft. It started with gifts and small orders from friends, which organically grew into a small business. Kabis first presented her creations to the public at the Arlington Village Farmers Market in 2020. She arrived with a plant hanger and a small selection of holiday macramé ornaments, and her debut was a complete success. From adorable owl-themed décor pieces to quirky little disco balls held up by macrame nets, Kabis' designs encapsulated the spirit of gift-giving and sentimental connection in a manner that deeply resonated with her clients.
As Kabis branched out into building displays for additional farmers markets, she found wonderful, authentic ways to showcase them. While many might have opted to purchase tables and other display elements, Kabis patiently waited for the right materials, often repurposed, to come her way. From wooden crates to vintage chairs sourced from secondhand giveaways, her displays now serve as a testament to her dedication to eco-friendly sourcing. They also beautifully encapsulate the timeless, rustic atmosphere of Vermont. "I love farmers markets, and I love getting creative with displays," says Kabis. "I'm the Market Manager for the Arlington Village Farmers Market now, and it's an amazing community. The markets happen every Friday in the summer, and it's a highlight of my year."
Holiday Macrame Magic

A guide to some of the best macrame gifts for the Holiday season
The Holiday season is upon us, and what better way to spread joy than with a gift crafted with soulful purpose? Lauren Kabis, Vermont's macramé maven, offers an array of intricate designs perfect for gifting:
Holiday Ornaments: Deck the halls with special macrame holiday ornaments! Handcrafted with festive spirit, they add a touch of artisanal elegance to any tree. "I recently fulfilled my own vision of having a silver Christmas tree decorated with all Vermont Macrame heart ornaments on it at the Arlington Common," says Kabis. "Many of my clients have been collecting ornaments every year since I started making them in 2019, and it makes me so happy to hear about how they decorate their trees with them and give them to their family members as gifts."
Wall Hangings: Elevate someone's living space with Lauren's textured wall hangings, each rich in depth and story, reminiscent of cozy Vermont evenings.
Keychains: A little piece of art for everyday life, these keychains ensure a hint of Lauren's passion accompanies you wherever you wander.
Macramé Earrings: Adorn your loved ones with these statement earrings, each piece narrating a tale of Vermont, artistry, and Lauren's creative journey.
Plant Hangers: A gift for both plant lovers and art enthusiasts, these macramé plant hangers are a nurturing embrace for green treasures.
Macramé Owls: A delightful ode to nature, these owls are an embodiment of Lauren's love for wildlife and her craft. A unique addition to any festive décor or a charming year-round companion.
To keep up with escalating demand as her business grew, Kabis began purchasing balls of twine at nearby r.k. Miles in Manchester. Eventually, the momentum accelerated to the point that she began sourcing recycled cotton fiber from a proprietary source in Europe. It wasn't long before Vermont Macrame began to attract scores of fans and customers. As orders flew in, it was clear that her creations were striking a resonant chord. In addition to online orders through platforms such as Instagram and Etsy, Kabis set up stalls at the West River Farmers Market in Londonderry. It was the same place where she had once found inspiration as a young child. Her life had come full-circle, just like the tightly-roped square knots in one of her macrame pieces.
Tying It All Together
As Kabis' creativity surged, the world hit an unforeseen pause: the COVID-19 pandemic. In-person markets vanished, and the tactile world of crafts seemed a distant dream. Kabis rose to the challenge, and she didn't just build the momentum of her business—she also powered through personal challenges while breaking new creative ground. Just before the pandemic, Kabis had planned to teach in-person macrame classes. With restrictions tightened, she found herself suddenly confined to her home with a demanding, remote office job. The mental and emotional strain was intense, but macrame, her newfound love, became her escape and solace. "Doing macrame during the first nine months of the pandemic definitely got me through it." It was during this time that she decided to leave the corporate world behind and make macrame her full-time occupation.
The challenges were numerous. Basic business requirements, such as sourcing her threads, became arduous tasks in the face of pandemic restrictions. "On the day I finally finally got my new set of colored ropes, it felt like Christmas," notes Kabis.
It symbolized hope, resilience, and the drive to keep crafting even in times of adversity. With physical stores shutting down, Kabis ventured into the digital world. She actively engaged with her audience on Instagram, and she candidly spoke on the personal and mental health issues that she was navigating, forging a tightly-knit bond with her clientele. While she wasn't hosting live social media broadcasts, she began openly sharing her journey and creations through her content, capturing the attention of many who were looking for a touch of handmade beauty in an increasingly digitalized world. "I did all of my own product photography, website design, graphic design, and social media marketing," says Kabis. "It gave me a real sense of ownership on every level, which was liberating in so many ways."
Kabis also faced multiple personal challenges while navigating the earlier stages of the pandemic. The declining health of her beloved grandmother, juxtaposed with her father's cancer diagnosis, served as poignant backdrops to her creative progression. Engaging with people through her online platform, she was reminded of the power of community and art, especially during trying times. She also connected with her father through her macrame business. "When I went to visit him in the hospital, we would make macrame keychains together. It brought us closer during that incredibly important time in a way that went beyond conversation."
After her father's passing, Kabis found healing and comfort in her work and her craft. In 2022, she found a dedicated workspace for her business at The Arlington Common. "I had serendipitous encounter with an exhibit at The Arlington Common that featured a cartoon by the artist, Don Trachte," says Kabis. "It featured a character named 'Henry,' which also happens to be my father's name." As a result, Kabis felt a cosmic push towards setting up her home base there. By November 2022, Vermont Macrame's studio in Arlington was up and running. She hosted a macrame workshop birthday party for a client there, and she looks forward to hosting a series of additional macrame classes and events. Drawing from her experience of teaching virtual classes during the pandemic, Kabis now offers in-person sessions, both at the Arlington Common and at private, remote events. Participants in her classes get to enjoy the artistic process of macrame creation while forming genuine human connections with other art and craft enthusiasts.
Demystifying the Art of Macrame
Macrame might seem complex to an outside observer, but as Kabis explains, "it's just the art of tying knots." With just a few basic knots, one can create a plethora of designs. From the simple square knot made from four strings to the double half hitch knots that create distinctive shapes, the craft is both simple and fascinating. As Kabis showcases in both her classes taught at The Arlington Common and her private event classes, even the larks head knot, a foundational technique in macrame, is easy to learn. Each macrame creation demands precise calculations to ensure the design unfolds as envisioned. Yet, with experience, one can hone their skills to gauge the length instinctively.
Kabis' classes are reminiscent of her summer camp days as a 4-H counselor. Whether you've tried and failed at macrame before, or are a complete newcomer, you're guaranteed to leave with happy memories and new skills. The classes aren't just about teaching a craft—they are about empowerment, camaraderie, and reclaiming the joy of creating. As Kabis aptly puts it, "it's about taking the time to indulge in something new and beautiful. The macrame has become my heart and soul at this point, and it feels good to be able to share it with everyone who supports the business and participates in my classes."
ALL THE DETAILS
VERMONTMACRAME.COM