The Legacy of the Arlington Artists
Interview by Joshua Sherman, MD
In the 1940s, Arlington, Vermont was home to five Saturday Evening Post illustrators: Norman Rockwell, Mead Schaeffer, Gene Pelham, John Atherton, and George Hughes. Their work collectively created a vision of hope and possibility for the United States at a time of genuine uncertainty and fear. But how did New York City native Norman Rockwell and his peers end up in Arlington, Vermont?
Joshua Sherman talks with renowned illustration expert Roger Reed:
"The answer to that question is best explained with historical context. When these artists were coming of age, the art of illustration was becoming a serious and recognized vocation. It emerged from the artisans of the 1880s, who churned out technically correct drawings, which were then carved in wood and made into printing plates. It was piecework, but unlike factory workers, illustrators forged their opportunity to move up the economic ladder.
By the early 20th century, the demand for publishable paintings and drawings was so great that many illustrators became successful enough to join the ranks of the middle class (or even 'high society') with studios in New York City and houses in the suburbs. For 'creatives,' it was a dramatic and rapid socioeconomic move upward. Suddenly, illustrators could achieve wealth and celebrity, making artistry respectable. More important, they were given the artistic freedom previously only allowed to 'fine artists.'
Within a decade of leaving the Art Students League, Norman Rockwell (born in 1894) had reached the upper echelon: he had a national audience and was soon judging beauty contests and hobnobbing with the artistic stars of the day, such as Charles Dana Gibson (of 'Gibson Girl' fame), J.C. Leyendecker ('Arrow Shirt Collars'), and Coles Phillips (creator of 'The Fadeaway Girl') in the American capital of illustration at the time, New Rochelle."
How did these artists even meet?
"Because illustrators typically spent most of their time alone in their art studios, when they were not working, they intentionally (and sometimes strategically) sought out each others' company. They socialized at the Society of Illustrators in New York City, but also entertained at their homes in the suburbs. By the 1920s, these parties became wild, legendary, costumed events, held in sumptuous mansions.
Not only were these gatherings a much-needed break from the isolation of the drawing board, but also, illustrators (then as now) tended to be collegial, often willing to share their methods and models.
While the phrase 'artist colony' was previously thought to be a secret code word for cult-like immorality, seediness, and debauchery, New Rochelle was genuinely different. It was based on the positive stimulation of friendly competition and the practical advantage of pooled resources: vital ingredients for a successful career. Rockwell, in particular, sought out other artists for their professional critiques—and willingly reciprocated."
In the same way that so many jobs today can be performed 'virtually,' by the 1930s, being in New York City was no longer essential to an established illustrator, correct?
"The Regionalist artistic movement encouraged artists to escape the corrupt politics and literal dirt of the city—and embrace the good clean living of the countryside. By then, New Rochelle was itself getting crowded and expensive, and many illustrators were moving upstream to the artist colony of Westport, Connecticut. But this small group of artists— Schaeffer, Atherton, Rockwell, Hughes, Pelham, Don Trachte, and a few others— leap-frogged over the suburbanites to settle in Arlington, Vermont."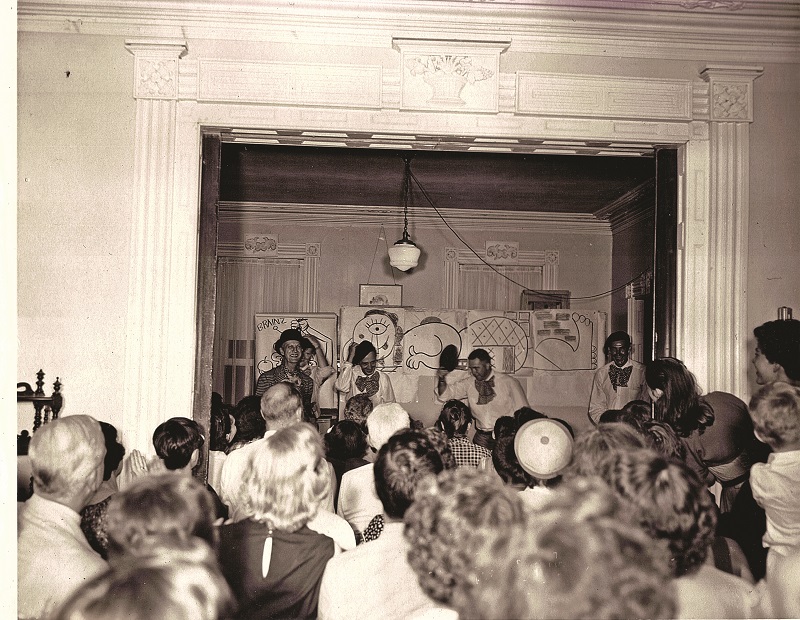 Arlington Street Fair, 1955. From left to right: Frank Hall, George Hughes, Norman Rockwell,
Vic Donahue, and Don Trachte. Photo courtesy of Don Tracte, Jr.
Why Arlington?
"Mead Schaeffer and John Atherton were avid fly fishermen! They carefully chose a location for the group, conveniently located near the legendary Battenkill River. For the whole group, it marked a dramatic change in their scope and technique. Their subjects steered toward common touchstones; fancies and pretensions were shed.
Rockwell was not a fisherman, but the move instigated his most famous body of work (including The Four Freedoms) and allowed him to raise a family in a safe environment with minimal distractions. For a brief time, he hosted a handpicked group of art students for mentoring. He subsequently helped found the Famous Artists School, which sought to pass along picture-making abilities to a new generation of artists."
I know Rockwell himself is quoted as saying that "Moving to Arlington [gave] my work a terrific boost…my pictures grew out of the world around me, the everyday life of my neighbors." Were all of the Arlington artists similarly inspired—and successful?
"The Arlington artists were all extremely successful during this span. In fact, the Vermont illustrators were probably dwarfing the average income of other states' artists at the time.
Despite their financial success, once in Vermont, the group left behind their ostentatious lifestyles. They employed neighbors (and each other) as their models and embraced rural scenes in their work. As a result, they were adopted by their neighbors as 'regular folk.' Rockwell sought advice from the mailman about whether his ideas came across. Gene Pelham helped the others as their photographer. Together they developed the role of the illustrator akin to that of movie director, working out picture possibilities with costumes and players in real time, behind a camera."
By the mid-1960s, the profession of illustration was on the decline, and the era of photojournalism was on the rise. Interestingly, Rockwell's celebrity has only grown since those years—and illustration art has been embraced within previously elitist "fine art" circles.
With the upcoming 1st annual 4 Freedoms Festival in 2018 (which celebrates the 75th anniversary of the publishing of Rockwell's The Four Freedoms in The Saturday Evening Post), as well as the planned creation of The Institute for Illustration and Film in 2019, it appears that The Arlington Artist Colony is due for its next Renaissance.
Only one question remains: will the next generation of Arlington creatives know how to fly fish?
About Roger Reed and Illustration House
For more than 40 years, Illustration House has been America's premier destination for collectors devoted to the art and history of illustration.
The gallery/auction house offers a fascinating look at the intersection of American pop culture and art history of the past. Thousands of oil paintings, drawings, and watercolors cover a broad range of styles, genres (including poster design, book decoration, advertising, comic strip, calendar art, record album, and magazine covers), and subjects: science fiction, romance, history, suspense, fairy tales, pinups, humor, and fashion, to name a few.
With Illustration House's founding in 1974, Walt Reed pioneered the market in the resale of original illustration art. Initially based in Westport, Connecticut, Walt personally knew many of the great illustrators, including Norman Rockwell, Tom Lovell, Al Parker, Jon Whitcomb, and Stevan Dohanos, and authored monographs on Harold von Schmidt, John Clymer, and Joseph Clement Coll.
Roger (Walt's son) joined Illustration House in 1981. In 1987, they moved the gallery to the heart of SoHo in New York City. Together they wrote the definitive historical reference that provides a description of the evolution of illustration art with pictorial examples and biographical sketches on hundreds of illustrators. The book has been thoroughly updated three times and is available in its current version, The Illustrator in America, 1860–2000 (Watson-Guptill, 2001).
As president of Illustration House, Roger Reed has written articles, compiled an Index of Illustrators, is on the Permanent Collection committee of the Society of Illustrators in New York, and has acted as a consultant to the Norman Rockwell Museum in Stockbridge, Massachusetts. In fall 1997, he curated the first major museum retrospective of J.C. Leyendecker's work at the Norman Rockwell Museum. Museums and auction houses regularly call on him regarding his specialty, authentication.
In fall 2004, Illustration House relocated to the antiques district of Chelsea. In spring 2018, it expanded its operations to Southern Vermont. "Arlington was home to five Saturday Evening Post illustrators, including Norman Rockwell, so it is only fitting that their artistic legacy continues here."