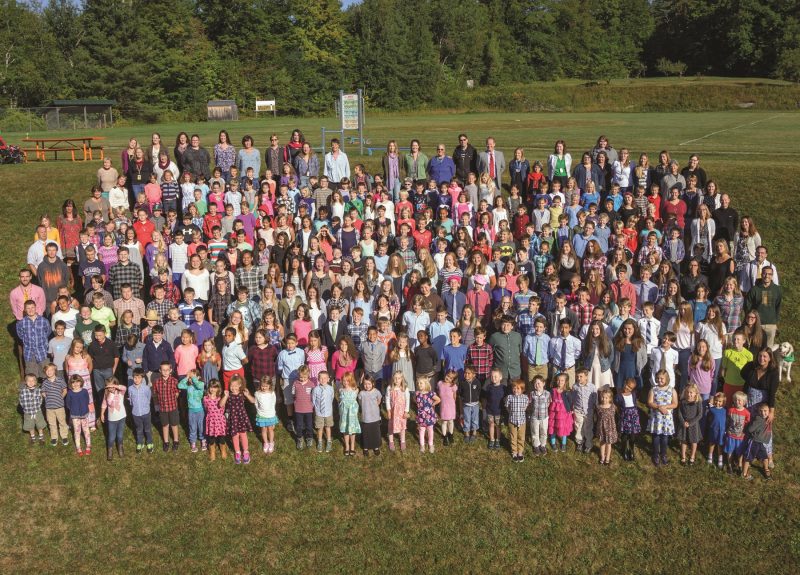 By Linda Maness
I am a flatlander. Born and raised in New York City, my family spent numerous fall and winter weekends, and school vacations, right here in Southern Vermont. In 1979 my parents moved to a farmhouse in rural Vermont and found themselves reveling in the slower pace of life and surrounding beauty of the Green Mountain State. After watching them settle in, married less than a year, and expecting, my husband and I considered relocating as well. However, our top priority was the type of academic experience our children would receive. We were seeking a place where our children would flourish; a place that would be fulfilling but fun; challenging yet engaging; competitive but community minded and after concluding our research, we decided to make the move.
The education options in Southern Vermont are outstanding. Today's students are being prepared to face a multitude of problems by thinking them through, asking questions, and using their skills to problem-solve. With time management, goal setting, and good old-fashioned hard work, Vermont's students are indeed learning to be critical thinkers and environmental stewards. And with ubiquitous technology, students are curious and creative.
The institutions in these pages provide families considering relocating to the area with the best possible education available and "the right fit" for each student to thrive. Heads of schools and principals, faculty members, and coaches are there to encourage, teach, and befriend students, face to face, as well as online. Let's learn, listen, and give back together.
Burr and Burton Academy
Independent, 9–12
Sitting in the shadow of majestic Mount Equinox, Burr and Burton Academy sits atop Seminary Avenue in historic Manchester. The 50-acre campus is composed of eight buildings, including the stately Seminary Building that is topped by the recognizable spired bell-tower; the E.H. Henry Physical Education Center, the Riley Center for the Arts, and the Smith Center for Science and communications. Just below the main campus sits the Judy McCormick Taylor athletic field, completed in summer 2015. BBA's impressive physical setting is matched by its offering of excellence in education to some 650 students.
Mark Tashjian knows what it is like to be a part of this setting and educational opportunity, having made the choice in 2009 to leave New York City and resettle in Vermont when he accepted the job as headmaster.
Tashjian believes that BBA's greatest strength is, undoubtedly, its large, diverse, and committed faculty, "which offers an unparalleled array of engaging, vigorous educational opportunities. We are deeply committed to academics, athletics, and the arts."
This commitment is seen in The Student Success Program that supports students aspiring to be the first in their family to go to college; the Target program that provides an alternative educational setting for students seeking a smaller and more specialized environment for learning; and the Mountain Campus, an off-site environmental studies program. Through these, and the Access program, special services, and core academic offerings, BBA can "… serve virtually every student."
BBA has an extensive course catalog with more than 160 courses, covering the spectrum from general level to AP, visual and performing arts, and extensive athletics. Additionally, BBA has a small (50–60 student) International Students program. To graduate, an international student must attend a minimum of two years. International students follow a traditional course of study (8 courses a year) and complete necessary service learning projects.
BBA has a 100% graduation rate. Tashjian said, "I am proud to say that within BBA, not only does equal access exist for all, but we work very hard to give support to students who need it to take advantage of the opportunities at this school."
Special Programs at BBA
Mountain Campus Program in Environmental Studies
Located in the Green Mountains of Peru, Vermont, the Mountain Campus is a short school bus ride away from Burr and Burton Academy's main campus in Manchester. To date, the Mountain Campus has provided an invigorating, challenging, and alternative education experience to 160 students, allowing them to connect to the outdoors while learning about the science, history, and literature of Vermont. In addition to their daily schoolwork, students are responsible for sharing kitchen duties, caring for the campus through reducing waste, caring for camping/hiking gear, and even the calculation of how much energy can be used during a school day based on solar energy intake.
Target Program
Burr and Burton Academy's Target program, currently located in the Campbell House on Richville Road in Manchester, was established in January 1998 for the primary reason of providing an alternative learning pathway for students who struggle with succeeding in a more traditional high school setting or who are likely to drop out altogether. It aims to support students and their coursework through personalized instruction and meaningful assistance.
BBA's Target program has the support of its administration and financial support from both the community and alumni. This allows the program to offer some unique classes to its students and to implement new initiatives for those students who are not traditional learners.
Dorset Elementary School
Public, K–8
Dorset Elementary School (DES) Principal Rosanna Moran believes that when families are considering a move to Vermont that they are looking for supportive, small communities and "… a way for their children to connect with the outdoors and a slower pace in life." DES is such a place and can be found on a hillside in Dorset, Vermont.
With a current enrollment of 183, the school has a family atmosphere with small class sizes. "Of importance," said Moran, "are the relationships between students and their supportive teachers, as well as those of our students' mentoring program. We have a great parent-school community too. There is a great connection there providing support for students. We also have a wonderful school board."
At DES each class has a topic connected to an overall Civics Ethics Goal that, according to Principal Moran, will be the focus of cross-curriculum study. This school year's topic is School Food and Waste. This past fall, one class weighed trash output and composting, thus adding a math/science component, as well as environmental stewardship.
The Downtown School
Private, Pre-K–3
The Downtown School is Manchester's progressive education institution for grades Pre-K–3. Established in the 2014–15 school year, the current enrollment is 30, and 4th grade is being added in 2017–18. The school will ultimately be Pre-K–8 (adding a grade per year).
"At the heart of our progressive education philosophy is a belief in the value of working with children to help them understand the world in which they live," said Alexa Manning, head of school. "Toward this goal, we focus on the whole child and academic, social-emotional, artistic, and physical/athletic growth, in all aspects of our curriculum."
Current Downtown parents offered this testimonial: "Having happy children roam in fields, ride their bikes, and play in a neighbor's garden is something I think many parents long for, especially parents who started to raise their children in a bustling city. We had firmly committed to the philosophy of progressive education and our children started in a leading progressive school in New York City, so finding a similar ideal and standard was of great importance to us when considering a move. The Downtown School was the tipping point for us."
Manning feels that The Downtown School's educational experience is distinctly different (offering the area's only elementary-aged program in Mandarin Chinese) and, "can be a wonderful fit for a child." She continued, "When a child feels well supported and believed in then strong learning will follow."
Ella, part of a certified therapy team (with faculty member Ann Alford) comes to Flood Brook School every day.
She reads with kids, is a reward for good behavior, and generally reduces stress levels in the building!
Flood Brook School
Public, K–8
When choosing Flood Brook School in Londonderry, Principal Neal McIntyre feels parents are making a conscious choice to benefit family. "They're choosing a slower pace, with a relaxed culture. And a great outdoor experience." He often sees a family look at education and then real estate prices. "I let them know that we offer a well-rounded educational product."
While the school of 290 students offers "rigorous education," McIntyre explained that here rigorous means "thorough, complete" not "demanding, hard." One innovation within the middle school is integrated studies. With a focus on how to learn and how to present information, students engage on a multi-age, crosscurricula level that is project based.
"Yes, this model is an example of experiential education," McIntyre stated. "Flood Brook teachers are not content driven, and the learning is better. Students are guided through their own interests." Through this experience, students are learning to collaborate, plan, and organize. McIntyre emphasized, "These are valuable skills for high school. Students leave Flood Brook well prepared, and leave knowing how to think, not what to think."
Long Trail School
Independent, 6–12
Driving along Dorset's Kirby Hollow Road, mountains loom in the distance, and then playing fields come into view, along with a red, wooden ranch-style building. You have arrived at Long Trail School.
Headmaster Steven Dear believes that families move to Vermont "for the wholesome way of life and they are looking to being closer to nature; and the safety of our close-knit communities is a huge draw."
Several families have sought out Long Trail specifically for its smaller size, inclusive athletic and drama programs, and, according to Dear, "the school's open, accepting community." All students have an individualized schedule that includes their chosen arts electives and their chosen foreign language. With small class sizes, students are active contributors to classes daily.
Long Trail School has been educating its students about the value of "giving back" since its inception. Its signature event is Empty Bowls, a bi-annual event that raises both money and awareness in the fight to end hunger. LTS also has an annual Stewardship Day in the spring in which classes are canceled for a day, allowing students and faculty to head out and service other nonprofits, churches, libraries, animal shelters, nursing homes, and other local organizations to help meet their specific needs.
The school's graduation rate is 95–98%. Recent college acceptances include UVM, Johnson State, and Green Mountain College in Vermont and the likes of George Washington University, Princeton, and Stanford, as well as music colleges such as Berklee School of Music and art colleges such as the University of the Arts.
Long Trail School's International Baccalaureate Diploma Program
The International Baccalaureate Diploma Program offers Long Trail School graduates an opportunity to earn a prestigious credential that is recognized as the gold standard at distinguished colleges. Since becoming an IB World School seven years ago, LTS has seen its acceptances to top-tier colleges increase, and has seen many of its students matriculate at their chosen institution with various credits already awarded through IB.
Long Trail School has 40 to 50 students on average between the junior and senior year in the full IB Diploma Program. IB Coordinator Deb MacDonald explained, "While all are encouraged, it is a very rigorous two-year program and students are counseled carefully." As a school that prides itself on individualized education, Alex Ramsvig, an IB faculty member, said, "Our teachers and administrators work with our students and their families to determine class and program selection. The vast majority of our juniors and seniors are either full Diploma Program students or take IB classes as Certificate students." He added, "Some of LTS's most recent IB grads have accepted placements at Princeton, Brown, George Washington, and Cornell."
Highlights of the IB program include the required Theory of Knowledge class that teaches students to reflect on the nature of knowledge and to draw connections between different disciplines, cultures, and perspectives. IB students also complete a 4,000-word self-directed research paper called the Extended Essay, and students engage in service learning and personal well-being through the Creation, Action, Service (CAS) program.
Empty Bowls
Empty Bowls is an international grassroots project launched by Imagine Render, a nonprofit organization whose goal is to hold events to raise money and awareness to help fight hunger. In 2007, Empty Bowls was launched at Long Trail School by Courtney Callo, currently director of marketing and LTStudies International, to fight local hunger.
With some 500 to 600 attendees, an equal amount of bowls is needed for the event to be filled with delicious soup. It's a community activity, Callo explained, "The bowls are literally hand-created. We have Long Trail student ambassadors who go into other local schools to lead bowl-making. Additionally, there are intergenerational bowl-making sessions held at street fests, regional libraries, the Equinox Village, and through Neighbor to Neighbor. Empty Bowls is for the whole family, as Callo said. "It's perfect for ages 3 to 93 years old. Participation at the event is affordable, unlimited, and very friendly."
The process is as follows: each bowl maker is given a baseball-size amount of clay to create a bowl. Bowls are then brought back to the school for firing and glazing either by LTS students or the original bowl maker.
Since 2007, $100,000 has been given to community-service organizations through the initiative. The 8th Empty Bowls will be held at Long Trail School on Saturday, March 25, 2017 for the benefit of the Bennington-Rutland Opportunity Council, The Stratton Foundation, and the Community Share Project.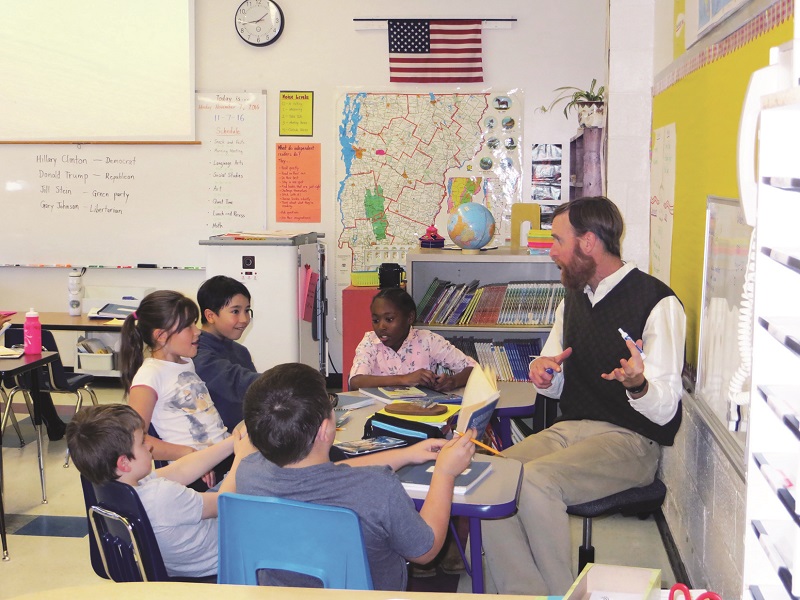 Manchester Elementary Middle School
Public, Pre-K–8
Led by co-principals, Marty and Irene Nadler, Manchester Elementary Middle School (MEMS) is located in an area noted for its natural scenic beauty and its year-round outdoor opportunities. Co-principal Marty Nadler thinks that the appeal of living in and being educated in Vermont starts with the surroundings. "Manchester is a small town offering a safe, low stress/pressure, calm environment, with a wide range of programs for children (athletics, theatrical, arts, dance); and it has MEMS, an excellent K–8 public school offering a full range of education options." Nadler pointed out that MEMS has been home to a licensed Pre-K for many years. This program serves 3-, 4-, and 5-year-olds.
Nadler also noted, "Once inside MEMS, many families choose us because of the warm, welcoming attitude of teachers and students alike, as well as the small and personal nature of our classrooms. Every student has personalized learning goals to guide their educational experience and maximize growth." Others choose it for its central location and convenient access to local amenities such as Dana Thompson Park, Riley Rink, Manchester Community Library, and Northshire Bookstore.
In addition, environmental stewardship is an integral part of the school culture, exemplified by schoolwide composting and recycling. Furthermore, the school has wonderful relationships with both Merck Forest (Rupert) and the Smokey House (Danby) that, per Nadler, "embody authentic learning and help students make a connection with the world around them."
Maple Street School
Independent, K–8
Maple Street School opened in 1998 with 37 students. Today, with a K–8 enrollment of more than 100 students, it continues to offer excellent educational opportunities through a very balanced curriculum. Head of School Fanning Hearon III said the school's mission remains steadfast, "to provide a chance to excel academically, artistically, and athletically."
Hearon believes MSS's programming is "comparable to one you might find in the suburbs of New York, Connecticut, or even Los Angeles. Parents have realized that they can transform (and slow down) their lives by moving to Vermont—a compelling place to relocate—without compromising an excellent education for their children."
"When parents learn of our program, meet our dedicated staff, and see our incredible facility, they seriously contemplate making a move to Vermont," Hearon said. "There is simply more time to be together as a family unit here."
The school's Courage to Care program instills a culture of kindness amongst its student body. "Not only do students know and respect each other," Hearon said, "they truly appreciate being a part of a tight-knit school community."
Several key partnerships in the wider Manchester area enhance the Maple Street experience. Hearon gratefully pointed out that students take field trips and do focused studies at Orvis (river habitat), Hildene (bee program, water study, greenhouse study), Ekwanok Country Club (water monitoring), and Equinox Village (Good Neighbors program). In turn, the school is the host site and performance venue for the Northshire Performing Arts theatre program.
Why One Family Chose Maple Street School
During his MSS visit, Kristin Pirie's son was greeted with open arms and she said, "He came away with a wonderful feeling of home." The family chose MSS and relocated from Los Angeles. "The school offers an absolute wealth of learning experiences," Pirie said. "From low-pressure team sports to playing an instrument to singing, art, and French! Our recent parent-teacher conference was unlike any I had ever had in LA. His teacher knew him." She added, "Life is very different now in a very positive way. Somehow we just found the 'right place' for our family!"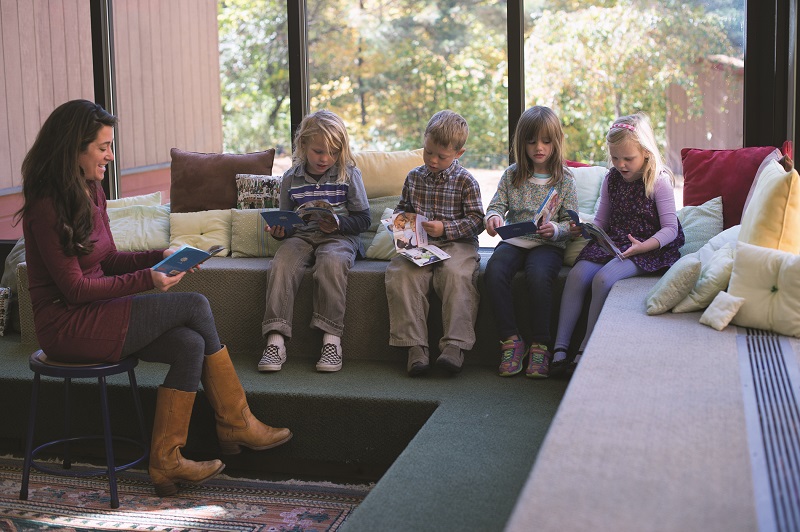 The Mountain School at Winhall
Independent, Pre-K–8
Head of School L. Patricia Stanley believes that The Mountain School at Winhall, while small by comparison to other regional K–8 institutions, provides a strong, family-oriented community for its 70 students. "I think families who are considering a move to Vermont are looking for a lifestyle change. They want a different pace, one that is less commercial." The Mountain School at Winhall is one possible answer in the search for education to go with this lifestyle change. Stanley said, "Our students can get outside, breathe fresh air, and use their environment for learning every day."
With its multi-age classroom organization and small class sizes, students can build amazing relationships with their core teacher while enjoying playing fields and local mountains, and learning to be stewards of community in the surrounding environment.
Stanley mentioned, "We are focused on helping students learn how to write." She said students took part in Southern Vermont College's Sarnoff Speech Competition that gives seventh graders an opportunity to express their beliefs based on a given topic and gain a valuable speech experience. Seven Mountain School students were recognized for their writing ability and made live presentations of their writing at the college last spring.
Part of becoming a lifelong learner is learning to be comfortable in front of an audience. The Mountain School's practice of holding a morning community gathering is one part of the process. Stanley said that the school's Introduce the Day component allows "students to share publicly and gain confidence in speaking in front of the entire student body and faculty." The school provides exposure to local high schools; "a right fit is important," Stanley stated. "We work with all our students on the high school transition."
Stratton Mountain School
Private, 9–12
If it is a complete academic and athletic experience being sought, then Stratton Mountain School may be the answer. Located near its namesake Stratton Mountain, SMS sits on 15 acres with 8 buildings, including the Air Awareness Center (for state-of-the-art aerial training).
Headmaster Chris Kaltsas spoke proudly of the school: "I operate two separate staffs, one for academics and one for athletics. We value balance, with hard work in both in academics and athletics. Our students can get a wonderful education experience."
The current enrollment is 136, 69 boarding students and 67 day students. Committed to all children, SMS has more than $800,000 available in financial aid. "Forty percent of our students receive some sort of FA package," Kaltsas said. "We work with families to make SMS happen." Firmly committed to provide the best education experience, teachers are available to keep student athletes current in a culture of being away. Kaltsas explained, "With travel for competition, we are a 'distance learning' model."
Speaking of travel, SMS has 16 international students (for example, from South Korea, New Zealand, Russia, and Turkey). "The interaction is amazing," Kaltsas observed. "Our students have commonality of sport and academics. It works like a charm and is fun to watch!"
And yes, SMS is known for its athletic program—to date they have produced 42 winter sports Olympians including 2 gold medalists, 1 silver medalist, and 2 bronze medalists, and more than 100 Skiing, Snowboarding, and Freeskiing National Team members. Kaltsas said with the addition of the SMS Air Awareness Center, which uses state-of-the-art materials and coaching, "SMS athletes have the opportunity to rapidly improve their skills while learning new tricks in a secure environment."
With a college-preparatory curriculum, Stratton Mountain School sees approximately 25 graduates a year going off to top-tier schools such as Harvard, Dartmouth, Middlebury, Cornell, St. Lawrence, Connecticut College, UVM, Duke, and University of Denver.
Vermont Academy
Private, 9–12 and postgraduate
Primarily a boarding school, with a 4:1 boarding-to-day-student ratio, Vermont Academy in Saxtons River is a coed collegepreparatory school in a bucolic setting. Interim Head of School Stan Colla said a Vermont education is appealing to many families looking for a lifestyle change and wanting the attitude of those who call Vermont home.
The school's philosophy that "every student is a scholar with potential to be a college student" is one of its educational strengths. Then there's the faculty. "They love working with students and challenging them," Colla said. "This translates into a strong school culture. And I want to stress the importance of trying new things; here at Vermont Academy it is okay to fail at something and try again. Trying something new might surprise a student; he or she might take it beyond their expectation. We look for passion and perseverance. We want our students to be lifelong learners who love to be engaged and challenged, in and outside of the classroom."
With technological developments, Colla said today's curricular streams are very broad: "Information is all around us. Students have choice in learning, primarily in how best to learn."
Two programs that set VA apart are My Action Plan for Success (MAPS), which is student driven, with a student listing his or her goals and then being paired with an advisor to stay focused by meeting weekly, and Global Programs, which gives students the opportunity to study and travel for a trimester in Spain, Chile, and China.
Like most schools, community service is expected. Vermont Academy has a relationship with Kurn Hattin (Westminster, Vermont) that is home to approximately 100 K–8 residential students coping with dysfunctional families. Colla said that through this community relationship, students "discover the human side to community service."
Vermont Academy has a 100% graduation rate. A few favorite schools of late include (in state) Middlebury and UVM, and (out of state) St. Lawrence and Hobart & William Smith. During the past five years, graduates have enrolled in a total of 187 colleges and universities, including several Ivy League schools.
For More Information
Burr and Burton Academy
57 Seminary Avenue, Manchester, VT 05254
802-362-1775
www.burrburton.org
Contact: Kirk Knutson, director of admissions,
802-549-8125,

[email protected]

Dorset Elementary School
130 School Drive, Dorset, VT 05251
802-362-2606
www.brsu.org
Contact: Rosanna Moran, principal


[email protected]

The Downtown School
106 Palmer Place,
Manchester Center, VT 05255
802-768-8769
www.thedowntownschool.org


[email protected]

Flood Brook School
91 VT Route 11, Londonderry, VT 05148
802-824-6811
www.brsu.org
Contact: Tasha Greene, enrollment


[email protected]

Long Trail School
1045 Kirby Hollow Road, Dorset, VT 05251
802-867-5717
www.longtrailschool.org
Contact: Katie Redding, director of
admissions, ext. 106


[email protected]

Manchester Elementary Middle School
80 Memorial Avenue
Manchester Center, VT 05255
802-362-1597
www.manchesterschools.org
Contact: Marty Nadler, co-principal


[email protected]

Maple Street School
322 Maple Street
Manchester Center, VT 05255
802-362-7137
www.maplestreetschool.com
Contact: Jeff Barclay, director of admissions


[email protected]

The Mountain School at Winhall
9 School Road, Bondville, VT 05340
802-297-2662
www.themountainschool.org
Contact: Peter Ahlfeld, assistant head
of school, 802-297-2662,


[email protected]

Stratton Mountain School
World Cup Circle,
Stratton Mountain, VT 05155
802-297-1886
www.gosms.org
Contact: Kate Nolan, admissions director
802-856-1124,

[email protected]

Vermont Academy
10 Long Walk, Saxtons River, VT 05154
802-869-6229
www.vermontacademy.org
Contact: Andrew Millikin, admissions


[email protected]
---