STORY BY BENJAMIN LERNER
PHOTOGRAPHY BY CRAIG LIGHT
Bronwyn-on-Battenkill brings flavorful, hearty, and authentic German cuisine to Southern Vermont.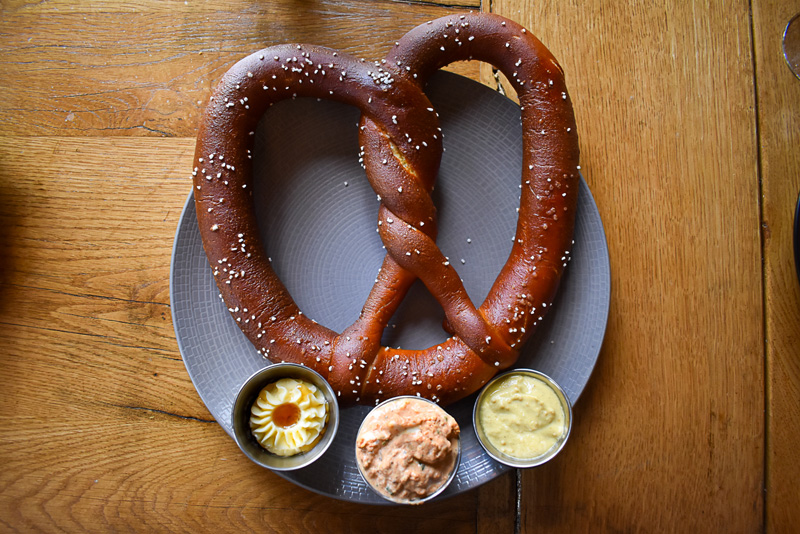 From the moment one walks through the front doors of Bronwyn-on-Battenkill, the senses awaken in marvelous ways. The tantalizing aromas of Chef Tim Wiechmann's hand-crafted sausages, pork schnitzel, Riesling sauerkraut, and fresh-baked pretzels fill the air as the sounds of convivial merriment echo throughout the rooms. The décor seamlessly integrates elements of Bavarian nostalgia and European elegance with Vermont rustic sensibilities. Framed German beer posters and Bauhaus artworks line the walls, which are complemented by handmade wooden tables and a custom-wooden bar built by Wiechmann himself. Around the tables, one will find gorgeous wooden chairs sourced from Wiechmann's travels to Europe with his wife and business partner, Bronwyn Wiechmann. Bronwyn plays a critical role in many aspects of the restaurant's operation, including hospitality, décor, design, and their beverage program—and she is also the source of the restaurant's namesake. Beyond the sensory carnival that awaits guests upon entry, the true attraction lies in the sensational taste of their German and European delicacies. The bold flavors of their house favorites, such as their Swabian-style spätzle noodles, vinegar-braised Sauerbraten brisket, and Wurst Trio are absolutely exquisite, as are their traditional European cakes and desserts.
Bronwyn-on-Battenkill has only been open since January 2023, but their fantastic food, authentic hospitality, and inviting atmosphere has already made a powerful impression on the Southern Vermont community. They have strengthened relationships with local farmers, and they are continuing to expand the locally-focused aspects of their culinary program. "We had no idea what would happen when we opened our doors," says Tim Wiechmann. "It took nine months of hard work to get everything ready, but it's all been worth it. It's been great to see the response—and we're excited to keep growing and hold our first Oktoberfest this fall from September 21–October 22."
To that end, the inaugural Oktoberfest celebration at Bronwyn- on-Battenkill will feature spirited live music performances, flavorful food, and amazing German beer. The celebration will also make use of the restaurant's prime riverside location in a manner that further elevates the guest experience. In addition to Bronwyn-on-Battenkill's two outdoor biergartens, a large stone patio will overlook the nearby mountains and river. Celebrated German beers, such as Weihenstephaner and Spaten, will be served in traditional steins, and the service staff will dress up in full Bavarian regalia. "We make a point of dressing up for Oktoberfest," says Tim Wiechmann. "You won't see our staff in Lederhosen at any other time of year, but we celebrate accordingly during the fall season. It's a real party."
For bon vivants who opt to enjoy a different type of satisfying German beverage in any season, a wide assortment of German wines, digestifs, liqueurs, and seasonally- shifting cocktails round out Bronwyn- on-Battenkill's drink menu. Highlights include high-end Schladerer Schnapps, Koehler-Ruprecht German Pinot Noir, and a Maple Bourbon Manhattan with Vermont Maple syrup. "The beverage program and the culinary program at Bronwyn-on-Battenkill are both built around the same concept," notes Tim Wiechmann. "We're casual, we're approachable—and that's very important—but we have a distinctive culinary voice and we take real pride in what we do here."
ALL THE DETAILS
bronwynonbattenkill.com
Meet the Chef: Tim Wiechmann
After studying at Le Cordon Bleu in Paris and strengthening his culinary acumen in the kitchens of famed, Michelin-starred chefs such as Joël Robuchon, Tim Wiechmann opened the well-received French restaurant, T.W. Food in Cambridge, MA. Following a successful run in Boston's fine dining scene, Tim and Bronwyn Wiechmann chose to channel their talents into a new, more casual culinary vision. Working together, they opened two restaurants in nearby Somerville, MA: T&B Pizza and BRONWYN.
Over the past several years, the Wiechmanns have built BRONWYN into a phenomenal culinary destination that is well known both for its incredible food and its sublime, comforting atmosphere. Along the way, several tasty dishes from BRONWYN's menu were featured on nationally-broadcast television shows. Wiechmann's signature pork schnitzel bested beloved celebrity chef Bobby Flay on Food Network's Beat Bobby Flay, and BRONWYN's elevated take on a hot dog, the "Bronndog," has been featured on the Travel Channel, as well. Tim and Bronwyn are grateful to have been able to break new ground in Vermont with Bronwyn-on-Battenkill, and they are looking forward to hosting their first Oktoberfest in the Green Mountain State. "I went to UVM and I love Vermont," says Tim Wiechmann. "I lived here for four years, and I wanted to do something different outside of the city. It's a beautiful place, and we're lucky to be here."