Texas vs. Vermont They've got beef, and we've got maple syrup.
By Anita Rafael
A tributary of the mighty Colorado River, the Pedernales River flows west to east through the Texas Hill Country. The land was the territory of the Lipan Apache until the first white settlers, German immigrants, established a town there in 1846. Today, a section on the south bank of the Pedernales is renowned because it was the site of Lyndon B. Johnson's ranch, known as the Texas White House and now a national history park, and because LBJ's favorite chili recipe bears the river's name—Pedernales River Chili. The dish was so popular among the Johnsons' guests that it was one of the recipes that Lady Bird had printed on cards that had a sketch of the ranch on them. The Lyndon Baines Johnson Library and Museum in Austin, Texas has archived Lady Bird's recipe cards, so, while elsewhere there may be eternal wrangling about what is or what isn't proper in a bowl of chili, there will never be any debate about exactly how LBJ liked his chili.
The recipe for Pedernales River Chili starts with 4 pounds of beef, coarsely ground chuck or round steak. The heat comes from "6 teaspoons of ground chili powder, or more if needed," plus "2 to 6 generous dashes of liquid hot sauce." The red (where LBJ came from, a bowl of chili is commonly called a bowl of red) is from canned whole tomatoes. There are absolutely no beans in it, or anywhere near it, and judging by the amounts of chili powder and hot sauce, it's fairly spicy. It is conceivably apocryphal, but LBJ is quoted as saying, "Chili concocted outside of Texas is usually a weak, apologetic imitation of the real thing."
The Green Mountains are a long ride from the hills of Texas, and, of course, it just wouldn't be Vermont if there wasn't maple syrup somehow linked to a chili-making contest at Stratton Mountain because maple syrup is this state's "real thing." (Officially, maple is the State Flavor, thanks to a bill signed by then-governor Howard Dean on April 26, 1994.) Multiple times the crowd favorite at the annual Chili Cook-Off has been the Maple Bacon Chili. No doubt, someone reading this right now in the Lone Star State is about to lose consciousness just thinking about maple-flavored chili, but the sweet-salty combination is almost always a surefire winner at this popular event. Patrons are given ballots so that they can rank eight different chilies, and some of the runners-up to the top dish have been Prime Rib Chili, Three Sausage Chili, Cajun Chili, Pork Verde Chili, and Turkey White Bean Chili, to name a few. And guess what?—you can make chili in many colors in addition to red. And you can even make it vegan.
At this competition, some of the resort's chefs prepare their take on chili, choosing from a list of proposed variations so that no two chefs are working on the exact same recipe. Chef Shannon Doucet has participated in five Chili Cook-Offs at Stratton. He's currently at the Base Lodge, and he has been chef at the other Stratton restaurants as well. He says, "I usually opt to make a version that includes sausages, and I use a combination of Italian, andouille, and chorizo. I start with short ribs that are cut up rather than ground, so that the chili is chunkier." As in Pedernales River Chili, he'll use chili powder, but he'll also add Anaheim, jalapeño and pasilla chilies because, he says, "they have different degrees of heat that hit you at different flavor points, a spiciness that you taste as you are eating it, and afterward." He adds a not-so-secret ingredient, too—it's apple cider, which gives it a mildly acidic tang. Unlike the recipe from Lady Bird Johnson's recipe collection, he makes chili with beans because, he says, "They add a creamy texture to the dish."
Now, about the heat. "Chili does not have to burn your mouth to be good," Chef Doucet says. "If it's too hot, you don't savor the layers of flavors." Making chili at home, he does amp up things a bit. "I'll use capsaicin extract, ghost chilies, and Trinidad chili peppers to make it much more spicy." Ghost peppers, cultivated in northern India, are reportedly 400 times hotter than Tabasco sauce, and Trinidad peppers are even hotter. Capsaicin extracts are reputed to be "the hottest thing on the planet."
Betsy Leiter, sponsorship and event marketing manager at Stratton, says, "We prepare for several hundred guests at the cook-off, many of whom come back year after year for this popular event.
Runamok Maple was in residence in Stratton Magazine's Pop-Shop and provided interesting recipes for their products. Now we can add chili to the list.
The winner last year was again Maple Bacon Chili with nearly 200 votes." Betsy is a seasoned volunteer at the cook-off, serving samples of chili until the ballots are counted around 6pm. "The chefs," she says, "are all from various restaurants at the resort and they all love the opportunity to take this resort favorite to the next level." The best way to guarantee you'll be among the voters for this October's cook-off, Betsy says, is to buy a ticket in advance online.
Chili Cook-Off
Oct. 6 at 1pm
Stratton Mountain
Base Lodge Area
$17 in advance, $20 day of event
Purchase tickets online at stratton.com.
No Beans About It
More than half a century ago, the editors of Sports Illustrated magazine, a periodical in which readers are unlikely to find a food and cooking section even now, felt the need to weigh in on the matter of a culinary duel that took place in Terlingua, Texas on Saturday, October 21, 1967. The event they reported on had nothing to do with sports per se, but it had all the drama and tension of a heavyweight title match or a Forest Hills championship. It was a chili cook-off, arguably the most famous one ever. There were only two competitors, with the outcome to be determined by three blindfolded judges. The cooks were an author named H. Allen Smith, originally from Decatur, Illinois, and Wick Fowler, a Texan who was the designated chili chef for the Chili Appreciation Society International, founded in 1951. The first judge voted for Smith (chili with beef and beans); the second, for Fowler (chili con carne, muy picante, and bean free); the third judge, who would have broken the tie, spat out the first spoonful he tasted. He stated that "he had to see a doctor," and that he was unable to continue. As it was never determined which of the two chilies caused the third judge to go "into convulsions," no winner was declared.
Source: "The Great Chili Championship Fix" by Gary Cartwright; Sports Illustrated, December 11, 1967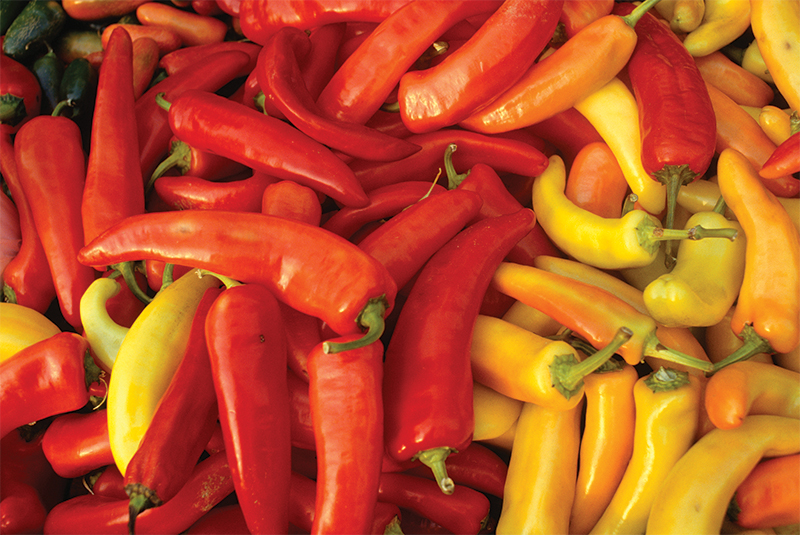 The Origins of Chili
There is an element of chili lore about which chili lovers have been speculating for a long time: did cowboys invent chili? Is it even American food? Picture the scene, perhaps from a now-classic 1960s Spaghetti Western: a chuck wagon on a dusty cattle trail. The cook, who in the movies is always called "Cookie," has three main ingredients and a Dutch oven to cook them in. He's got meat (not fresh beef from the cattle run, but typically bacon, salt pork, or salted or smoked dried beef), dried beans, and dried chili peppers to add a little spice to the pot. His specialty is chili. Every day, the cowboys eat chili. If he's also got a barrel of ground corn on board and a bucket of cooking grease, then he can make a campfire cornbread to serve with it. If you are also thinking about that hilarious campfire scene in the Mel Brooks' film Blazing Saddles, you're not alone.
Chili, it turns out, is not a uniquely American dish, nor does it come from Mexico, as many people assume. The ancestry of the countless variations on soups and stews made with hot peppers that we now call chili, beans or no beans, may lie deep in the cuisine of…well, let's just avoid cooking up an international incident, shall we?
An Inspired Cook Blogs His Recipe
Just like that well-loved, dog-eared recipe for grandma's cookies, everyone has a favorite chili recipe. And most chili recipes have a secret ingredient. This recipe for Maple Bacon Chili brings a fun twist to chili with a unique secret ingredient…candied bacon! Inspired by a visit to Stratton Mountain's Chilifest, this Maple Bacon Chili is a keeper of a recipe. It's one of our favorites, and I'll certainly be passing this recipe down to my son as he gets older! Enjoy!
–David Dial, spicedblog.com
Maple Bacon Chili
Ingredients
For the Candied Bacon
8 oz. thick-cut bacon, cut into ¾" wide pieces
¼ cup pure maple syrup
½ tsp black pepper
1 tbsp brown sugar
For the Maple Bacon Chili
2 tbsp canola or vegetable oil, divided
1 pound lean ground beef
1 pound ground spicy Italian sausage
1 large white onion, diced
2 tsp garlic, minced
1 tsp salt
2 tbsp chili powder
1 tbsp ground cumin
1 tbsp smoked paprika
1 tsp ground dried chipotle powder
2 tbsp apple cider vinegar
2 cups water
1 (8-oz.) can tomato sauce
1 (28-oz.) can crushed tomatoes
1 (15-oz.) can red kidney beans, drained and rinsed
1 (15-oz.) can black beans, drained and rinsed
¼ cup pure maple syrup
For topping

shredded cheddar cheese, sour cream, green onions, sunflower seeds
Instructions
For the Candied Bacon
Place bacon in a cast-iron skillet; place skillet over medium heat. Cook until bacon is crispy, but not burnt (about 10–12 minutes).
Remove bacon from skillet and pat dry. Drain most of the bacon grease from skillet, leaving only about 1–2 tsp in skillet.
In a medium bowl, mix together the maple syrup, black pepper, and brown sugar. Stir until combined. Add the cooked bacon and stir until well combined.
Return the bacon to the skillet; cook on low heat for 8–10 minutes or until sugar has melted and begun to turn thick. (Note: you will need to stir the bacon pieces fairly often during this stage to prevent the sugar and maple mixture from burning.)
Remove the bacon pieces from the skillet and spread them apart on a piece of parchment paper to dry (about 5 minutes).
For the Maple Bacon Chili
Using a large stockpot or Dutch oven, add 1 tbsp of oil; place over medium-high heat. Add beef and sausage and cook, breaking up with a wooden spoon and stirring occasionally, until completely browned. Transfer meat to a bowl and set aside.
Place pot over medium-high heat and add remaining 1 tbsp oil. Once hot, add onion, garlic, and salt. Continue cooking, stirring occasionally, for 6–10 minutes or until onion has softened.
Add chili powder, cumin, paprika, chipotle powder, and vinegar; continue cooking, stirring constantly, for 1 minute.
Add water and bring to a simmer, scraping up any browned bits from the bottom of the pot.
Add tomato sauce, tomatoes, kidney beans, black beans, maple syrup, and browned beef and sausage; stir until well combined. Increase heat to high and bring to a simmer. Reduce heat to medium-low and simmer for 12–15 minutes, stirring occasionally.
Before serving, top with shredded cheese, sour cream, green onions, sunflower seeds, and candied bacon.