STORY BY BENJAMIN LERNER
PHOTOGRAPHY COURTESY SEESAW'S LODGE
Five years after the grand reopening of Seesaw's Lodge, the owners share how they preserved its magical atmosphere while building their beautiful new vision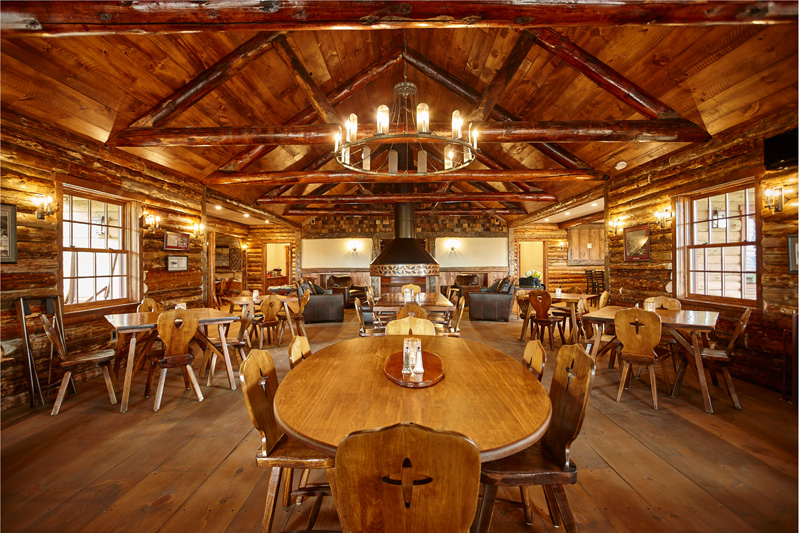 Strolling through the grounds of Seesaw's Lodge, the scenery and ambience is absolutely remarkable. It's easy to see why the gorgeous destination lodge's namesake, Ivan Sesow, chose to open the Wonder View Log Pavilion there in 1924. Looking southward, picturesque mountain vistas stretch as far as the eye can see, conjuring feelings of timeless romance. The rapturous elation inspired by the spectacular landscape is further amplified by the rustic décor and atmosphere of the charming lodge, restaurant, cabins, and additional outbuildings on the Seesaw's Lodge campus. Several of the structures hold priceless memories for multiple generations of visitors and native Vermonters. All of them were reimagined, rebuilt, and refinished with painstaking precision during the course of a comprehensive redevelopment campaign, which was overseen by Seesaw's Lodge's three passionate owners: Ryan Prins, Kim Prins, and Jay Eastman. Five years after Seesaw's Lodge reopened its doors, they remain steadfastly dedicated to carrying on the legacy of the beloved Southern Vermont lodge while continually upgrading its facilities and amenities.
Though Seesaw's has changed names and changed hands multiple times since its earliest days, the same spirit of convivial hospitality that earned the adoration of countless recurrent guests remains alive and well today. It lives on not only through the priceless, timeworn ephemera that line the walls of the welcoming lodge, cabins, restaurant, and tavern, but also in the mindful and meticulous stewardship of its owners. Working together, they have utilized their respective engineering, hospitality, and marketing skillsets, and they have rebuilt Seesaw's back up from its foundation in more ways than one. Along the way, they have managed to salvage beautiful artifacts from the old, historic buildings, which now imbue the renovated and redeveloped structures with powerful sentimental import. By doing so, they memorialized the magical essence that defined the lodge's past eras while chartering a bold new course towards continued prosperity.
A Vision Unfolds
According to Ryan Prins, he and his wife/ business partner, Kim Prins, first became aware of the property after they moved to Vermont in 2012. Kim's background was primarily in psychology, and Ryan had worked for years as an engineer in South America and the Dutch Caribbean before they both decided that they were ready for a change of scene. Although neither of them knew it when they first moved to the Green Mountain State, they would both get to channel their respective passions into an exciting, new venture.
After searching across the U.S. and parts beyond for a promising property where they could launch a hospitality business, their plans began to take shape when they learned that Seesaw's Lodge was up for auction in 2015. "Location is absolutely critical," says Kim Prins. "It's a beautiful, perfect setting, and the historic aspect of the property was also very interesting."
Ryan Prins says that he was first struck by the integral role that Seesaw's Lodge had played as a bustling oasis of community activity. "It had been a magnet for local residents and visitors for almost a century before we acquired it. Multiple generations came here to ski and enjoy time together on vacation, and they brought their kids and their grandkids with them." From a business point of view, it made complete sense to Ryan Prins to invest in a property and business that held sentimental weight for so many people. "It saw many ups and downs, but it always remained and survived."
After weighing their options, Ryan and Kim purchased the property and began drafting plans for its redevelopment. Shortly after the purchase, they were contacted by Jay Eastman, who had longstanding ties to Southern Vermont and a keen acuity for marketing and branding. Eastman invested in the project and formed a lasting partnership with the Prins, and they began the intensive process of redeveloping Seesaw's Lodge in 2015.
Building the Dream
Throughout the redevelopment process, Ryan Prins applied his engineering skills towards solving a variety of difficult technical and architectural challenges. Most notably, he was tasked with rebuilding the old inn building, which now houses the on-site restaurant. "All of the structures had to meet modern day code," he notes. "If we wanted to keep the National Register of Historic Places designation that was awarded to the Seesaw's property in 2008, it would have essentially had to be converted into a museum." The Prins opted instead to look towards the future of the property and embrace its full potential. "We dismantled the old lodge building and built it back piece by piece. It has a similar footprint as the old lodge building, and the front roof lines remained the same, but several structural features are different. We built a real foundation, and added a second story to the back of the building, as well."
Ryan Prins adds that they worked with a local forester to cut down over 100 trees at the end of their lifespan from a local homestead, which were used for the external log siding. "The only wood that isn't sourced in Vermont that's used on the outside of the restaurant building is the yellow Alaskan cedar in the deck. The inside paneling in the restaurant is made using the logs from the original building." The decks are also outfitted with overhead heaters, allowing patrons to dine al fresco on cool and crisp days, as well.
To perfect the décor of the restaurant, Ryan and Kim Prins worked with Jay Eastman's wife, Katama. "She was instrumental in picking out pillows, cushions, fabrics, window coverings, and rugs," says Kim Prins. Many central elements of the original lodge's décor and layout were artfully preserved during the rebuilding phase. Highlights include the open-air fireplace in the center of the room, which stands underneath a distinctive copper hood, and the detailed mural on the inside wall. "I had the original hood taken apart, and we ordered new copper rivets," shares Ryan Prins. "I took the sandblaster, cleaned it off, brought it down to bare metal, and then repainted it." Ryan adds that local craftsman Chris Knudsen was miraculously able to reconstruct the mural that was done in the old lodge in the 1940s. "He took its thousands of pieces apart one by one, took exacting measurements, labeled every piece, and rebuilt it in its new location. It was incredible to witness, and people who have been coming here for years truly appreciate seeing it there in all of its original glory."
Longtime denizens of Seesaw's will also recognize repurposed elements in the additional structures, such as the new lodge building and the three cabins. While working with the celebrated, Manchester-based architect, Ramsay Gourd, Ryan Prins was able to reuse the salvaged pieces in an effective and aesthetic way. "The cabins are furnished with antique, restored furniture and original wainscoting," he notes. Live-edge pine siding has been preserved in the "Butterfly" and "Chicken" cabins, and the "Court" cabin features original flooring and framing on the upstairs floor. Each cabin is beautifully furnished with country-chic décor elements and fixtures, offering a stylish nod to the property's timeless charm.
In addition to salvaging usable resources from the old cabins and fixing a collapsed roof, Ryan Prins and Gourd worked together to maintain the original footprint and size of the "Chicken" cabin. "The 'Chicken' cabin earned its name from the fact that the structure once housed a chicken coop in the 1940s before it was converted into a lodging space," says Kim Prins. "There's also a railing that comes from the original Seesaw's restaurant. I sometimes wish the railing could talk, because it would have some incredible stories to tell." The entrances to the "Chicken" and "Butterfly" cabins also made efficient use of salvaged materials. They were made with locally-sourced Dorset Quarry marble, which was repurposed from the pool that once stood on the property.
Throughout the different buildings, evidence of the past eras of Seesaw's Lodge can also be found inscribed and etched into many of the floors, walls, and secret nooks and crannies. "I thought of creating a scavenger hunt for guests," says Ryan Prins. "We have old bunk numbers written on the wainscoting of the cabins, and there are also holes in the wall in the downstairs game room in the lodge where the dartboard used to hang. Each one of those little marks tells a part of the Seesaw's story."
The game room is located downstairs from the main restaurant. It stands adjacent to an event space known as the "Bootlegger's Tavern," which honors the raucous and lively days of the Wonder View Log Pavilion during the prohibition era in the 1920s. The tavern also hosts live concerts and serves as a vibrant event space where guests can congregate, socialize, and enjoy a festive beverage. Outside of the tavern, an open area with a fire pit is conveniently located next to the "Warming Hut," which serves satisfying drinks and snacks such as delicious wood-fired pizza. A nearby skating pond offers visitors the opportunity to enjoy a treasured Vermont pastime during the colder months, and the fire pit warms the hands and hearts of visitors returning from winter skiing adventures.
At the top of the Seesaw's property, a lofty lodge building built at the former site of a cinderblock warehouse boasts an inviting common area with high ceilings, exposed beams, wooden cabinetry, a hanging chandelier made by Authentic Designs, and an open staircase. With the exception of the ADA-accessible Oak Room, all of the other five suites in the lodge are located on the second floor. Each room is named after a different type of wood, which is featured prominently in its décor. Notable examples include the walnut built-ins in the walk-in closet in the Black Walnut Deluxe Suite and the custom queen birch bed in the Birch Room. "It's the little details that make all the difference in the guest experience," says Kim Prins. "They bring everything together."
Vermont Values
The extensive effort that the Prins put into manifesting their vision of classic, yet refined hospitality serves as a reflection of Southern Vermont's core values of hard work and persistence. "Vermont is a place of both innovation and preservation," notes Kim Prins. "It's a place where people take personal pride in their craft and community. Whether you're a farmer, a carpenter, an electrician, or a plumber, everyone takes pride in what they do. We take pride in providing a place where our guests feel at home. That started with Ryan beautifully rebuilding the lodge, cabins, and restaurant, and it continues with the work I have done to build our hospitality program."
In addition to being proud of the inventive and tasty dishes served at Seesaw's, such as their decadent and delectable Duck Poutine, Kim Prins is thankful that Seesaw's received a Gold Barn Honoree designation from Vermont Fresh Network. "It means a lot to us. We want to support all aspects of the Vermont community as often as possible. We're proud to use locally-farmed microgreens from Bromley farm here in Peru in our kitchen, locally-farmed chickens from an independent farmer we have worked with for years, and Wilcox Ice Cream, which is made here in Southern Vermont."
Community and Camaraderie
In the five years since Governor Phil Scott came down to cut the ribbon at Seesaw's grand reopening in August 2018, Ryan and Kim Prins have made deep connections with visiting families. They have also continued a heartwarming tradition started by Seesaw's' previous owners, Gary and Nancy Okun. "The Okuns had a tradition of putting up a plaque for families who stayed at the lodge more than ten times," says Kim Prins. "We have continued that tradition. We had a family who came year after year and stayed with us almost every weekend. They were big skiers, and they really made it their home away from home. Every time they left Seesaw's, they told us that they were sad that they were having their last meal with us. We have seen kids grow up here, and it's a wonderful feeling."
Kim Prins adds that she and Ryan are not just grateful for the support of the guests who stay at the lodge and cabins—they are also deeply thankful for the continued patronage of the locals and visitors who have made their restaurant an overwhelming success. "Whether people are coming here and discovering Seesaw's for the first time, booking a room because their friend told them that they had a great time, or coming back for the first time since they were a little kid, people get to make memories here that last a lifetime.
You have people watching their kids or grandkids go ice skating or sled down the same hill that they visited during their early childhood. The way I see it, that's absolutely priceless."
Jay Eastman echoes that sentiment, and adds that it has been incredible to witness Seesaw's Lodge continue to evolve as a brand and business over the past half-decade. "I've spent the past 20 years studying brands and stories that people love. When I heard people in the local community talk about Seesaw's and its history, it always engendered romance and nostalgia. People's eyes would light up when they talked about it. Ryan did an amazing job of preserving the architectural and structural history, and I think that we have tapped into the charm and sentimental value here and highlighted it in every aspect." As a result, when people showed up, they saw what the new owners were doing, and they truly appreciated it. "The community has been wonderfully supportive, and they have rooted for us the whole way."
Eastman finds great joy in seeing locals coming in again and again to celebrate birthdays, out-of-towners coming in for weekend stays, and new guests visiting for the first time. "We work hard to provide a great product, and we always try to stay grounded in five core tenets that we identified as integral to the Seesaw's story early on: 'Craft, Spirit, Camaraderie, Lore, and Community.' The lodging is beautiful and the food is fabulous, but it's bigger than that. People want to come sit in an open room with a fireplace and old wood and experience the feeling of history, connection, and comfort. You can feel the authentic warmth in the walls here. That's the type of Vermont magic that only comes when you embrace the authentic history of a place like Seesaw's and don't try to erase it or change what makes it so great. We're thankful for everyone who has made us a part of their life story, and we're looking forward to seeing how things continue to unfold."
ALL THE DETAILS
SEESAWSLODGE.COM