By Ellen Oltman Kellner
Photos By Timothy Peters
Some have referred to Vermont as the Napa Valley of cheese – there are cheeses here that rival those from around the world. There is something about the air, the water, the grass, and the artisan's passion that allows an independent farm to create world class products on a small scale. If you love cheese, you can follow the Vermont Cheese Council's Cheese Trail to visit farms and tasting rooms. There are more than ten to see in the area, making it an easy day's adventure when visiting the Manchester and the Mountains area.
For cheese without the road trip, stop by Al Ducci's Italian Pantry, a staple in Manchester. Owners Sherry Baker and Yvonne Gomez pride themselves on the freshest ingredients and creations, from their own in-house baked bread to salads, and pastas and paninis. Pantry staples include imported pastas, olive oils, and even the hard-to-find Aulente vinegar. Here you can choose the right wine to complement your to-go choices, including chilled whites.
In the large case, you will discover a wide variety of imported and domestic cheeses available by the pound, including an extensive selection of local cheeses. Try Jasper Hill Farm's Bayley Hazen Blue, which several years ago was awarded the World's Best Unpasteurized Cheese at the World Cheese Awards. Other favorites include burrata and mozzarella from Maplebrook Farm; and various cheeses from Consider Bardwell Farm in Pawlet, with cheeses named for neighboring towns: Dorset, Rupert, Manchester, and Pawlet.
With a bit of advance planning, you can order from the catering menu for home entertaining, but there are plenty of daily prepared options from which to choose on the spot.
One of my favorite dishes to bring home is the eggplant stacks – lightly breaded eggplant layered with basil, fresh mozzarella cheese, and sliced tomatoes, and finished with a flavorful marinara sauce. They heat up at home in a matter of minutes. Even eggplant-averse children would eat their weight in these.
133 Elm Street, Manchester. 802-362-4449 or www.alduccis.com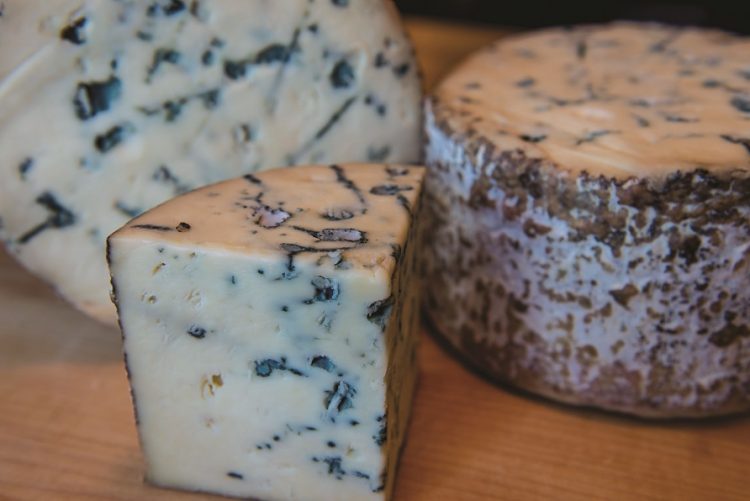 Blue Cheese & Bacon Dip
Ingredients
4 strips of bacon, cooked until crisp and drained on paper
towel, 1 tablespoon bacon fat reserved.
1 clove garlic, minced
8 oz cream cheese
4 oz Bayley Hazen Blue cheese, crumbled
2 tablespoons half-and-half or milk
1 teaspoon minced fresh rosemary
1 green onion, thinly sliced
¼ cup chopped hazelnuts or almonds
Cook the minced garlic in the reserved bacon fat until soft. In a medium bowl, mix together the bacon, cheeses, garlic, half-and-half, rosemary, and green onion. Spoon into a small oven-safe dish, sprinkle with chopped hazelnuts, and bake at 350°F until bubbling and browned on top. Serve hot with crostini, firm crackers, or cut vegetables.