STORY BY BENJAMIN LERNER
PHOTOGRAPHY COURTESY EARTH SKY TIME
Earth Sky Time Community Farm shares abundant joy and nourishment through their produce, food products, farm, concerts, catering, and so much more!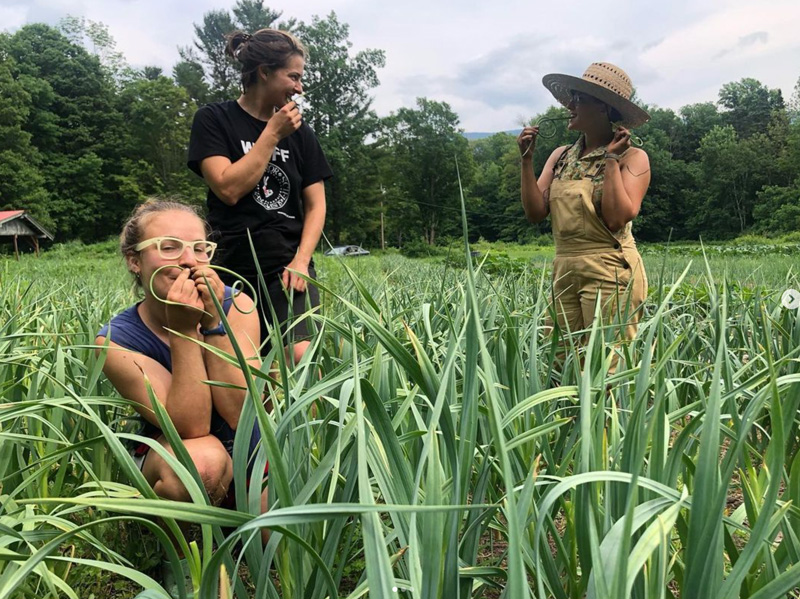 Strolling through the grounds of the Earth Sky Time Community Farm in Manchester, the air is alive with the spirit of joy and conviviality. Whether you're browsing through the bountiful selection of homegrown produce and food products at their farm store or enjoying one of their fantastic outdoor summer concerts, you're sure to savor a uniquely wholesome experience that nourishes body, mind, and soul. Thanks to the tireless efforts of Earth Sky Time's founders, Oliver and Bonnie Levis, the farm has grown over the past several decades into an inviting haven for sustainable agriculture, creative ingenuity, and collaboration. Through a mixture of hard work and conscientious stewardship, they have built a thriving business without compromising on their deeply-held family values of compassion and community.
Family Roots
Oliver Levis was born and raised in the beautiful home on Earth Sky Time Farm just south of Manchester. Today, he and his wife, Bonnie Levis, run the farmstead with the help of their four children, Gavriel, Talula, Eden, and Elijah. Oliver recalls having an innate sense of connection to the property during his childhood years in Southern Vermont. Still, his life's calling did not reveal itself until circumstance brought him back to his roots.
After Oliver was expelled from boarding school for a minor disciplinary infraction, he found himself driving home with his father, Dr. Albert Levis. As a celebrated psychologist, scholar, and the founder of the beloved Wilburton Inn and the Museum of the Creative Process, Dr. Levis was highly aware of the importance of constructive conflict resolution. Rather than chide his son excessively for his academic setback, Dr. Levis made a generous and prescient decision that helped young Oliver move forward in a positive direction: he bought Oliver six ducks as a welcome home gift, which served as a symbolic manifestation of his return to the natural wilderness of Vermont.
This wise fatherly gesture sparked flames of intellectual curiosity in Oliver. It also served as the catalyst for the dream that would eventually become the Earth Sky Time Community Farm. While taking care of the ducks, Oliver discovered his interest in agriculture. After graduating from Burr & Burton Academy (BBA) in 1996, Oliver's budding passion for farming continued to blossom. He raised livestock and grew produce on the family farm and applied to an undergraduate Agricultural program at UVM, eventually transferring to Cornell University. It was there that he finished his degree in Agricultural Studies and met his future wife, Bonnie, who now works with him in a collaborative partnership at Earth Sky Time Community Farm.
After moving to New York City for a brief stint in the early 2000's (so that Bonnie could finish her degree in education), Oliver worked as a superintendent at the apartment building where they lived together in SoHo. While there, he learned crucial skills, which would later enable him to oversee construction, renovation, and forestry projects at Earth Sky Time with firm confidence. Just before Oliver and Bonnie's first child, Gavriel, was born, the two of them returned to Vermont to start a new life with their growing family. They moved back to Manchester in 2004, and they began growing and selling produce at farmers markets and through a small community-supported agriculture program (CSA). The business grew and morphed organically as years passed, and Oliver and Bonnie gradually moved away from the CSA model in favor of a more customer-friendly business model. They now sell the majority of their produce and breads through their local farm store, the seven weekly farmers markets they attend, and local shops and hotels, such as the Equinox Golf Resort & Spa and the Taconic Hotel, among others. "We also have collaborative partnerships with Burr & Burton Academy and Bennington College," says Oliver Levis. "They buy our bread and produce for use in their student dining halls." Throughout the evolution of Earth Sky Time, the vegetable farm served as a fertile foundation from which the other thriving aspects of the business sprouted up – both literally and metaphorically. Today, Earth Sky Time's assortment of services has grown to include a bustling wood-fired bakery operation, an on-site farm store, timber works, forestry, an annual concert series, a metalwork shop, catering, and an established presence at local farmers markets.
Farm, Friends, and Food
Although Earth Sky Time has become incredibly successful and their products and produce are now enduring staples of Southern Vermont's food and agriculture scene, Oliver and Bonnie remain steadfastly dedicated to honoring the humble, hard-working roots of their family business. By growing fresh, wholesome produce, they pay tribute to Dr. Albert Levis' deep reverence for the land and its healing, regenerative powers. Oliver Levis Elaborates: "My father purchased the property in the early 1970s. He named the property 'Earth Sky Time Farm' after the Greek creation story of Mother Earth, Father Sky, and their son, Time. A lot of my father's work in psychology and studying the creative process is centered around generational conflicts and how they are resolved—both in everyday life and in the global pantheon of mythology. I think that when he named the farm, he was thinking about how positive intergenerational transformation could be accomplished through cooperation. To Bonnie and I, the name embodies many aspects of how different elements come together here to work in harmony. Everything that we do relies on photosynthesis, which we see as the ultimate collaboration of all forces of nature. Our work also heavily relies on human collaboration, as well."
From Earth Sky Time's earliest days, Oliver and Bonnie have welcomed hard-working individuals who share their open-minded, collaborative vision to join their crew. In the beginning, their farm internship program was run through an organization called World Wide Opportunities on Organic Farms (WWOOF). Oliver Levis explains: "WWOOF is an educational exchange program that gave willing workers the chance to grow their skills through hands-on experiential training in agricultural settings, and we worked with them directly to source workers for our farm." As Earth Sky Time matured as a business, they drifted away from the WWOOF internship program and began hiring longer-term employees, who now work on-site and shift between the various crews in line with their passions, professional aims, and skill sets. "Most of the time people find us because they're interested in farming or baking," notes Bonnie Levis. "They get great training here, which is arguably even better than what people pay to go to school for."
Farm crew members delve right in and experience what it's like to have real responsibility at a working farm, bakery, and timber works. They receive feedback and mentorship from their peers, pass on their knowledge to new Earth Sky Time employees, and apply it towards their future work in their chosen fields. "There are former crew members who have used the skills that they gained here to open up their own farms and bakeries," says Bonnie Levis. "We've remained close friends with them and celebrate their success!"
The farm crew at Earth Sky Time raises vegetables, herbs, flowers, and fruit. In addition to six acres of outdoor fields, several high tunnel greenhouses allow greens to be grown throughout the colder seasons. Additional tasks include seeding, transplanting, cultivating, mulching, maintaining greenhouses, and keeping the farm store stocked with produce.
Crew members who work in Earth Sky Time's kitchen, known as "Kitchen Magicians" cook up outstanding vegetarian delicacies such as their "VT Goldburger" carrot-curry veggie burgers, and their Hoomoos Zaatar hummus. Other notable food product favorites include their Indian-style Saag and Yemeni-style Schzug spreads, as well as lactic ferments such as kraut and kimchi, which are all sold at the on-site farm store.
When the food products have been created in the kitchen, the work doesn't end there. During the farmers market season, a team of crew members serve as specialized representatives for Earth Sky Time at local farmers markets. They test their organizational and marketing skills by creating inviting produce, bread, and product stations, which also serve to further enhance Earth Sky Time's community presence. An additional team of baristas and shopkeepers staff the farm store and café, offering organic vegetables grown at Earth Sky Time alongside breads, baked goods, espresso drinks, and vegetarian delicacies to visiting guests. "The farm store is expanding this summer," says Oliver Levis. "In the past, it's just been counter service, but we're reopening it as a more welcoming environment with tables and chairs where people can linger and enjoy some good food and conversation."
Earth Sky Time's catering crew creates wholesome, nourishing, and satisfying vegetarian dishes for all manner of events, weddings, and retreats. "We also offer to-go platters and spreads for events," notes Bonnie Levis. "We are happy to accommodate dietary restrictions, and we use our own produce and food products from the farms, friends, and food makers that we collaborate with here in Southern Vermont in all of our dishes." For those in search of a picturesque setting for a getaway, retreat, or wedding in Southern Vermont, Earth Sky Time is happy to accommodate. Celebrations of a larger scale are held at their newly-acquired farm at Levity Mountain, the former site of the historic Tannerbrook Farm. Levity Mountain is home to a picturesque 1760s farmhouse and several lovely outbuildings, and the grounds can easily host weddings of up to several hundred people. Rentals of The Roosevelt House, the original farmer's quarters at Earth Sky Time's main campus, are also available upon request, and on-site catering can be provided there, as well. The classic, 5-bedroom house is nicely shaded by surrounding trees. Guests can take advantage of all of Earth Sky Time's facilities while staying there, including their on-site art and ceramics studio.
Vegetarian farm-to-table lunches are available for visiting guests, which are made by the kitchen crew. The kitchen crew is also responsible for crafting the wood-fired pizza that feeds the audience at Earth Sky Time's summer concert series. The pizza is served through the window of Earth Sky Time's fun and funky "Bread Bus," which was constructed by their core crew members in 2015. "We took some time off with the crew after we had been running the farm for a decade to work on the bus," says Oliver Levis. "It's a double decker bus. The bottom part is a school bus, and there's a Volkswagen bus on top. There's also a wood-fired oven in it. We sourced the Volkswagen bus from a scrapyard, bolted it on top of the school bus, and built the oven inside." After the bus was complete, Bonnie and Oliver Levis went on a long road trip with their family and the core support crew. They drove through cities such as New York, Philadelphia, Washington, D.C., Nashville, Miami, and New Orleans. "It was a real adventure," shares Bonnie Levis. "We actually fed the fire to make pizza while we were driving. It was an epic feat, and we're able to make the same pizza for the people who come to our concerts today!"
Community Concerts
In 2010, Earth Sky Time began hosting the "Farm Night" dinner series. "It started out with a family night that we hosted at the Wilburton Inn with prix fixe dinners and live music performances," says Bonnie Levis. "We did it for ten years every week all summer long, and it gained a very big following." After the COVID-19 pandemic sidelined farm night in 2020, the Earth Sky Time crew rethought the summer concert series. They returned in 2021 with concerts on select Sundays throughout the summer with a focus on world music, which has continued for the past few years. "The idea was to encourage people to come spend a Sunday afternoon and evening here in a family-friendly environment where they could bring their kids to enjoy the music," adds Bonnie Levis. "We try to make things affordable and very welcoming, and we have bands that we know and love who come back every year. We're prepared for any situation, and we hold indoor performances on rainy days. The acoustics are amazing and we can still fit a lot of people. It's a really fun and intimate experience."
The 2023 summer Sunday concert season kicks off on May 28 with a performance by Baba Commandant, an afrobeat band from Burkina Faso. Additional highlights include dancehall reggae group The Big Takeover (June 11), Brooklyn-based traditional folk outfit Spirit Family Reunion (June 18), Vermont Americana band Saints & Liars appearing with Wild Leek River (July 30), and Billy Wylder (September 3), among others.
Hearth and Home
In addition to the unique wood-fired pizza oven in the double-decker modified bus, a larger 40,000-pound, wood-fired, rotating-hearth Llopis oven is manned by the Earth Sky Time baking team. The baking crew is responsible for producing roughly 2,000 loaves of bread a week, including semolina and whole wheat baguettes, pain rustique, croissants, sunflower levain, sesame semolina, and "Voonder Bread." Oliver and Bonnie are incredibly proud of their slow and gradual fermentation process, which creates a nuanced and rich flavor. The wood used in the Llopis oven is cut on a recently-purchased plot of land that is now owned by Earth Sky Time. "About five years ago, we bought a nearby 200-acre farm down the road," shares Oliver Levis. "We grow vegetables there, but we also acquired a considerable amount of forest land. As a result, we got into milling and building barns."
Earth Sky Time's entry into the timber frame business gave them the ability to easily construct a barn that supports a sizable array of solar panels. After constructing the new barn and installing the panels, Oliver realized that Earth Sky Time was in a unique position to corner a specific niche in the construction business. "We understood that there was considerable demand for simple structures where people could put solar panels, such as garages or sheds. Knowing that, we devised plans for simple timber frame structures that would work well with solar panels. They're pre-designed in standard size increments so that they can be made efficiently, but we can also create custom frames, as well."
The Earth Sky Time timber frame crew sustainably harvests timber from their 175 acres of woodland and mills it into wood that can be used in their timber frame assemblies, made using traditional mortise and tenon joinery. Crew members can also take advantage of the tools in Earth Sky Time's carpentry shop and metalworking shop to create signs, art projects, and wood sculptures. Oliver and Bonnie's son, Gavriel Levis, often works in the woodshop, and he applies his considerable technical knowledge and engineering skills towards the production of timber frames. "He's savvy and incredibly capable," says Oliver Levis. "He models the timber frames on his computer, and he can even 3D print smaller-scale models of them before we build them. It makes the process more efficient."
Each of the Levis' children play a part in the various projects at Earth Sky Time. Eden makes lunches for the crew during the summertime. Talula works on the farm crew and in the farm store, and the youngest member of the Levis clan, Elijah, provides the indispensable service of comic relief. When asked about the future of the family business and whether or not his children will continue to run the farm, Oliver Levis remains optimistic, but he is not forceful in his approach. "The jury is still out on that one," he says. "We have to do a good job of making them want to, but I hope they will. I took this farm over from my parents, but they didn't run it as a commercial farm or bakery. That was my vision, and I got to make it a reality through hard work, planning, and the help of all of our crew members over the years. If our children want to keep farming and carry on that tradition, that's great! If they want to use the resources and infrastructure that we've built here to do something different, that's wonderful too. I would like the next generation to be able to bring whatever they want to into existence." Although Oliver and Bonnie Levis are both excited to see what happens in the future, one thing is for certain: the seeds that they have planted at Earth Sky Time have grown into a bountiful harvest in more ways than one.
ALL THE DETAILS
EARTHSKYTIME.COM