Right up front, we're going to say it: Home Sweet Home.
And there are no homes sweeter than those built right in Manchester Center by volunteers and the Bennington Area Habitat for Humanity affiliate to meet the region's need for affordable housing.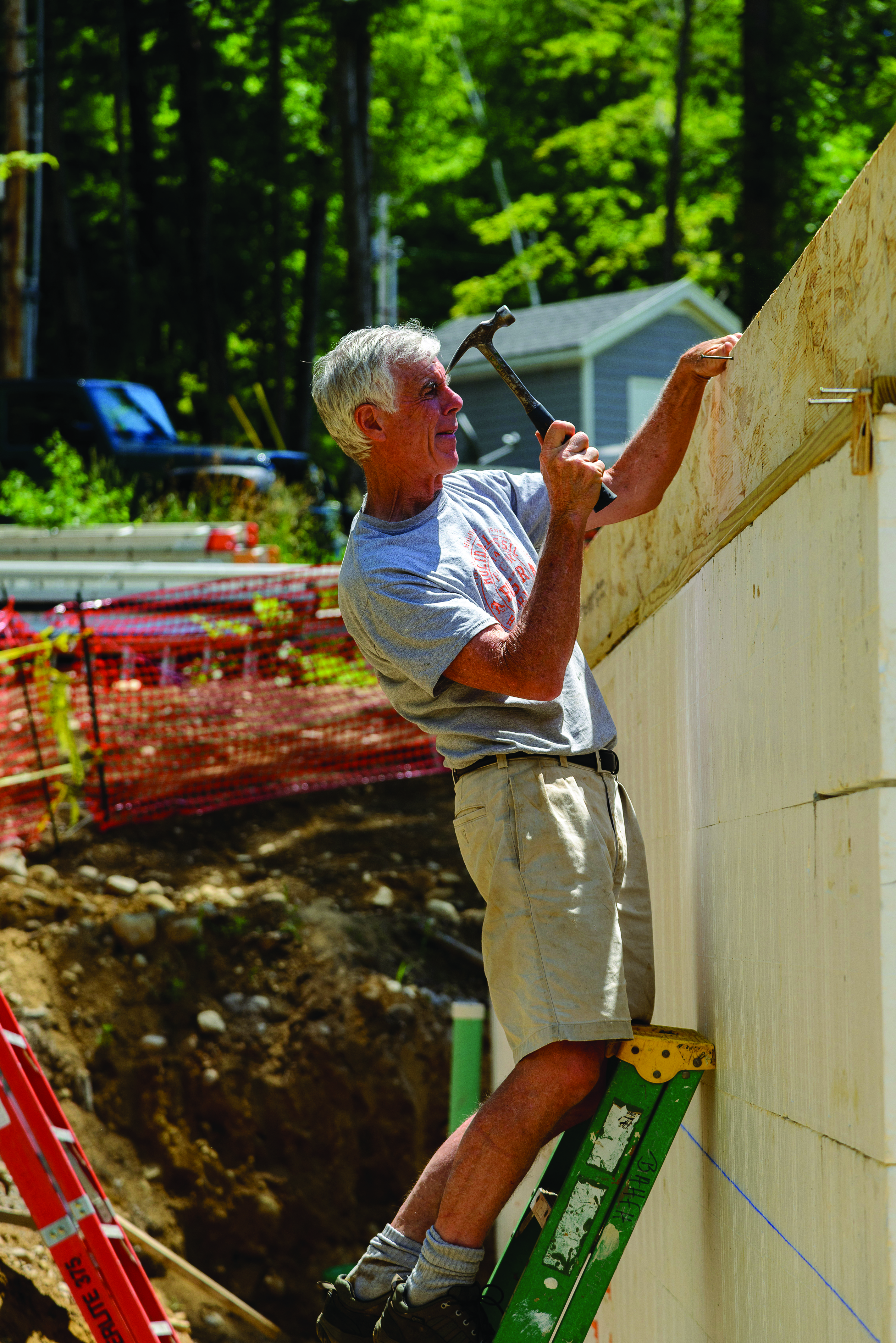 BY ANITA RAFAEL
PHOTOGRAPHY BY HUBERT SCHRIEBL
Jennifer Lane is a wooded side street off Route 30/11 in Manchester Center. It climbs slightly, and then curves into a loop and a cul-de sac. On 11 acres, the Bennington Area Habitat is building its eighth home, and already, lots have been measured, mapped, and prepared for more.
The Habitat-built houses on Jennifer Lane are small and good-looking, highly energy efficient, and owned by families who otherwise would never have been able to afford to reside in Manchester. No, the houses are not given away free; the owners have mortgages with Habitat acting as their kindly lender. Susan Sommer, executive director of the Bennington Area Habitat, says, "We function as a bank, in a way." She says that what Habitat gets back from the homeowners is much more than house payments. "They become our partners and advocates in the community," she says, "and
they are the most enthusiastic volunteers on site when we break ground for a new home or at our fundraising events. These couples and families, including the children, are our best ambassadors." She speaks from her soul about the amount of pride she witnesses just from handing a family the key to their own front door.
If you subscribe to the Bennington Area Habitat e-newsletter, free and published quarterly, you will see the exceptionally long list of VIPs, volunteers, contractors, suppliers, sponsors, donors, faith organizations, small businesses, corporations, trusts, foundations, and agencies that all come together in one way or another to build or repair houses for low-income families in the communities around Stratton Resort. If your name is not on that list, do not feel left out. Sign up to volunteer at a job site, now through early winter. If your carpentry skills leave much to be desired, there are many other tasks. You can take project photographs, join a committee, host a fundraiser, make a cash donation, or truck your useable furniture and décor items over to the Shires
ReSale Store run by Habitat volunteers in Manchester. Better yet, introduce yourself to the sales staff and help at the store for a few hours a month.
Good Hearts, Great Hearts, Beginnings
Sometimes miracles happen in Manchester and the homes on Jennifer Lane are tangible proof. Sommer says, "Four years ago, the start-up phase of Jennifer Lane was made possible because one family foundation, the James H. and Irene M. Hunter Charitable Trust, awarded the Bennington Area Habitat $500,000 to finance the infrastructure costs, including waterlines, septic system, the extension of the roadway, and the clearing of the first six house sites."
Later, the same foundation gave Bennington Area Habitat $430,000 dollars, matched by an equal amount pledged from the community. So, be inspired, do great works, and tell us another love story on Jennifer Lane.
Visit www.benningtonareahabitat.com to see what is for sale at the Shires ReSale store.
Open Thurs.–Sat.
Ask for the Donation Guidelines before bringing in items.
Email: [email protected]
802-362-0964
51 Memorial Avenue
Manchester Center, VT 05255
DETAILS
Visit their website to read more about Bennington Area Habitat for Humanity and to sign up to become a volunteer: www.benningtonareahabitat.com
Or Email: [email protected]
802-367-1000 / Mon. – Fri.
5138 Main Street, Manchester Center
P.O. Box 1159, Manchester, VT 05254
TOTAL HEROES
One sultry summer morning this past June, several nice cars began pulling off to the side along Jennifer Lane in Manchester Center. Out of these vehicles, one and two at a time, stepped women dressed for work. Hard work, that is. As each woman donned a hard hat and work gloves, they gathered over by the stacks of plywood and bundles of rigid foam insulation on the lot where a three-bedroom house was being built. They graciously greeted the volunteer project manager, Tuck Daniels. He beamed, opened his arms as if there was going to be a spontaneous group hug (there was not, but sometimes there is), and he boomed, "Welcome!" Tuck explained the all-important job site safety rules, assigned tasks according to the women's skill levels and interests, and so the day began for the volunteer crew at the latest Bennington Area Habitat for Humanity home.
These women were not tradespeople — each one is a realtor or broker from the South Central Vermont Board of Realtors® (SCVBR). They are highly successful in their careers and were fully committed to building this house. And the next one, and the one after that. That's because, akin to Bennington Area Habitat, the area's real estate professionals are actively involved promoting the benefits — and joys — of home ownership and improving the quality of life in their cities and towns.
It does not get more active than volunteering to swing a hammer for Habitat. "It's all about community for me," said Carrie Mathews, the managing broker of William Raveis Winhall Real Estate, "whether I am selling a second home on Stratton or working here in Manchester with Habitat. This is a group that takes pride in being part of the community." Her co-volunteer that day, Annie Bessette, the principal broker of TPW Real Estate in Manchester, said, "I think the importance of Habitat comes down to the individual family. When I was here a couple of weeks ago and watched kids riding their bikes from house to house, I realized that we are helping to create a neighborhood." Another member of the work party, Elyn Bischof, the principal broker and owner of Mountain Realty at Stratton, summed up what everyone was thinking about the SCVBR volunteers when she added, "After all, finding homes for people is what we do."
Pat DelGiorno of Bean Group in Bondville chairs the outreach effort to recruit SCVBR volunteers for Habitat. She said, "We're hoping to enlist more members from the board to build with us." She felt that she and the women there that day were benefitting from a valuable learning experience. "We see firsthand how a house goes up from the cellar to the roof," she said. "We see the bones of it."
The more the merrier!
Sign up to join the realtors on one of their Habitat "build days." Email Pat DelGiorno at [email protected].