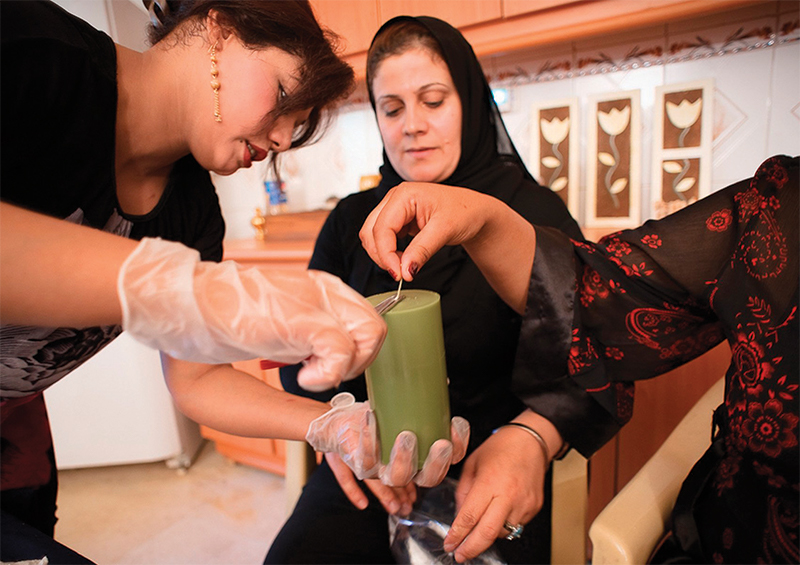 By Gayle Fee
Prosperity Candle, makers of unique, hand-poured candles, is lighting the way for women refugees to escape poverty and to achieve economic independence by providing opportunities for them to earn a living.
"These are women who came from places of conflict and who are trying to create a better life for themselves and their families," said Prosperity Candle's Patsy Kauffman Barber. "We are providing an opportunity for them to feel like they are contributing."
Patsy's husband, founder Ted Barber, incorporated the company, a certified B Corp, in Vermont 10 years ago. He had worked for several poverty-alleviation programs and became discouraged that many of the projects funded by aid organizations had little success in actually helping people in developing countries access global markets.
"A lot of the businesses were not sustainable," Kauffman Barber said. "How many times can someone buy a woven basket? The market was not there for those types of businesses, so he was thinking strategically about that."
What Ted Barber came up with was a candle-in-a-box business.
"He wanted something women could do in the safety of their own homes during war times," Kauffman Barber said. "It had to be something that could be sold both locally and internationally and be both scalable and consumable. Candles are easy to scale up. A woman can have two molds and make a few candles a day, or she can get more molds and hire other women. And candles are consumable. Pretty much everyone loves candles."
Barber partnered with Women for Women International, an agency that had an opening in its vocational training programs in Iraq. Because the country was in the midst of war, Barber taught women to make candles via YouTube videos he made in his own kitchen. After the 2010 earthquake devastated Haiti, Prosperity Candle launched a group space for candle makers on that island, aiming for higher capacity, lower cost, and more support for the artisans.
Sales grew, but not fast enough, and the company struggled with overseas shipping costs. It was around that time that an investor suggested that Prosperity Candle look at making an impact locally. Headquartered in the Pioneer Valley of Massachusetts, the company's leaders decided to focus their efforts on refugee populations in nearby Springfield. (A nonprofit spin-off, Prosperity Catalyst, was created and funded by the U.S. State Department to continue the work in Iraq and Haiti.)
The candle company now employs approximately a dozen women who hand-pour some 40,000 candles a year in its Easthampton, Massachusetts studio. The candles are sold wholesale, as corporate gifts, under private labels and can be customized for weddings, events, and fundraisers. The Little Market, a fair-trade, nonprofit, online shopping site founded by The Hills star Lauren Conrad and her good friend Hannah Skvarla, uses Prosperity Candle as its exclusive candle supplier.
Eco-friendly in addition to being socially conscious, Prosperity's candles are made from all-natural soy and coconut waxes, have pure cotton and wood wicks, and feature fragrances made from essential oils. Attached to every candle is a picture and a bio of the woman who made it.
"We've seen such tremendous growth with these women," Kauffman Barber said. "Their English skills are improving and they are able to have some disposable income. One woman told me her husband had been the sole breadwinner, but once she began working she was able to pay the electric bill, the gas bill, and save a little. It has given them more autonomy and independence."
One of Prosperity Candle's notable successes is Moo Kho, a refugee from Burma where, as a child, she lived through the horror of seeing her village burn down and people brutally murdered in front of her eyes. She fled with her family to a refugee camp in Thailand where she lived for many years and eventually married and had a child. Moo Kho and her family were able to come to the United States in 2009 but they had little money and no work. She was hired as a Prosperity Candle apprentice candle maker in 2010 and two years later was promoted to production manager, overseeing quality control and training other women refugees. In 2016, Moo Kho became an American citizen, and at age 39 voted for the first time in her life. Now a mother of four girls, the former refugee recently bought her first home, the fulfillment of her American Dream.
Prosperity Candle chose to focus on female refugees such as Moo Kho because they found that "women are the ones who make things happen," Kauffman Barber said, and the company found a niche with candles, both economically and emotionally.
"The women artisans are the reason Prosperity Candle exists," Kauffman Barber said. "And the candles are a really nice symbol of bringing light out of darkness."
For more information, go to prosperitycandle.com.