By Joshua Sherman, MD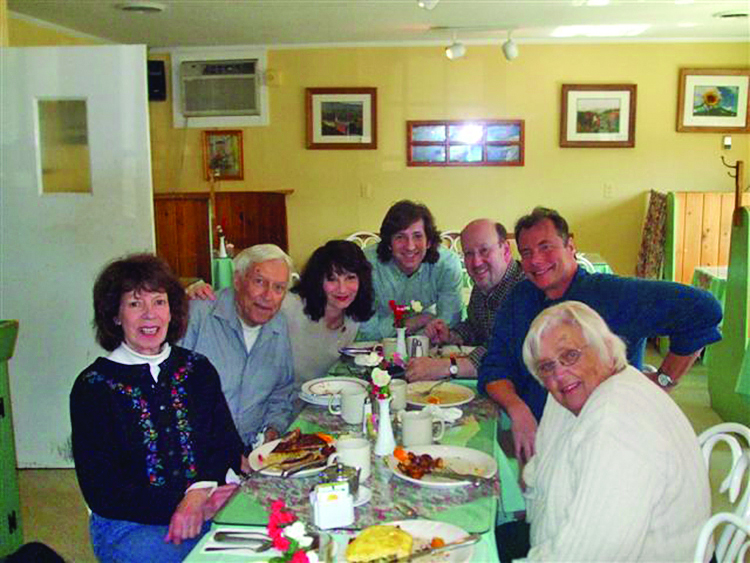 June, Fred, Eileen, Joshua, Neal, Bill, and Pat enjoying breakfast at Melanie Allen's The Gourmet Deli
Summer of '42 is a classic coming-of-age story, focused on the romantic recollections of a teen during his summer vacation.
It was the summer of '92 that changed my life.
I was a 12-year-old theatre kid from Kansas obsessed with all things B-R-O-A-D-W-A-Y, but that summer, my mom and dad Eileen and Neal, my sister Jenny, and I, were in Manchester, Vermont, working on a new musical.
My mom was already an Emmy Award–winning author, playwright, and lyricist (regularly collaborating with my Aunt Gail, a talented composer). They decided to create a musical inspired by Norman Rockwell's autobiography, My Adventures as an Illustrator (as told to his son Tom). My mom recognized that Rockwell's excellence at storytelling was not limited to his expert work on canvas, and she thought the book had an inherent musicality.
My parents produced the premiere of the new musical Rockwell in Vermont at the Southern Vermont Arts Center. My sister and I were both cast in the show.
That summer, our family developed close friendships with a core group of "Vermont theatre folk" with whom we became lifelong friends, including Fred and Pat Carmichael, producer June Gutbier, lighting designer Angie Merwin, costume designer Ken Mooney, and set designer Bill Aupperlee.
The camaraderie and collaboration experienced that summer cemented my desire to pursue a life in the theatre—and to live in Vermont.
I'm no longer 12. The musical Rockwell (now entitled Perfect Picture) has been developed around the country (Kansas, Georgia, Oklahoma, and so on), and was most recently produced as a concert at Lincoln Center. It seems crazy to think that it can take more than 25 years to get a "new musical" to Broadway, but that's the reality of the development process.
This summer's 4 FREEDOMS FESTIVAL celebrates the values that Rockwell championed in his Four Freedoms paintings, which were created three-quarters of a century ago right here in Arlington. As a festival highlight, I am thrilled to again produce Perfect Picture with a Broadway cast at the Southern Vermont Arts Center. It certainly is a sweet moment for us as a family to reunite with some of our longtime friends and colleagues to share Rockwell's amazing story.
Joshua Sherman is a theatre, art, and media producer, as well as a practicing physician, and is currently working on his first novel, Welcome to Eastman.