How A Vermont Internet Startup Became An Investigative News Powerhouse
By Kevin O'Connor
Photography By Michael Dougherty
To fully appreciate the rise of VTDigger.org—a Vermont news website whose monthly pageviews top 1 million—you have to scroll back nearly a decade to the day founder Anne Galloway suffered a fall.
Galloway was editor of the Sunday Rutland Herald and Barre-Montpelier Times Argus when the daily newspapers, robbed of revenue by the internet and the Great Recession, let go of her and more than a dozen colleagues amid a nationwide series of print-media layoffs.
Galloway wasn't necessarily a fan of the newfangled iPhone and iPad then debuting in stores. But wanting to produce in-depth and investigative journalism without having to pay for printing or delivery, she understood digital technology's potential.
Losing her job at the beginning of 2009, Galloway launched VTDigger.org—a name suggested by her husband—by the end of the year. Its goal: unearth "news in pursuit of truth." And so she prepared to drive almost an hour that December from her East Hardwick home to the capital city of Montpelier.
That's when, feeding her backyard chickens beforehand, she tumbled.
"I cracked my forehead open," the 53-year-old recalls. "I went to the statehouse with a big Band-Aid under my glasses. Three or four people afterward wanted to know who the heck I was and what I was doing."
They know now.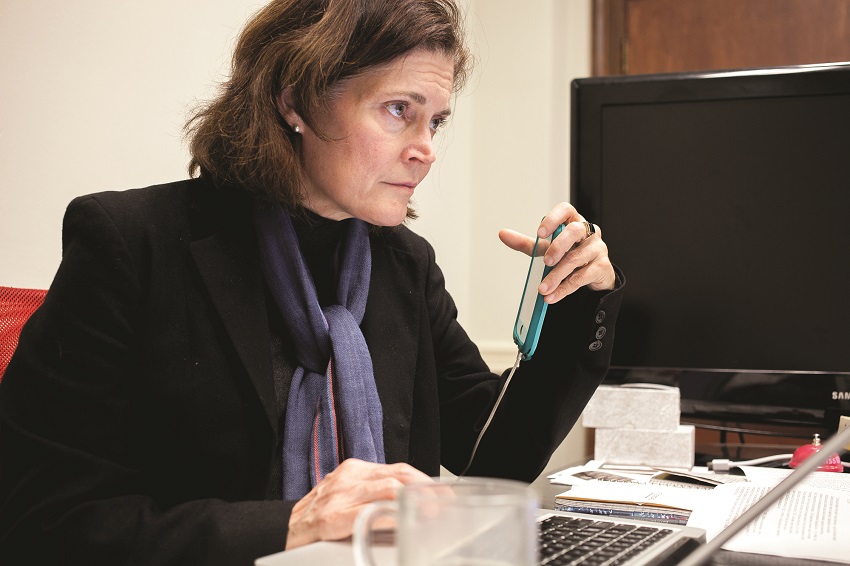 Anne Galloway, VTDigger founder and editor.
"VTDigger.org is a must-read online resource for Vermonters seeking less infotainment and more insider information on news, politics, public policy, and other issues," the television show Comcast Newsmakers sums up the result.
The website, which Galloway ran the first two years without pay, now boasts nearly 20 salaried staffers who cover politics, the economy, health care, energy, the environment, education, and law enforcement from bureaus in Bennington, Brattleboro, Burlington, Montpelier, and Rutland.
Creating the state's largest daily newsroom was beyond Galloway's expectations when she asked the Vermont Community Foundation for advice on founding and funding a nonprofit organization.
"We knew Anne was passionate and driven and talented," says Christopher Kaufman Ilstrup, the man behind the foundation desk that day. "But lots of passionate and driven and talented people start things that don't work."
The state's largest philanthropic organization nevertheless believed enough to offer a $6,000 startup grant. Galloway, tapping her grandmother's typewriter for a logo and free WordPress graphics for everything else, unveiled VTDigger.org on August 31, 2009.
"This is an experiment," she told the Burlington–based weekly newspaper Seven Days at the time. "No one's really sure what's going to happen on the web."
Without advertising but instead through word of mouth, the site leapt from 1,500 readers at the start of the 2010 Vermont Legislature to 10 times that number by adjournment six months later.
"From lengthy narratives explaining the nuances of complex pieces of legislation to raw video of the governor's weekly press conferences and other public events, Galloway produced some of the best in-depth reporting this past legislative session," Seven Days opined.
That paper's readers went on to vote VTDigger.org the state's best online news source, while Harvard University's Nieman Foundation for Journalism spotlighted Galloway's efforts on its own webpage.
Postcards and letters from VTDigger supporters decorate its front lobby.
"She works full time on the site, often starting at 4 a.m. and finishing up well after dinner," niemanlab.org noted. "That's a tough task for what's basically a one-person operation. It's made harder by the time-intensive nature of her content, which often requires interviews and background research."
Enter a half-dozen movers and shakers who were forming the Vermont Journalism Trust in hopes of funding reporting similar to that of propublica.org, a self-described "independent, nonprofit newsroom that produces investigative journalism in the public interest."
"We started," said Bill Schubart, one of the five trust's founders, "with the idea that a free and open press is fundamental to a citizen's role in the conduct of democratic government."
The trust offered to merge with VTDigger.org at the end of 2010. That allowed the website to start paying staffers, rent a Montpelier office, and reap donations from national funders including the Knight Foundation. Thanks to such grants, underwriting, and reader contributions, its budget topped $300,000 in 2012, $600,000 in 2014, and $1 million in 2016.
Bigger still are the stories that money pays for. Back in 2012, Jay Peak resort executives Ariel Quiros and Bill Stenger promised to create 10,000 jobs in the state's impoverished Northeast Kingdom through a half-billion-dollar development project funded by immigrant investor money from the federal EB-5 program.
"We must take this program to levels not imagined by its creators," Vermont Gov. Peter Shumlin said the year before in his inaugural address. "EB-5 gives us a vehicle not only to raise essential capital, but also to spread Vermont's stellar reputation from one end of the globe to another."
Galloway feared the resort executives had other intentions. "It just seemed too good to be true," she recalls.
In 2014, VTDigger.org published an exclusive report headlined "Jay Peak loses trust of first EB-5 investors." In 2015, it revealed the U.S. Securities and Exchange Commission was investigating the plans. But it wasn't until 2016, when regulators alleged more than $200 million in fraud in "a Ponzi-like" scheme, that state leaders finally acknowledged the website was right.
"They had the guts to do this despite all the money and political resistance," says Tom Bivins, professor of media ethics and responsibility at the University of Oregon School of Journalism and Communication. "It was an awful lot of work from a small organization with the nerve and perseverance to get something done in the face of really tough pressure."
The website has since broken the news that the Vermont Yankee nuclear power plant was for a time storing tritium-laced water in plastic swimming pools in its basement. The news website also reported that the U.S. Justice Department is investigating a land deal at the now-defunct Burlington College led by Jane Sanders, wife of Vermont U.S. Sen. Bernie Sanders.
"Shining a light in dark corners is our mission at VTDigger," Galloway wrote in the latest annual report to its nearly 160,000 monthly readers. "We seek public records, attend public hearings, analyze data, and investigate issues because as journalists we believe passionately in the public's right to know."
VTDigger.org's success has exceeded the expectations of early believers such as Kaufman Ilstrup, the man who has traded his desk at the Vermont Community Foundation to work as the website's chief operating officer.
"We didn't think about it growing this big," he says today. "The fact [that] it has become such an important statewide institution would have surprised the 2009 versions of us."
I'm just as astonished. A decade ago, I was a reporter at the paper where Galloway was let go. Today, I work for her.
The Daily Digger newsletter features 8 to 12 stories a day on a range of state news. Subscribing to the VTDigger.org email is free and easy. Visit vtdigger.org to sign up.