A window into the magic of the human-horse relationship, the All-American Morgan breed, and a look at East of Equinox, a renowned Morgan breeding farm right here in Manchester
By Margot Page
Photography by Hubert Schriebl
"He is pure air and fire."
— Shakespeare
There are children of this world in whom the attraction to horses seems genetically programmed. Even if they don't have proximity to a stable or a farm, these children obsess about horses, draw horses, play with toy horses, dream endlessly about them. After years of stubborn pleading, some succeed in convincing their parents to arrange for riding lessons.
They can now visit a stable a couple of times a month to learn how to get close to and work with a giant beast of magnificent proportions, a hairy, smelly, gorgeous creature that towers over them. For some primal reason they are drawn to climbing on the backs of these animals and traveling at dizzying speeds. To wobble and teeter in the saddle, to get jarred up and down by a stubborn, hard-mouthed lesson pony and to occasionally be bucked off its back, sail through the air and thunk, hard, to the ground. They are taught to dust themselves off, clamber back on, and conquer their fears so they can experience that exhilarating, fleeting equine locomotion again. And when not riding, they hang around the barn, muck stalls, sweep aisles, and relish the hours they spend grooming and fussing over their monumental steeds, tenderly brushing out manes and tails, picking hooves clean, currycombing its enormous body, feeling the powerful muscles and satiny coats with amazement.
Although horses long have been trained to submit to the ministrations of humans, occasionally deigning to show reciprocal—if royally remote—affection to their minions, horses always retain some degree of their wild "otherness" and it is this that draws human childlings further into the historic magic of the horse and human relationship.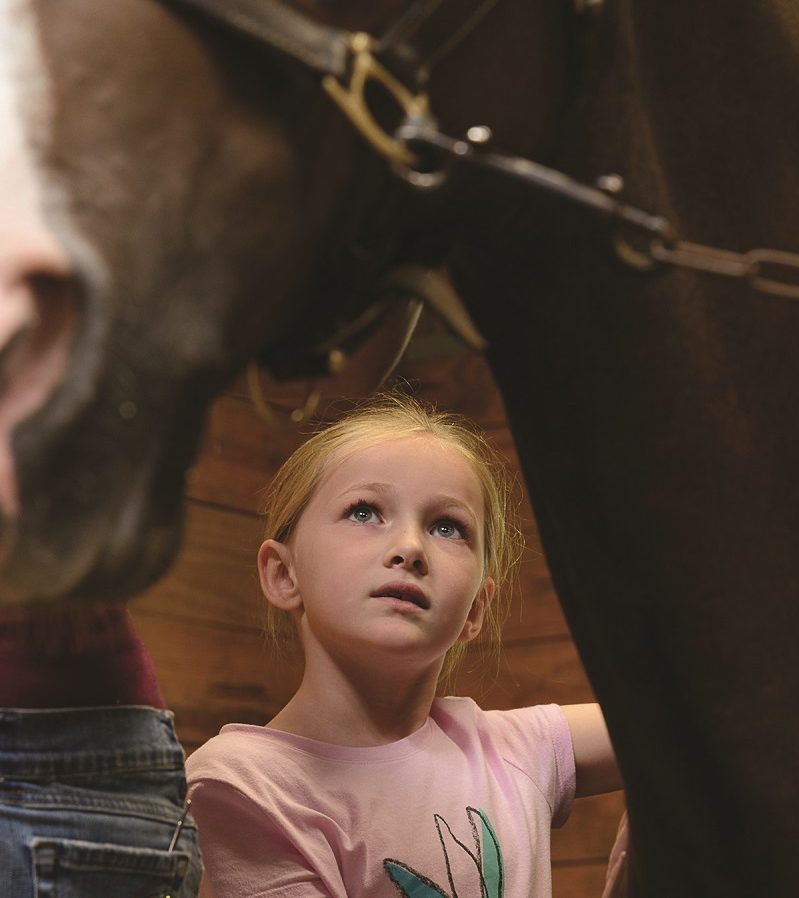 That primal relationship is what myth makers and classic writers tried to capture, and that is the clarion, nearly undefinable call to the awed, feral hearts of the young … and to the still-young wild hearts of the adults who have carried this passionate, near-mystical "other" place inside them their entire lives.
Lots of people love dogs and cats. Even chickens. But to love horses, to work with them, to ride horses, is deep and brave and, for most, inexplicably transcendent and mysterious.
***
"This is the story of a common, ordinary little work horse who turned out to be the father of a famous family of American horses. He lived in the Green Mountain country of Vermont in the days when America was growing up. In fact, he helped it grow up. He dragged logs and cleared the land. He helped build the first log houses. He helped build bridges and cut roads through the wilderness. Even in his own lifetime, the willingness of this little horse became an American legend…. He could walk faster, trot faster, run faster, and pull heavier logs than any other horse in all Vermont. 'He's just like us. He's American. That's what he is!' " —from Justin Morgan Had a Horse by Marguerite Henry
This "ordinary little work horse" was named Figure and in 1792 the businessman, horseman, and composer Justin Morgan brought him to Vermont from Massachusetts. It is from Figure and his three sons that the modern Morgan breed descended. Like New Englanders themselves, Morgans reflect that flinty heritage: tenacious, high-headed, strong, versatile, tough, and proud. Along with the mustang, the Morgan is the quintessential American horse, one of the country's oldest breeds, with a regional history so rich that it was named the state animal of Vermont.
Morgans are spirited and sometimes barely contained equine explosions with highly independent spirits that seem only to bend to human will and training by the slimmest of choices…theirs. Indeed, the Morgan has been called "the horse that chooses you." The breed has distinctive curved ears with pointy tips that show lots of personality. Sparks seem to flash from their large, intelligent, expressive eyes, displaying their razor alertness. The Morgan's silky manes and tails are characteristically thick, flowing, and long. Their crested necks, impossibly thick and muscular, and their broad, heavy chests exude refined power. Demonstrating the breed's versatility, over two centuries they've been used as farm animals and military horses because of their strength, and as sporting and carriage horses for their flashy, high-stepping action. When they set up in their natural stretched-out show stance, called "parking out," with their rear legs totally extended and parallel, head and neck held majestically high, regally eyeing their surroundings, they look like equine American aristocrats.
As it happens, Manchester, Vermont, is home to one of the most renowned Morgan breeding farms in the world, with an extended legacy of developing this breed's royal lineage. In the hills east of the broad, forested shoulders of southwestern Vermont's Mount Equinox, lie the hayfields, barns, and turnout pastures of this historic, famed horse farm, East of Equinox—a farm as steeped in tradition as the Morgan breed itself.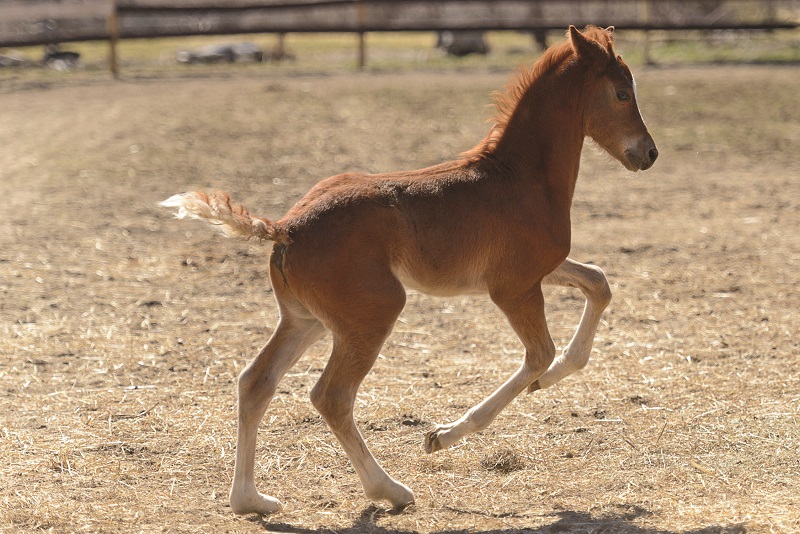 The East of Equinox Morgan family continues to grow with the arrival of the 2018 foals
Orrin and Phyllis Beattie's Morgan breeding program began modestly at this farm in this Vermont valley 60 years ago at a time when most of the breed was based primarily in New England. Orrin, a Vermont state legislator, Manchester businessman, and gentleman farmer, and his wife Phyllis (both Vermont natives) bought their first Morgans in 1958, then began searching for a stallion and more mares. Over the decades he, and eventually his son, Ivan, carefully built the breed with high-quality standing stallions and superb bands of broodmares. Ivan remembers his childhood on the farm with his four siblings and the small herd of recalcitrant ponies their parents had bought for them: "We used to go on these long trail rides all over the place, Mom and Dad on horses and us on those rotten ponies. I remember the first horse I rode. Some old Morgan mare. She bucked me off in the middle of a field. It seemed like a real long way down and all I could see was my hands and feet. I must have been about 5 years old."
Purchased as a colt in the early 1970s, Courage of Equinox exhibited the "clean throat latch and swan-like attachment of head to neck, neck to shoulder, shoulder to body famous throughout the breed." He was a chestnut, a talented jumper, and would become a legend in the Morganbreeding world as its most prolific sire, with his progeny displaying the Morgan's versatility and talent in both sporting horse events and show-ring disciplines, winning many regional and world championships.
Ivan explains that as a sire, "Courage set a new standard for size, elegance, and athleticism of Morgan horses. He was taller, more refined, and more athletic than the standard Morgan of that time; but he still possessed substance and soundness of both body and mind and those qualities that made Morgan horses identifiable from other breeds of horses. He was just a little different than anything else out there, and he passed all those attributes to his offspring. He is still officially the most prolific sire in the history of the breed." Courage died in 2002 at the venerable age of 30.
Ivan Beattie and his wife Jennifer live in the farm's classic, green-shuttered colonial that nestles amongst weathered gray horse barns. Although he calls himself a farmer and a horse breeder, Ivan has been involved with numerous local, state, and national equine and agricultural organizations, as well as serving on many governmental boards and commissions during the years, often serving as the chair. He was also chairman of the board of the largest commercial lending bank in Vermont for a number of years. Ivan's seven grandchildren are seventh-generation Manchester residents. Jennifer and Ivan married in 2006 and Jenn is a full contributor to the farm's operation, as well as a full business partner, doing everything from breaking and showing horses, driving tractors, unloading hay wagons, to helping fix and maintain the facility and assisting with the breeding of mares and the birthing of foals.
Ivan and Jennifer Beattie work as a team in the barns, pastures, hayfields, and in the office managing East of Equinox Farm
Currently, East of Equinox has approximately 65 horses on the farm, with 40 in the breeding program and the other 25 owned by boarders or horses in training; the herd increases annually in foaling season. Beattie's oldest barn is about 200 years old, and 13 years ago he added a new barn and training facility with a spacious arena. "When I built the indoor arena and training barn in 2005, it was in response to changes in the industry. Over the past several decades, the economic driver of the horse industry has transitioned from the horse itself to the horse experience," he explains. "We needed to move toward a more service-oriented business model from an agricultural production model. I converted the value of my hayfields from potential development to infrastructure that would support this transition." The Beatties own 150 acres and maintain another 50 in Manchester, cutting 10,000 to 12,000 square bales and approximately 400 round bales of hay annually—hot, itchy, but satisfying work. The Vermont Land Trust now protects 80 acres of the farm's valuable land.
Ivan leases space in the new barn to Jim Fisher Stables, providing the space, facilities, feed, and bedding to Jim Fisher and Dina Blazensky for their lesson and training business. Jim trains the horses and Dina gives lessons, and together they care for their clients' horses that live in the barn. They also work together on presenting horses and riders at horse shows and events that, Ivan says, "all relates to the horse experience. The facility also allows us a logical place for purchasers of my horses to continue to house their horse on the farm to take advantage of that horse experience."
The annual camps hosted by East of Equinox Farm serve to pass the legacy of equine knowledge and appreciation to the next generations of horse lovers who want to experience the power, grace, spirit, freedom, and beauty that is the horse.
***
One of those horse-crazy children gifted with the special DNA was me. Drawn at a very early age to images of magical unicorns and winged mythic creatures like Pegasus, I eventually devoured—repeatedly—the classic horse books by authors such as Marguerite Henry and Walter Farley. The Black Stallion. Misty of Chincoteague. My Friend Flicka. Black Beauty. National Velvet. I lived and breathed horses. As a teenager, I pestered my parents into letting me take riding lessons at a stable where I rode other people's horses. During the 50 years since, I've owned three horses. To my great sorrow, I can no longer do so.
I will, however, forever cherish the spectacular memory of making my childhood wish finally come true by buying my first horse when I turned 21, a small, game Quarter Horse-cross. Forever will I carry in my heart the ineffable sweetness of my tall, rangy, black Thoroughbred mare Athena that I rescued when in my 40s. And I will long honor the aloof, noble strength of an aging, statuesque bay Morgan that lived with me briefly just a few years ago.
In my dreams I still ride these beloved horses across the earth's landscape, although I am in my sixth decade and they are long gone. Because of these dreams, I am free and strong and magical again. I can ride the sky.
Oh…my wild soul!
Jim Fisher Stables
Jim Fisher and Dina Blazensky offer educational horse camps several times a year where young students, who typically range in age from 5 to 16 years old, learn how to ride and are taught horsemanship, grooming, safety, horse nutrition, and barn-maintenance skills. 2018 summer camp dates are July 16–20 and August 6–10. For more information, contact Dina at 570-317-1683 or [email protected].