By Anita Rafael
Photography By Timothy Peters
Somewhere in every one of our homes there is a spot, whether in the dining room, a corner of the living room, or upstairs in a small bedroom, where we have simply not yet found the perfect piece of furniture. It might be a wide, windowless wall that begs for a tall, 7-foot-long buffet table. Or, there's that second-floor bedroom with no closets. (It's not uncommon in Vermont's historic homes!) You need a wardrobe, of course, but will you ever find one in a mega-furniture store that is exactly 53¾ inches tall, 31½ inches wide, and only 13 inches deep so that it fits just right under the eaves?
The clear and surprisingly reasonable solution to the "I'll-never-find-the-right-piece-of-furniture" dilemma is to commission a handmade piece from a craftsman. Do you hear the sound of your wallet screaming already? Tell it to chill—custom furniture, compared to high-end manufactured items, is a luxury you actually can afford.
Here is something you did not know: clients are not billed for an initial "ideas" meeting with a custom furniture maker and you do not have to call an interior designer first to arrange a consultation.
We spent some time recently with three master-level custom furniture makers in Arlington, Dorset, and Mount Tabor, all of whom are members of the Guild of Vermont Furniture Makers.
These are the highlights of the many things we talked about.
Oh, and there were two things we learned right at the start. One, commissioning custom furniture is probably not for people seeking instant gratification. However, being involved in the journey from design to delivery is surprisingly satisfying.
And, two, if you don't mind walking around in a bit of sawdust, these fellows are a wealth of information about furniture. They'll show you photo portfolios of their work and they'll let you pick up scale-model samples of pieces they've made. They'll take you to see their stash of—beautiful cherry, walnut, and birdseye maple boards that are waiting for the right project to come around—and they'll lift the padded blankets covering their finished pieces so you can sneak a peek at some of the most remarkable handmade tables, chairs, and chests of drawers you've ever seen.
Ray Finan, Ray Finan Furniture Studio
If you are invited to Ray Finan's woodworking studio on the right day, you are likely to be in the company of several female snapping turtles laying their eggs on the broad lawn between where he works and where he lives. They amble over from the pond on Arlington's Old Depot Road, and no one, least of all Finan, seems to pay them much mind.
An escapee from 25 years in the corporate world, Finan found his niche in furniture making after completing a 2-week basic woodworking class in Boston. He has since joined the faculty at the Center for Furniture Craftsmanship in Rockport, Maine, teaching a 6-week workshop every autumn.
Finan is a one-man band, as he puts it, working in his own studio, a building slightly larger than a two-car garage that he built himself. It is painted white inside, floor to ceiling, and the large windows make it a bright, airy place to work. On one wall, there is a shallow open case that Finan built with specially designated brackets and niches for each one of his most-used hand tools—the arrangement of drawknives, hand planes, files, scrapers, and chisels tells all you need to know about the precision with which he builds furniture.
Finan gives tours of the studio and showcases some of the furniture he has made during the popular Open Studio Tour days, and he brings his pieces to a couple of well-established, high-end shows each year. Occasionally, Finan writes for Fine Woodworking magazine detailing, step-by-step, how to reproduce his designs.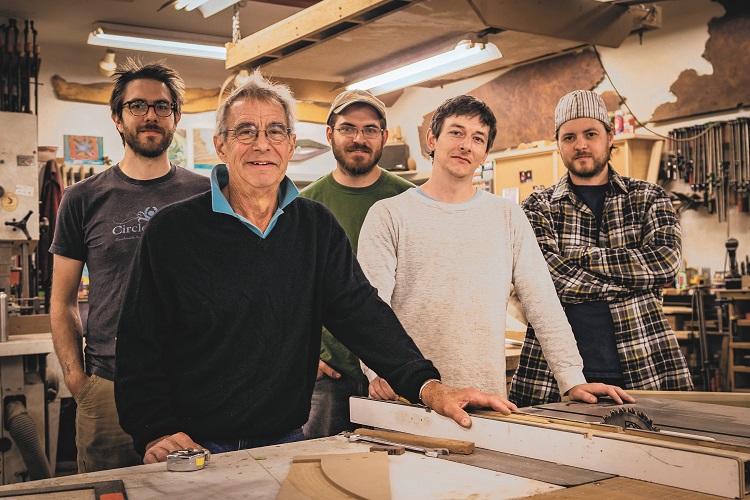 Dan Mosheim, Dorset Custom Furniture
Dan Mosheim is the founder of Dorset Custom Furniture, established in 1980. His studio is a cluster of rustic structures—all of which he built, some large, some small—on Goodwood Lane, one mile up Danby Mountain Road in Dorset. Not all of the space is dedicated to woodworking. Part of it is his son Will's banjo-making shop. A separate building is where another son, Sam, does custom metalwork. Mosheim's most interesting designs are a father-son collaboration, combining the natural beauty of wood with the power and strength of metal in ways that are unexpectedly compatible. Neither material is given priority over the other, and both are wed so elegantly that it seems perfectly obvious that a tabletop hewn from a thick, 10-foot-long slab of figured walnut should rest upon a handmade base sculpted of polished steel.
Dorset Custom Furniture has been a perennial favorite on Vermont's Open Studio Tour days, but the most pleasant way to see a broad selection of their furniture, pool tables, and full installations such as libraries and paneled rooms that Mosheim and his artisans make is to allocate an evening to browse through the studio's online portfolio on both his website and the blog he has been writing for the past decade. While you're there, take the video tour and click on the slide-show link on the company's blog site. (We counted more than 100 different dining tables there!) The blog is fairly entertaining and includes their design sketchbooks. But more than that, it's an insight into Dan Mosheim's entire world as a craftsman. Everything he loves about Vermont is reflected in his work, and everything he loves about woodworking is homage to the natural beauty surrounding his studio up there at 1,000 feet above sea level on Goodwood Lane.
Bob Gasperetti's Yellow Birch Burl Coffee Table with Stump Base
Bob Gasperetti, Robert M. Gasperetti Furniture Maker
A number of years ago, on a sloping, wooded lot on South End Road in Mount Tabor, Bob Gasperetti built a traditional-looking barn which became his fourth furniture studio in the area. What's inside on each of the three levels is a splendid surprise, and it is impossible to choose which of the floors is the most exciting—the well-designed and tidy workshop at the entry level, the showroom above with its gallery-like exhibition of samples and fine furniture for sale, or the lower wood room where he stores thousands of board feet of lumber, odd burls, and entire tree trunks, sawn into rough, irregular planks. Gasperetti's apprentice is his son Matt, and Matt has written his name on some of the boards, to reserve them for things he wants to make. Gasperetti sources wood from two sawmills in Bristol, Vermont, and not infrequently from trees on his clients' properties. "People will have a tree taken down, or their favorite apple tree has blown down, and they say, 'I don't want to see it chipped. You can take it.'"
Recently, at the request of a long-time client, he built a custom cabinet made from old red pines that stood at Robert Frost's Stone House in Shaftsbury, Vermont—just seedlings when Frost himself planted them in the 1920s. In the showroom Gasperetti displays a collection of "Frost Boxes" he has made, each signed and paired with a Certificate of Authenticity. And, high on a rack in the wood room two floors below, he's kept a few more boards from the poet's pines, and those will someday be some lucky client's bedstead, chair, or desk.
Gasperetti finds his inspiration in Shaker, Mission, and Arts and Crafts designs. As such, you can hear one mantra echoing throughout Gaspertti's furniture showroom: "Make it simple, functional, and beautiful."
All The Details
Ray Finan
Ray Finan Furniture Studio
Private studio—open by appointment
269 Old Depot Road
Arlington, VT 05250
802-681-5393
facebook.com/RayFinanFurniture/
[email protected]
Dan Mosheim
Dorset Custom Furniture
Private studio—open by appointment
23 Goodwood Lane
Dorset, VT 05251
802-867-5541
www.dorsetcustomfurniture.com
Blog: dorsetcustomfurniture.blogspot.com
[email protected]

Bob Gasperetti
Robert M. Gasperetti Furniture Maker
Open studio
848 South End Road
Mount Tabor, VT 05253
802-293-5195
www.gasperetti.com
[email protected]
Find a Local Furniture Maker
Guild of Vermont Furniture Makers
www.vermontfurnituremakers.com
Also, sign up for the Guild's free online newsletter for updates on shows and new work.