Bikes are hot these days. Thanks to a combination of interest in "green" means of transportation and saving some money during the recent economic downturn, more and more cities and towns around the US are making way for cyclists with ever-growing miles of bike-friendly terrain. In the Northshire, however, bikes have always been in style. Ask anyone who's lived in the area about biking and they'll tell you: Vermont has four seasons—and three (sometimes even all four) of them are great for biking. From classic-style road riding to mountain biking to cyclocross, the Northshire and surrounding area has bike appeal. Cycling is certainly experiencing a boom around these parts, however, and the scene is becoming even more fun thanks to more local biking events. Beginning shortly after the last trace of snow is gone, several two pedaling events are lined up from spring through fall. You can challenge yourself to a road race, ride with a group or family, join a cycling club and meet up for a casual ride—and even ride up Mount Equinox! Clear some time in your calendar for these events in 2012:
For classic-style road riders who like to race, the Shires are home to some world-class courses. The first in the season is the Tour of the Battenkill in Cambridge, New York, which takes place April 14–15 (tourofthebattenkill.com). The event started in 2005 in Salem, New York as a pro-am race under the direction of Dieter Drake. Thanks to a growing interest in the race, the event moved to Cambridge in 2009 to incorporate a professional component. Today the Tour is America's largest one-day pro-am cycling race, which takes riders over 64 miles of dirt and paved terrain that begins and ends in the village of Cambridge. In 2011, the Tour welcomed more than 2,500 amateur and professional cyclists from all over the country and the world.
The race, Drake says, was organized in response to an interest from local riders for a classic-style road race like those in Europe that take riders through cobblestone village streets and small roads. "We don't have a lot of cobblestone streets here," Drake said, "but we do have a lot of dirt roads, covered bridges and villages."
If you missed the Tour of the Battenkill this spring, however, you can still catch some of the action of the Tour this fall during the BattenFall Classic on Saturday, October 6, where you can ride a circuit race on parts of the course (tourofthebattenkill.com/ battenfall/). On Sunday, October 7, you can also ride in the Tour of the Battenkill Preview Ride to check out the 2013 course!
If you're looking for an organized riding event, but racing's not your thing, there are plenty of other rides for you. 
Race Director Jim Marshall worked with Tour of the Battenkill's Dieter Drake and Anthem Sports to make the race a reality, and the two events are linked as part of the Great American Cycling Series, a seven event series of races that include events in Vermont and Upstate New York as well as a race in Vail, Colorado (greatamericancycling.com).
"It's a combination of some very challenging and beautiful scenery," Marshall said. For cyclocross riders, (which is a hybrid type of riding that is somewhere between road racing and mountain biking) there is also the Wicked Creepy Cyclocross Race, which is organized by the Bennington Cycle Club and part of NYCross.com, a non-profit organization dedicated to promotion of cyclocross racing in and around New York State (nycross.com/ races/wicked-creepy-cx).The races are also lots of fun for spectators, too. "It is as much for the spectators as it is for the riders," Drake said of the Tour of the Battenkill. "It's a spectacle. There are some really interesting places around the course to watch."
"The downtown criterium is a wonderful spectator event," Marshall said of the Tour of the Dragons. This portion of the event brings the riders, "roaring through town on a rectangular course," he said.
If you're looking for an organized riding event, but racing's not your thing, there are plenty of other rides for you. On July 7 join the Tour de Bondville for a 50, 25 or 18-mile ride in the Stratton area (tourdebondville.com). Event organizer Alan Bushell started this ride with his family five years ago as a way to have fun with some of the other cyclists in the Stratton area. "We didn't start it as a charity event," Bushell explained. "The first four years were just for fun. There were lots of master racers at Stratton and we had talked about getting together for a long time. So one year I took the bull by the horns and started it. The first year 11 of us rode while my wife followed us around in the car with Gatorade. Last year we had 140 riders!" In 2011, Bushell changed the event to benefit breast cancer to honor his mother, who passed away from the disease. On July 14, also in the Stratton area, join up with the Tour de Grace, which follows a 19-mile course from the Stratton Base Lodge to the Grace Cottage Hospital in Townshend (gracecottage. org/events). The Tour de Grace is a family-friendly, nearly all-downhill benefit ride for Grace Cottage Hospital. Riders leave any time between 8 and 10 am from the base lodge and Stratton Mountain busses shuttle riders and their bicycles back to Stratton Mountain from the Grace Cottage parking lot about every 30 minutes.
If altitude is what you're looking for, try riding in the annual Gear Up For Lyme Mt. Equinox Uphill Bike Climb on August 4 (gearupforlyme. com). The Gear Up challenges riders to conquer the auto road at the Mt. Equinox Skyline Drive—yes, uphill. Presented by the Rotary Club of Manchester as a benefit for The Lyme Disease Association and other local charities, the event is a part of a series of uphill bike climbs around the northeast known as the Bike Up Mountain Points Series (BUMPS, hillclimbseries.com/series-details/).
The climb benefits Lyme Disease research through the Columbia University Lyme Disease Research Center. "There have been a whole lot of people who have been impacted by Lyme, including my wife," said the event's organizer, Andy Holzman, "and a lot of others in Southwestern Vermont have struggled with it."
And although riding up Mt. Equinox may sound like an impossible task, Holzman said it is a goal that's more reachable than you might think.
"You do need to train," said Holzman, suggesting Rt. 11/30 from Manchester to Bromley. "If people are willing to give it a try, though, I think they will be surprised. It's very attainable."
Also, check out The Vermont Challenge, which runs from August 15–19 (vtchallenge.com). The Vermont Challenge is an all-new event for 2012 that incorporates distance rides over the course of five days between three major Vermont ski resorts and featuring a signature town each day as the event's hosts for meals and lodging. Each host town on the challenge route will feature a riders' village with vendors, food, sponsors (and, ahem, bike mechanics).
"Vermont is a beautiful state with some amazing roads," said John Sohikian, who is spearheading the event with his wife Donna. The couple have been riding in Vermont for 27 years and decided that they wanted to bring more riders to the area to appreciate the terrain that they have enjoyed. For every person that comes and has a great time, he said, "three more will come back."
In September, join up with riders in Manchester for the annual AKP (Always Keep Pedaling) Bike Tour, which benefits the AKP foundation (akpfoundation.org). The foundation's president, Jon Wilson formed AKP to provide young adults with the means to use adventure sports to assist, inspire and energize a comeback from invasive cancer treatments. Jon made a comeback after losing his leg to cancer in 2006 by learning to enjoy adaptive sports including cycling, skiing and whitewater kayaking.
Also in September is the Bart Center No Limits benefit bike ride on Saturday, September 15 (bartcenter. com). The Bart ride offers three levels of difficulty—100, 60 and 30 miles as well as a nine-mile family run through Southern Vermont and New York State to benefit the Bart J. Ruggiere Adaptive Sports Center. The Bart J. Ruggiere Adaptive Sports Center provides people with disabilities and their families the opportunity to enjoy outdoor sports, with a special focus on snow sports.
There is also more to the Northshire bike scene than just special events. If you're looking to get involved in the local cycling community, or looking for some guided rides, try joining either the Bennington Cycle Club (benningtoncycleclub. com) or the newly formed Manchester and the Mountains Bike Club (mmbc. us), both of which welcome riders of all disciplines and abilities. For example, the Manchester club, which is affiliated with the Vermont Mountain Bike Association (vmba.org) is currently working toward opening up more areas for mountain biking trails.
"One of our goals is to be able to develop some legitimate mountain bike trails that are accessible to the general public," said MAMBA's Joe Miles. "We're working on a small area down by the Manchester rec park that would be great for kids, and we are working on some lands in Dorset where we hope to be able to start developing some trails."
The best way to get to know Southwestern Vermont, however, is to bike it for yourself. The scenic variety of terrain will appeal to nearly every two-wheeler. If you can't make it to one of the events listed here, get in touch with one of the cycling clubs, or ask around at your local bike shop for information about the best local routes. Battenkill Sports in Manchester (battenkillsports.com), Mountain Riders in Rawsonville and Mount Snow (mtnriders.com), and Norse House in Bondville (norsehouse.com) all coordinate regularly scheduled group rides throughout the season.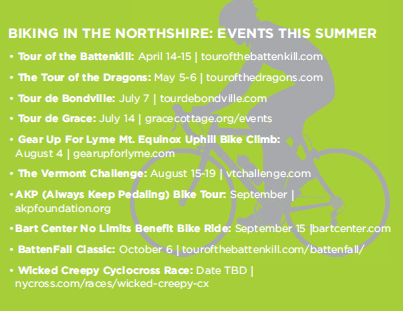 "There are great opportunities for a mixed variety of biking here," said Miles. "There is very hilly terrain to more flat, rolling terrain over toward New York. Some of the best rides include dirt roads, and maybe even some class-four roads for adventurous riders. The roads are really in pretty good shape and the drivers are generally very respectful of the bikers." "I like riding here for the same reasons that everybody likes to ride here," said Holzman. "There are so many roads in so many directions. You never have to ride the same route twice if you're creative."◊
Betsy Parks is a free lance writer from Chester. Photographs by Hubert Schriebl.
---