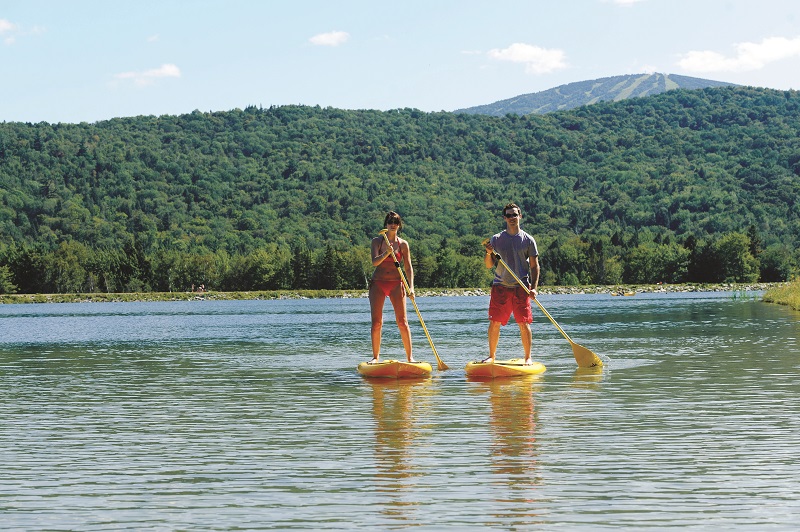 Hubert Schriebl
Discover the benefits of stand-up paddleboarding
By Cherise Madigan
Perched atop a stand-up paddleboard, you're guaranteed to experience the viridescent Vermont landscape from a singular and stunning perspective.
Propelling yourself across Stratton's still waters you'll discover the vibrant landscapes bustling both beneath the water and within the trees, while simultaneously testing your body and mind to whatever extent you choose. Even those born and raised in the Green Mountain State are bound to behold their favorite destinations with fresh eyes after a day spent on the water.
Stand-up paddleboarding has become an increasingly popular way for summer sightseers to discover Southern Vermont in recent years, and with good reason. Offering a one-of-a-kind experience that's accessible to most everyone, the sport has become a beloved pastime for families, athletes, and even yogis seeking novel ways to immerse themselves in nature.
Although paddling has experienced a national surge in popularity—particularly in coastal destinations—Stratton stands out to both novice and seasoned paddlers for its magnificent vistas and tranquil bodies of water alongside the vibrant outdoors culture found on the mountain year-round.
"Stand-up paddleboarding has really taken off in recent years," said Stratton Mountain Resort CEO Bill Nupp, who recommends a paddle around Jamaica's Ball Mountain Dam. "That explorational type of water sport has definitely become popular for summer visitors."
The paddling trend hasn't been lost on Stratton's outdoor recreation retailers either, with countless opportunities for gear rentals and expert lessons available both on and around the mountain. While paddleboarding does offer a great workout, that's not all it's good for, as children and even pups will also enjoy a more relaxed expedition along the surfaces of Southern Vermont's lakes, ponds, and rivers.
For skiers of all varieties, paddleboarding also provides a warm-weather adventure perfect for preparing your muscles for a successful winter on the slopes. According to ski coach and competitive paddleboarder Jonathan Bischoff, who also owns and operates Jamaica's Vermont Ski and Sport, stand-up paddleboarding is an ideal way to test the body, stimulate the mind, and explore the wilderness.
"Paddleboarding is the best sport that I have ever done," Bischoff gushed. "I'm an avid ski coach and I do a lot of other activities, but paddleboarding is so unique in the way that it connects you to nature. You're purely self-propelled, and the mind-body connection is amazing."
Neil Gandhi for Wanderlust Festival
The technique in paddleboarding is "amazingly close" to that for both alpine and nordic skiing, Bischoff explains, and there are a wealth of ways to enjoy the sport regardless of your experience level. Tour the waters at a slower pace to soak in the scenery, bring your fishing rod along for the ride, or indulge in a buoyant downward-dog to enjoy all that your paddleboard has to offer.
"It melts the fat off and makes you so fit if you stick with it," Bischoff said. "When you see someone paddleboarding, it's really all about power and balance."
While novices may not be endowed with the necessary gear or knowledge to hit the water, there are plenty of options in and around Stratton to fill both needs. Equipe Sport, with locations in both Stratton Village and Rawsonville, provides a variety of rentals for the day—as well as more extended stays—from brands including BIC and Pelican Sports. Inflatable paddleboards are also available, which may be more suitable for those requiring compact storage and transportation according to owner Parker Rice. If you feel most at home off the grid, Rice notes that an inflatable board is also a great way to enjoy bodies of water that can only be accessed by foot.
The Equipe staff is happy to show you some quick tips before you hit the water says Rice—who has become increasingly enamored with the sport himself.
"I've slowly evolved from being a kayaker to someone who likes to be on a paddleboard," Rice explained. "It's a better exercise—you get a great core workout—and it's really fun to take the dog along for the ride."
First Run Ski Shop in Stratton Village also has plenty of options for summer gear and local know-how according to manager Tom Kajah.
Inflatable options are big for them as well, Kajah says. "I'm more of a recreational paddleboarder; it's easy for the kids to climb on—and jump off—and inflatable boards are super simple to transport," Kajah says, noting that it's the scenic views found in Stratton that draw him to his board time and time again. "When you're paddling on the bodies of water we have around here, it's the surroundings that make it special."
Norse House Ski and Sport owner, Tom Maneggia agrees that paddleboarding provides a fun family activity. Maneggia's son has enjoyed paddleboarding since he was a toddler, he says, and the sport is a great way for all ages to disconnect from the technology that has come to pervade modern life.
"The peacefulness of being on a paddleboard is something that everyone should experience," he explained. "Standing above the water and peering down below is a perspective that most people just don't get to witness."
Like Kajah and Rice, Maneggia recommends inflatable boards for those looking for no-fuss transportation or hoping to paddle in the backcountry. The Norse House carries BIC's Apec and Inflatable lines, he says, and offers lessons, group demonstrations, and even events such as full-moon paddling sessions and wine-and-cheese excursions.
If you're looking to refine your skills on a board though, a more extended and in-depth lesson could be just what you need to master the sport or to maximize your workout. For those willing to travel to nearby Jamaica, Bischoff brings his knowledge and expertise to everything from the gear sold in his shop to the configuration of lessons. Utilizing electronic, two-way communication on the water, Bischoff is eager to share his enthusiasm with those willing to learn and places a heavy focus on proper style and technique.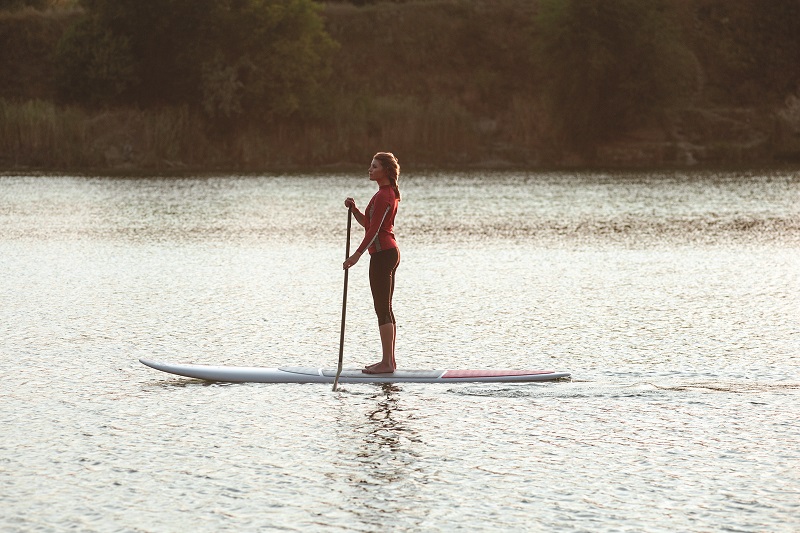 A stunning and calming perspective of the landscape
"I've been training and coaching for years, so we try to teach people in a different way," he added. "We offer private lessons, rentals, and we'll even be glad to deliver."
Once you've got gear, and maybe even a lesson lined up, there's only one question left: where to go? Fortunately, when it comes to scenic settings the Green Mountains never disappoint.
"There are plenty of small ponds and lakes, as well as rivers or backwater to paddle on," Bischoff explains, noting that he's a fan of Brattleboro's Connecticut River and Jamaica's Ball Mountain Dam in particular. "Most are close by and so full of natural beauty; sometimes I think I'm in a National Geographic photograph."
The endless twists and turns within Gale Meadows Pond Wildlife Management Area, which stretches for 707 acres between Londonderry and Winhall, was recommended first and foremost by Stratton's top paddling buffs for a day on the water. Drifting atop the 195-acre, man-made pond there you'll traverse forests of white pine, balsam fir, and hemlock housing numerous deer alongside rare species such as the black-backed woodpecker. If you're confident enough to bring a fishing rod along with you, keep an eye out for largemouth bass, yellow perch, and brownbullhead catfish.
Also in nearby Londonderry is the popular Lowell Lake, although Rice notes that the swimming spot often becomes congested on weekends compared to the more remote Gale Meadows. Still, the lake offers no shortage of beautiful views and opportunities for wildlife sightings for those willing to brave the crowds. East Dorset's Emerald Lake was also recommended by Maneggia, and the site offers many campsites as well as a snack bar and paddleboard rentals.
For yogis looking to up their Instagram game, Stratton provides the ideal locale for a sunny vinyasa flow on the water. Expect to have your balance challenged even on the calm pond, which ripple to the sound of "om" during Stratton's annual Wanderlust Festival. New to yoga or unsure of your skills on a paddleboard? Manchester's Heart of the Village Yoga often offers SUP yoga excursions and classes throughout the summer, with instruction and guidance for those just beginning.
Considering the versatility and accessibility of the sport, it's no surprise that stand-up paddleboarding has become one of the most popular summer adventures in Stratton. If you're visiting for the first time or craving a new way to explore some of your favorite spots in Southern Vermont, the sport is guaranteed to provide a unique vantage point. Novices in particular will appreciate the stunning stillness and serenity of the many rivers, lakes, and ponds found in and around Stratton.
"This area really offers a lot when it comes to paddling," Bischoff said. "If you're looking to learn how to paddleboard, Vermont is very user friendly, family friendly, and beginner friendly."