Mela Artisans Opens in Manchester, Vermont
By Melanie Oliva, media intern
In July, a new store popped up on Main Street in Manchester, Vermont. Walking through the door, it's easy to tell that Mela Artisans has brought something completely new and special to the community. More than a boutique, this store has a story behind it.  
Mela Artisans was founded in 2010 by Navroze Mehta and his daughter, Sonali Mehta-Rao. Of Indian descent, the duo wanted to create a space for their culture and its craft in the western market. They wanted to pay homage to their roots while providing a contemporary outlet for artisans.
The idea took off quickly: artisans in India were contacted and orders were placed, a showroom of jewelry and homegoods was centered in Boca Raton, and their goods started to sell at big name department stores, such as Bergdorf Goodman, Neiman Marcus, and Bloomingdales. As more and more orders were coming in for their artisans' goods, the owners realized that their store could be much more than wholesale.
Though Mela Artisans provided a space for Indian artisans to showcase their work, the owners wanted to give back to their communities in a more concrete way. They started a three-tiered program which brought solar lanterns, water filtration, and travelling eye exams to the artisans' villages. In addition, more than sixty percent of Mela's artisans are women. This means that the money going into the communities is being controlled by women, and in turn more of it is being spent on families and education.
Mela Artisans is connecting even more of the world, now that their first retail store has opened in the center of Manchester. They decided to open their retail store in the heart of town because they love the community; residents here value handmade crafts, local business owners support each other, and word travels fast when something interesting crops up in town. After stocking some of their items in Northshire Bookstore a few years ago, they realized that they could have a successful free-standing store in town.
Navroze and his family have been coming coming to Manchester and the Mountains for a number of years and have had a home in the area for the past few. It was an easy decision to make the move up from New York and become full-time residents.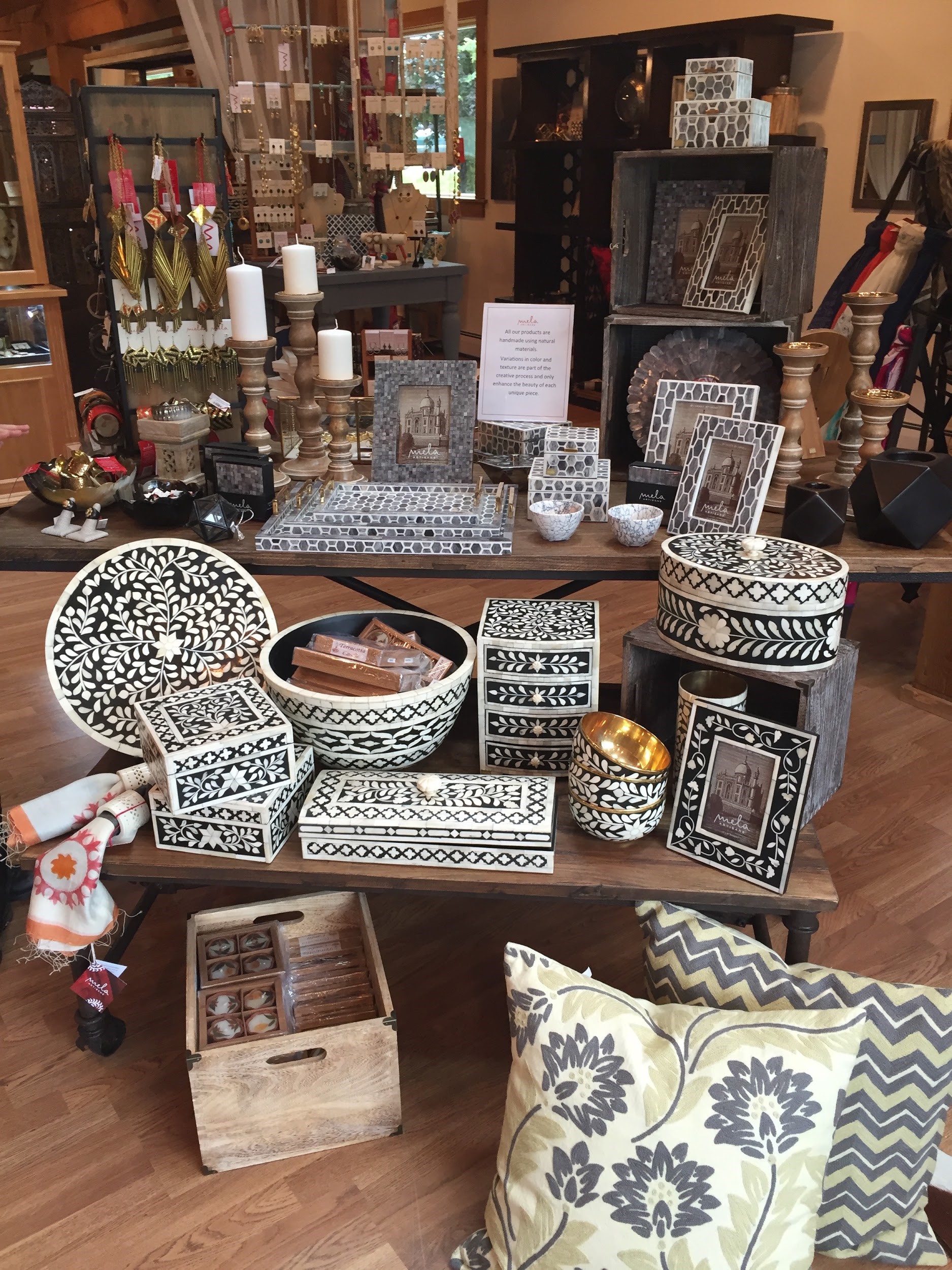 Locals and visitors alike have loved everything that the store has to offer. Everything is handmade with traditional techniques. You'll find bone work, metal work, embroidery, and more when you walk through the door. No one is priced out of the shop, either. The store has metal ornaments (perfect for hanging succulents around your house) for just $5, earrings starting at $15, and much more. In keeping with Manchester's outlet shopping traditions, Mela Artisans' retail store also promises to always have a wide selection of discounted items in their sale section.


So, next time you're in town, stop by Mela Artisans. It might very well become your next go-to spot for gifts, homewares, and jewelry. Check out their website for more information on Mela's story, its commitment to community, and its products. Better yet, drop in to browse and ask questions in person.