With Stratton's Ski and Snowboard Programs
By Gayle Fee
Photography By Hubert Schriebl
Maybe you dream of being the next Mikaela Shiffrin or Shaun White. Or maybe you just want to stand at the top of a double black diamond without quaking in fear. Whatever your skill set or athletic ambitions, Stratton Mountain Resort will have a ski or snowboard program to help you up your game.
"Learning to ski or snowboard can be incredibly overwhelming," said Devon Cohen, assistant director of Stratton Mountain Sports School. "We really focus on the guests, making sure everyone is enjoying themselves and having fun. Making everyone feel welcome and comfortable is what it's all about."
The Sports School has programs for skiers and riders beginning as young as 3 and have had students well into their 60s and even 70s come to hone their schussing skills.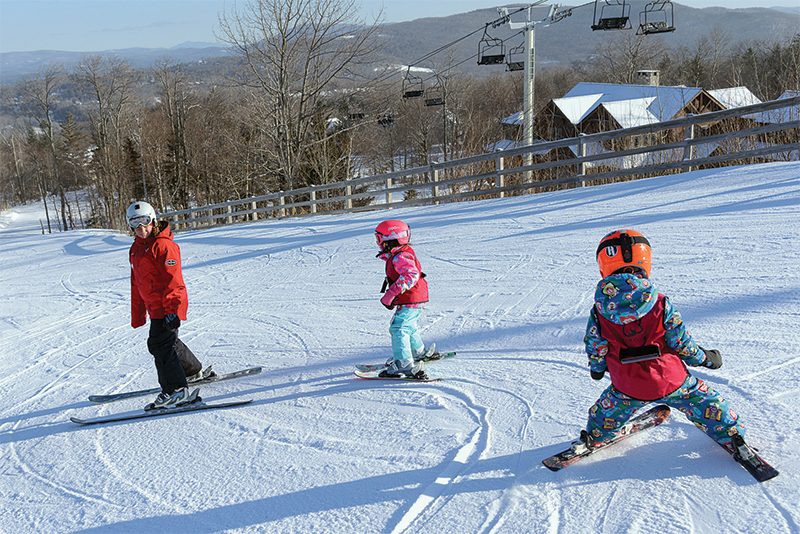 "With the young kids it's mostly about having a good time and hanging out with their friends," said Seasonal Programs Manager Tony Bailey. "Most of the people in the adult All-Mountain Performance program are parents of kids in the seasonal programs. Some are there to improve their skills and for others it's strictly social, a comfortable way to ski with friends."
Stratton offers both daily programs and seasonal lessons that run on weekends, holidays, and school vacations, and they all take skiers and riders of all ages. The youngest kids start off in the Mini Cub or Cub Club program designed to introduce the little ones to skiing and snowboarding. Both feature low student-to-instructor ratios and combine lessons on the slopes with supervised indoor time in space set aside just for the Cubs.
"At that age it's hard to be out on the mountain all day, so we mix in play time, games, and stories, and there's always someone in their room to greet them and serve them hot chocolate," Bailey said.
The Little Cub, Big Cub, and Cross Cub, Mountain Riders and Synergy programs are for children 5 and older and, unlike the Mini Cubs, skiing and snowboarding are taught separately. The programs take children of all abilities; most of them make huge strides during the course of the season.
"It's pretty sweet to see 5- and 6-year-olds tearing up the double black diamonds," Bailey said. "And we've had some never-evers, kids who have never been skiing or riding, and by the end of the season they are skiing off the Amex 6-pack, which is a pretty good size run for those guys."
For beginning skiers, classes focus on the fundamentals. "We teach things like stance and balance and making sure the kids are leaning into the front of their ski boots instead of the tails," Bailey continued. "We try to get them to be more aggressive with their skiing instead of just standing on two planks of wood and going along for the ride."
For snowboarders, the Mountain Riders program starts at age 5 and goes all the way up to 18 years old with classes broken up by age and ability.
"We focus on everything from beginner-level snowboarding to advanced where they are riding the whole mountain," Bailey said. "We spend a lot of time in the terrain park, of course, and a good amount of time in the woods as well."
Stratton's STR program for teens 13 to 16 is geared to more advanced skiers and riders and features a strong social component, in addition to lots of time ripping it up on the slopes.
"We have game nights, movie nights, and other activities," Bailey said. "The goal is to keep that age group safe and to offer fun, productive activities to keep them away from some of the other stuff teens can get into."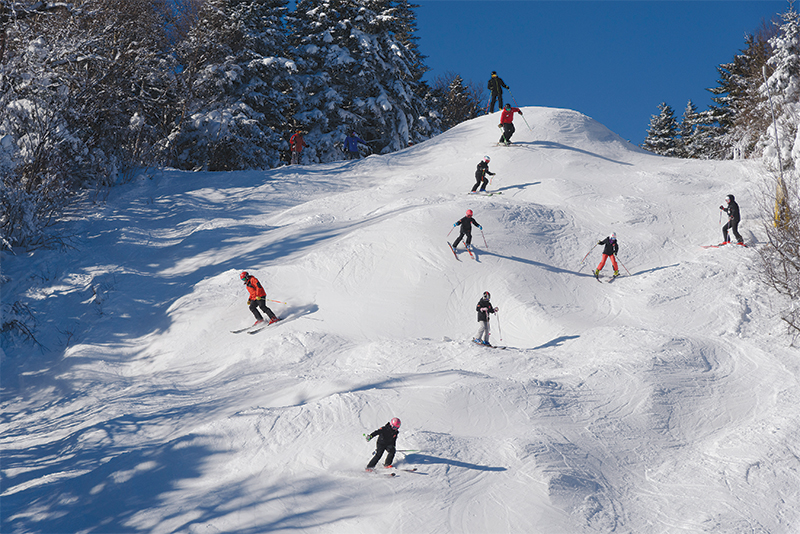 And for aspiring ski instructors, the TIPS program trains teens during four weekend sessions; successful graduates are eligible to be hired as apprentices in the Junior Mountain Sports School. But learning doesn't stop in your teens, and so Stratton Mountain Sports School also offers the Adult All-Mountain Performance and Adult Mountain Riders classes that focus on fine-tuning existing skills and teaching some new ones, including bumps and introductory race training.
"We've had some adults who were really only comfortable skiing the green trails join, and others who were there to dive into the sport and really get better," Bailey said. "Some are there because they can't keep up with their kids anymore, and a few people join because there's a special line for them at all the lifts."
In addition to the group lessons, the Sports School offers a couple of women-only ski and snowboard programs called Girls Time Out and Women on Snow, two-day boot camps taught by Stratton's top women instructors.
"Participants tend to be intermediate level and up," Devon Cohen said. "For the most part it's women trying to take their skills to the next level."
The camps will run twice this winter with a midweek session in February and a weekend version in March. Both feature intensive training and instruction in small groups with an average 8–1 student-to-instructor ratio.
"We want women to feel comfortable and to be able to learn in an environment where they can ask questions, where conversations can flow easier, and they are not dealing with dynamics that include men," Cohen said. "Our goal is to make sure everyone's needs are met."
Martha Dale, an instructor for the women's camps, said the skiers and riders make tremendous progress during the two days—and have a great time doing it.
"In a typical one- or two-hour or half-day lesson you can only accomplish so much," she said. "But you can really see things come together over a two-day period. And the women have a fantastic time exploring with each other just what they can do."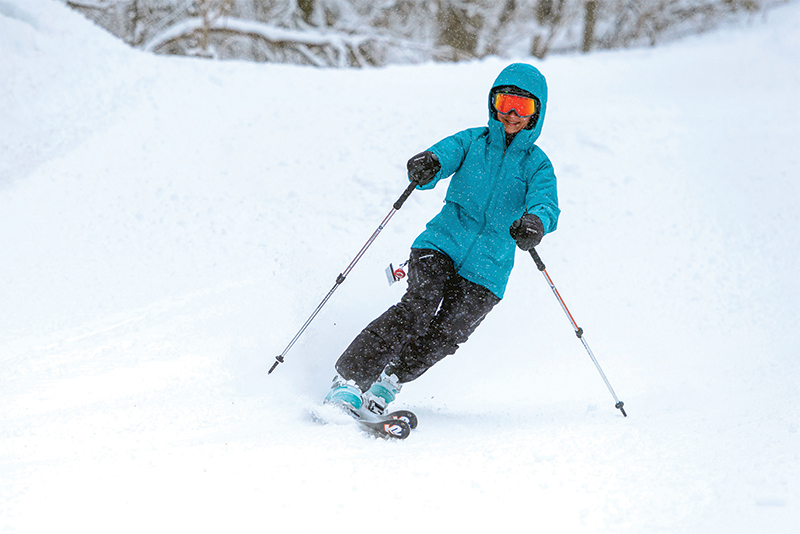 In addition to Stratton Mountain Sports School, the mountain also has a Winter Sports Club, a group of competitive snow sports programs and accompanying developmental groups. The club's mission statement says the aim is to "provide all athletes the opportunity to reach their full athletic and competitive potential in a fun and supportive environment."
"We try to cultivate a love for sports, the outdoors, and the mountain," said Winter Sports Club Director David Edry. "Yes, racing is a big part of it, but we try to teach more about camaraderie, being part of a team and healthy competition."
The Mountain Riders snowboard program and the Allegro freestyle and free-ski programs take children as young as 5 and are the developmental groups for the competitive programs in those disciplines. The alpine ski racing programs have seven age groups starting with the developmental Under 8s, also know as the Little Rippers, up to the Masters race program for adult skiers over 19 who still want to compete.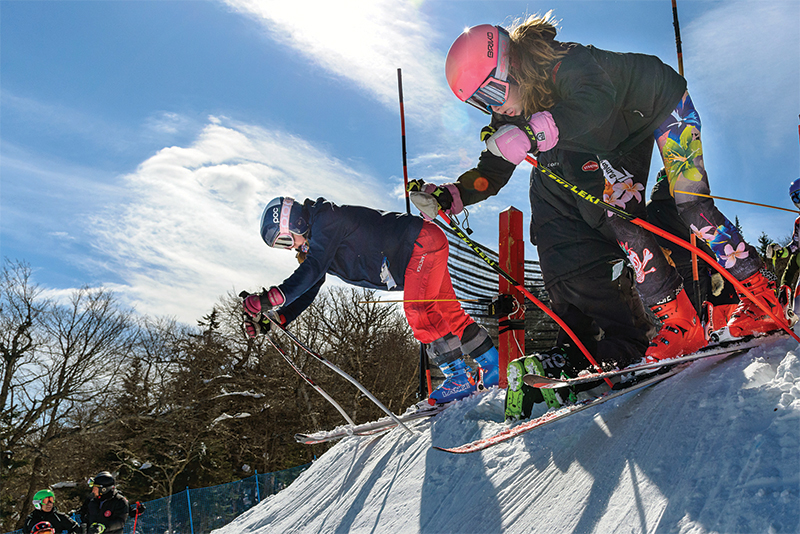 "It's amazing what some of our athletes have done," Edry said. "They leave us at a high level and move on to even higher ones."
Former Winter Sports Club alums include four-time Olympic snowboarder and silver medalist Lindsay Jacobellis; two-time Olympian and 2015 World Cup Champion freestyle skier Mac Bohonnon; 2018 Olympic snowboarder Julia Marino; 2014 Olympic ski racer Trace Smith; current U.S. Ski Team members Avital Shimko and Mac Forehand; and U.S. Snowboard Team members Josh Wylie, Lizzie Beerman, and Ellery Hollingsworth.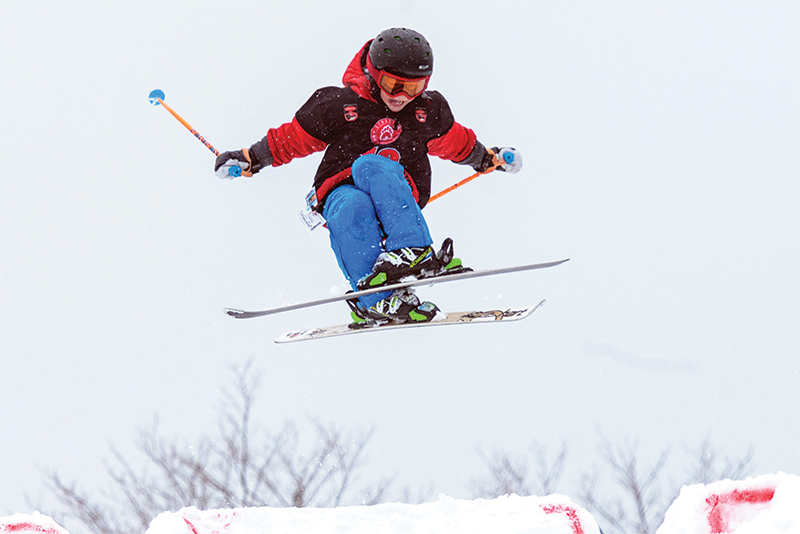 Stratton is an official U.S. Ski & Snowboard Development Site and has been providing ski instruction for more than 55 years. It is also the home to the first snowboard school in the nation. So no matter how old you are or how well you ski or ride, there's guaranteed to be a program to help you take it up a notch.
"We want everyone to improve and continue to get better," Tony Bailey said. "But first and foremost, we hope everyone has a great time and that they want to keep coming back for many seasons to come."
Because when it comes to skiing and riding, you're never too old to learn something new.
For more information, go to stratton.com and strattonwintersportsclub.com.
Snowsports Programs at Stratton Mountain Resort
Daily Programs
Mini Cub (ages 3 and 4)
Little Cub (ages 5 and 6)
Big Cub (ages 7 to 12)
Teen Group Lessons
Adult Group Lessons
Seasonal Programs (noncompetitive)
Cub Club (ski or snowboard, ages 3 to 7)
Cross Cub (ski, ages 5 to 9)
Synergy (ski, ages 8 to 13)
STR (ski, ages 13 to 18)
Mountain Riders (snowboard, ages 5 to 18)
Seasonal Programs (competitive) Stratton Winter Sports Club
Alpine Racing (ages under 8 to 18)
Allegro (freestyle/freeski development, ages under 8 to 18)
Freestyle (ages 9 and up)
Freeski Comp (ages 7 to 18)
Snowboard Comp (ages 7 to 18)