Timothy Peters
What We Knead
By Ellen Oltman Kellner
Bread, it is well known, is the Staff of Life. While we cannot live by bread alone, we break bread together, sharing food and companionship. Bread is the most fundamental of created foods – not as easy as picking greens and eating them, but not much more work. Finely ground wheat, water, and leavening – this is the simplicity of basic bread. Breads are limited only by the imagination of their bakers. With the addition of other grains, flavorings, herbs, seeds, and oils, the possibilities for creating artisanal breads are endless.
Bread's versatility lays the foundation, the groundwork, for numerous toppings, dips, meats, cheeses, and vegetables, expanding the possibilities of simple, perfect eating. In one day in and around Manchester, I sampled a variety of distinctly different loaves.
We look forward to breaking bread with you!
From Red Fox Inn – Taste of Vermont 2017
Dorset Rising
My first stop was at Dorset Rising, a lovely bakeshop with excellent pastries, sandwiches, and soups.
The shop was cheerful and bright, and the perfumes of sugar, butter, and coffee wafted – three of my favorite foods. Raspberry-oatmeal bars had recently been pulled from the oven and cut up, and there were still-warm sample pieces to try. The friendly and helpful counter staff was ready to explain any of the offerings.
I relished my tasting of their anadama bread straight from the oven, its sweetness from corn and molasses. Topped with a dollop of maple cream or raw honey, this is my favorite quick breakfast. In addition to their artisan bread, Dorset Rising offers pastries – fancy French and Swiss pastries for weddings, weekends, and special events, and more rustic baked goods for everyday good eating. Natasha, the establishment's head baker, is delighted to be focusing on pastries. She told me "there is theatre in a bakery – when you walk in, you are transported to your grandmother's kitchen."
The chalkboard menu changes frequently, always with seasonal ingredients. My favorite item on the breakfast (served all day) menu is the Breakfast Bahn Mi, an egg sandwich with a creative and delicious Vietnamese twist: a ham-and-egg-stuffed baguette with pickled carrots, Thai mayo, and cilantro. You can also get your morning sandwich your way, on one of their house-made bagels, made the New York way (boiled, then baked, of course!).
Lunch choices may include a vibrant green goddess salad or earthy roasted beet salad, or maple pulled pork panini, – all made in-house and using Vermont-sourced ingredients: maple syrup, Cabot butter and cheese, and King Arthur flours. Wine by the bottle or the glass and local craft bottled beer are available with lunch.
You can order your lunch or breakfast to go, or have a seat in their cozy dining room or spacious patio.
3239 Route 30, Dorset. 802-867-7021 or www.dorsetrising.com
Depot 62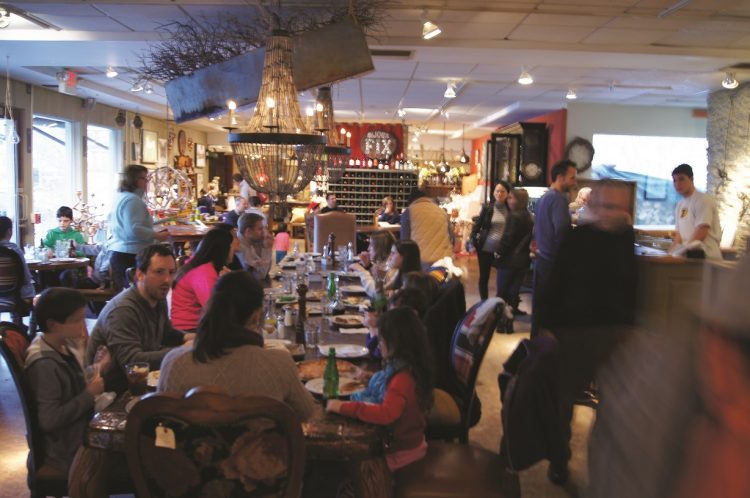 In the afternoon, I visited Alp Basdogan and Leyla Eroglu at Depot 62 in Manchester Center. Bright, eclectic, brilliant, and colorful, Depot 62 sells imported and domestic furniture, rugs, and other household furnishings. At its core is a café with all organic offerings, but this is not a health food restaurant focused on sprouts and tofu. Depot Café proves that inventive, inviting, compelling food for even the most sophisticated palate can be ethically raised and sourced. Alp states "It sounds quirky, but it works."
The show-stopping centerpiece is a communal table covered in hammered copper that seats 24. Bring a crowd, or sit and make new friends. Behind the table is the service counter and huge custom-built wood-burning oven, where chef Hajro creates incredibly thin-crusted pizzas and Turkish flatbread (like pita, only thinner and with a slight crunch on the outside). Watching the breads bake, one would call them anything but flat – they puff up like a basketball in the oven. Once out, they collapse and are cut to be eaten with creamy hummus, meltingly soft Roman beans, or smoked eggplant, all made in-house – order the meze plate and try them all.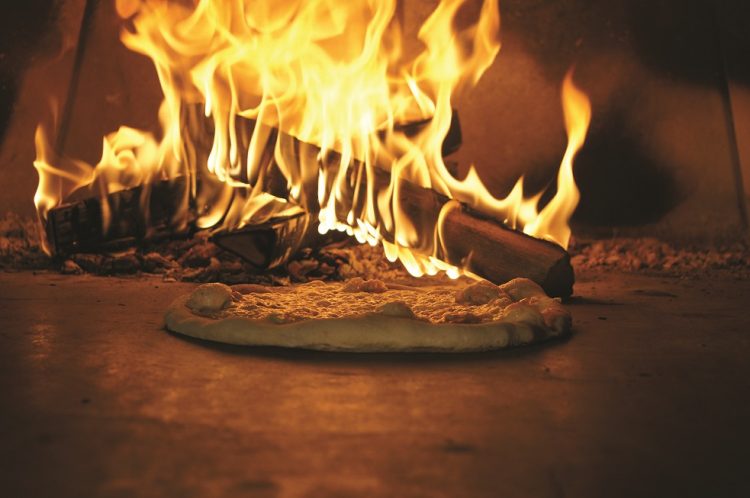 The fan favorite is the pizzas. We enjoyed four of the eight pizzas on the menu, because I couldn't decide which one sounded best. Mozzarella and caramelized onions, topped with tomatoes and balsamic-tossed baby arugula, was peppery and bright, with a sweet creaminess. The Taste of Anatolia was probably my favorite, with lamb, fresh herbs, and lemon. Two others had wild mushrooms on one and baby asparagus topping black olive tapenade on the other. They were all fabulous.
More substantial meals are also on the menu, including salmon, lamb, and chicken entrees. Depot Café's entire menu is available to take out.
515 Depot Street, Manchester. 802-366-8181 or www.depot62.com
Earth Sky Time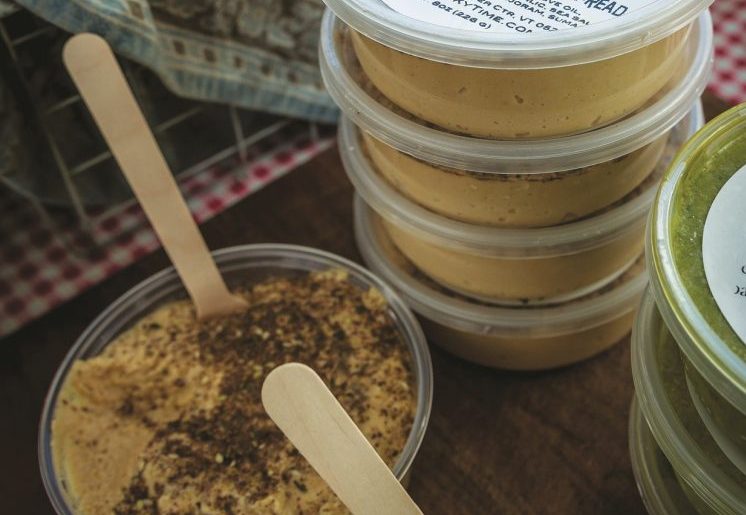 I first discovered Earth Sky Time at the Manchester Farmer's Market in Adams Park. Their amazing selection of woodfire-baked breads can be found at such diverse outlets as farmers' markets, Fortuna's Sausage & Italian Market, and The Stratton Mountain Club's dinner tables. They also have a retail store on site, open during the summer and fall, selling their vegetables, breads, Hoomoos (their signature hummus), and their renowned veggie burgers. If you stop by their store, you can peek in through sliding glass doors at the bread bakers at work. Be sure to try their crusty sesame semolina loaf, crunchy baguette, or earthy sunflower levain.
1547 Main Street, Manchester. 802-384-1400 or www.earthskytime.com